LogRocket can be expensive for the startups, as the second pricing plan is five times expensive than the first pricing plan.
LogRocket is not the only session replay and web analytics tool in the market, there are a lots of other better session replay tools and web analytics tools that can surely beat the features of LogRocket.
Here are the topics that we will cover in this blog:
What is LogRocket ?
LogRocket is a performance monitoring tool that integrates session replay, and product analytics to deliver the product experience.
You can fix bugs by capturing logs and session recordings from your online and native mobile apps to better understand user activity.
You can have a better understanding of usability concerns that we may not be aware of.
Furthermore, you can resolve Front End issues by having a view where we can examine devices, User-Agent details, network logs, and more.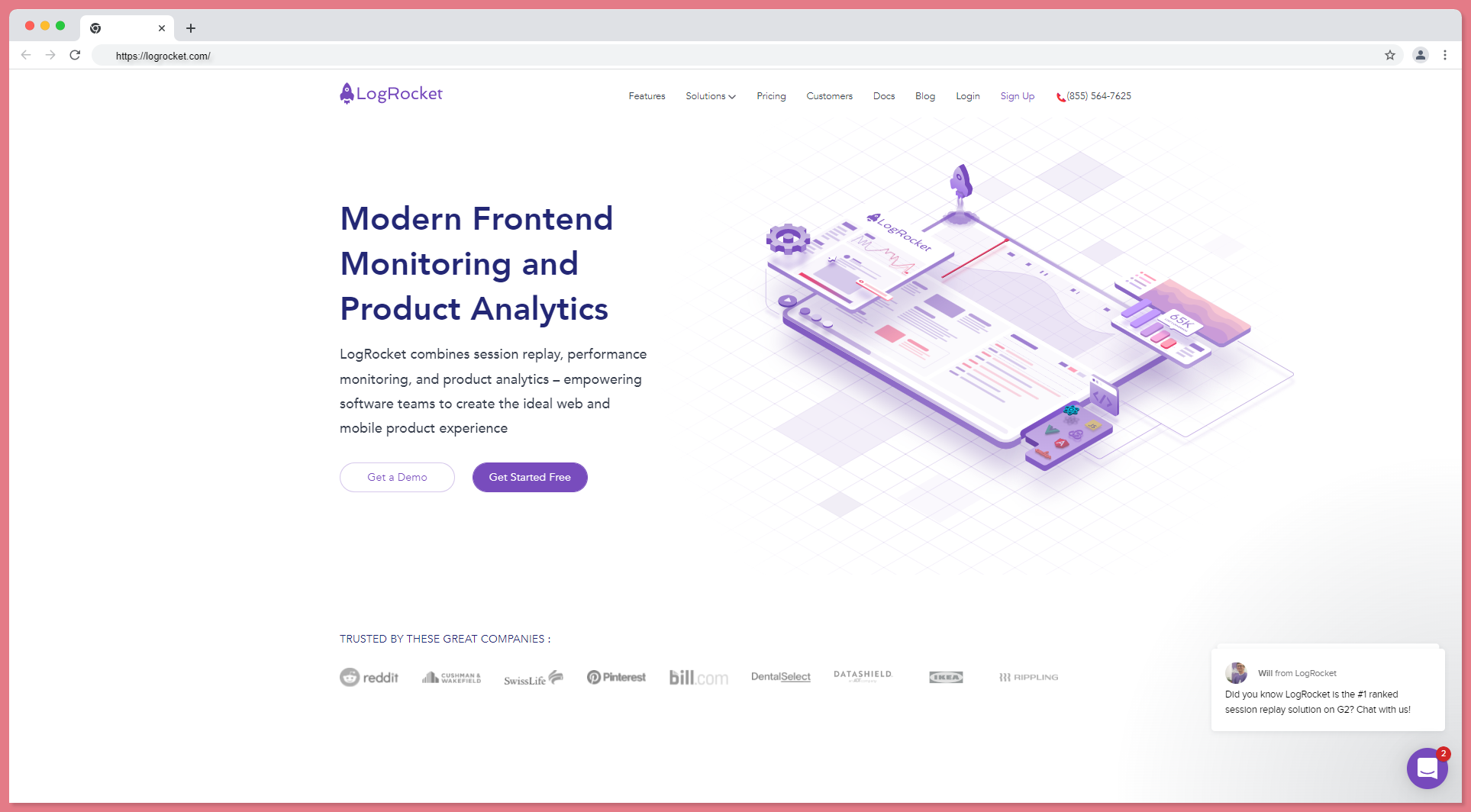 LogRocket Features:
Website Analytics
Funnel Analysis
Heatmaps
Session Recording
Real-Time Analytics
LogRocket Pricing:
Free version for 1,000 sessions/month
Teams version for $99/month at 10,000 sessions/month
Professional version for $500/month at 25k sessions/month
The Enterprise version has customizable billing according to the sessions and features.
Limitations to considering other LogRocket alternatives:
A professional plan is five times more expensive than the team plan.
You cannot slow your playback speed in a session replay.
The system slowdowns as LogRocket consumes a high amount of energy from the computing system.
The Heatmap feature is only available on the higher price plan.
Here are the top 8 LogRocket alternatives:
#1 ReplayBird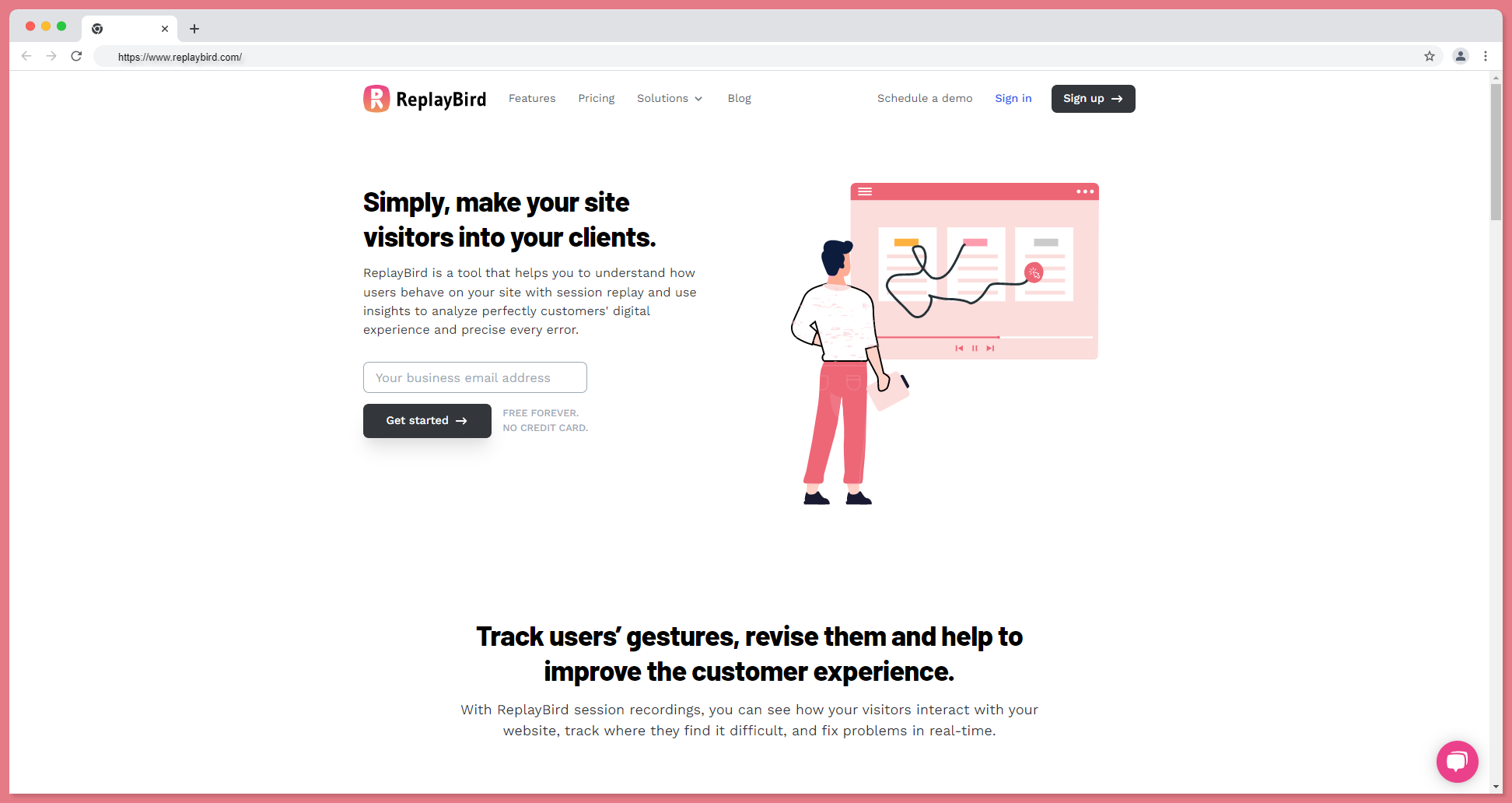 Replaybird combines session replay, performance monitoring, and product analytics into one platform delegating businesses and their teams to create a better user experience.
Replaybird analyzes customers' digital experiences and identifies errors on your website before your website visitor finds them.
Customizable dashboards give exact metrics on how your website is performing.
Replaybird is a full package kit for anyone who is looking to boost their website traffic and optimize more conversion rates.
Features:
Session recordings with better clarity.
Fast play up to 8 times in a session replay.
Slow play up to 0.5 times in every session replay.
Free trial for one month.
Accurate User Identification Data.
Rage clicks & error clicks analytics.
Segmentation, notes, and tags.
Multiple users.
Multiple websites.
Unlimited reports.
Customizable dashboard.
24/7 Support.
Click maps.
Simplified form analysis.
Conversion Funnels.
Dev Tools.
Integrations.
Easy data export.
A particular feature I felt is ReplayBird, as a LogRocket alternative, has an affordable cost.
Pricing:
ReplayBird pricing is one of the better LogRocket alternatives. It has only 3 plans, which makes it easier to choose.
Every plan has a free trial.
The basic version for $24 for 25,000 sessions/month .
The startup version for $69 for 50,000 sessions/month.
The Growth version is $149 for 100,000 sessions/month.
Finally, the premium version is $599 for 250,000 sessions/month.
#2 Kissmetrics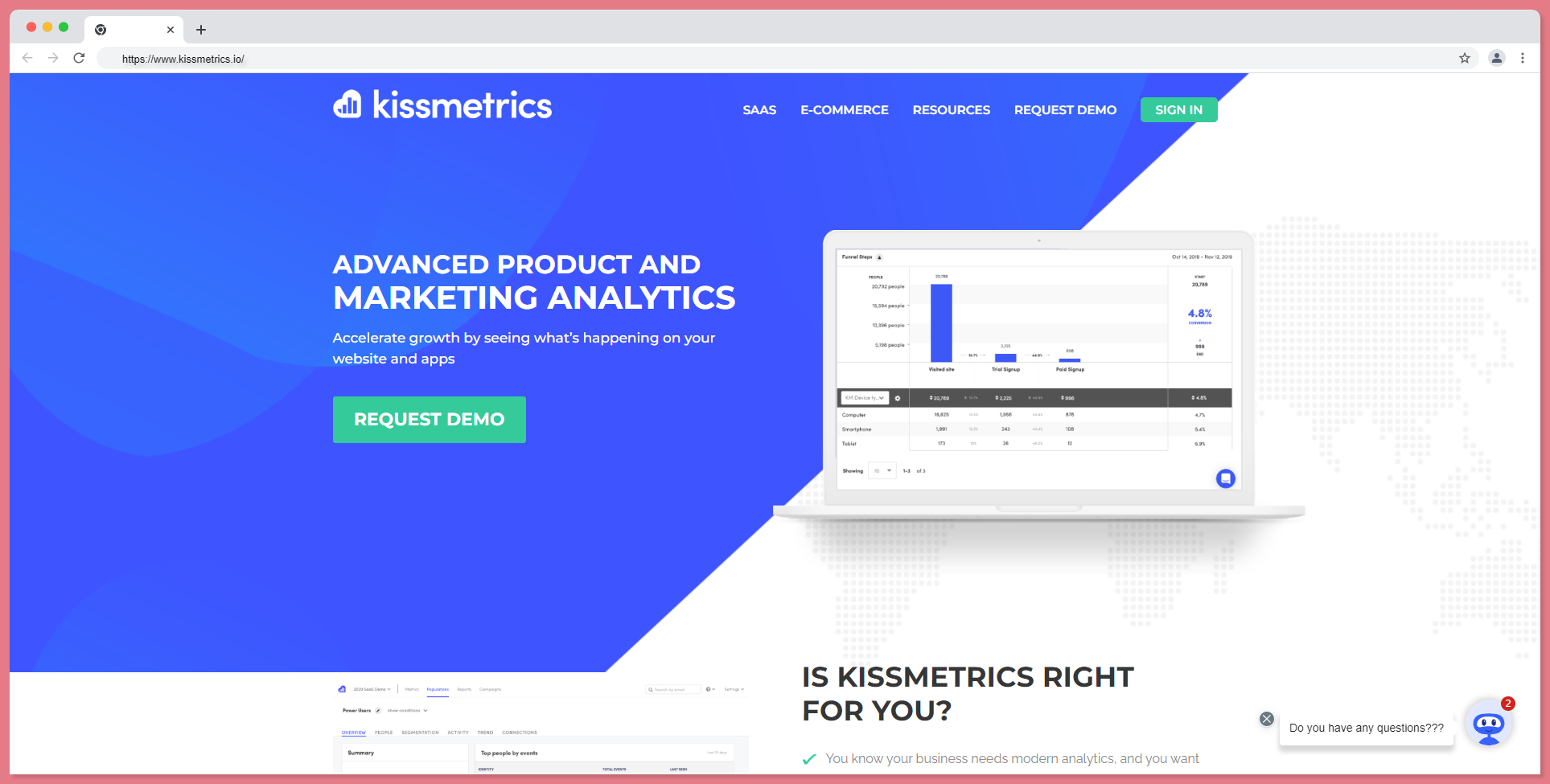 Kissmetrics is an analytics tool that assists in the identification, comprehension, and enhancement of key performance indicators for your online business.
With Kissmetrics, it's easy to evaluate your items and marketing more favorably.
Access additional products that have more beneficial characteristics.
Features:
The entire customer journey for a person is visible across all devices.
Find the drop-off locations for each flow on your property as well.
Comprehensive data tracking capabilities.
Capacity to offer users in-depth insights Additionally, link the data to a genuine individual.
Use that goes far beyond site visits, bounce rates, and dwell times.
Finally, get help from an actual person rather than just reading through documentation.
Pricing:
Kissmetrics as LogRocket Alternative have quite expensive prices.
The Silver plan is $299/month.
The Gold plan is $499/month.
And, the Platinum plan will be custom billed.
They also provide a free demo.
#3 Google Analytics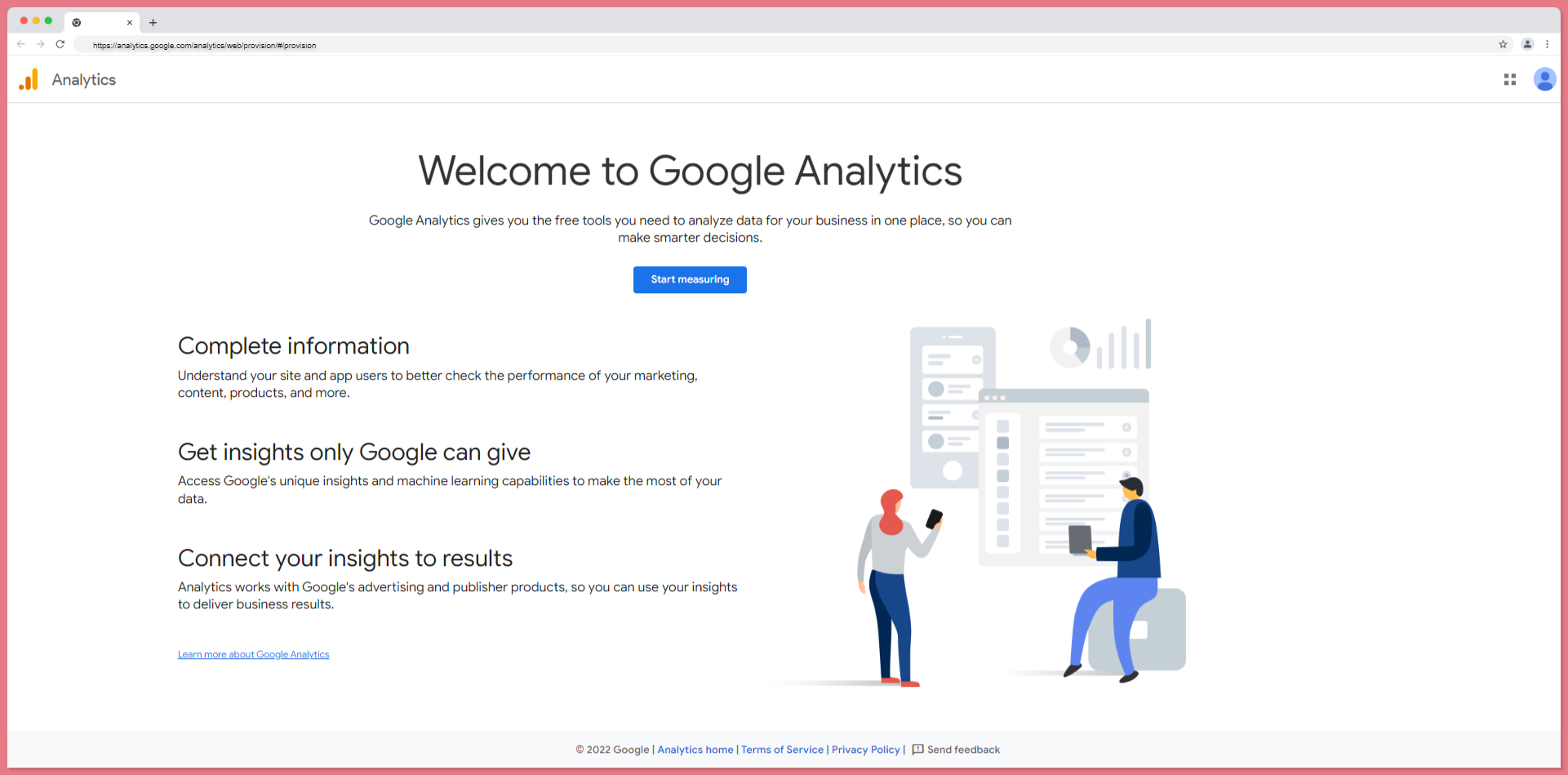 A free alternative to LogRocket is Google Analytics. Not if you want to keep your website metrics private.
It offers information on the performance of your website, including information about bounce rate, impression rate, and conversion rate.
Modern testing and conversion attribution tools assist businesses of all sizes in improving user experience and maximizing their digital strategy.
For organizations, it offers insightful website and audience analytics as well as potent, adaptable, and simple digital marketing analytics.
Features:
It is highly customizable.
It allows you to find even personal information such as region, sex, age, and much more.
simple and easy to use.
Flow visualization graphics give the impression that you are spying on your website visitors.
Also, create a funnel for destination goals.
Pricing:
Google Analytics pricing is free.
It comes with Google 360.
#4 Hotjar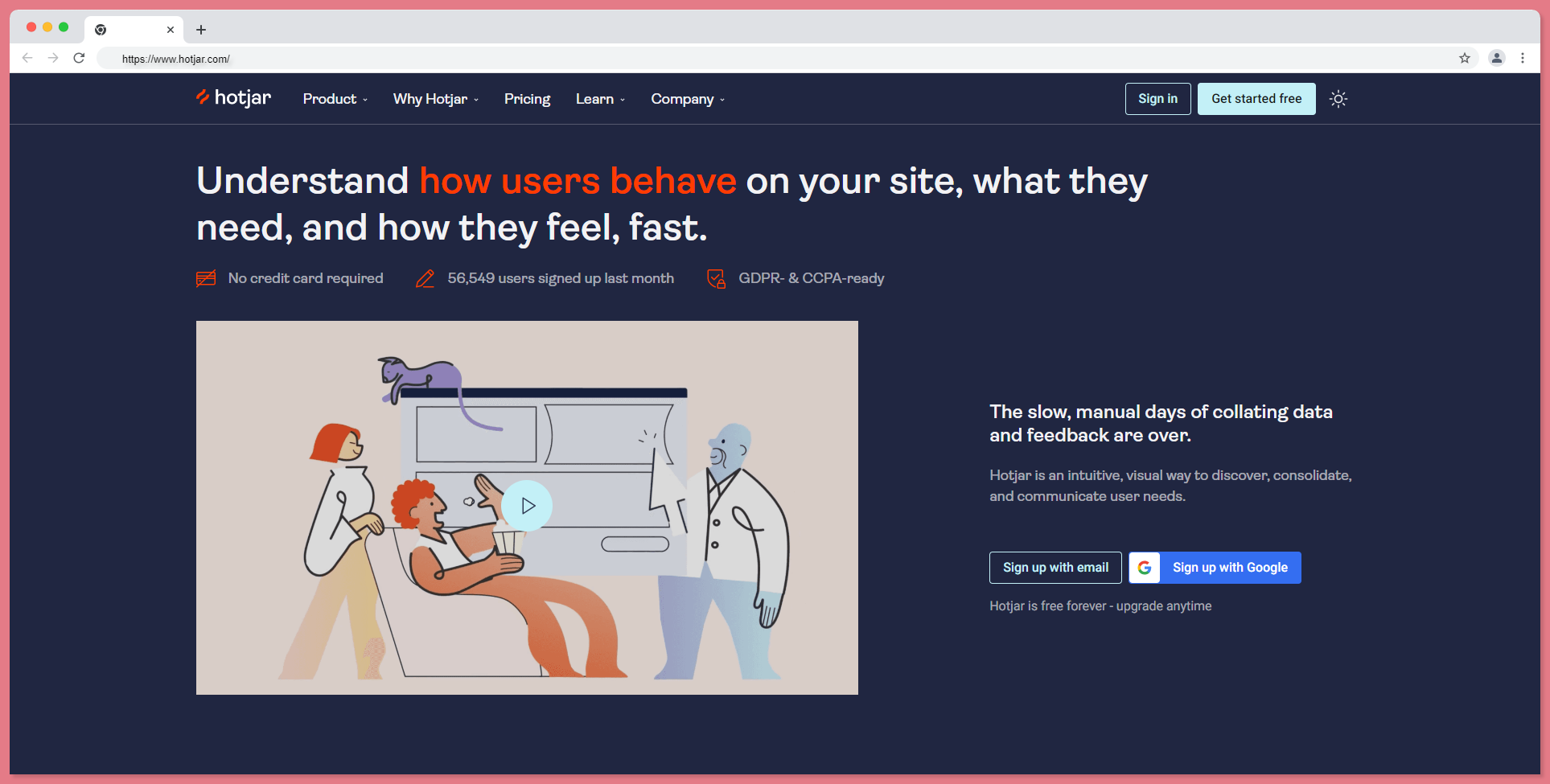 Hotjar is a user-friendly digital tool for locating, tracking, compiling, and communicating customer needs.
You can learn your consumers and pinpoint their common problems by using the Hotjar application.
The tool helps you to send the right query at the right time by analyzing your user activity. The Hotjar session recording software is easy to use and has a great user interface.
With the Hotjar software, you may utilize capabilities such as heatmaps, conversion possibilities, mobile device analysis, data segmentation, surveying, analytics, and many more.
Features:
Get notified every time your dashboard is updated.
Users can run up to 328 queries per day.
Message tools like Airship, Iterable, OneSignal, and many more.
Retroactively, changes will be made in the warehouse storage.
Pricing:
The basic plan is free with limitations.
Plus plan for $31/month.
Business plan for $79/month.
Scale plan for $311/month.
#5 Mixpanel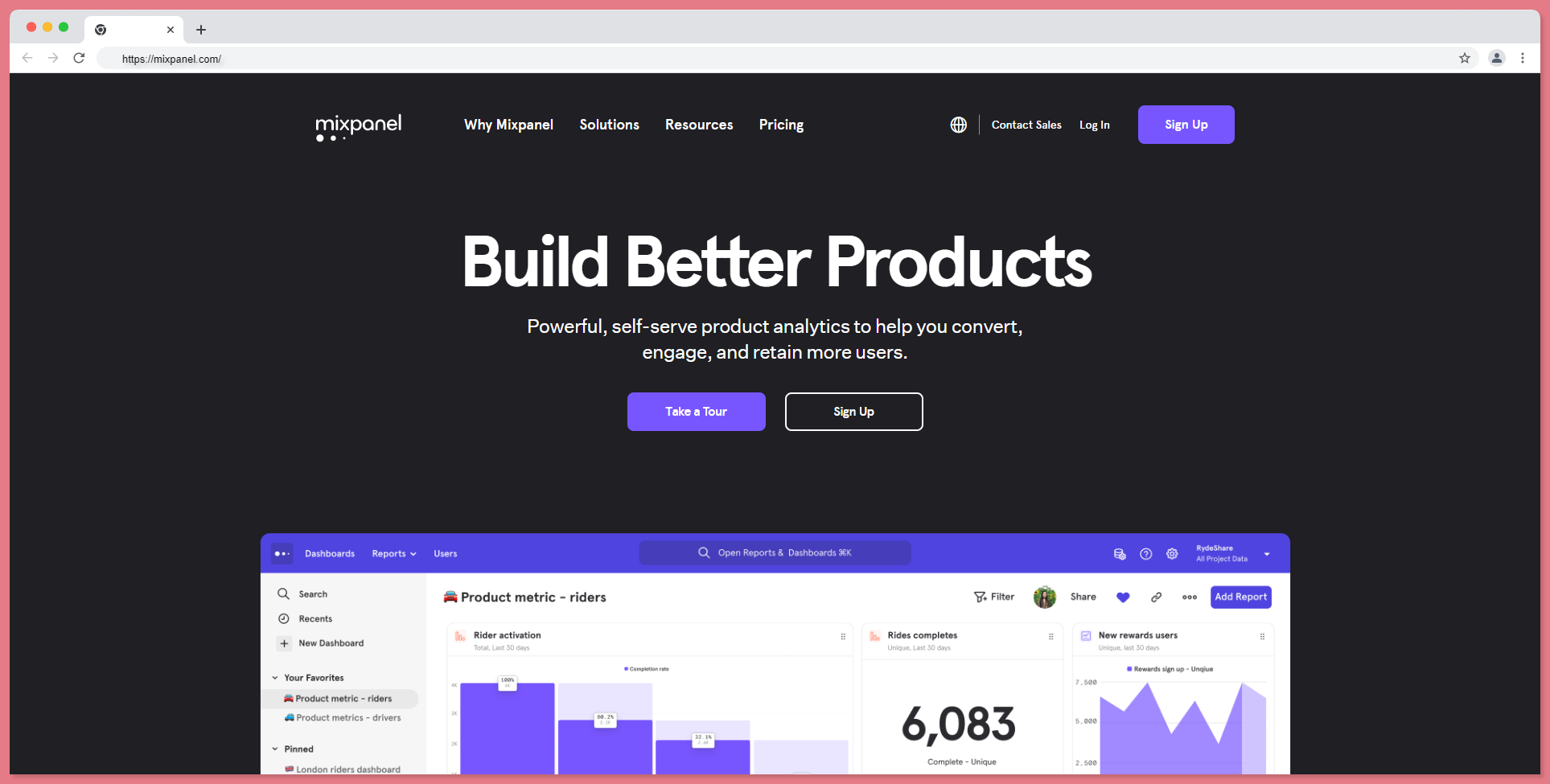 With Mixpanel, you can simply access the data and see visualizations alongside reports to learn more about how your brand is being used.
Additionally, utilizing their dashboards, they track all of the significant KPIs for your product.
They are simple to customize and the data refreshes quickly, in contrast to business intelligence dashboards, allowing everyone to base decisions on the most recent information.
Additionally, Mixpanel has a number of flaws. Mixpanel also provides a wide range of ad hoc investigations of your issues and potential.
Features:
It is quick and easy for anyone to do.
Most importantly, get notified every time your dashboard is updated.
Additionally, users can run up to 328 queries per day.
Message tools like Airship, Iterable, OneSignal, and many more.
Edit events retroactively and changes will be done in the warehouse storage.
Pricings:
It has a free version available.
The growth plan starts at $25 per month.
The Enterprise plan is customized billing.
Read More: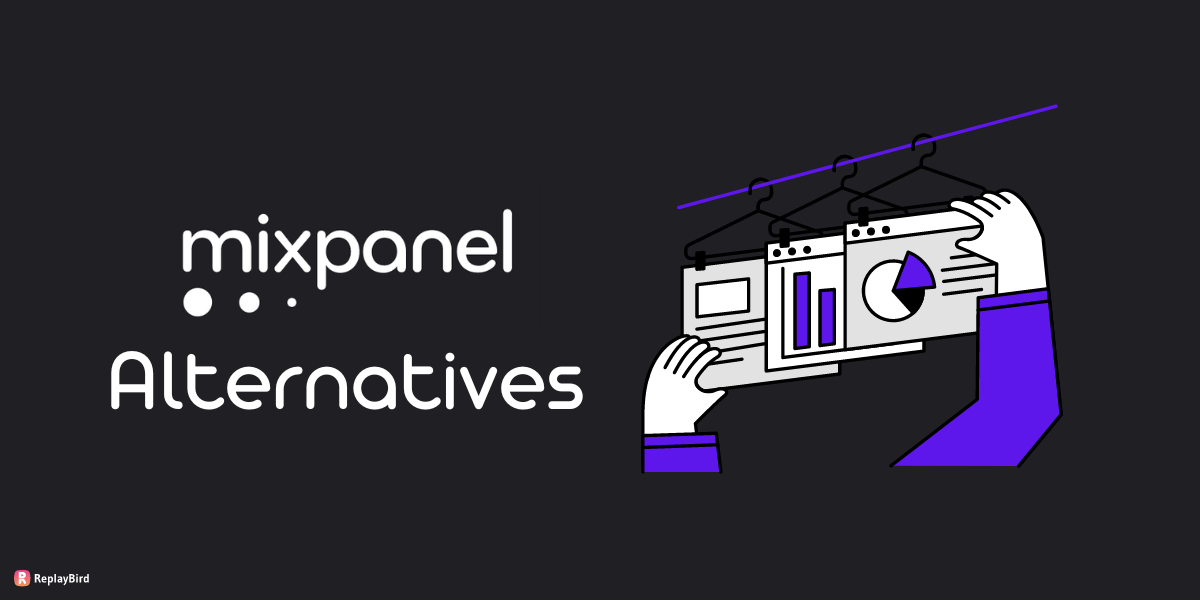 #6 Zoho PageSense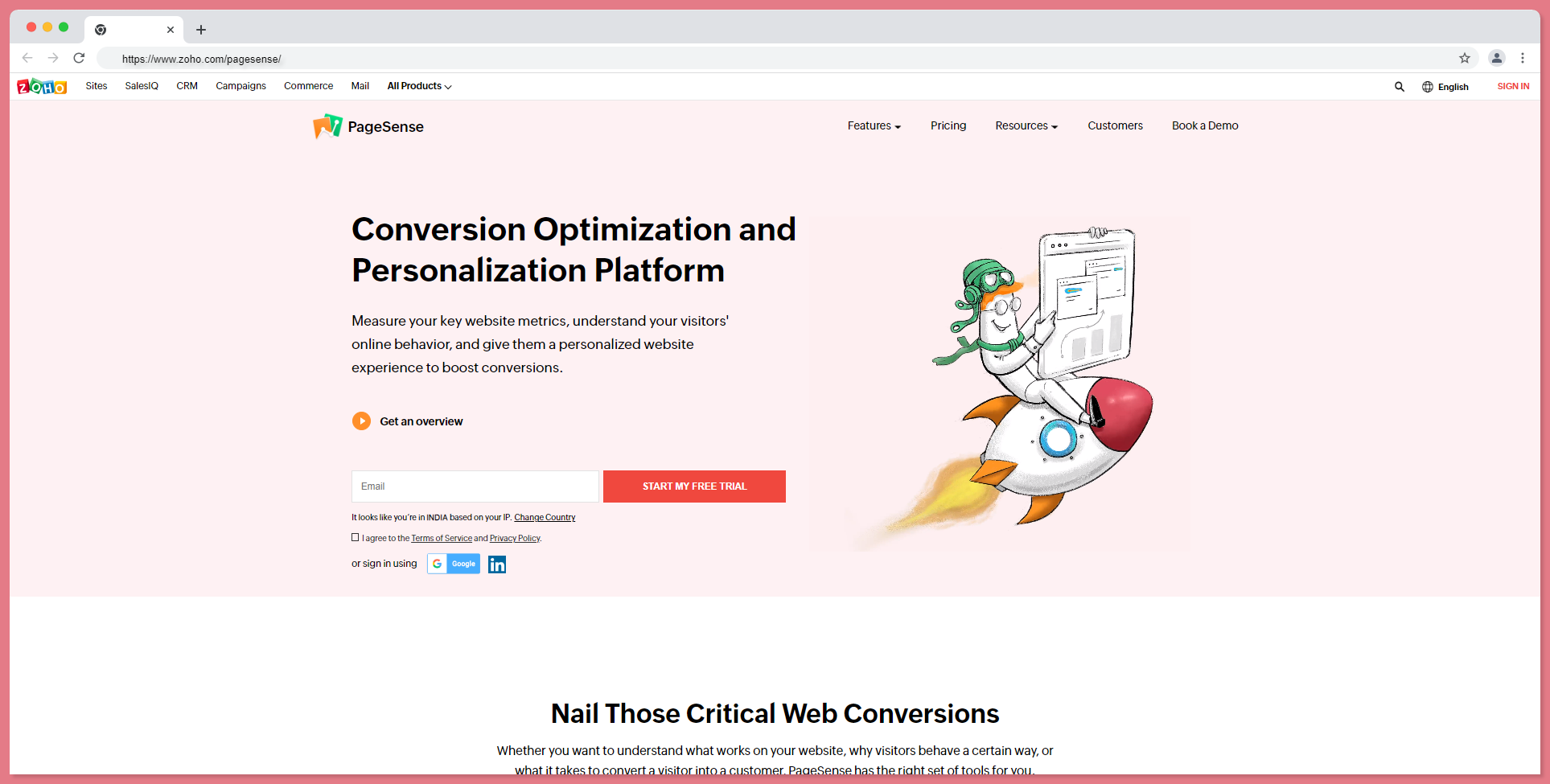 You may discover a lot about your target market using Zoho PageSense, including their origins, the length of time they spend on your website, their behavior and interests, the actions they take to become customers, and much more.
The comprehensive data that web analytics provides you about the users of your website helps you make informed marketing decisions.
To boost website conversions and revenue, a conversion optimization and personalization tool called Zoho PageSense monitors visitor behavior.
The platform combines the power of web analytics, A/B testing, and personalization to help you make intelligent business decisions.
Last but not least, keep tabs on the amount of visitors to your website, examine their behavior, and offer them a personalized website experience.
Features:
It is highly customizable.
Moreover, create and run polls.
Specifically, it uses Pop-Ups and web Push Notifications.
It has an easy-to-use interface.
Affordable compared to other competitors.
Finally, optimize website conversions by running A/B and Split URL tests to understand how different elements interact.
Pricing:
Zoho PageSense as one of the LogRocket alternatives, has a free trial.
Analyze a plan for $20/month.
Engage plan for $29/month.
Optimize plan for $49/month.
#7 Heap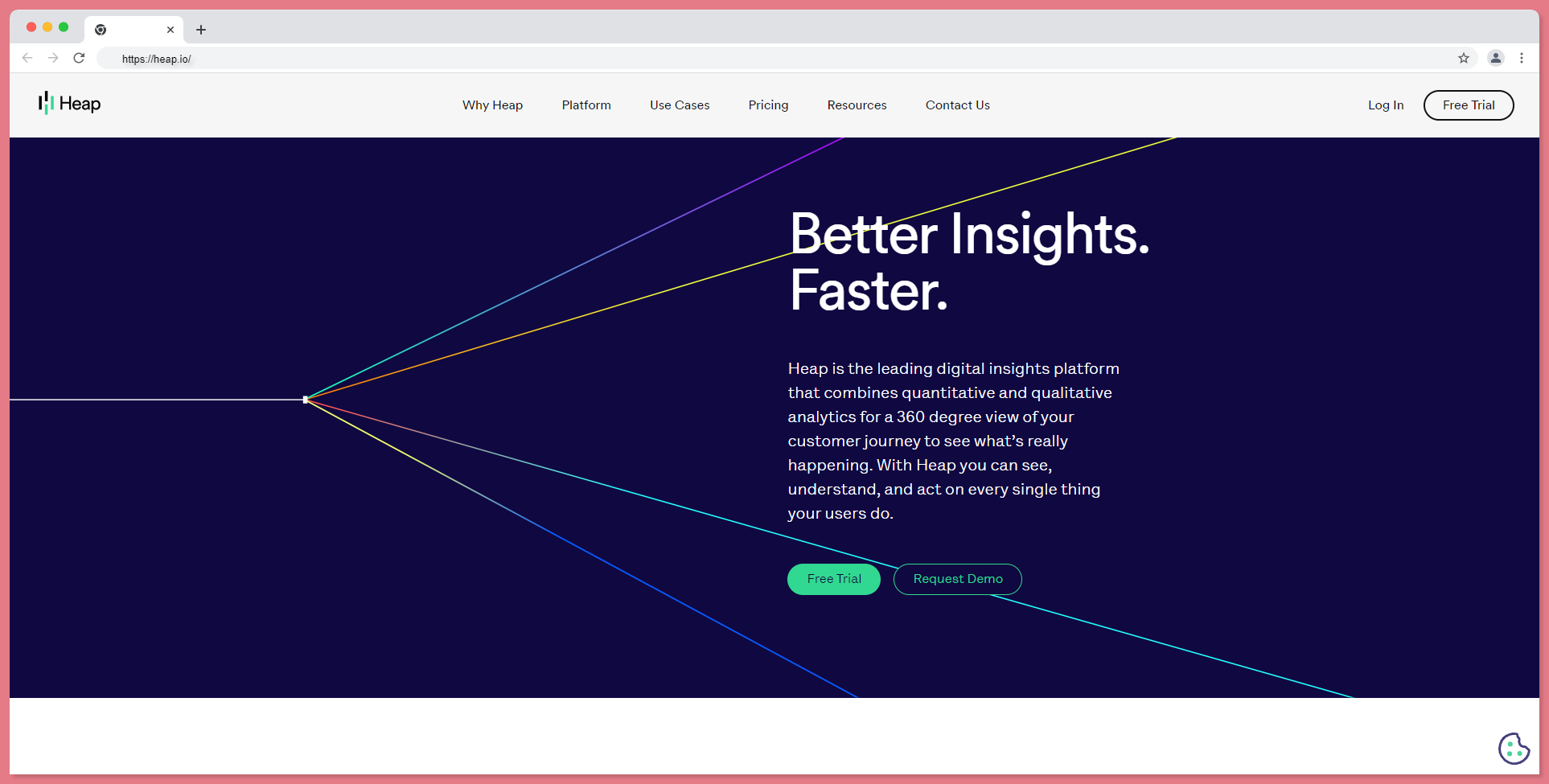 Heap's qualities make LogRocket significantly superior, but its price is a disadvantage. Instantaneously, everything gets gathered into a heap.
It can also be used in conjunction with popular A/B testing software, such as VWO, to track participant behavior.
Without the need for traditional tracking or lengthy installation delays, it offers a sizable base of behavioral data.
In addition to straightforward cross-device event data tracking, it allows comprehensive web, mobile, and server-side tracking.
Features:
Customizable dashboard and reporting.
Retroactive Reporting.
Sessions-Digital Analytics.
Custom Event Tracking and Retention.
Real-time reporting.
Pricing:
Heap, as a LogRocket alternative, has four pricing plans.
Heap offers a free version that allows for up to 10,000 sessions per month.
The growth package starts at $300 per month.
The Pro and Premier packages are customizable and you have to contact Heap for more.
They are not transparent about the pricing of Pro and Premier.
#8 ContentSquare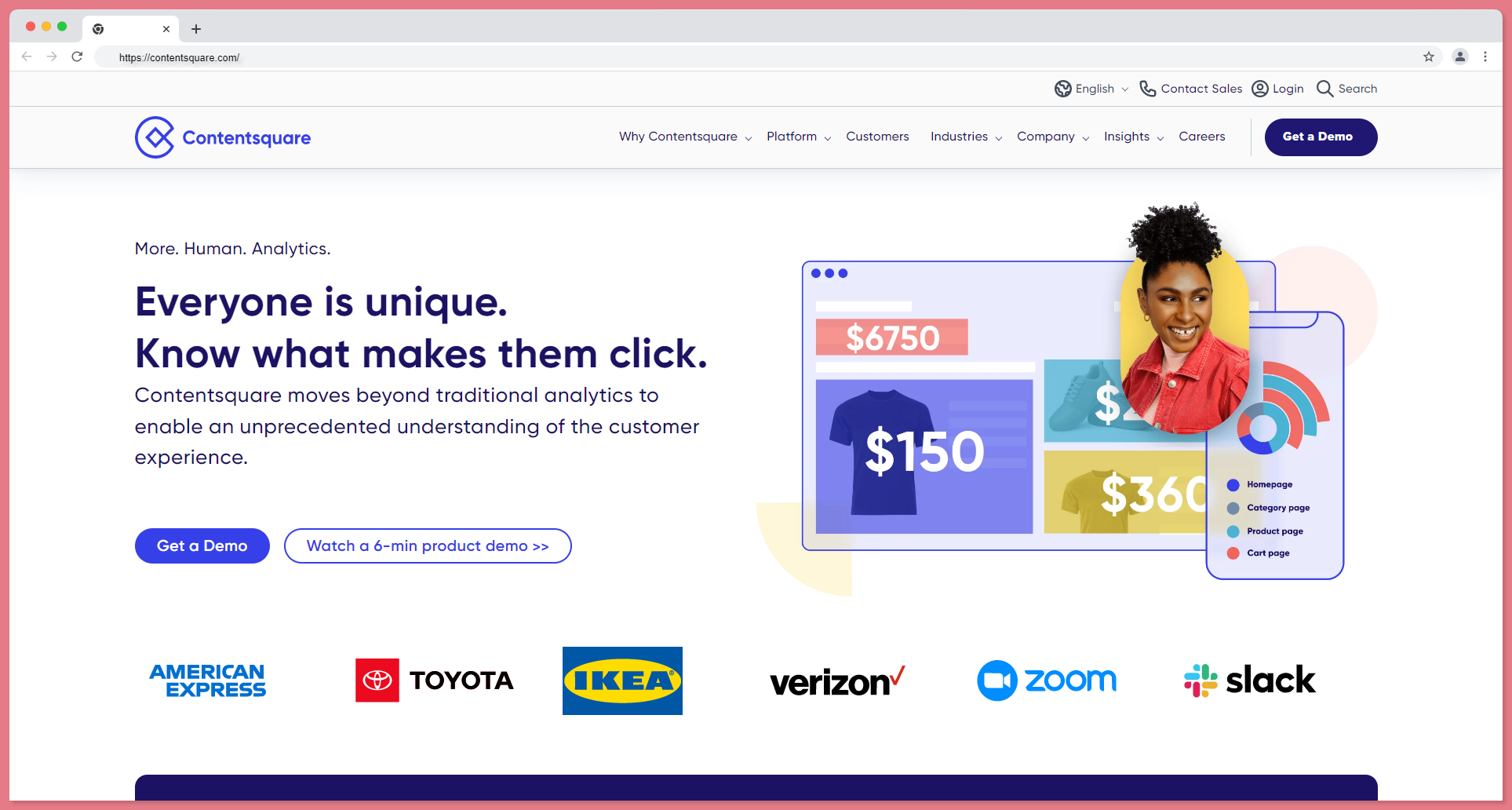 To understand the reasoning behind and practical use of traditional click analytics, ContentSquare tracks each in-page action and micro-gesture.
Utilize this behavioral data to create experiences that are unique to your company in order to increase conversion and customer loyalty.
Additionally, it provides clear visualizations and dashboards that help users understand how UX, product, price, and content decisions affect visitor behavior and business KPIs.
Get a tailored analysis of the statistics for the specific content items that are most important to you and your team.
You can set up AI alerts for certain KPIs that are relevant to your content, and you'll be notified if there is a significant change.
Features:
An analysis of every customer's activities
It also has automatic AI insights.
Merchandising analysis
Zone-based heatmaps show how users interact.
Similarly, it has mobile app analysis.
Finally, you can connect your API and integrations.
Pricing:
ContentSquare is not transparent about providing pricing information.
---
ReplayBird - Driving Revenue and Growth through Actionable Product Insights
ReplayBird is a digital experience analytics platform that offers a comprehensive real-time insights which goes beyond the limitations of traditional web analytics with features such as product analytics, session replay, error tracking, funnel, and path analysis.
With Replaybird, you can capture a complete picture of user behavior, understand their pain points, and improve the overall end-user experience. Session replay feature allows you to watch user sessions in real-time, so you can understand their actions, identify issues and quickly take corrective actions. Error tracking feature helps you identify and resolve javascript errors as they occur, minimizing the negative impact on user experience.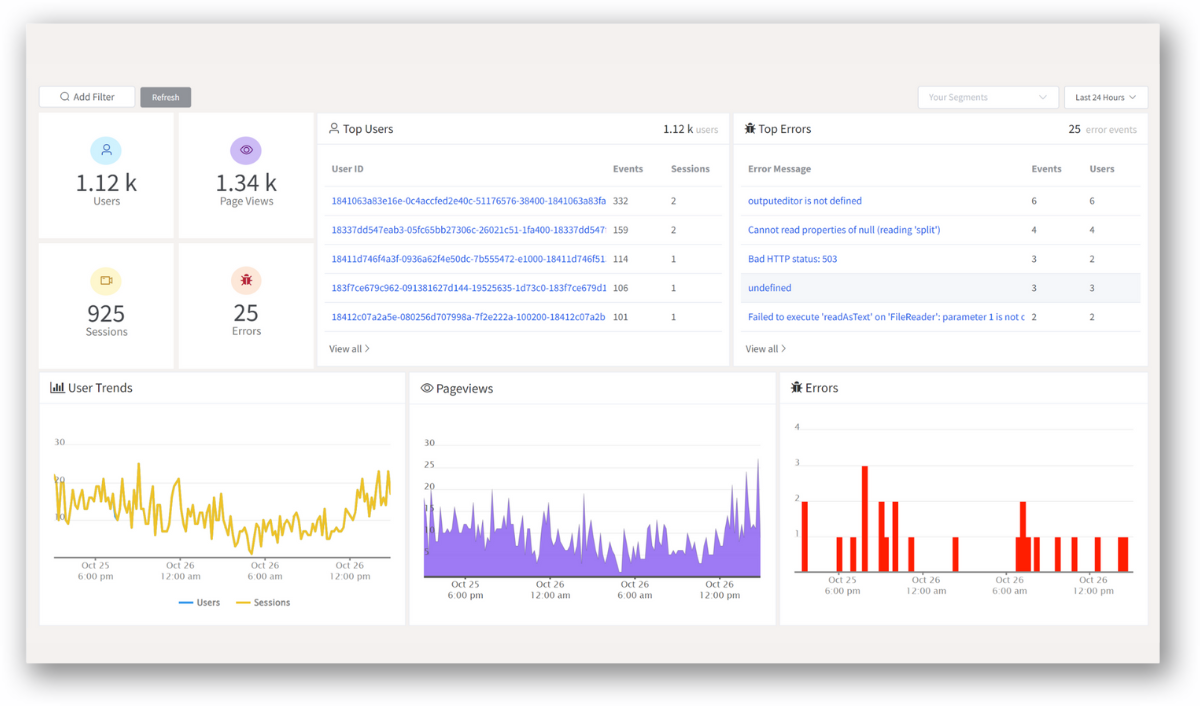 With product analytics feature, you can get deeper insights into how users are interacting with your product and identify opportunities to improve. Drive understanding, action, and trust, leading to improved customer experiences and driving business revenue growth.
Try ReplayBird 14-days free trial
Further Readings: