Session Replay is the tool used to replicate a visitor's activities on a website. It is also known as session recording, session playback, or user replay. It basically records your visitors' interactions on your website such as clicks, taps, scrolls, and keystrokes. Session replay gives a real understanding of how users interact with your website and it plays an important part in the optimization process and CRO activities (conversion rate optimization).
#1 Why do you need session replays?
Session replay assists you in visualizing the users' path on your website. Knowing the user's behaviour will help you provide the best digital experience for them. You might know your website cent percent, but that will not let you know your users' online behaviour and their interactions on your website.
Traditional web analytics tools like Google Analytics use cookies to provide the bounce rate, user counts, entry-exit time, etc. But this does not let you ultimately let you understand your users' behavior. For example, when Google Analytics tells you a user spent 10 minutes on a particular webpage, it still remains incomplete knowledge. A session replay will let you know through which path the visitor is when to the webpage and this gives you a glimpse of their behavior.
You as an in-person cannot be with every visitor, understand their behavior and help them with what they require for your website. And that's where session replay plays a major role. When a visitor or user finds it difficult to access information or finds a problem with the webpage, with session replay you can help them by knowing what went wrong.
#2 How does session replay help you?
Your absolute need for your website is to increase the traffic and conversion rate. Session replay along with providing users' behavior, also help you with website traffic, optimization and CRO activities. With the data, you obtain from session replay you can improve your website, make it user friendly and provide extraordinary customer service.
i) Inspect web page issue
Websites must be without any errors or issues to provide users with good customer service. Session replays can identify page loading times, broken links, form-related issues, and more. It also lets you find error clicks that don't let the visitor complete their task and rage clicks, that is a user frustratedly clicking a particular web element multiple times continuously.
These are the issues that stifle your visitors' interest and they let them exit the website. Understanding the errors will help you with optimizing the website and improve your web design in a more user-friendly way.
ii) Debug websites
Even if you try too hard to code your website without making mistakes, there is still a chance for bugs and errors to happen and spoil users' experiences. And there is 'n' number of reasons that makes your website break down and blows the user experience.
With session replay, your frontend developers and engineers can find the bugs easily and resolve them. By seeing and tracking the user's path, they will know the errors and easily solve them.
iii) Understand your customers' interests
Session replay helps you understand your customers' interests in-depth. You might provide many features or have added a new feature, but as a provider, you should know which one adds the most value to the users.
With session replay, you will understand which features of your users interest you and which do not. With this information, you can change your promotion strategies, make changes in designs that let users easily access all the features and many more.
iv) Improve customer interaction
Customers might be already stressed with the errors or low experience and your enquiry or questing them more, even if it to help them, might piss them off to the next level. Session replay allows you to help you troubleshoot users problems even without their involvement.
Most times if people encounter trouble, they won't be intent on contacting you. Rather they will look for other easier, error-free websites. Session replay allows you to detect the issue in real-time and you can reach out to the troubled user and offer assistance. With this fast approach, you can hold on to potential users and convert them into your customers.
#3 How to choose the best session replay tool?
There are hundreds of session replay tools available in the market today. If you understand the need for session replay for your website, then it is easy to choose one. There few more criteria you should consider vehicle choosing a session replay tool and we have listed them for you.
Filters
Filters in the session replay tool will help you categorize your recorded sessions based on date, time, device, location etc, and lets you focus on your goals. So make sure that your tools allow you to search, segment, categories and apply filters to your recordings.
Speed
Adding the session replay tool to your website should not affect your site speed and performance. So look for a tool that has a trial run so that you can see how it affects your website.
Storage
Session replay tools come with various storage plans. You have to choose a plan according to your needs and how long you have to retain the recorded sessions.
Maximum value for your money
If you have decided to invest in a session recording tool, choose one which gives you maximum utilization. Analyze and compare the best tools available and then decide on which to go with.
At Replay Bird, we have made this step also easier for you. We listed out our features along with our competitors' features so that you can compare the tools and choose the one best for you.
We also have a few more distinct features that will definitely add value to your optimization and CRO activities. As mentioned before, Filter is the most important basic feature of session replay and with ReplayBird you can sort and filter each individual session.
The notes feature allows you to take notes at any point in the recording and ReplayBird also allows you to share those notes with your colleagues. The funnel analytics report will fetch reasons why visitors did not turn again and you can rectify it easily.
#4 Session replays and concern for privacy
Session replay tools are often addressed as privacy threatening tools. But the truth is they do not breach a visitor's privacy. Usually, session replay tools are guided and run under the requirements of GDPR. Team ReplayBird is fully committed to complying with the requirements of the GDPR.
---
ReplayBird: Fast & visual way to understand your users.
ReplayBird is precisely designed to analyze digital user behavior so that you can you improve conversion rates and increase revenue with customizable metrics that provide accurate insights through web analytics and primarily a session replay.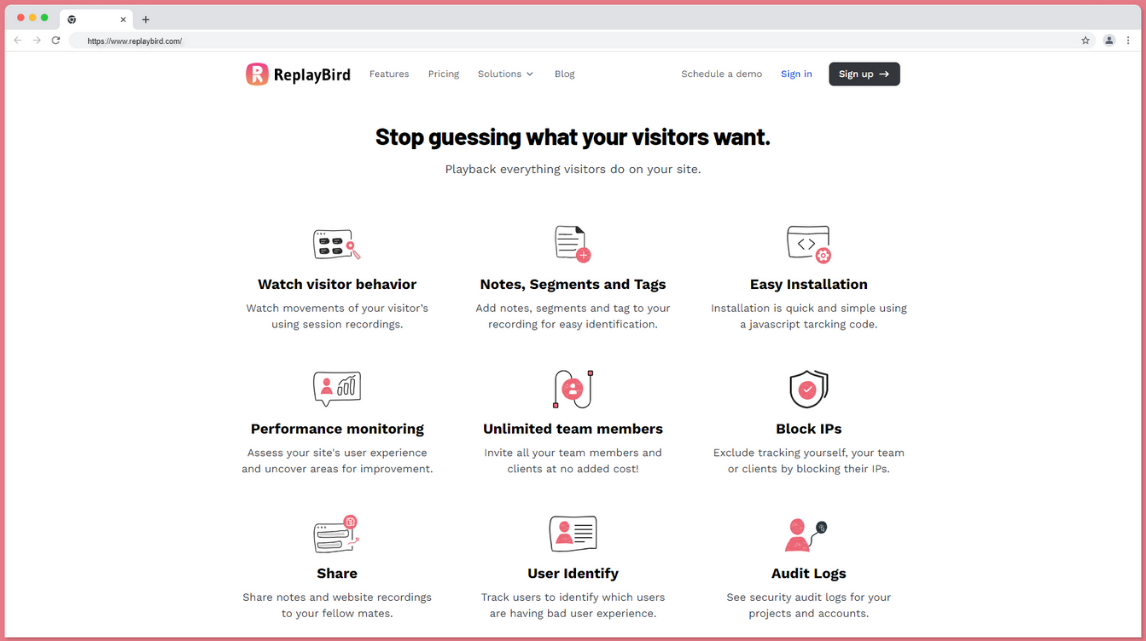 ReplayBird is the best solution for your online business. It allows you to analyze user behavior, in real-time find out what works and what does not work, and implement changes accordingly.
The program interface has been designed in such a way that it will be easy for you to use, so you can focus on your business without being distracted by technical details.
It enables you to create custom reports based on the key metrics being tracked by ReplayBird, which are then saved to an easy-to-access dashboard. This allows you to easily track performance over time and segment users based on their actions on your site.