If you are searching for better website analytics than Kissmetrics, you have come to the right place.
It is always quite hard to understand customers or to find mistakes from your side.
Here are the list of topic that we will cover in this blog:
What is KISSmetrics?
Kissmetrics is a product analytics tool that assists you in identifying, comprehending, and improving the performance measures that will enhance your online business.
Kissmetrics makes it simple to obtain the data you require to make fitter products and marketing decisions.
Also, access better features from other products too.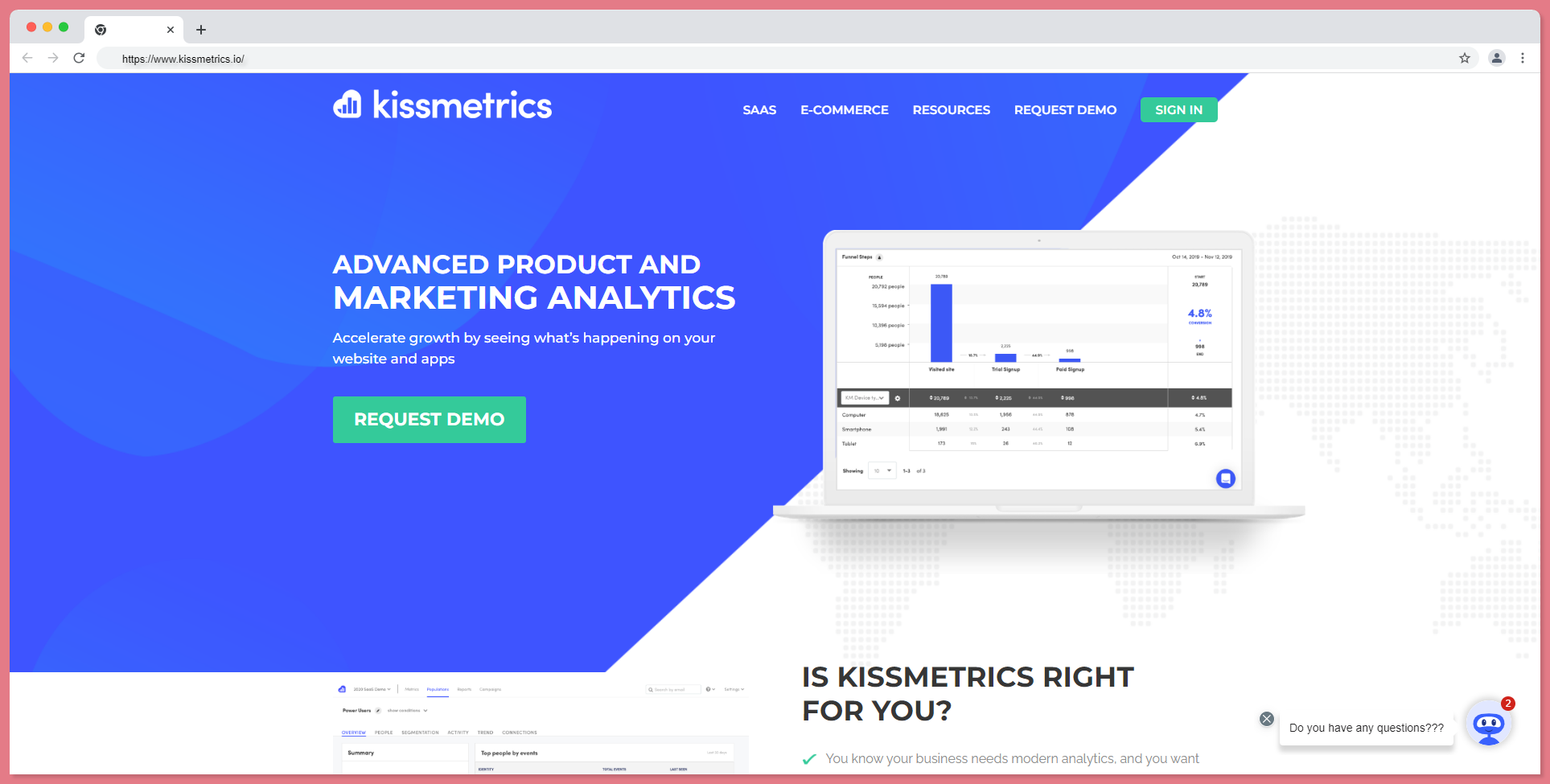 Considerable Features of Kissmetrics alternatives:
Must provide real-time data.
It does not do data sampling and has to extract metrics.
Intelligence alert features.
Personalized dashboards and reports.
Accurate measurement of funnel conversion.
Analyze the customer demographics.
KISSmetrics does have some limitations
It does not have a simpler setup.
Easy data sharing is not available.
Limited reporting and data visualization.
Do not have a convenient interface.
Keep changing the URLs.
Does show some UI mistakes.
Finally, it was too expensive to buy.
Looking at these limitations of the Kissmetrics now we will look at some features of the Kissmetrics alternatives to have.
KISSmetrics Pricing:
KISSmetrics does not has a transparent pricing.
Here is the list of better KISSmetrics alternatives:
#1 ReplayBird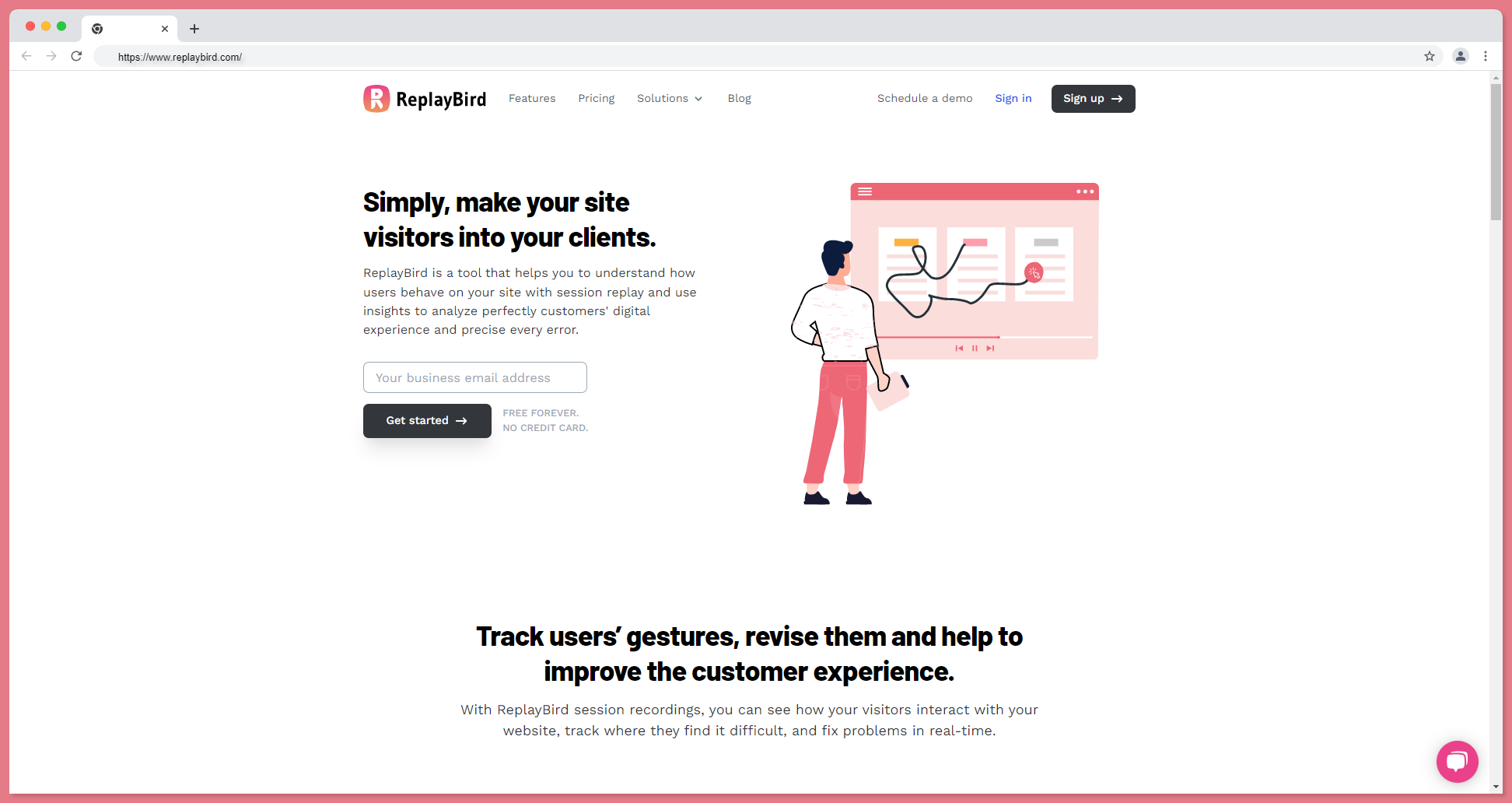 ReplayBird is an excellent Kissmetrics alternative when it comes to better features.
ReplayBird is an excellent Kissmetrics alternative tool that has a lot more features and is less expensive.
It assists you in understanding how visitors behave on your site through session replay and recording, which will display your actions in real life, as well as basic visitor information for smarter analysis.
Even though it is customizable for analytics, ReplayBird, as a greater Kissmetrics alternative, plays videos of your site visitors' entire user experience.
Furthermore, analyze customers' digital experiences with insights and pinpoint any errors.
Keep track of user behavior and how your site performs across devices and countries.
Supports teams in resolving issues, increasing conversions and improving product engagement across the web and mobile apps.
Features:
The dashboard and reports are customizable.
Replay sessions videos with sharp pixel clarity.
Recognize any technical or user experience issues that are preventing conversion.
You can add notes, segments, and categories to your files.
Besides that, forget about coding and troubleshooting.
Pricing:
ReplayBird pricing is a better Kissmetrics alternative, with three affordable plans available.
Every plan has a free trial.
The basic version for $24 for 25,000 sessions/month .
The startup version for $69 for 50,000 sessions/month.
The Growth version is $149 for 100,000 sessions/month.
Finally, the premium version is $599 for 250,000 sessions/month.
#2 Mixpanel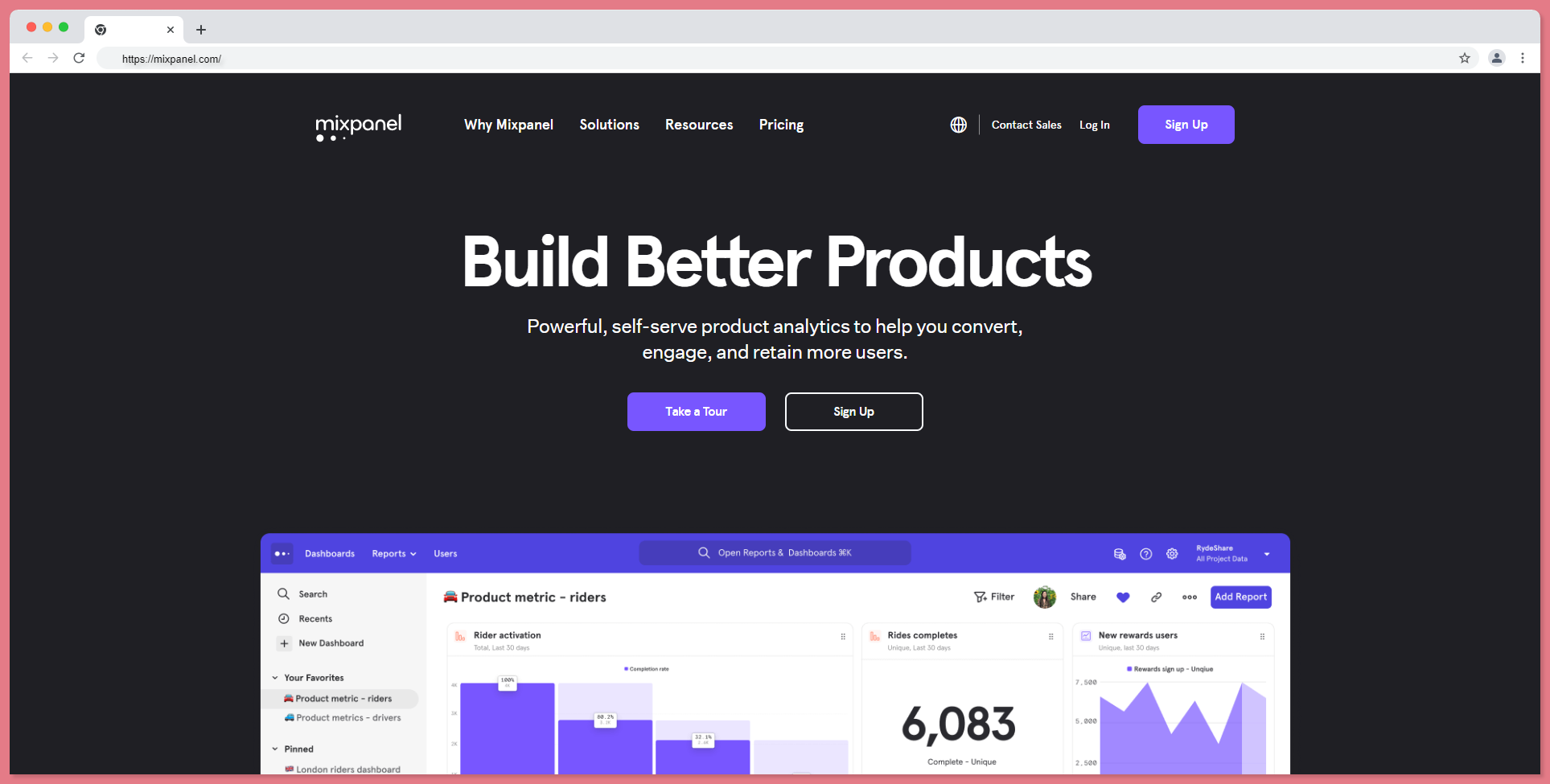 With Mixpanel as a Kissmetrics alternative, you are able to extract data and view visualizations with reports.
Mixpanel makes it simple to reply to a discussion about how your brand is being used.
Furthermore, it keeps a record of all your product's key metrics on one dashboard to make it simple.
Yet, apart from data analysis dashboards, they are easy to customize and the data updates in real-time, letting all rely in part on the most up-to-date information.
Mixpanel also offers so many ad hoc analyses of your problems and opportunities.
Features:
Real-time reporting
User data
Custom Event Tracking
API / Integrations
Custom Reports and Dashboards
Pricing:
Mixpanel is a Kissmetrics alternative that has excellent pricings
It is free for the first 100K monthly tracked users.
The growth plan costs $25/month for some extra features.
The Enterprise plan is a customizable package.
#3 Google Analytics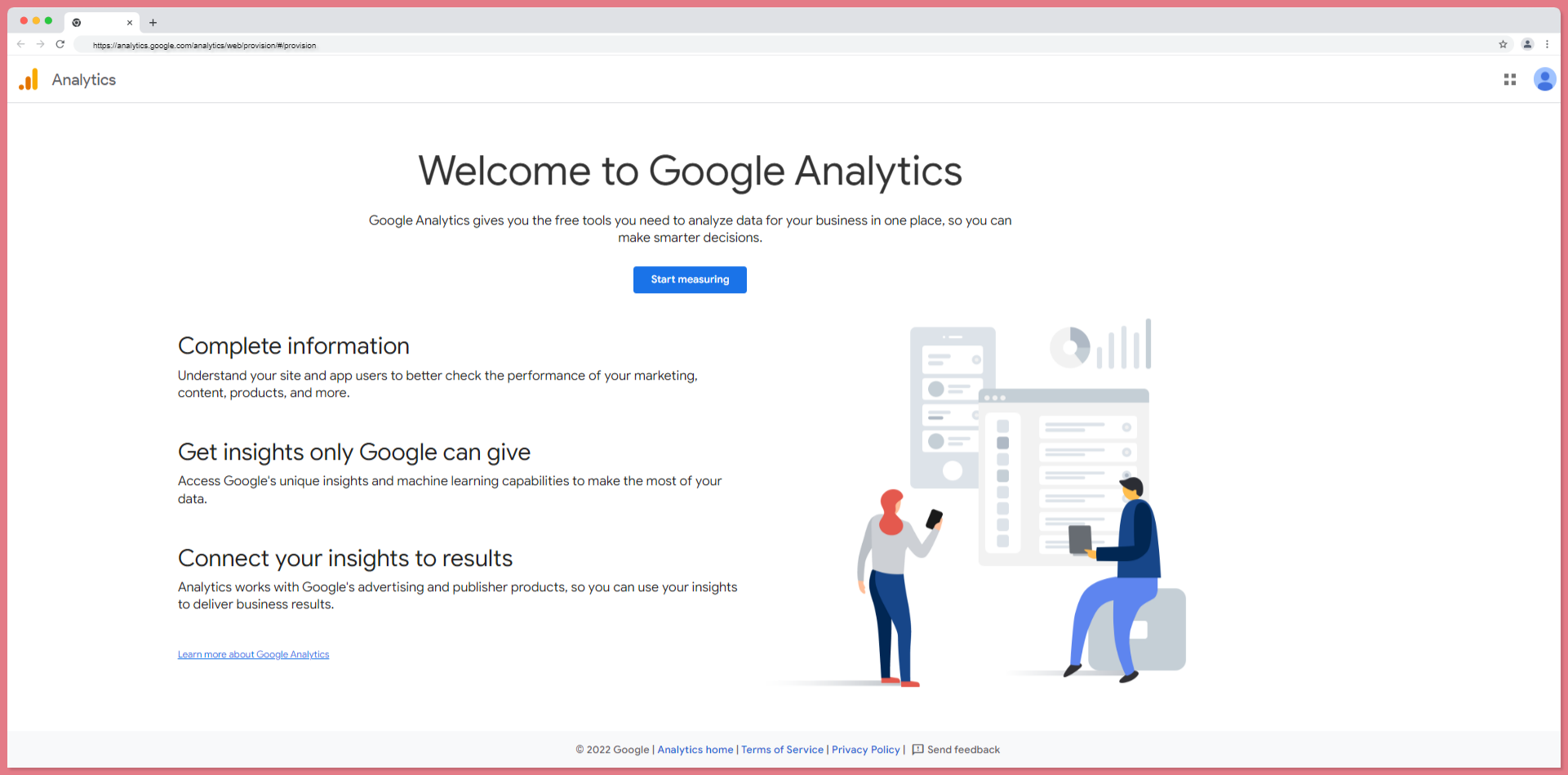 Google Analytics is a free alternative to Kissmetrics.
It provides businesses with insights into their websites and visitors, along with effective, adaptable, and simple-to-use digital marketing analytics.
It also determines which messages and channels generate the best results.
It includes searching for demographic information such as region, gender, and age.
Visualization of graphics makes it appear as if you are checking up on your website visitors.
Features:
Sessions-Digital Analytics
Real-time reporting
Customizable dashboard and reporting
Retroactive Reporting
Custom Event Tracking and Retention
Pricing:
Google Analytics pricing is totally free.
#4 Heap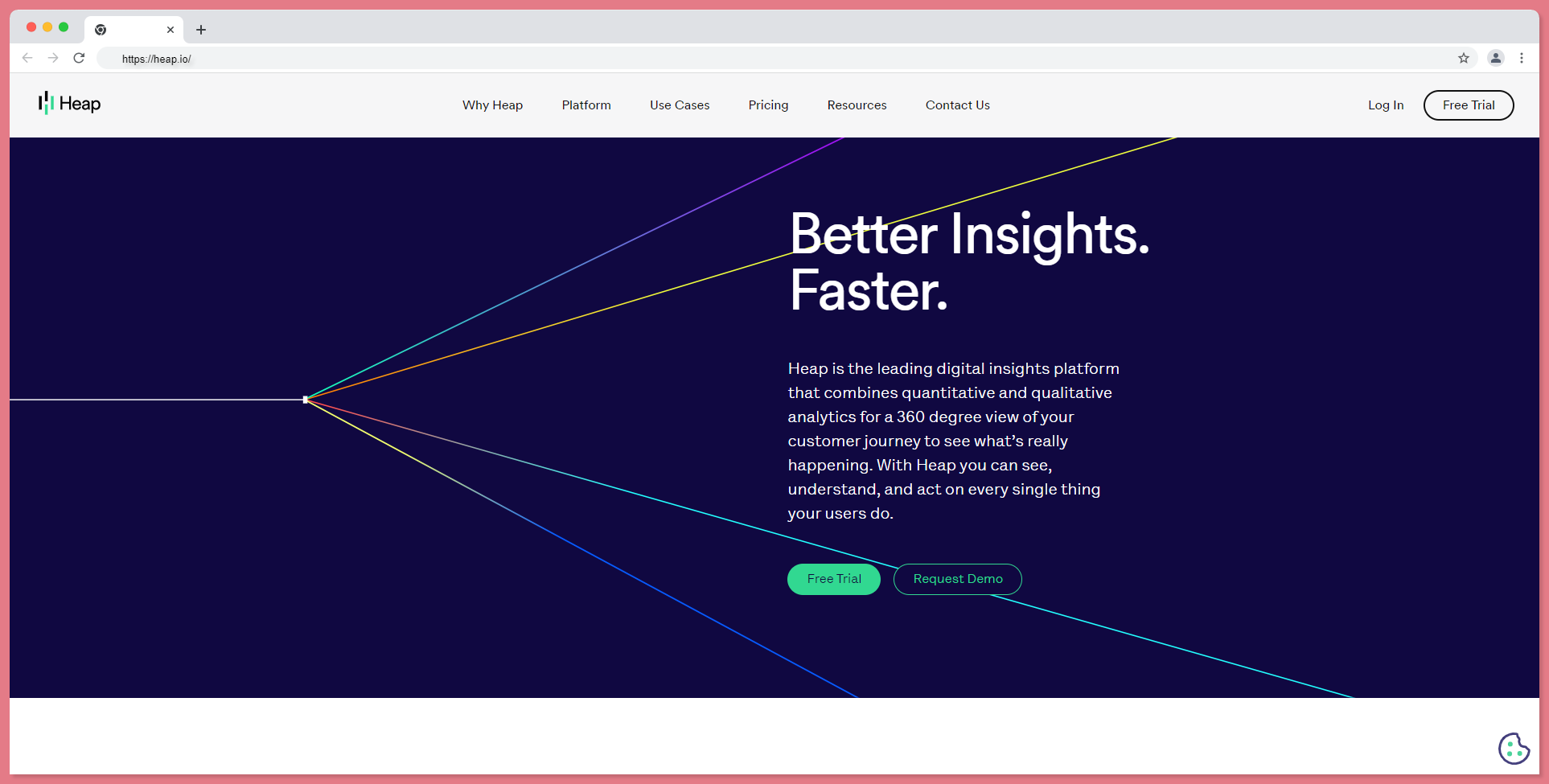 Heap is fantastic over Kissmetrics with features, but it has a con, which is its pricing.
Everything is auto-captured in heap.
It also integrates with popular A/B testing software such as VWO, allowing you to observe behavior by experiment group.
It offers a full foundation of behavioral data without the need for conventional tracking or lengthy implementation times.
Allows for easy cross-device tracking event data as well as granular web, mobile, and server-side tracking.
Features:
Sessions-Digital Analytics
Real-time reporting
Customizable dashboard and reporting
Retroactive Reporting
Custom Event Tracking and Retention
Pricing:
Heap as a Kissmetrics alternative has four pricing plans.
Heap has a free version for up to 10k sessions/month.
The growth package is starting from $300 per month.
The Pro and Premier package is customizable or has to contact Heap for more.
They haven't mentioned their pricing of Pro and Premier.
#5 Hotjar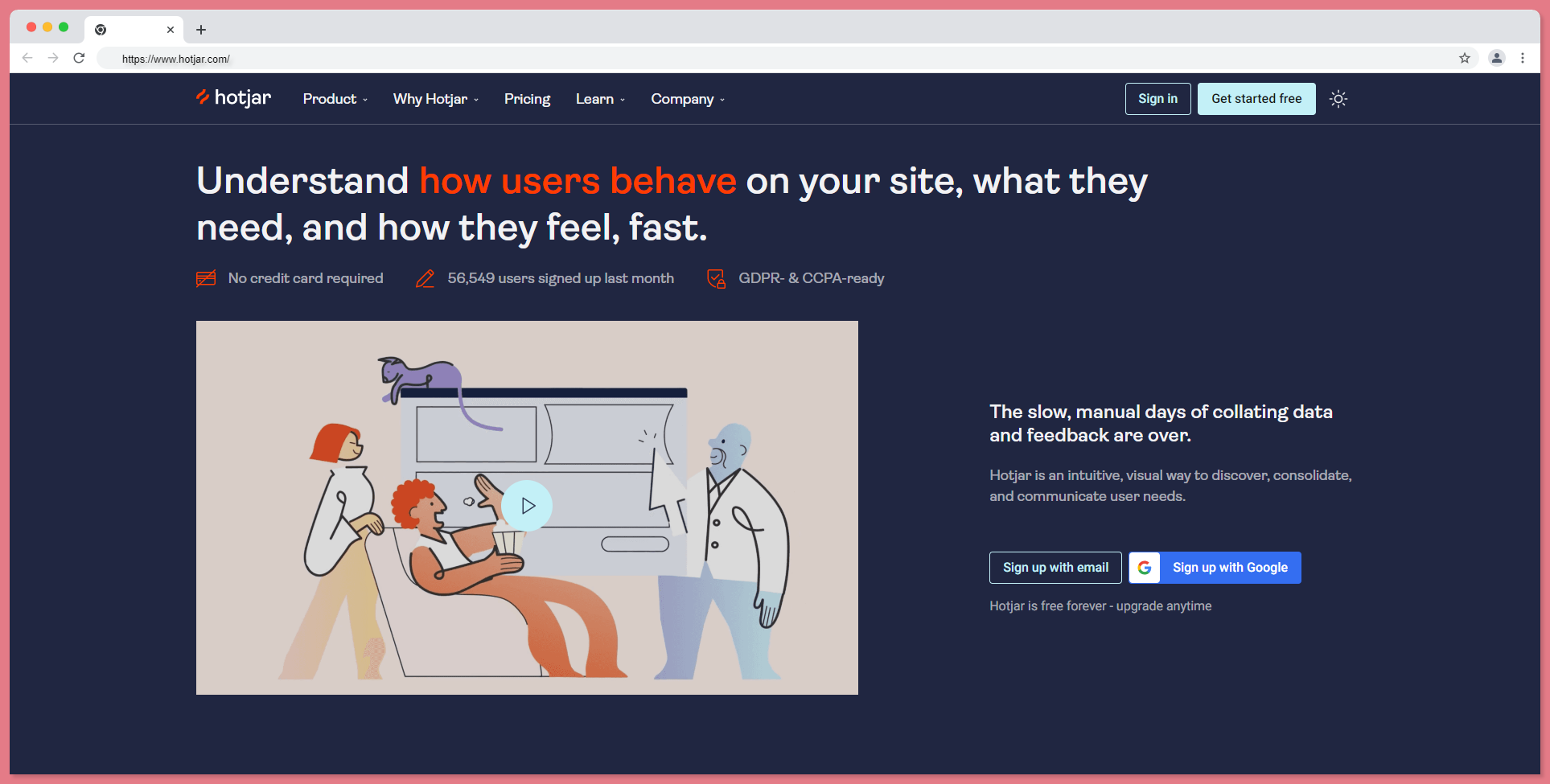 Hotjar is a powerful user analytics and conversion rate optimizer.
Moreover, Hotjar enables you to see how users engage with your website or app, so you can keep improving the customer experience.
This gives a visual representation of what they are doing on your webpage.
You can also watch user recordings to see where or when your visitors get stuck on your website.
Furthermore, having this information is essential for optimizing your conversion funnel.
Features:
Session replay
Heat Maps
Conversion opportunities
Webpage element analysis
A/B testing
Surveys
Pricing:
The basic plan is completely free
Plus plan for $31 per month
$79/month for a business plan
scale plan for $311 per month
#6 Adobe Analytics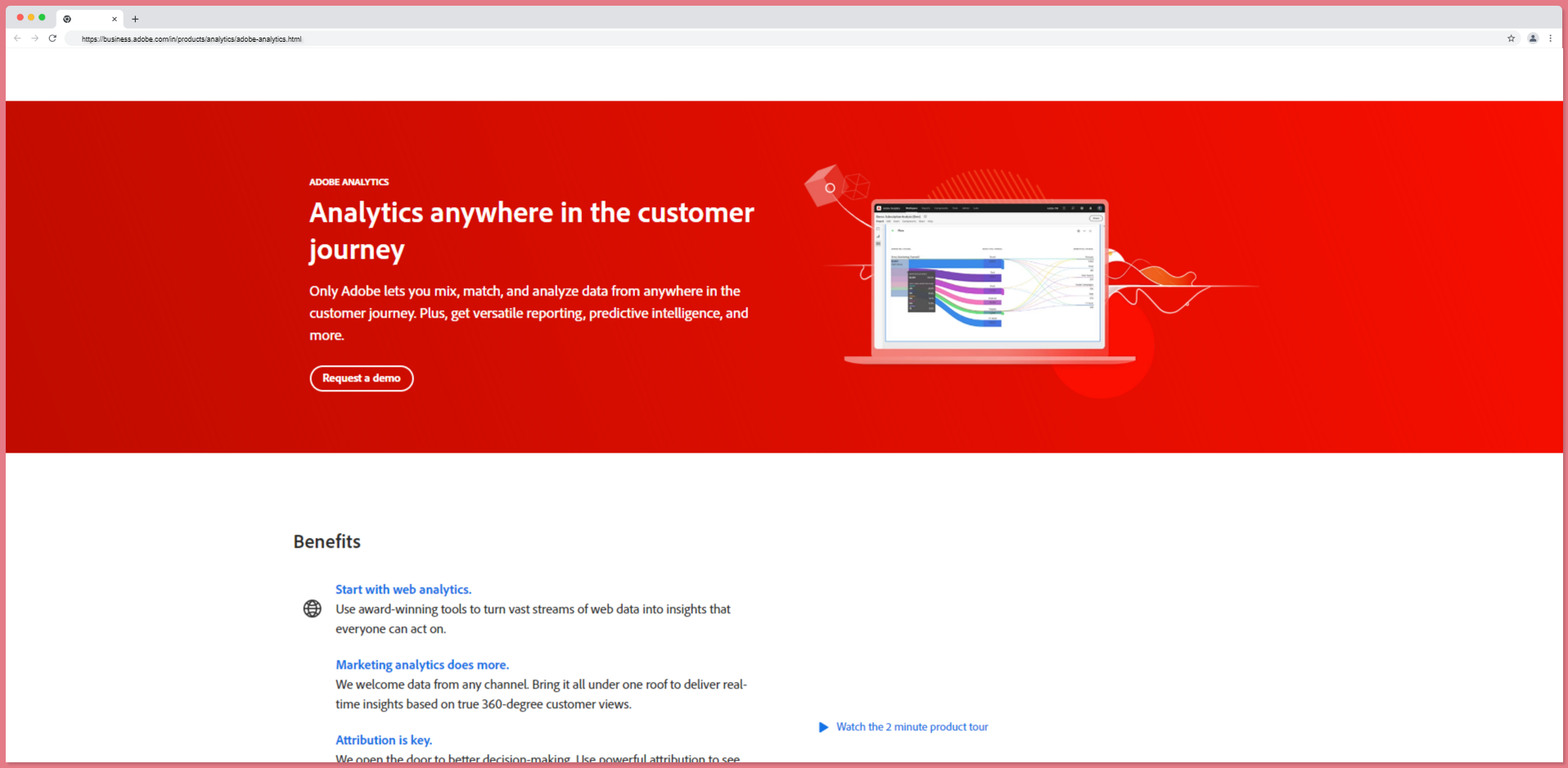 Adobe Analytics is a Kissmetrics alternative provided by Adobe for website analytics.
The simple metrics of Adobe Analytics have been modified into top web analytics techniques by utilizing machine learning, artificial intelligence, and other modern data analysis techniques.
Features:
Sessions – Digital Analytics
Real-Time Reporting
Custom Reports and Dashboards
Custom Event Tracking
Conversion and retention.
Pricing:
Adobe Analytics has not been mentioned anywhere. but as per a review in G2, it is not quite flexible.
#7 Contentsquare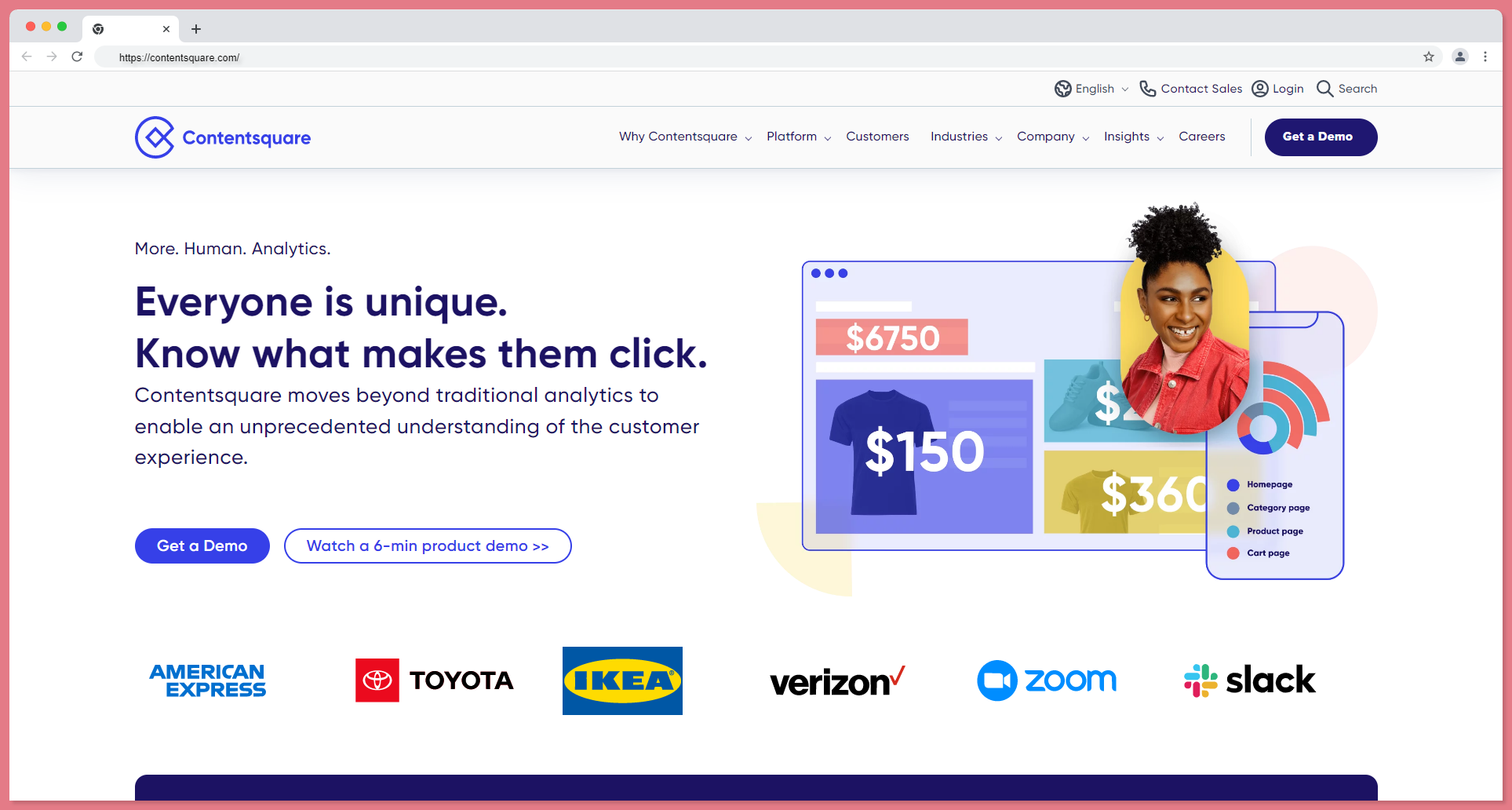 Contentsquare monitors average period action and every gesture to understand the why and how of traditional click analytics.
You can use this behavioral data to build experiences that are different from your company which will lead to increased loyalty but also conversion.
With simple visualizations and dashboards, it also has a deeper understanding of  UX, product, price, and content choices impact visitor behavior and business KPIs.
Features:
An analysis of every customer's activities
It also has automatic AI insights.
Merchandising analysis
Zone-based heatmaps show how users interact.
Similarly, it has mobile app analysis.
Finally, you can connect your API and integrations.
Pricing:
Contentsquare has not mentioned their prices or any packages.
You may have to contact the company to know more about their pricing.
Conclusion:
Website analytics is so important to a business. consider have the best website analytics for your business website as it has more impact on your conversion rate.
Now, then we will have the list of all the best Kissmetrics alternatives.
Contentsquare
Mixpanel
Google Analytics
Heap
Hotjar
Adobe Analytics
The limitations of Kissmetrics may lead you to find some better Kissmetrics alternatives, considering better prices, better features, and flexibility.
---
ReplayBird - Driving Revenue and Growth through Actionable Product Insights
ReplayBird is a digital experience analytics platform that offers a comprehensive real-time insights which goes beyond the limitations of traditional web analytics with features such as product analytics, session replay, error analysis, funnel, and path analysis.
With Replaybird, you can capture a complete picture of user behavior, understand their pain points, and improve the overall end-user experience. Session replay feature allows you to watch user sessions in real-time, so you can understand their actions, identify issues and quickly take corrective actions. Error analysis feature helps you identify and resolve javascript errors as they occur, minimizing the negative impact on user experience.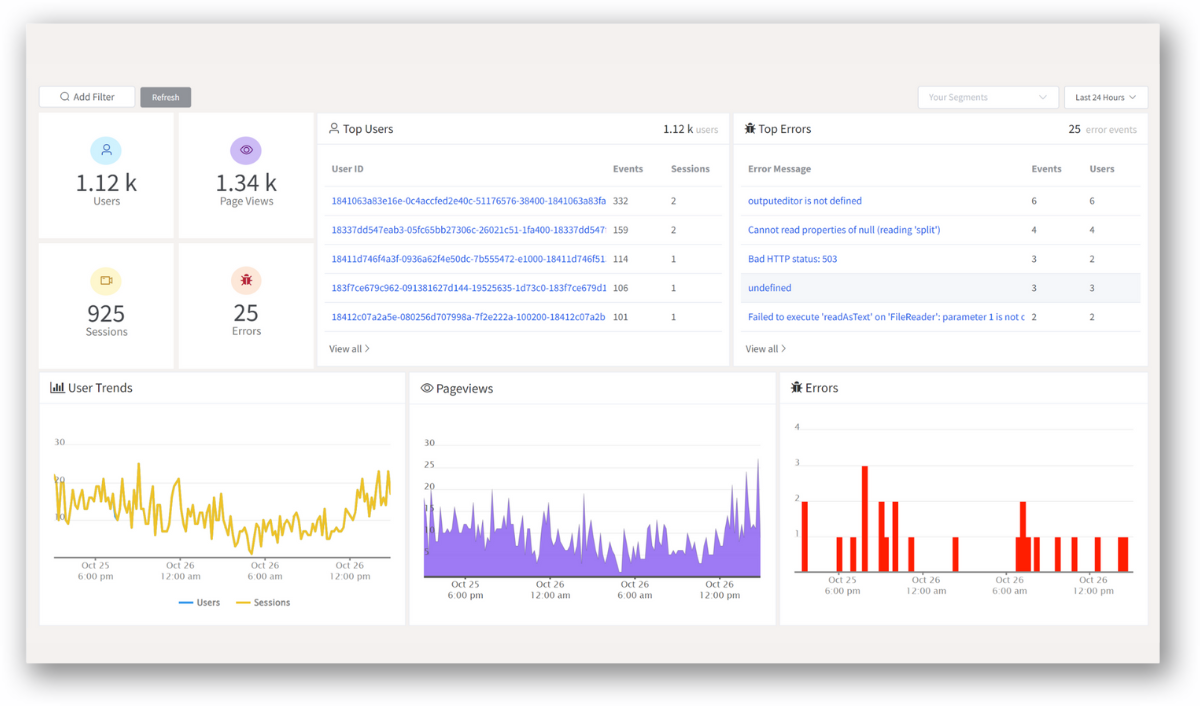 With product analytics feature, you can get deeper insights into how users are interacting with your product and identify opportunities to improve. Drive understanding, action, and trust, leading to improved customer experiences and driving business revenue growth.
Try ReplayBird 14-days free trial
Further reading: