Customer experience is the outcome of every engagement a consumer has with your company, from navigating the website to contacting customer support and receiving the product/service they purchased from you.
Anything you do has an impact on your customers' perceptions as well as their decision to return or not, so providing an excellent customer experience is critical to your success.
Difference between customer experience and customer service
Customer experience is a customer's entire impression of your company based on their experiences with it.
Customer service refers to specific connections only within an experience where a customer wants and obtains support or help.
For example, contacting an operator to get a refund or connecting through email with a service provider.
Customer experience is much more than customer service handling complaints and phone calls.
It encompasses all interaction a consumer has with your firm, from the time people first discover about you in a blog post they googled until the time they call your customer service staff to say bad things about your product and you may receive a timely response.
What is customer experience management?
Customer experience management is a vital part of a customer-first strategy since it indicates a clear engagement in the demands of the customer.
Your company will continually provide more benefits to consumers by monitoring and improving various interfaces along the customer journey.
That is essential for both new and existing clients.
New customers want to see the best possible results to validate their latest sale.
Yet, if you don't provide any new value over time, these clients may grow bored and turn somewhere else for benefits.
Customer experience management keeps track of these consumers and offers programs and tools to keep them from leaving.
Unless you're wondering about how this system operates, read on for some advice on providing an outstanding user experience.
Importance of customer experience for business: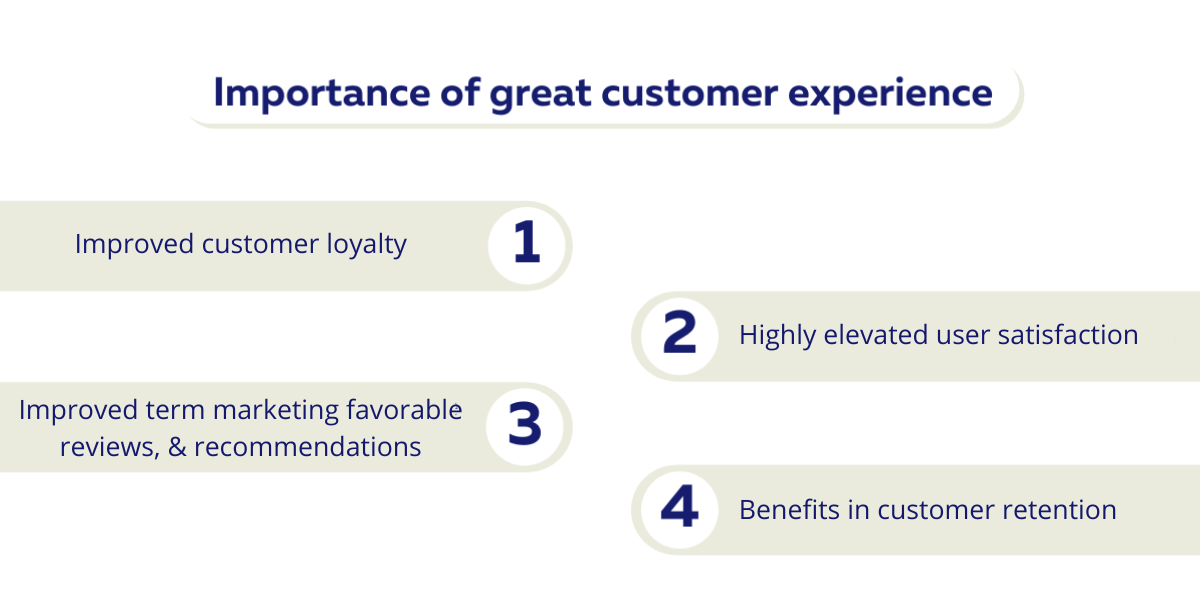 #1 Improved customer loyalty
Once the customer is comfortable around the site they automatically become loyal and do not at to visit other competitive websites.
#2 Highly elevated user satisfaction
Every time the customers are satisfied with our web feature they are first to become happy, as well they are going to become favor towards us.
#3 Improved term marketing, favorable reviews, and recommendations
Improved marketing is going to introduce new customers to us
Favorable reviews help when a new customer is researching the product.
Also, recommendations are smaller when it is among friends and family, but play a vital role when it is recommended on social media platforms by some famous influencers.
#4 Benefits in consumer retention
Customer retention is not a simple thing, but they come back only when we have something they really need or love.
They will be coming back unless you have a bad feature or they experienced a bad user experience.
Promotes brand advocacy
This is going to help us build a brand on our product as a quality outcome.
How to measure customer experience
#1 Examine the patterns in customer support tickets
You should also examine the customer support tickets that your support representatives are attempting to handle on a daily basis.
If there are reoccurring difficulties with tickets, look into the likely causes and how you can provide remedies across the board.
This will allow you to reduce the total number of tickets reps get while providing a simplified and delightful experience for consumers.
#2 Measure the rate and causes of unsatisfied customers
Make sure you're performing frequent churn analysis on your churned customers so you can establish if your churn rate has gone up or declined.
The causes for churn, and any steps your team may develop in the future to avoid a similar problem.
#3 Interpret the data of a customer satisfaction survey
Net Promoter Score, or NPS, is an excellent approach to measuring customer experience.
This metric assesses the likelihood that your consumers will recommend you to their friends, family, and coworkers.
Analyzing NPS at many touchpoints along the customer journey will reveal where you need to improve.
#4 Collect product or feature suggestions from customers
Promote communication for your consumers to request new items or features that will make your offers more useful and beneficial.
Also, allow customers to provide suggestions proactively, whether through an email survey, social media, or a community page.
This does not imply that you must adopt every one of the recommendations you receive.
But repeating themes may be worth your time to investigate.
How to make a great customer experience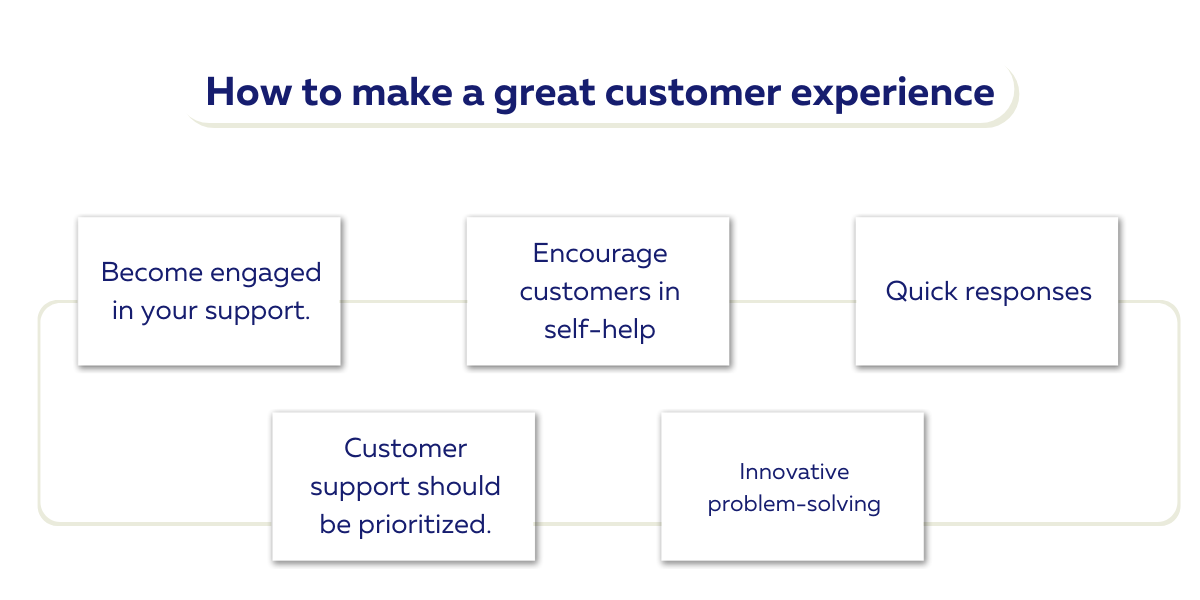 Generating an excellent customer experience entails comprehending the complete client journey.
If a consumer wants to return a product, make it as simple as possible for them to do so.
Stitch Fix sends garments to consumers, who can return them by mail if they don't really want them.
#1 Encourage customers in self-help
More consumers have left due to poor customer service.
Don't hesitate to impress your consumers when attempting to address their problems.
Customers who are loyal to you and your product will be created by creatively addressing their demands.
#2 Quick responses
Respond to your customers as soon as possible.
There is a time difference between how quickly you reply and how quickly you fix their concerns.
Customers never want to wait in line for a ticket, but they'll put up with it for as long as it takes.
#3 Innovative problem-solving
Self-service is a tried-and-true method of increasing client satisfaction.
Many customers try to resolve issues on their own before contacting a representative.
Help content in the center of the page, allowing customers to get answers without leaving the site.
#4 Customer support should be prioritized
Customers are the most important aspect of your organization, and they take precedence over items and profits. Treat them as if they're your owners.
#5 Become engaged in your support
Going above and above is one of the most critical things you can do to provide excellent customer service. It is your responsibility to anticipate and meet their requirements.
If you do something pleasant for your customers, they will want to reciprocate by purchasing your stuff!
Customer experience management tools
A customer experience management system centralizes all of your customers' information.
This allows you to communicate real-time updates with your multiple departments.
You'll be able to see a history of your interactions with consumers, from their behavior (such as purchase or contact) to how they felt (customer feedback), demonstrating where you did customer service right and where you might have gotten it wrong.
Customer experience management tools manage:
Customer Experience Dashboards,
Customer Response Management, and Closed-Loop
Integration With other Technology
Also, the Survey Engine
Things that lead to poor customer experience
Leaving out common navigational components, such as "Where is [Search | Login | Support | Contact | some other essential thing]?"
If pages take more than 3 seconds to load, 53 percent of mobile site visitors abandon the site.
The emergence of ad-blocking software is a clear indication that many businesses and publications are overusing advertisements.
The more direct the advertisements, the more likely they are to be seen, clicked, and valued.
False news and clickbait should be avoided at all costs. If your website or app is down, it's very likely that your users will notice.
Moreover, one solution is to prepare your site's responsive design for users with slow Internet connections.
Conclusion:
Customer experience is every brands backbone, whereas always have your customers happy and let them share everyone bout their happy experience with your business.
Use ReplayBird to improve your customer experience.
---
ReplayBird - Product Analytics that Drive Revenue Growth
ReplayBird generates valuable insights into your user experience, enabling you to pinpoint and address friction points. Armed with this knowledge, you can make data-driven decisions with product analytics about the changes that are necessary to achieve your product goals.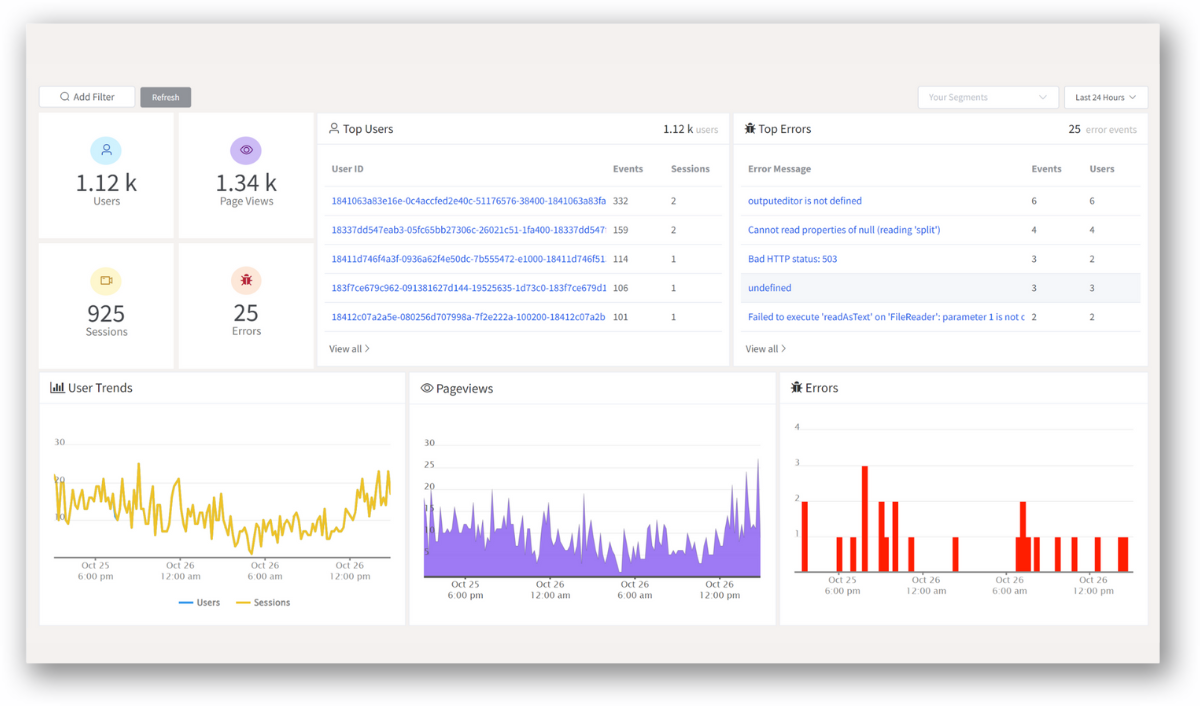 With ReplayBird's intuitive tools, you can easily gain a comprehensive understanding of the issues that are impacting your product. With session replay, you can see exactly how users interact with your product, where they get stuck, and what causes them frustration.
ReplayBird's analytics tools, let businesses make informed decisions about how to improve their products and ultimately drive revenue growth.