You have an on-line business then it is mandatory to have a website tracking tool to track your audience, to know what they need, why they visitor your webpage.
Then you have come to the right place to know all the details about the website tracking, its uses, what the tools are available, and most importantly to know its  legal obligation.
Tools track the website visitors for various reasons and use the data in analytics and find so many solutions for all their queries.
Now, we shall swoop down the content to know more.
What is website tracking?
Uses of website tracking
How website tracking tools work
Types of information gathered by website tracking tools
Why do you need to track your website visitors?
Best Website tracking tools (recommendations)
Is web tracking illegal?
Conclusion
What is tracking on the website?
Web tracking is the process of collecting, storing, and sharing information about visitors' activities, traffic, user clicks, and performance on a specific website.
Analysis of a user's behavior may be used to focus on providing content that allows the website owners to conclude their choices may be of concern to a variety of parties, including advertisers, improvement in UX, and more.
But even so, the prevalence of website tracking, as well as the lack of transparency about the data websites gather, how they use this data, and who has significant exposure to it, indicates that the practice is problematic.
Uses of website tracking
1. Evaluate your best as well as a worst-performing webpage and its elements.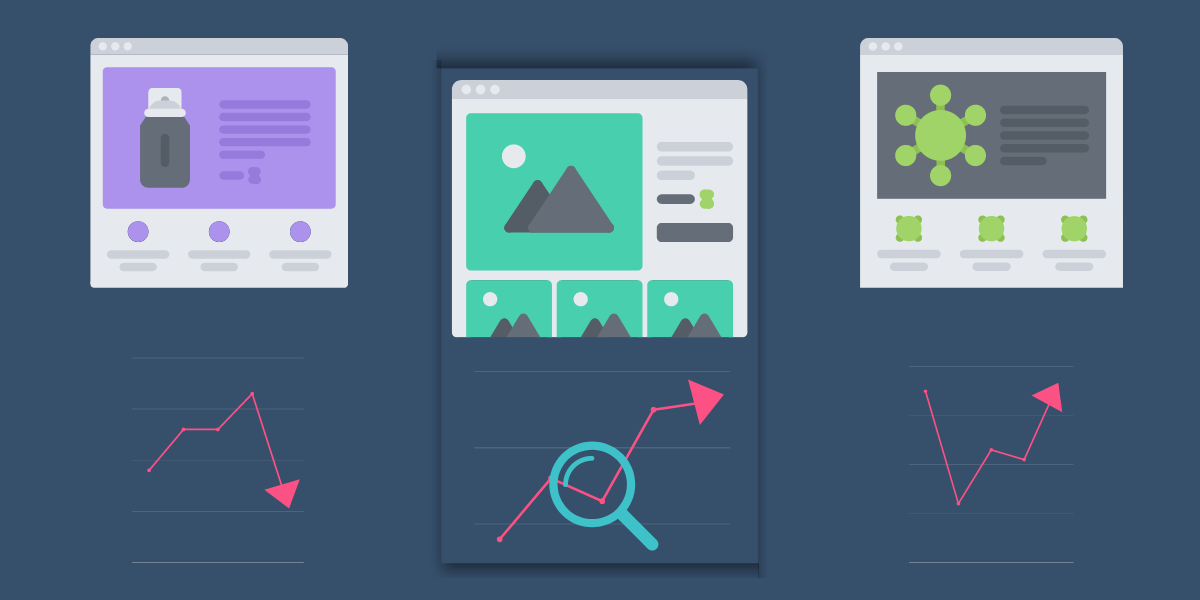 After designing or publishing your website you will not know how it is working from a customer's point of view.
Whereas there may be some pages ignored or customers may feel they have more information from a specific page.
You can find what your customer is feeling and what they expect from your website.
2. View the spots where visitors click, swipe, ignore, tap, and scroll on a site.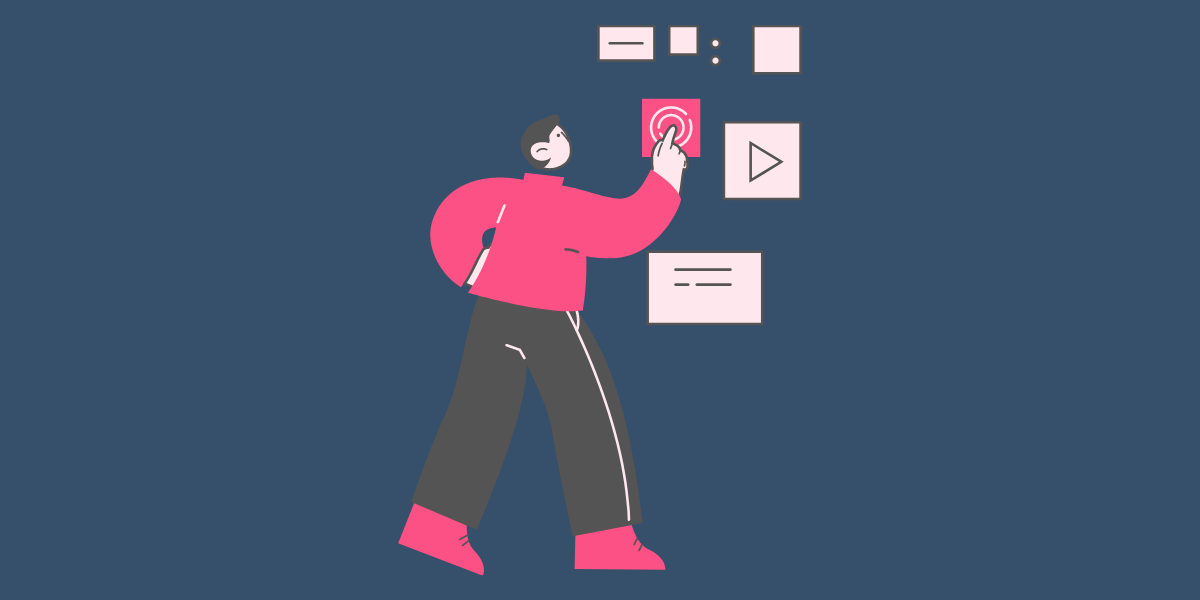 Looking at your visitor activities, on what they frequently click at, scroll through, ignore at your site and come to conclusion on what customer's opinion on your service or product.
This tracking helps your UX development team to find and remove unwanted content from the webpage.
Also, to find out if there is an issue with your webpage, it either does not work correctly or has unwanted features.
3. Specify which device users are browsing on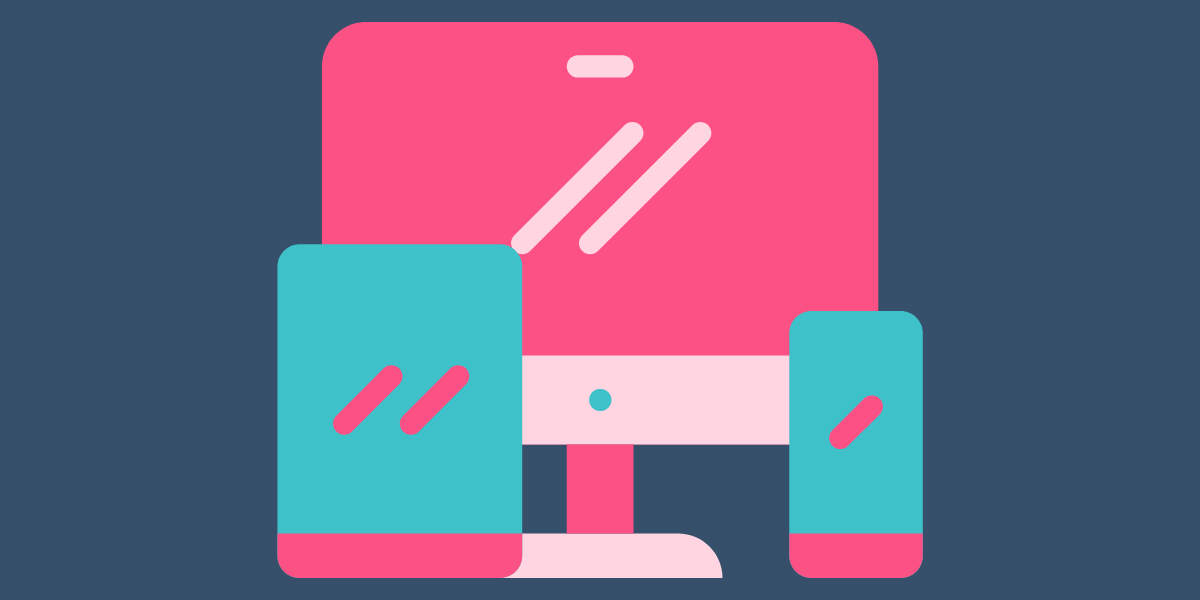 Decide what device your visitors are using your website either desktop or mobile.
The way you display & build content on your website might very well differ depending on the user.  
It will also be beneficial to use Analytics to view all of your traffic statistics.
A few of these trends are determining the source of your website's traffic.
They are used not only to help drive traffic but must also be correctly compressed and optimized.
If they aren't, these files will slow down your site and cause it to fall in Google page rankings.
An effective SEO layout is also extremely important.
4. Find from which location you get traffic around the world.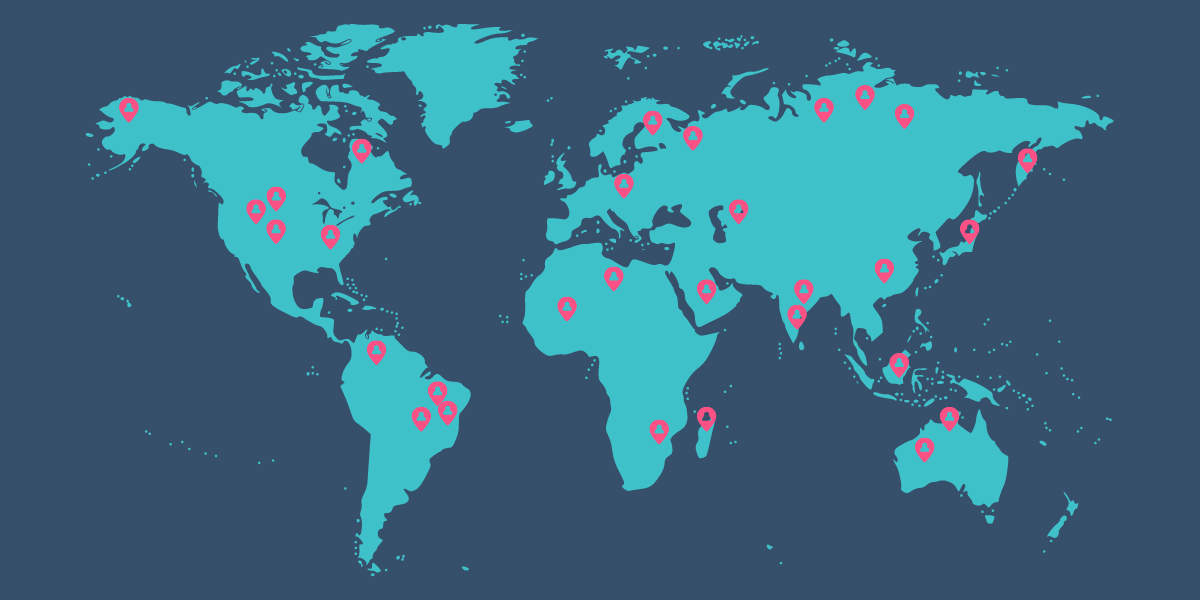 Know where website visitors are located around the world,  identifying high-value customers to target and feature various stories, testimonials, and products.
You can see how many visitors came to at least one page on your website.
It's a useful visual for getting a quick overview of the metrics by geography.
5. Find Conversion rate optimized on landing pages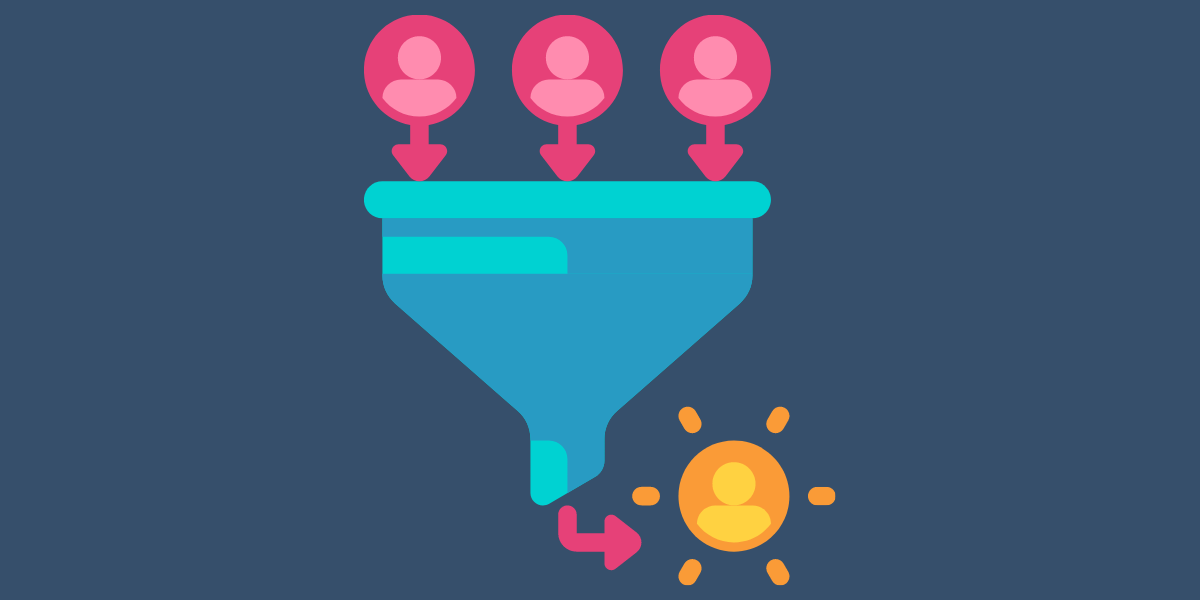 CRO allows you to optimize the capabilities of websites while also assisting in understanding visitor behavior.
Conversion rate optimization is essential because it helps websites to reduce marketing expenses by extracting more value from existing visitors and users.
Websites can increase revenue per visitor, maximize customers, and grow your business by optimizing your conversion rate.
6. Analyze website traffic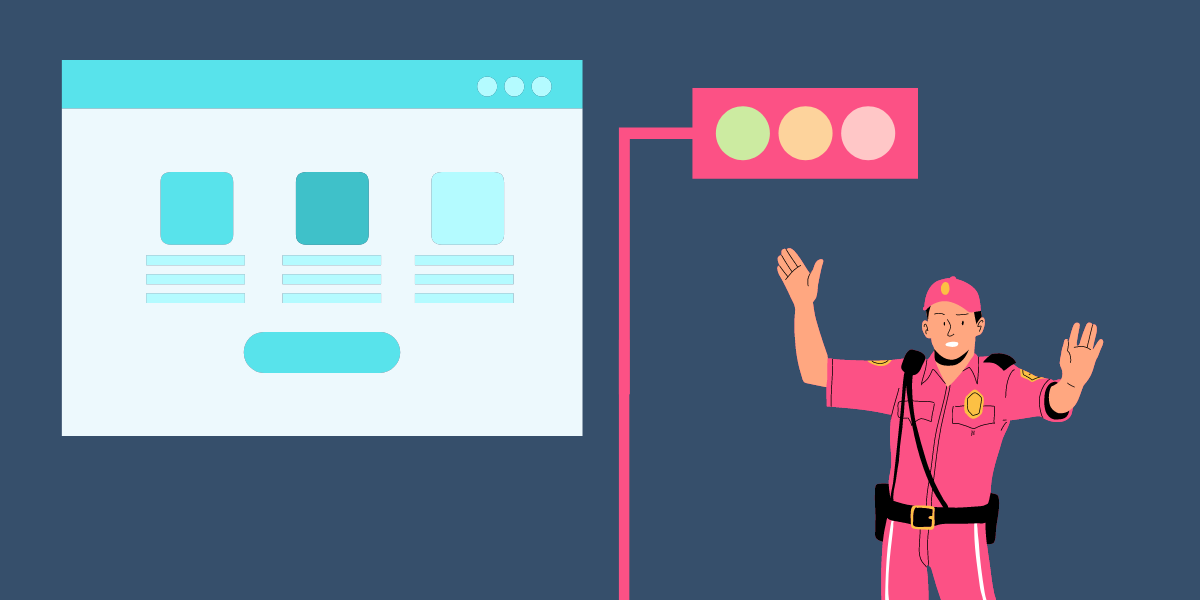 Website traffic analysis provides information such as the percentage of a target audience that visits your site, the most advanced traffic source, engagement rate, and the number of pages seen per session.
Analyze website traffic by the overall number of visitors to the website.
Finding most actions taken by visitors on the webpage, and the effectiveness of your website.
Also, the outcomes of website optimization, as well as promotion, are essential to analyze website traffic.
How do website tracking tools work?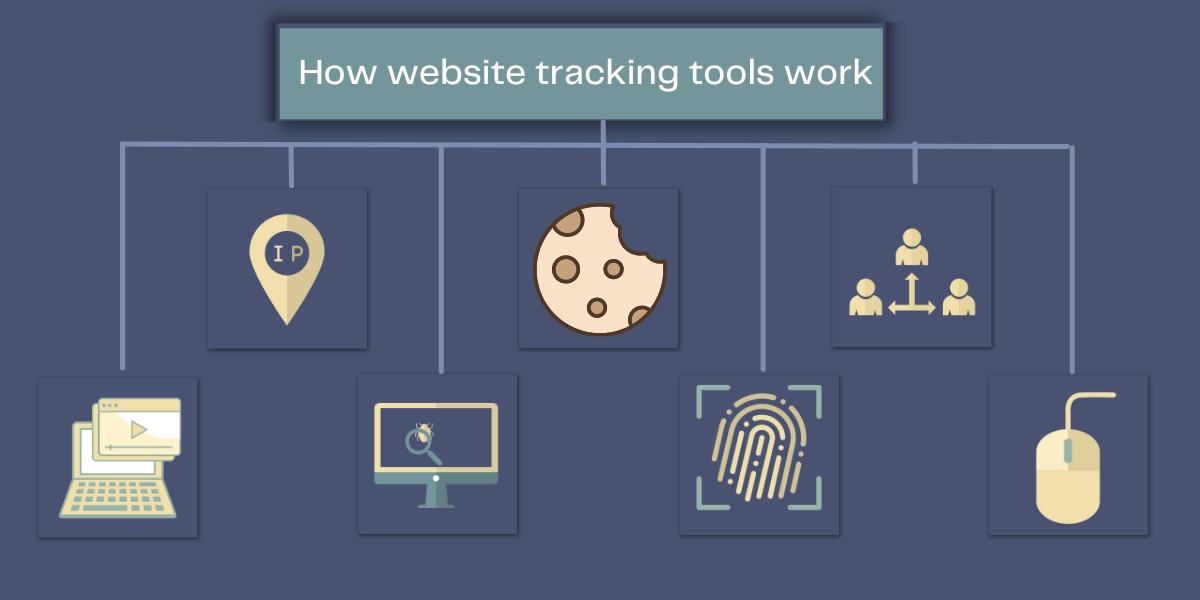 1. IP address:
Every Internet-connected device is identified by a unique IP address, that is required for devices to connect.
The IP address of visitors to the site can be logged and used to decide the visitor's geographical location using software applications on the network website.
Logging the IP address can be used to track whether or not a person voted multiple times, and also their viewing style.
Recognizing where the visitors are living, among other things,
knowing the country, may lead to prices getting started in the local currency, the cost or range of goods available, special conditions applying.
2. HTTP cookies:
An HTTP cookie is a piece of code or information that a website places on a user's device once the user visits the website.
On later visits to the website by the user, the website may retrieve the data stored in the cookie.
Cookies can be used to personalize a user's browsing experience and to produce relevant marketing.
Cookies can store the following browsing functions:
What web content a user browsed, what online searches a user conducted, when a user clicked on an advertisement, and when a visitor visited a webpage.
3. First Party and Third Party:
The website where users visit creates a first-party cookie, they assist the user instead of snitching on them. The primary goal of first-party cookies is to identify the user and their likings so that the appropriate settings can be applied.
A third-party cookie is one that is generated by a website other than the one that the user visits. They include an additional tracking code that can monitor a user's online activity. On-site analytics is the collection of data on the current site. Meanwhile, it is used to track a variety of user interactions, including the number of times a user visits a website.
4. Web beacons:
A web beacon is a method used on websites to verify that a user has modestly retrieved some information.
Some generally use web beacons to track user activity on a website for web analytics or page tagging.
Also, they may be referred to as JavaScript tags once applied in JavaScript.
Companies can track web users' online behavior by using such beacons. Initially, such tracking was done primarily by advertisers or web analytics companies.
5. Session Replay:
When you can replay a visitor's journey on a website as a video or within a mobile application or web application is referred to as session replay.
The user's view (browser or screen output), user information (keyboard and mouse inputs), and network event or console logs can all be replayed.
Session replay is designed to assist boost the consumer experience and classifying struggles in website conversion processes.
There are so many session recording and replay software to track and understand your website visitor. you can try ReplayBird, the best session replay tool.
Even so, because the customer journey, including all interactions and can, be replayed, it can also be used to study a website's accessibility, customer behavior, and the handling of customer service questions.
6. Mouse Tracking:
The use of such software to gather users' mouse cursor positions on the computer is recognized as mouse tracking or cursor tracking.
This target is to automatically extract more detailed data on how people are doing, generally to strengthen the design of an interface.
This is frequently done on the Internet and can add eye tracking in some situations.
Meanwhile, when mouse tracking occurs without the user's permission, such as on a website, there could be some privacy consequences.
7. Browser fingerprint:
A browser fingerprint is data received about the software and hardware of a remote computing device for personal identification purposes.
Using a fingerprinting algorithm, the data is commonly combined into a concise identifier.
Device fingerprints can be used to identify individual devices fully or partially even when prolonged cookies cannot be read or recorded in the browser, the client IP address is hidden, or sometimes the user toggles to another browser on the same device.
This might also allow a service provider to detect and prevent data theft and credit card fraud.
It allows a service provider to collect and analyze lengthy records of individuals' browsing histories or targeted misuses even when they are trying to evade tracking & elevating serious concerns among internet privacy advocates.
Types of information gathered by website tracking tools
With an IP address, one can access customer geographical data from continent to postal code.
You also have an option to access the customer device type as well as an IP neighborhood, which means other similar IP addresses with a change of one digit.
With HTTP cookies one can access information like all visitor's personal identification information such as visitor's name, home address, email address, or telephone number, etc..,
This information can only be saved if visitors provide it; websites cannot access information that visitors have not provided to them, and they cannot connect directly to other files on their computer.
Personal information is linked to web browsing.
The page a user visits can expose a user's location, interests, purchases, and more.
This enables them to make judgments about a user and analyze lifestyle habits and behavioral patterns.
When used in the sense of a private individual, web-tracking can be contentious, and it is compulsory by law such as the EU's eCommerce Directive and the UK's Data Protection Act to different degrees.
Once done without the individual's consent, it may be found to be in breach of browser security.
Recognizing a visitor's behavior to identify buying intentions can be seen as an appropriate way to target advertising campaigns from a business-to-business perspective by many commercial agencies.
Trying to visit companies can be consulted with marketing and sales propositions that are meaningful to their current requirements, both online as well as offline.
Interacting with a potential customer while they are willfully planning to buy can result in savings in other more wasted marketing funds from the perspective of a sales organization.
Why do you need to track your website visitors?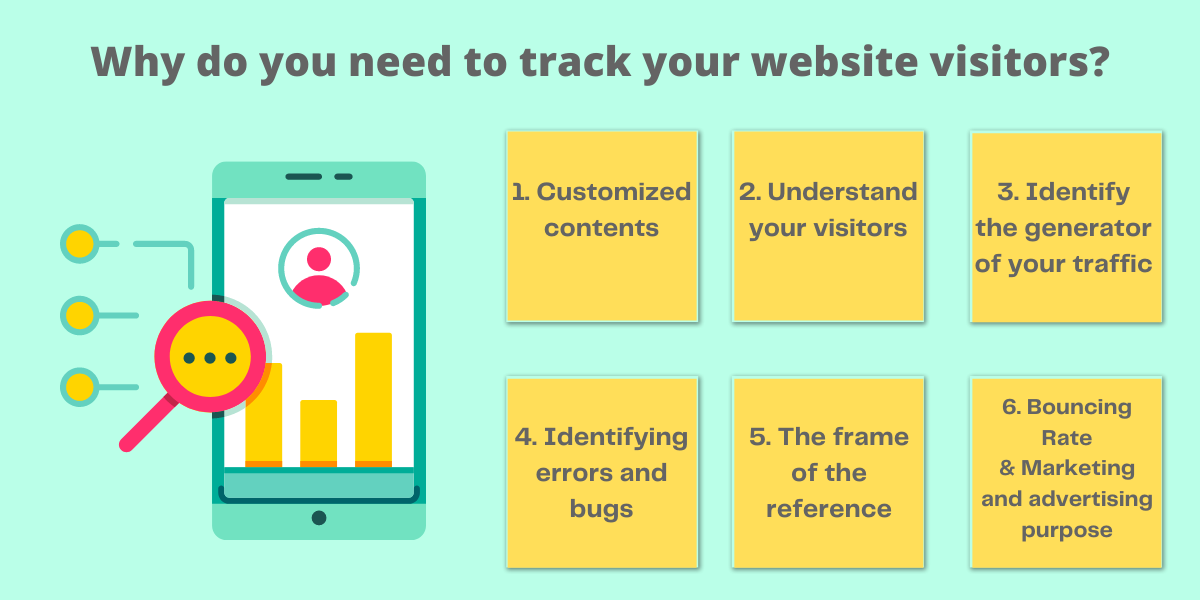 1. Customized contents:
Welcoming your visitors in their second or next visit with a customized message or notification is going to make your customer revisit and let them know that they are known to us.
Auto filling, sometimes make your customers' task easy which make them comfortable around your website, except for tracking their payment details which are quite creepy.
2. Understand your visitors:
You should know your customers' names, how old they are, whether they are male or female, which mail ID they have, and whether they are from any particular organization.
These details give us accurate data on their current lifestyle, which will help us predict their actions and know what they expect or what they really wanted, with some experience from similar clients.
3. Identify the generator of your traffic:
You can better fulfill your customers' needs on your landing pages once you understand their rigorous wants and needs depending on the outcomes of their searches.
To improve revenue more quickly, ensure your keywords are relevant to your content and discover which keywords transform.
4. Identifying errors and bugs:
How about if your website contains errors or failings?
This may influence the number of visitors to your pages and yet if or not they end up staying or returning.
If you use analytics, you can quickly find out what's wrong with your website as you'll recognize a variation in traffic to those pages.
A drop in traffic on a specific page could indicate that the page is not syncing or loading correctly, in which case you should address any outstanding issues.
5. The frame of the reference:
To know which source your visitor is creating traffic on your webpage, like a blog on your site, or any affiliate link, or even an advertisement, or direct search,
Acknowledging how they accessed our webpage, now you can improvise that referral for more traffic, or even eliminate the reference which is not effective.
6. Bouncing Rate:
Google keeps tracking your bouncing rate to decide where to place your site in SEO.
The "bouncing rate" is the number of visitors who open the webpage and then end up leaving, which means bouncing back from the webpage instead of proceeding to look for another webpage on the same site.
This terribly affects the productivity and purpose of your website.
Tracking your visitors helps to spot why your visitors are leaving, whether it may be a pop-up, an advertisement, or the content that annoyed them and made them leave.
7. Marketing and advertising purpose:
Target your visitor for what product they're missing when they visit our website.
This can boost our revenue by aiming for the right audience.
7 best website tracking tools
1. ReplayBird: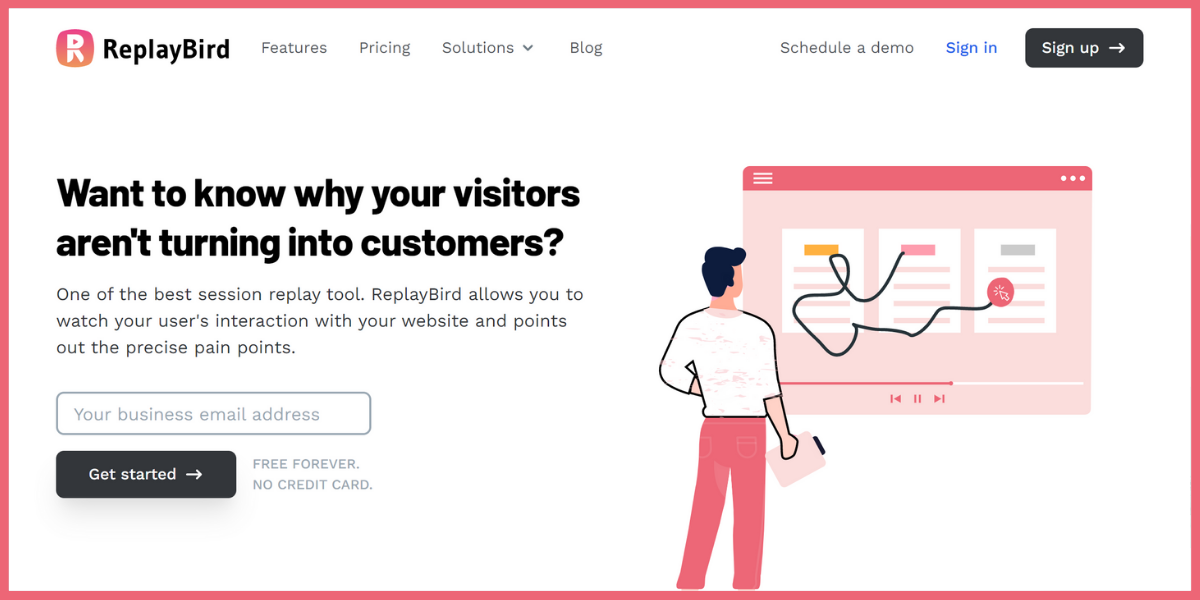 ReplayBird is the best website tracking tool with the best features such as session recording, replay, and many others.
It supports you in knowing how users behave on your webpage through session replay and recording, which will show you their actions in real, along with basic visitor information for better tracking.
Even though it is customizable for analytics, ReplayBird, as a better website tracking tool, plays videos of your site visitors' entire user experience.
Furthermore, insights analyze customers' digital experiences and pinpoint any errors.
Keep track of user behavior and how your site performs across devices and countries.
Assists teams in resolving issues, increasing conversions and improving product engagement across the web and mobile apps.
2. Google Analytics: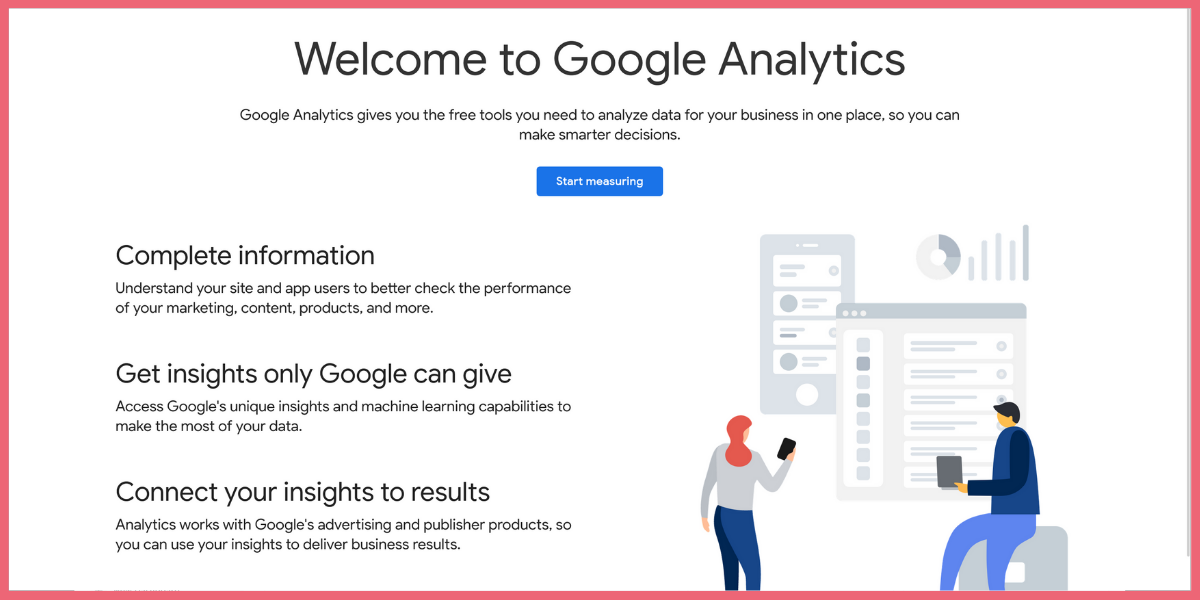 Google Analytics is a free website tracking tool that provides businesses with useful insight into their websites and audiences, along with effective, adaptable, and simple-to-use digital marketing analytics.
It also facilitates good marketers in determining which messages and channels deliver better results.
Modern conversion attribution and testing tools help companies of all sizes create a great user experience and maximize their digital strategy.
Assists teams in resolving issues, increasing conversions and improving product engagement across the web and mobile apps.
3. Fathom: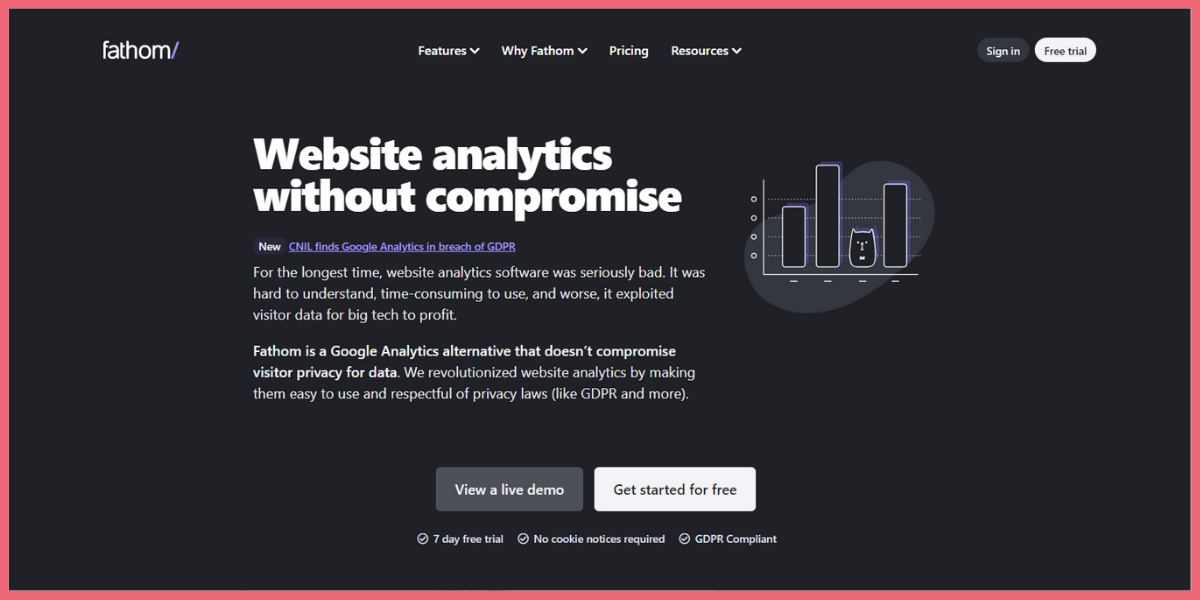 Fathom is totally a privacy focused web tracking tool, which is built not to track cookies. This is a simple and secured tracking tool.
They made them easier to use and also complied with privacy laws such as GDPR, e-Privacy, PECR, and CCPA.
It even prevents the use of cookies to collect sensitive website analytics data for you.
4. Mixpanel: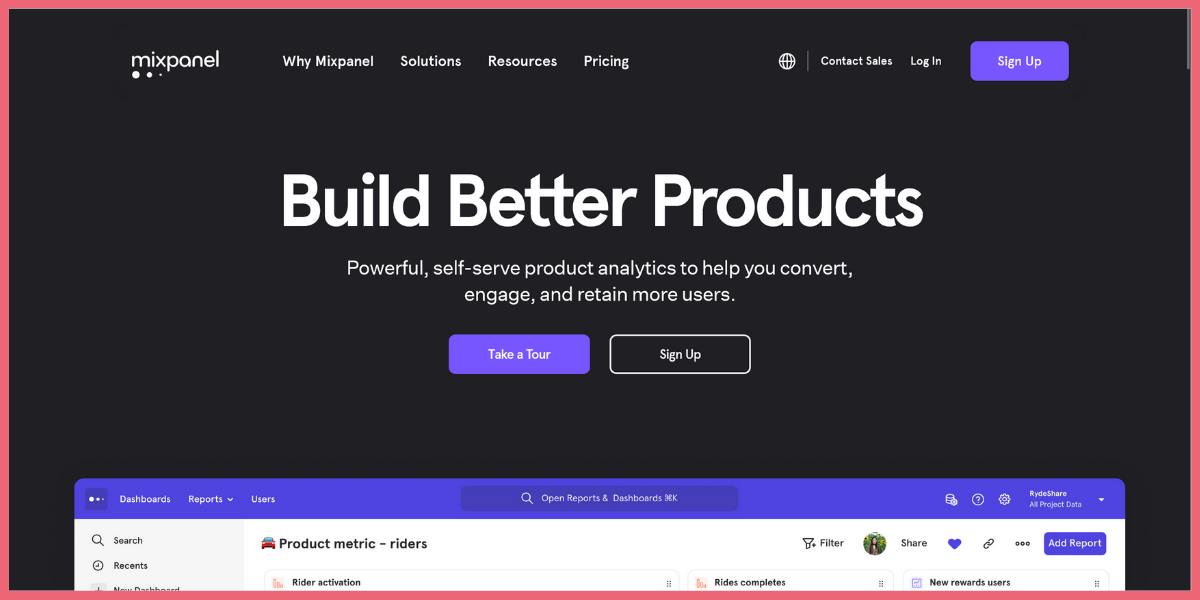 In Mixpanel, you can extract data and view visualizations with reports, making it simple to respond to a discussion about how your brand is used.
Furthermore, their dashboards are used to make note of all of your product's key metrics in one place.
Aside from business intelligence dashboards, they are easy to customize and the data updates in real-time, letting everyone act based on the most up-to-date information.
5. Hotjar: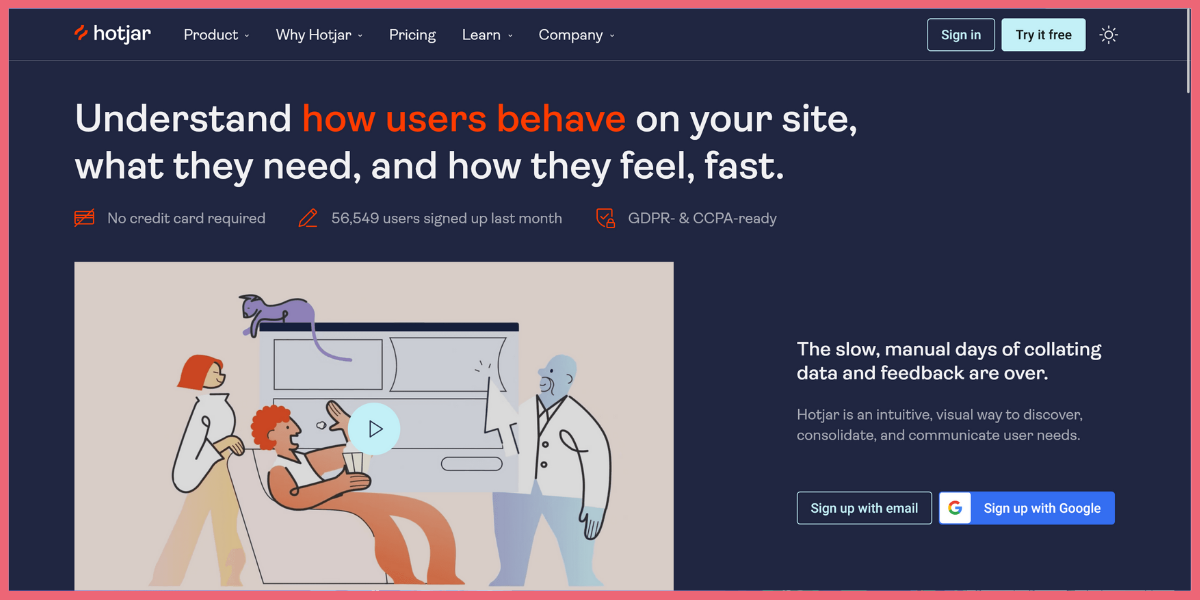 Hotjar is the best website visitor tracking tool and conversion rate optimization tool.
Furthermore, Hotjar enables you to quickly see how users engage with your website or app and implement modifications to connect with customers.
Heatmaps are visual representations of your users' clicks, taps, and scrolling behavior.
This provides a visual representation of what they do on your website/app.
Users can also watch visitor recordings to see where and when your visitors get stuck on your website.
6. Kissmetrics: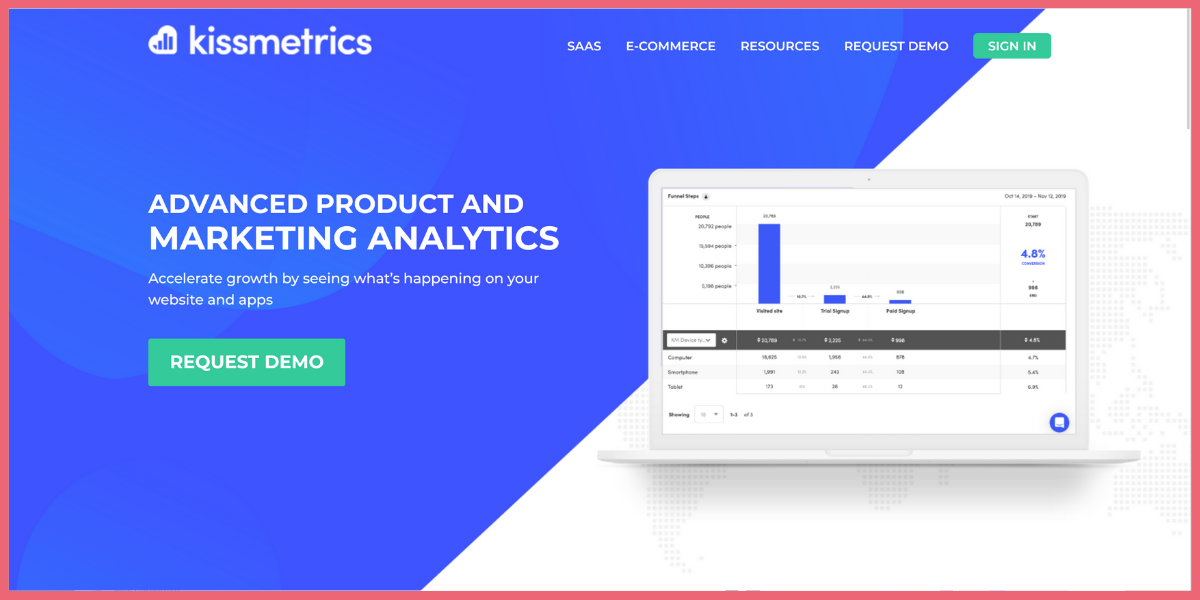 Kissmetrics gives you detailed insights into how your website visitors connect with it, letting you collaborate with highly targeted email and Facebook campaigns.
Its advanced customer segmentation and precise targeting ensure that no visitors pass through your sales funnels.
You can hold customers engaged by sending automated emails based on their behavior and characteristics.
You can also track the effectiveness of email campaigns to see which strategies are most effective at driving sales.
7. Matomo: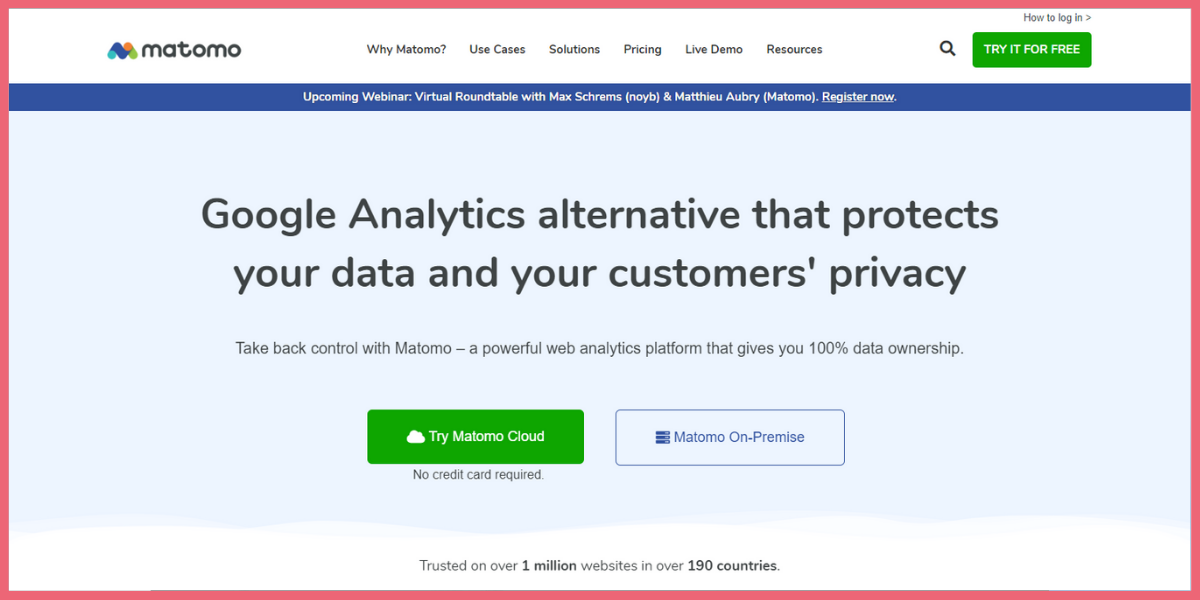 Matomo (formerly Piwik) is a well-known European website tracking tool that focuses on privacy.
This enables you to work on improving your website, making more informed business decisions, and standing out in a secure and trustworthy manner.
It is said to provide security and complete data ownership to your own data without the involvement of a third party.
It, on the other hand, is completely free and open-source.
Is web tracking illegal?
Web tracking is primarily a legal practice.
Countries and regions with stricter rules permit use within the limits of these restrictions.
For example, while the US lacks federal anti-tracking legislation, related rules apply to merchandising phone calls.
As well, while they will be allowed to have their browser send a "don't track" message to any website they visit, these sites are under no legal obligation to honor their requirement, even if they have previously agreed to do so.
Many other countries have also currently locked particular online searching regulations — a sense that internet tracking is legal until it isn't.
If you are really, feeling too guilty to access all the data from your customer, or don't want your website visitor's data to be leaked outside your organization, and want some secured website tracking tools we have some Privacy focused web analytics tools.
Conclusion:
You would have got a clear understanding on why websites tracks their website visitors and why they access them.
Now, then, you have found out that it is totally legal and moreover, it is just a resource to learn their visitors and covert them as their customers.
Get a fast replay with recommendations of the website tracking tools.
With these best recommendations you can also effortlessly track your website visitors and figure out all the needs.
---
ReplayBird - Driving Revenue and Growth through Actionable Product Insights
ReplayBird is a digital experience analytics platform that offers a comprehensive real-time insights which goes beyond the limitations of traditional web analytics with features such as product analytics, session replay, error tracking, funnel, and path analysis.
With Replaybird, you can capture a complete picture of user behavior, understand their pain points, and improve the overall end-user experience. Session replay feature allows you to watch user sessions in real-time, so you can understand their actions, identify issues and quickly take corrective actions. Error tracking feature helps you identify and resolve javascript errors as they occur, minimizing the negative impact on user experience.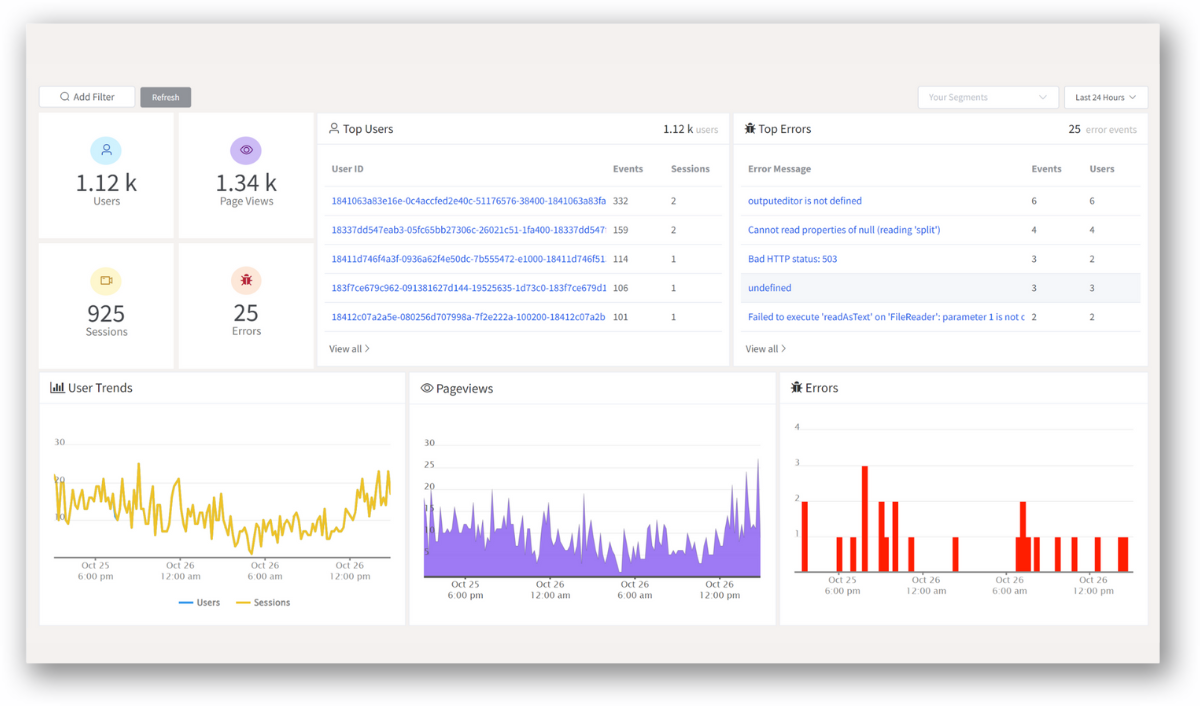 With product analytics feature, you can get deeper insights into how users are interacting with your product and identify opportunities to improve. Drive understanding, action, and trust, leading to improved customer experiences and driving business revenue growth.