What is Website Analytics?
Website analytics helps in analyzing the behavior of website visitors.
This is recording, evaluating, and reporting data in order to measure web activity, which includes the need for a website and its elements, like webpages, photos, and videos.
Web analytics data could contain traffic sources, referring sites, page views, paths are taken, and conversion rates.
The gathered data is frequently used in customer relationship management analytics (CRM analytics) to assist and streamline smarter business decisions.
Web analytics allows a company to retain consumers, attract new visitors, and raise the amount of money each client spends.
Why do we need Web Analytics?
Web Analytics helps you identify specific traffic sources based on device type, web browser, search engine, social media, and so on.
This gives you more control over your conversion rates and enables for more exact segmentation.
Choose the device with the highest income or the lowest bounce rate.
Obviously, by doing so, you may build your marketing initiatives on a solid foundation supported by relevant data.
#1 Landing page improvisation:
By fine-tuning your landing page focused on analytical data, you can get excellent results.
The landing page is the first page of your website that visitors see when they visit.
Keep an eye on your primary landing page and modify it so that visitors spend a lot of time there before exiting.
The objective is to grow your content so that your website's load time is as low as possible.
#2 Discovering Specific Problems:
When optimizing landing pages isn't enough, you may also track when visitors leave your website.
Bounce rates on troubled pages are always greater, and these are the ones you should pay particular attention to.
Conversion funnels can be tested to see where and why visitors are lost in the process.
You can compare your conversion rate to the worst, allowing you to determine what you're doing well on one side and what you're doing wrong on the other.
#3 Best Spot for Call-to-Actions:
Unless you employ Calls – to – action on more than one page, one may generate a lot of clicks while others perform badly.
The issue isn't necessarily with the CTA's content, size, or color.
If you want users to click on the CTAs, the content of your landing page must be consistent with them.
A common example would be when the call-to-action is located in an annoying popup window, increasing the bounce rate rather than generating income. This is exactly what
#4 To Identify Product Alignment:
Anyone may use website analytics to figure out exactly everything people are looking for on your site, when they are looking for it, and which pages they are looking for.
With this information, you can fine-tune your content and uncover certain issues that you did not cover in-depth previously.
For instance, suppose you manage a website where you sell clothes. You also have a blog where you discuss various types of clothes and fashion.
If you see that individuals visit your site after searching for information on a specific manufacturer during the autumn, you should consider running a marketing campaign on products on stockings boots, and coats.
#5 Track down your customers:
Analyze their geographic locations where most of your customers are from and the fewest visitors visit the site.
How they use and feel comfortable and your page and products as well as buy specific products from each location. Also, Businesses can generate sales and promote business growth by targeting the right people.
Brands may focus more relevant marketing messages and acceptable items to customers who will now be aware and more inclined to buy if they understand what people in those places demand.
#6 Personalization for your regular customers:
Building Audiences. This can be accomplished by using varying customer profiles to target users in real-time based on their activity on your site but also what you understand regarding them.
Also, you may design appealing on-site experiences targeted to individual populations that connect with them if you understand your visitors.
To use it, you must be able to seamlessly handle the scope and variety of those individualized experiences.
This leads to greater interaction and improvement.
The return on your Website Personalization investment should be measured on a regular basis.
As not every customized experience has an impact, it is vital to continuously evaluate and change how all these efforts are performing.
Best website analytics tools (recommendations)
#1 Google Analytics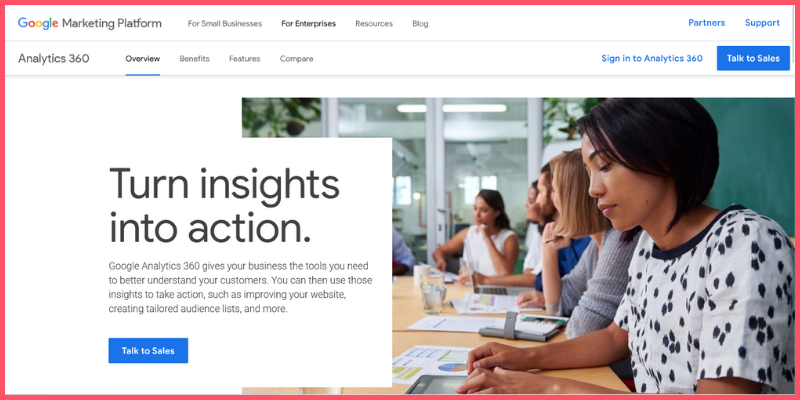 Google Analytics creates a whole picture, you can understand your site and app users to improve the performance of your marketing, content, sales, and other initiatives.
Also, obtain insights that only Google can provide which will help you to utilize Google's particular insights and machine learning capabilities to allow you to make use of all your data.
Furthermore, link your insights to outputs whereas this analytics is designed to integrate with Google's advertising and publishing tools, allowing you to use analytics insights to identify the target market.
Google Analytics produces reports on Audience Analysis, Acquisition Analysis, Behavior Analysis, Conversion Analysis.
#2 CrazyEgg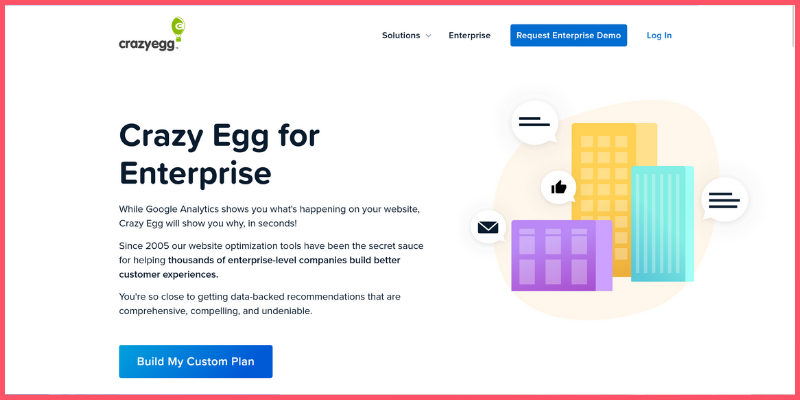 It allows you to filter data based on the top 15 prescribers, search phrases, OS systems, and so forth.
Crazy Egg requires a small amount of JavaScript code to be placed on your site's pages in order to function.
Your servers will generate a report that displays the number of clicks on the pages you are tracking.
You can examine the reports in the dashboard in the Crazy Egg web's member's area.
#3 Mixpanel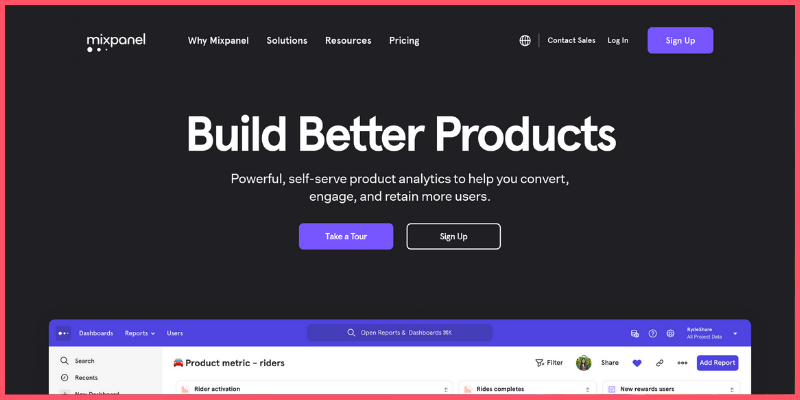 Mixpanel can access the data from any data source instantly.
There is no need to install SDKs or create procedures to submit data.
You can watch how popular are your features, and how many regular users do you have.
Meanwhile, construct funnels and analyze conversion rates in real-time.
Decide which individuals remain and for how long.
Also, create funnels, find top user flows, accomplices, and much more.
Furthermore, to load data from your storage, servers could use a customer data platform (CDP) as well as Mixpanel SDKs to playback events directly from your apps and servers.
#4 KISSmetrics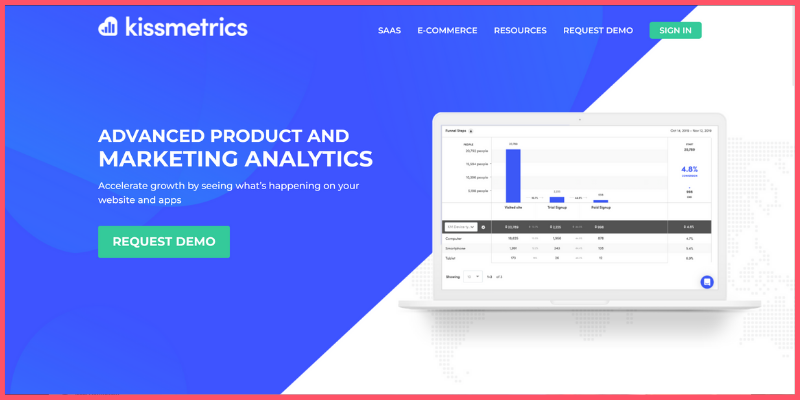 KISSmetrics can assist you in determining the following: Cart size, Landing page conversion rate, Customer activity on your portal, Customer bounce points, Cart abandoned products, Customer occurrence before making a purchase, Customer lifetime value, and so on.
KISSmetrics increases your consumer base by not allowing you to lose potential customers and by retaining brand loyalty.
It also, allows you to assess your decisions and determine which you are performing correctly.
Furthermore, It assists you in identifying facts and patterns that contribute to consumer acquisition.
#5 Optimizely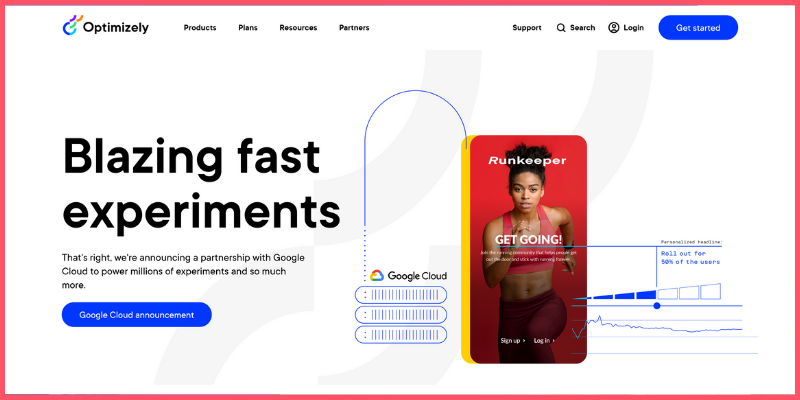 Optimizely is a platform for testing and validating improvements to your website's appearance. It also decides which design will be used in the end.
It improves and analyses your website with A/B Testing, Multipage Checking, and Multivariate Testing. You do not have to be a qualified engineer to use it.
Simply put a published code provided by Optimizely into your HTML.
You may now trace everything, take any steps, and make any modifications to your website after installing it.
Optimizely includes administrative and management features that allow you to create accounts, organize projects, and experiment.
This feature allows you to track clicks, conversions, sign-ups, and so on.
#6 Contentsquare: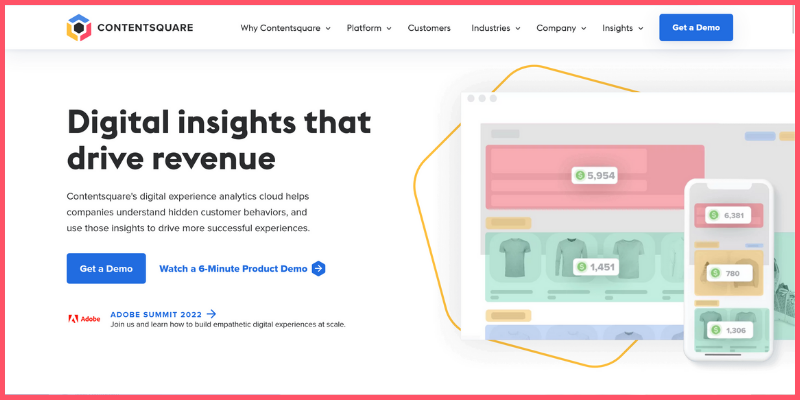 Contentsquare tracks every in-page action and micro-gesture to learn the why and how of standard click analytics. Use these behavioral data to create experiences that are unique to your business and increase loyalty and conversion.
Also, it has a better understanding of how UX, product, price, and content choices affect visitor behavior and business KPIs with straightforward visualizations and dashboards.
Get a personalized picture of the metrics that matter most to you and your team for specific pieces of content that you wish to track.
Finally, Set AI alerts for specific KPIs connected to your content, and you'll be notified if they change substantially.
Conclusion:
When you are able to attain all these needs with your web analytics tools, then you will be able to achieve higher revenue, retain consumers, attract new visitors, and raise the amount of money each client spends by analyzing the behavior of the website visitors.
Why do we Need Web Analytics?
Landing page improvisation.
Discovering specific problems.
Best spot for Call-to-Actions.
To identify product Alignment.
Track down your customers.
Personalization for your regular customers.
Best Website analytics tools (recommendations)
Also, you can learn more about website analytics from our following blogs on website analytics.
---
ReplayBird - Driving Revenue and Growth through Actionable Product Insights
ReplayBird is a digital experience analytics platform that offers a comprehensive real-time insights which goes beyond the limitations of traditional web analytics with features such as product analytics, session replay, error analysis, funnel, and path analysis.
With Replaybird, you can capture a complete picture of user behavior, understand their pain points, and improve the overall end-user experience. Session replay feature allows you to watch user sessions in real-time, so you can understand their actions, identify issues and quickly take corrective actions. Error analysis feature helps you identify and resolve javascript errors as they occur, minimizing the negative impact on user experience.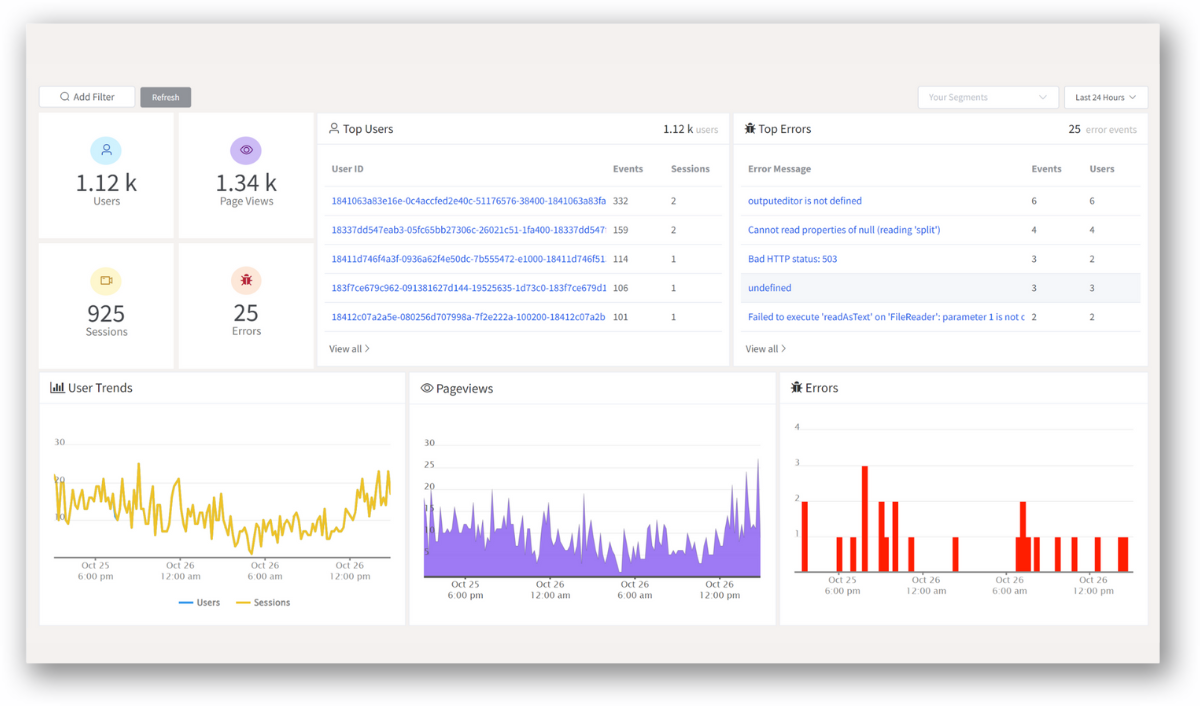 With product analytics feature, you can get deeper insights into how users are interacting with your product and identify opportunities to improve. Drive understanding, action, and trust, leading to improved customer experiences and driving business revenue growth.