If you are an online business owner and you have been using google analytics do know the of your website visitors for the benefit of your business.
It is time to change your website analytics tool for not just analytics but better features like session replay, user interface, analytics, funnel analysis, filters, notes, tags, and the segments which will lead you to better website management.
The best thing about Google Analytics is that it is available for free to anyone with a Google account.
Google Analytics tracks the website's performance and the activities of its users.
Web analytics is a boon for people who are trying their best to prioritize their visitors.
With the help of Google Analytics, this will give you a picture of what visitors are doing on your page and give you a glimpse of how they use your website.
It records their activities on your website.
The raw data of your users is the resource that you get to improve your business.
Through this, you can understand and help yourself improve your business and marketing strategy.
Google Analytics is a great way to level up your game and change your business strategy.
Benefits of using Google Analytics:
Free of cost
Track customer activities
It is totally user-friendly
New content and marketing ideas for Business
Improve Your content marketing And SEO
Get data Reports And Customization
Target your particular audience
These are some of the best reasons to use Google analytics.
Disadvantages of Google Analytics (Reasons to Find Better Google Analytics Alternative):
The pricing of Google Analytics is totally a roller coaster. It has two plans; one is totally free and the other would cost you $15,000/year for the Google Analytics 360.
Poor customer support from the Google analytics team for the free plan, whereas they provide custom support for the Google analytics 360.
It provides Sampled data but, only a few filtered data points have been analyzed to show you on your dashboard.
Google Analytics isn't a privacy-focused web analytics service, whereas people receive free website analytics while trading personal information from their visitors.
It is connected to a corporate network, and not a specified website analytics product. Which means anytime your data about your product, visitors, as well as your online business is in their hands.
Now let look at Google analytics alternatives:
Google Analytics, from the day it was launched till now, Google Analytics has been popular and is one of the best tools to get data about users and their activities.
The below mentioned Google analytics alternatives don't replace but complement each other to understand your users more:
1. ReplayBird
ReplayBird is the best session replay tool, which makes it an excellent Google analytics alternative.
This offers the opportunity to watch how the users interact with your website, and this helps improve the strategy of the company to gain more users.
The special features that Replaybird offers are session recordings, conversion funnels, integrations, multi-device support, and block IPs.
This helps you to nurture your business and manifest your dream numbers.
Through this, you can analyze the issues and problems of the users.
Here you have the option to custom build your own segments.
This helps you take notes and can save time.
Pricing :
ReplayBird pricing is a better Google analytics alternative, with three affordable plans available.
Every plan has a free trial.
The basic version for $24 for 25,000 sessions/month .
The startup version for $69 for 50,000 sessions/month.
The Growth version is $149 for 100,000 sessions/month.
Finally, the premium version is $599 for 250,000 sessions/month.
2. Mixpanel
Mixpanel helps you to understand users' behavior better, which makes Mixpanel another better Google Analytics Alternative.
This gives you real-time data that will help you assess how the users react to your products.
A key performance indicator is a quantifiable measure of performance over a period of time for a particular objective.
And this can show KPI like "onboarding completed" based on main events such as "account created, profile created, and 3+messages sent".
So after you start to track your data or bar that matters to your company this shows you a clear view of how KPI trends change.
This gives you a crystal clear image of where to work and not to improve your business.
This provides you with an automated analysis to learn why and what happened to lower onboarding rates.
This helps you to understand why a particular behavior arises on your product and also depicts the room to rectify the problems.
This allows you to explore other sample data.
There's also a chance to watch a quick demo of how this collects data.
3. Heap
Heap is the best choice if you're searching for hidden friction and opportunities in the customer journey.
Here you can create a finer digital experience that promotes your business.
This ensures realistic data that ensure the growth of your company.
Heap promises an exceptional digital experience.
Heap helped almost 8000 companies and still helped companies to understand their potential users.
The main reason for choosing Heap is that it gives you real data and not an assumed one.
This provides a service that doesn't require an engineer.
This gives you an insight into what and where the users' visits and clicks.
Heap is a platform where you can spend time wisely.
Here you can innovate, experiment, and impact, not tracking, waiting, and reacting.
This also provides a demo where you get to experience the value of Heap.
4. Matomo
Matomo is privacy-focused web analytics and the testing platform are better alternatives to Google Analytics if you are looking for privacy-focused web analytics.
Standard site analytics, such as goals and campaigns, video and audio analytics, keyword tracking, A/B testing, and online form audits.
Here you can choose between on-premise hosting for free or a paid cloud-based subscription service.
This is free if you host it on your servers. Paid, hosted plans start at $29/month.
These are some of the best examples that can be used as an alternative to Google Analytics.
5. Woopra
Woopra provides website analytics based around touchpoints, such as interactions with live chat or user behavior after onboarding emails.
This makes it easier to track and connect data across multiple properties and platforms seamlessly.
Their free plan is available for up to 500K actions.
Startup plans start at $349 a month.
This is a real-time customer analytics service used by sales, service, and marketing teams.
Their platform is designed to help organizations optimize the customer life-cycle by delivering live, granular behavioral data for individual website visitors and customers.
‌A traceable code is placed on the website and it then gathers information on every visitor, which is then reported back to the Woopra Dashboard.
For more advanced users, events can be created and triggered to identify users when they either login to your website or submit a contact form.
Conclusion:
Google Analytics has so many disadvantages in privacy, sampled data, and poor customer support.
You may need to find a better Google Analytics alternative that may have excellent features at providing you with the best features at affordable prices.
We shall now look at a summary of the best Google Analytics Alternatives.
ReplayBird would be the best option for the Google Analytics alternatives by comparing the features including session replay, user-interface, analytics, funnel analysis, filters, notes, tags, and the segment will help you with optimization and CRO activities, and also the pricings.
---
ReplayBird - Driving Revenue and Growth through Actionable Product Insights
ReplayBird is a digital experience analytics platform that offers a comprehensive real-time insights which goes beyond the limitations of traditional web analytics with features such as product analytics, session replay, error tracking, funnel, and path analysis.
With Replaybird, you can capture a complete picture of user behavior, understand their pain points, and improve the overall end-user experience. Session replay feature allows you to watch user sessions in real-time, so you can understand their actions, identify issues and quickly take corrective actions. Error tracking feature helps you identify and resolve javascript errors as they occur, minimizing the negative impact on user experience.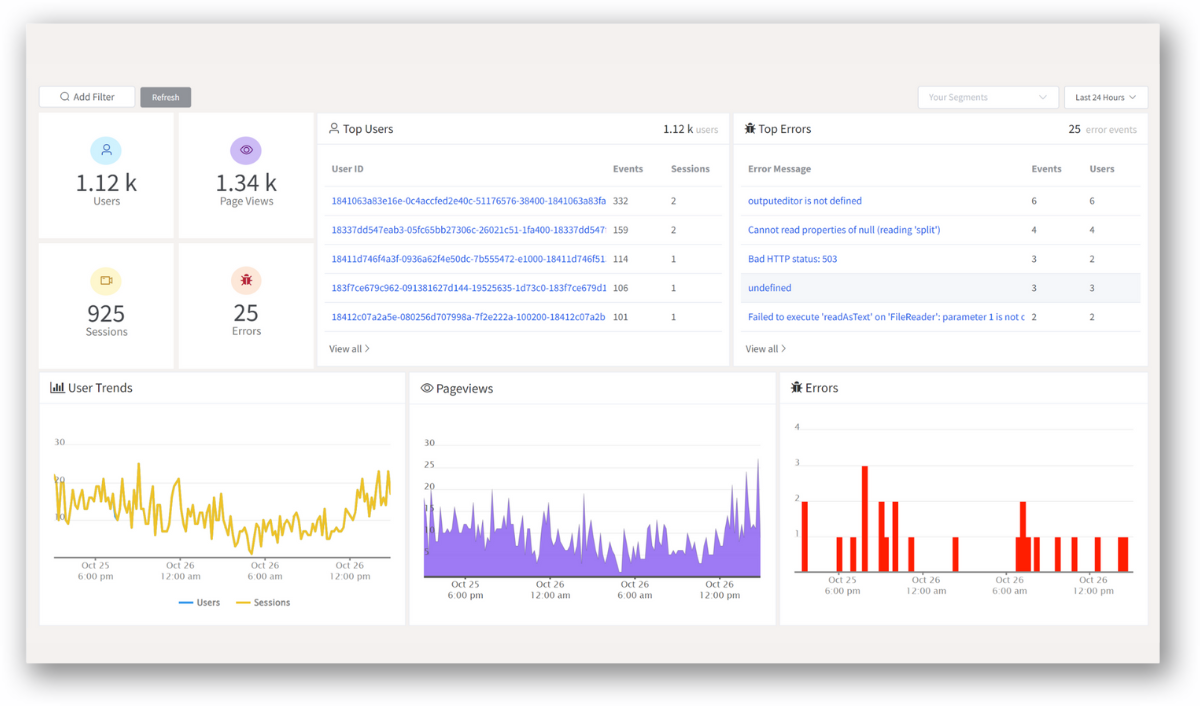 With product analytics feature, you can get deeper insights into how users are interacting with your product and identify opportunities to improve. Drive understanding, action, and trust, leading to improved customer experiences and driving business revenue growth.