Website optimization is a must-have for any business looking to maximize their leads and sales.
LiveSession is a popular, comprehensive website optimization platform that many businesses use to better understand their customers and maximize their online presence. But, if LiveSession is not the right fit, there are plenty of alternatives that offer similar services and features.
This post will review some of the top LiveSession alternatives, including their features, pricing, and usability.
What is a LiveSession?
LiveSession is a qualitative analytics service that assists organizations with website analysis by collecting user events, replaying sessions, and segmenting customers. LiveSession uncovers issues and enhances sales conversion rates, the platform allows users to record and replay numerous online activity such as keystrokes, mouse movements, clicks, and scrolls.
Campaign management, user interaction tracking, qualitative comparative analysis, data visualization,, and multi-site administration are all important components of LiveSession. The platform includes specific features for filtering session replays, adding extra aspects to webpages, and viewing the most active users. LiveSession monitors rage and error clicks, providing users with information about website difficulties.
LiveSession delivers traffic trend data, UTM marketing, and key performance indicators (KPIs). Users can build reports based on the elements on business websites that are the most clicked.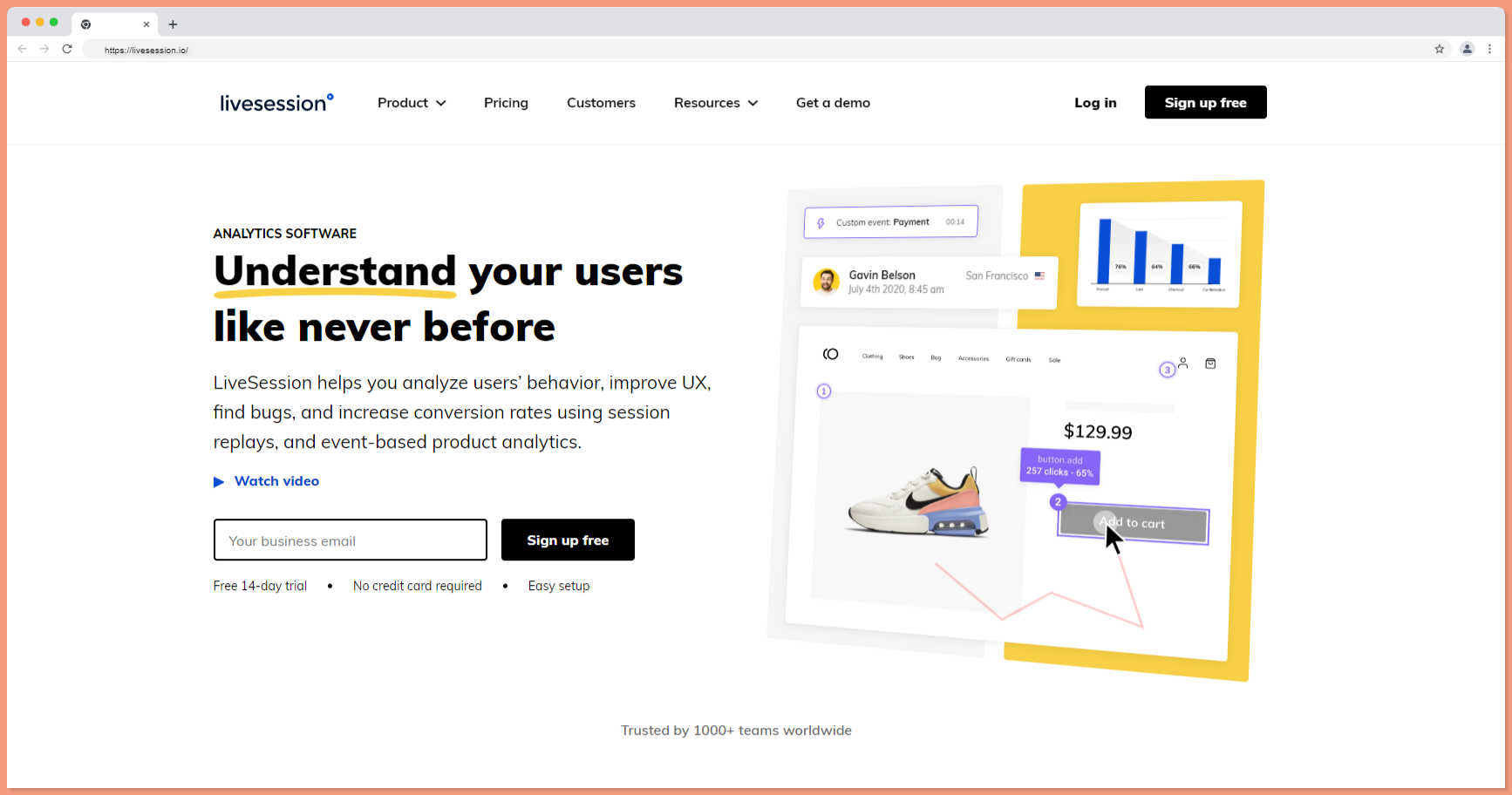 LiveSession features:
Session replays
Clickmaps
Dev tools
Filters and segments
Engagement score
Custom properties
Rage and error clicks
Inspect mode
Insights
LiveSessions Pricings:
Free - $0 for 1000 sessions
Basic - $65/month for 5 000 sessions
Pro - $99 month for 10 000 sessions
Enterprise - Custom pricing starts from 100 000 sessions
LiveSession Limitations:
Lack of conversion optimization and funnel analysis
No real time data
No real Time Notifications
You cannot share or do data import/export
Top 10 LiveSession alternatives:
#1 ReplayBird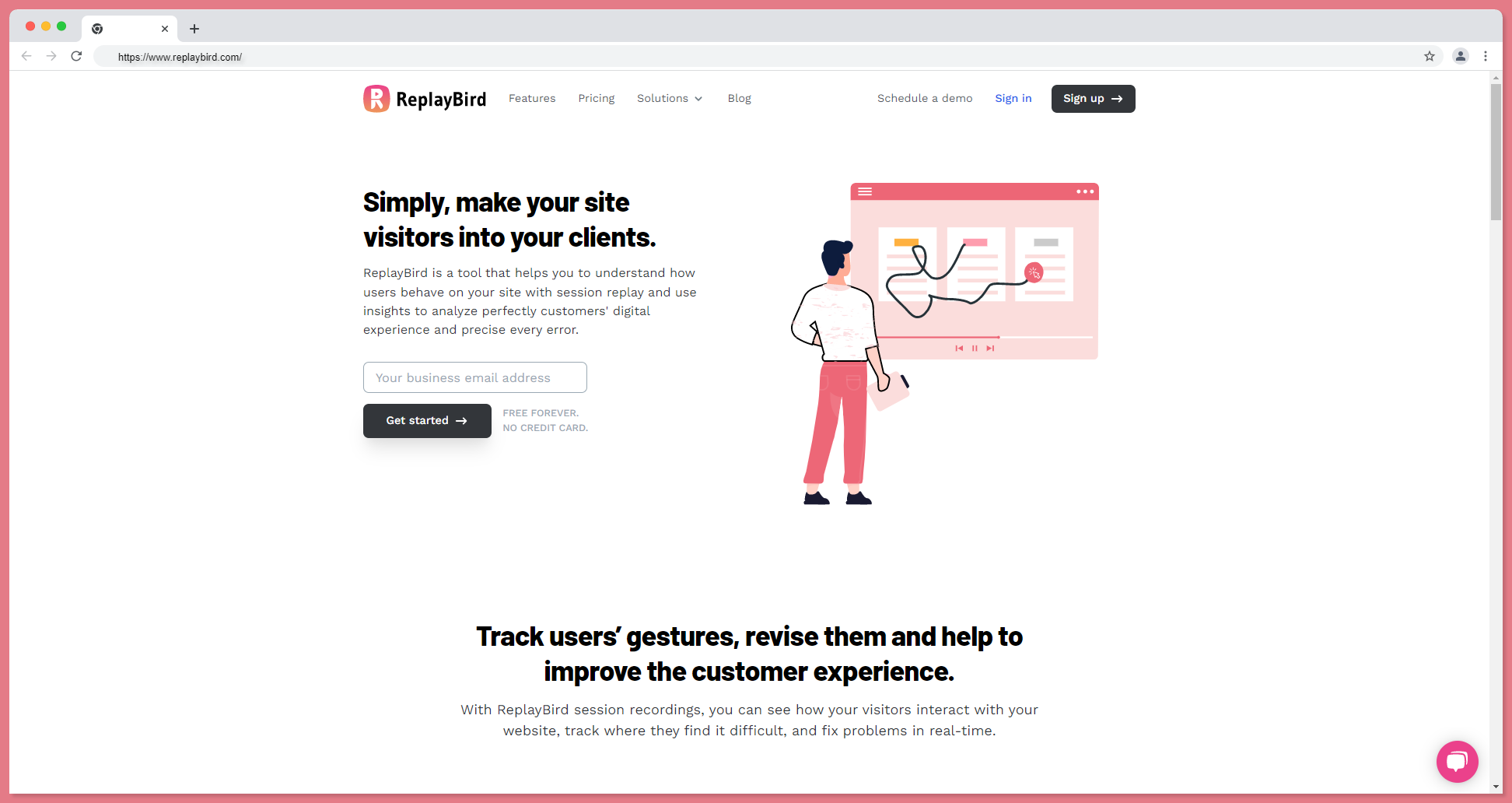 ReplayBird is a customer experience analytics tool that helps businesses understand how users interact with their websites and mobile apps. It provides insights into customer behavior and helps businesses optimize the user experience on their digital properties.
ReplayBird is designed to help businesses improve conversion rates, increase customer engagement, and reduce the risk of user frustration on their digital properties. It is used by a wide range of businesses, including e-commerce, financial services, and travel and leisure companies.
Features:
Session replay with better clarity.
Fast play up to 8 times in a session replay.
Accurate User Identification Data.
Rage clicks & error clicks analytics.
Segmentation, notes, and tags.
Customizable dashboard.
Conversion Funnels.
Pricing:
ReplayBird pricing is one of the better LiveSession alternatives. It has only 4 plans, which makes it easier to choose.
Every plan has a free trial.
The basic version for $24 for 25,000 sessions/month.
The startup version is for $69 for 50,000 sessions/month.
The Growth version is $149 for 100,000 sessions/month.
Finally, the premium version is $599 for 250,000 sessions/month.
#2 Hotjar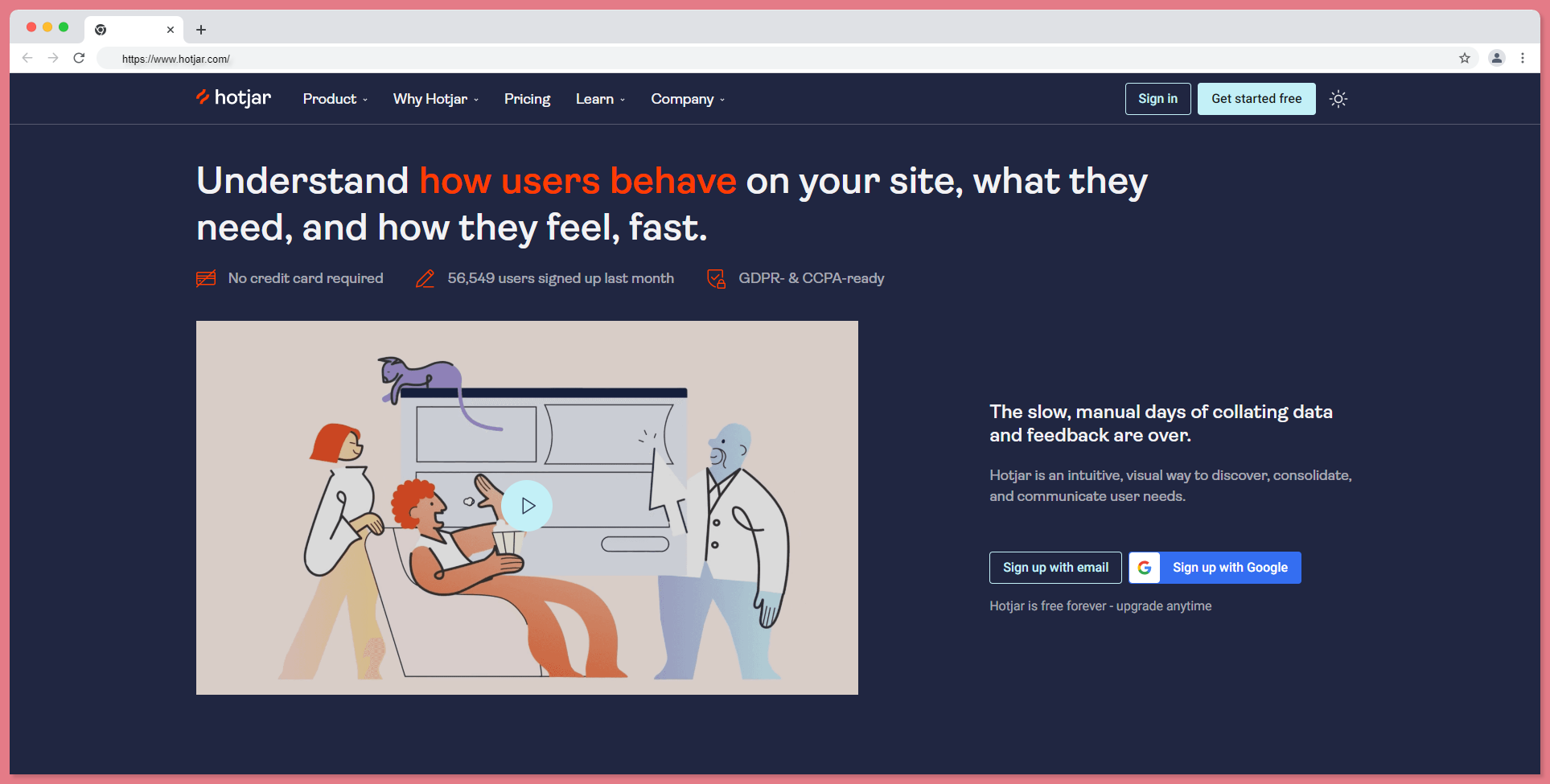 Hotjar is a web analytics and user feedback tool that allows you to understand how visitors interact with your website.
It help you understand which elements of your site are getting the most attention and where improvements might be needed.
Hotjar provides tools to help you understand how visitors move through your site and identify where they might be dropping off. This can help you optimize your site's layout and content to improve the user experience.
Features:
Session replay
Feedback form
Survey
Pricing:
The basic plan is free with limitations.
Plus plan for $31/month.
Business plan for $79/month.
Scale plan for $311/month.
#3 SmartLook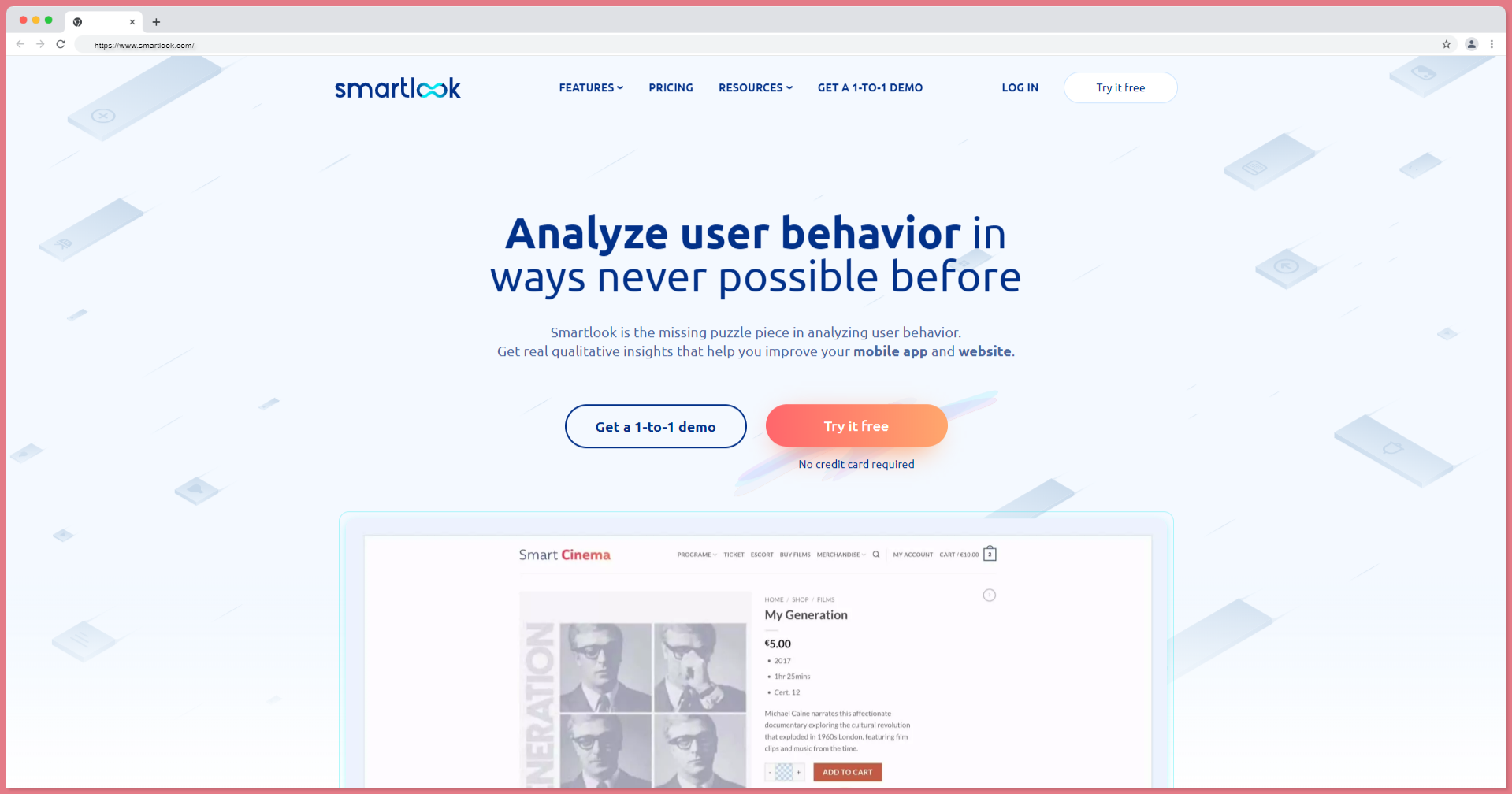 Smartlook is a qualitative analytics solution for web and mobile that has helps understand the "whys" behind their customers' activities, such as why users churn, why they don't use a product, or why they skip onboarding.
Smartlook allows you to finally comprehend user behaviour at the micro level. Always-on visitor recordings show you what each and every visitor does on your website or app, and heatmaps show you where the majority of users click and scroll.
Automatic event monitoring tells you how your visitors do certain things, whereas conversion funnels take those events and show you how successful you are with conversions.
Features:
Session recording
Heatmaps
Events
Funnels
Pricing:
Free - 1500 Sessions/month
Strat up - $39 for 5,000 Sessions/month
Business - $111 for 5,000 Sessions/month
Enterprise - custom pricing
#4 MouseFlow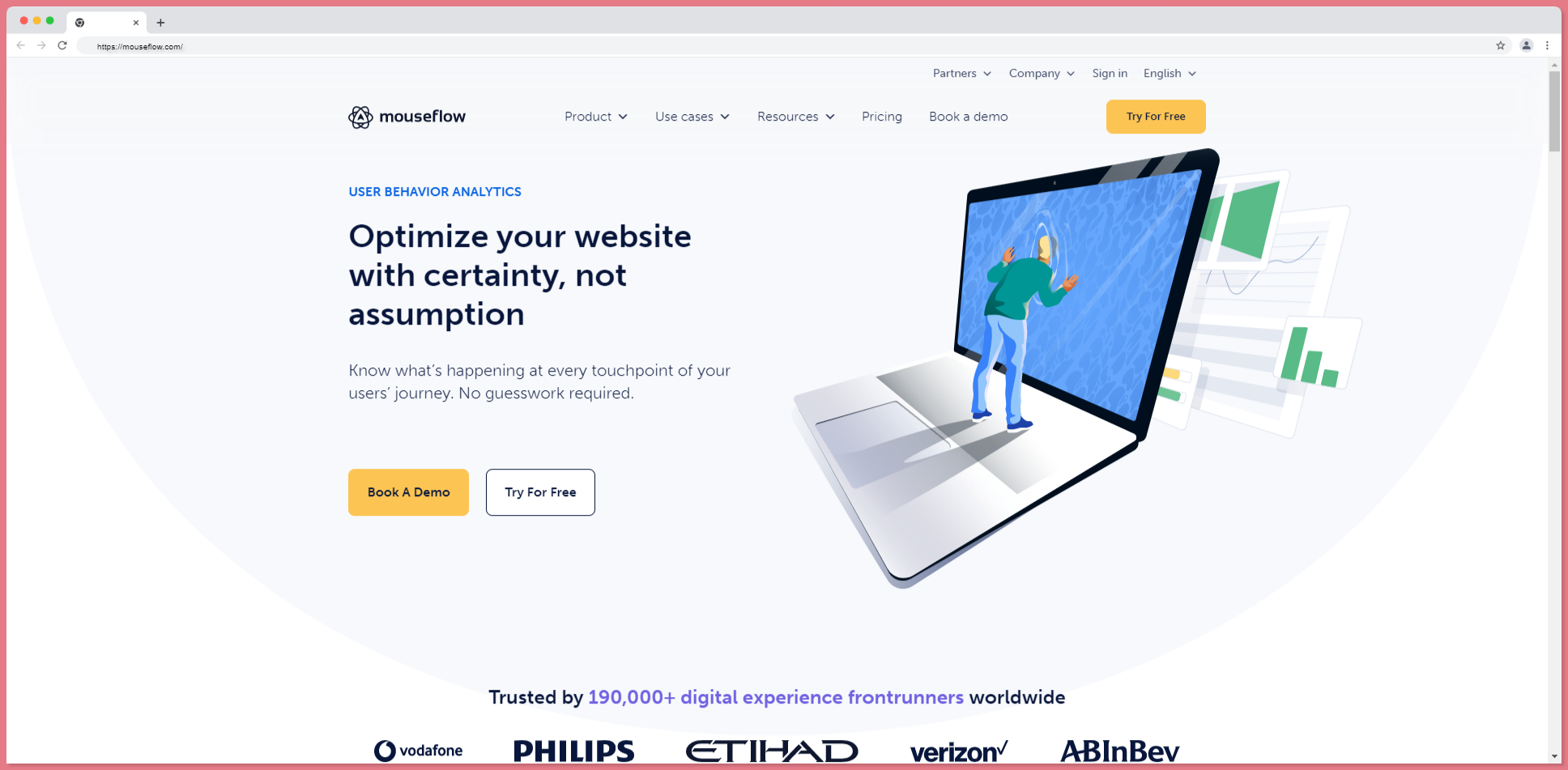 Mouseflow is a behaviour analytics platform that helps UX designers, Product Managers, Digital Marketers, startups, small businesses, and corporations optimise website experiences to increase conversions.
Mouseflow allows you to track your website users' sessions, automatically create 6 types of heatmaps for all your pages, set up funnels to see where and why your visitors drop, use form analytics to boost your lead generation, and start feedback campaigns to learn more about your visitors.
Features:
Session Replay
Conversion Funnels
User Feedback
Heatmaps
Forms
Pricings:
Free - free forever for 500 recordings per month
Starter - 31 for 5,000 recordings per month
Growth - 109 for 15,000 recordings per month
Business - 219 for 50,000 recordings per month
Pro - 399 for 150,000 recordings per month
Enterprise - custom pricing for 200,000+ recordings per month
#5 Lucky Orange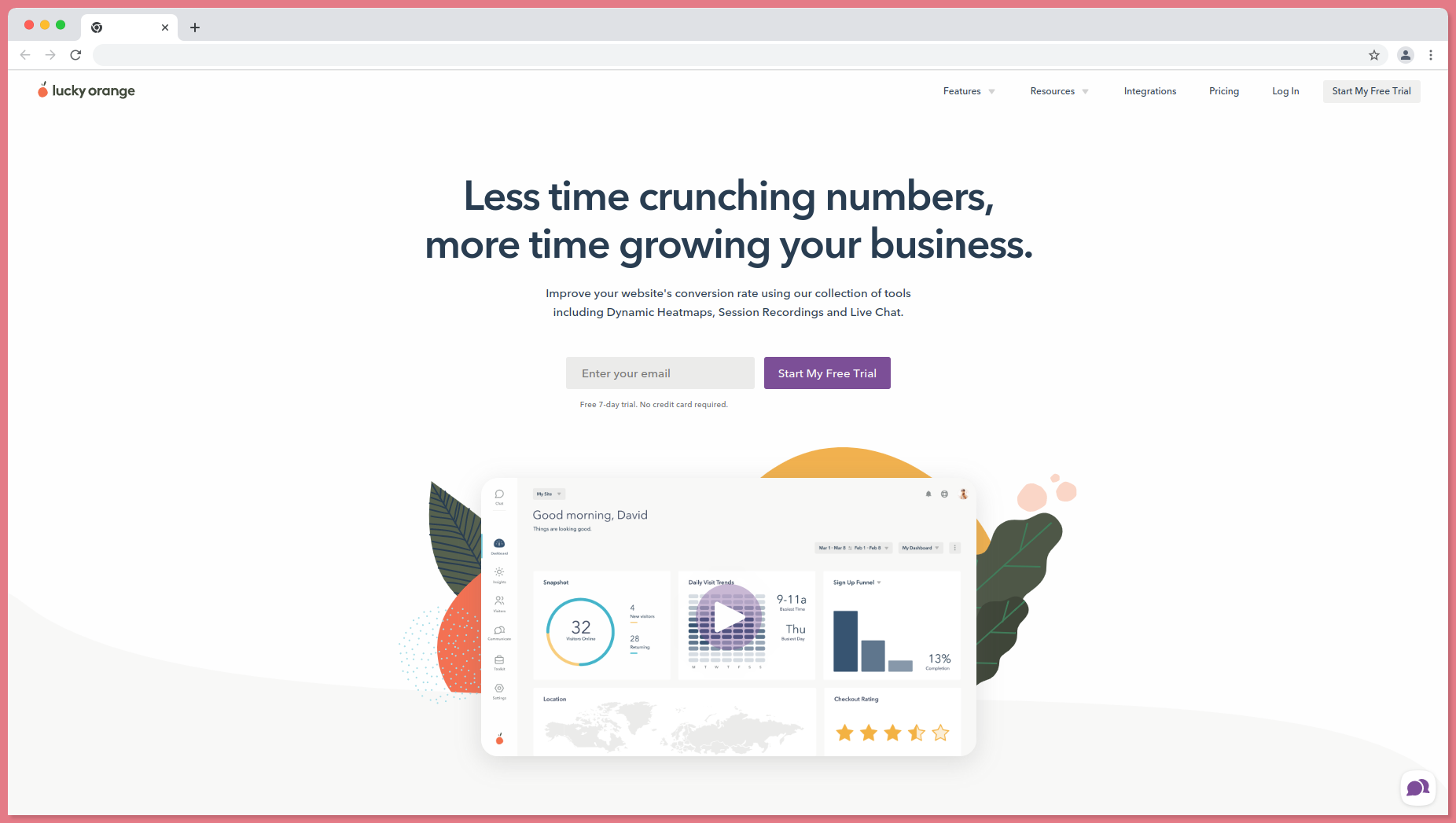 Lucky Orange is conversion optimization software for organisations of all kinds that assists website owners in understanding why some visitors do not convert.
Users can view everything a consumer does on the website using live heatmaps and visitor records, and use conversion funnels, form analytics, and surveys to discover drop-offs in the conversion process.
Real-time dashboard analytics allow website owners to monitor how many people are accessing their site at any one time, as well as how they got there.
Users can compare previous statistics to see which keywords, localities, languages, referrers, tweets, and other factors are driving traffic to the site, as well as specific behaviours on the site, and filter through them using behaviour tags.
Features:
Session Recordings
Heatmaps
Conversion Funnels
Visitor Profiles
Dashboard
Pricing:
Free for 500 Pageviews/month
Build - $14 for 10,000 Pageviews/month
Grow - $28 for 40,000 Pageviews/month
Expand - $58 for 100,000 Pageviews/month
Scale - $128 for 300,000 pageviews/month
Enterprise for custom pricing
#6 FullStory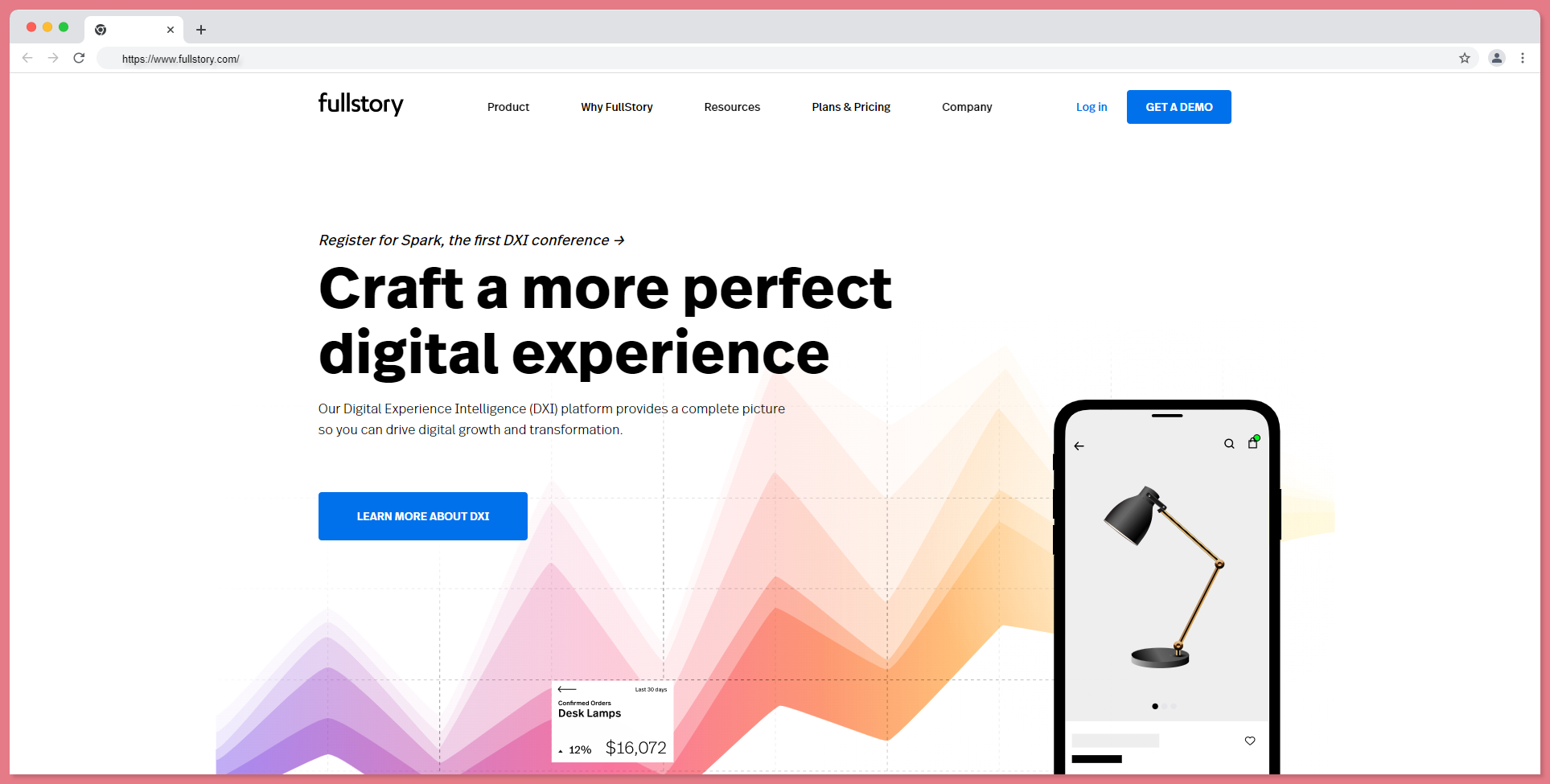 Fullstory provides 360-degree intelligence in digital experiences, which can also be used for quantitative research.
You can use Fullstory to figure out why specific activities occur on your website, mobile app, or digital items.
The primary goal of any analytical tool is to improve consumer engagement and behaviour in order to improve the overall digital experience.
Features:
Dashboards
Metrics
Defined Events
Funnels
Session Replay
Heatmaps
Pricing:
Free trial
Business
Enterprise
No transparent pricing is available
#7 Pendo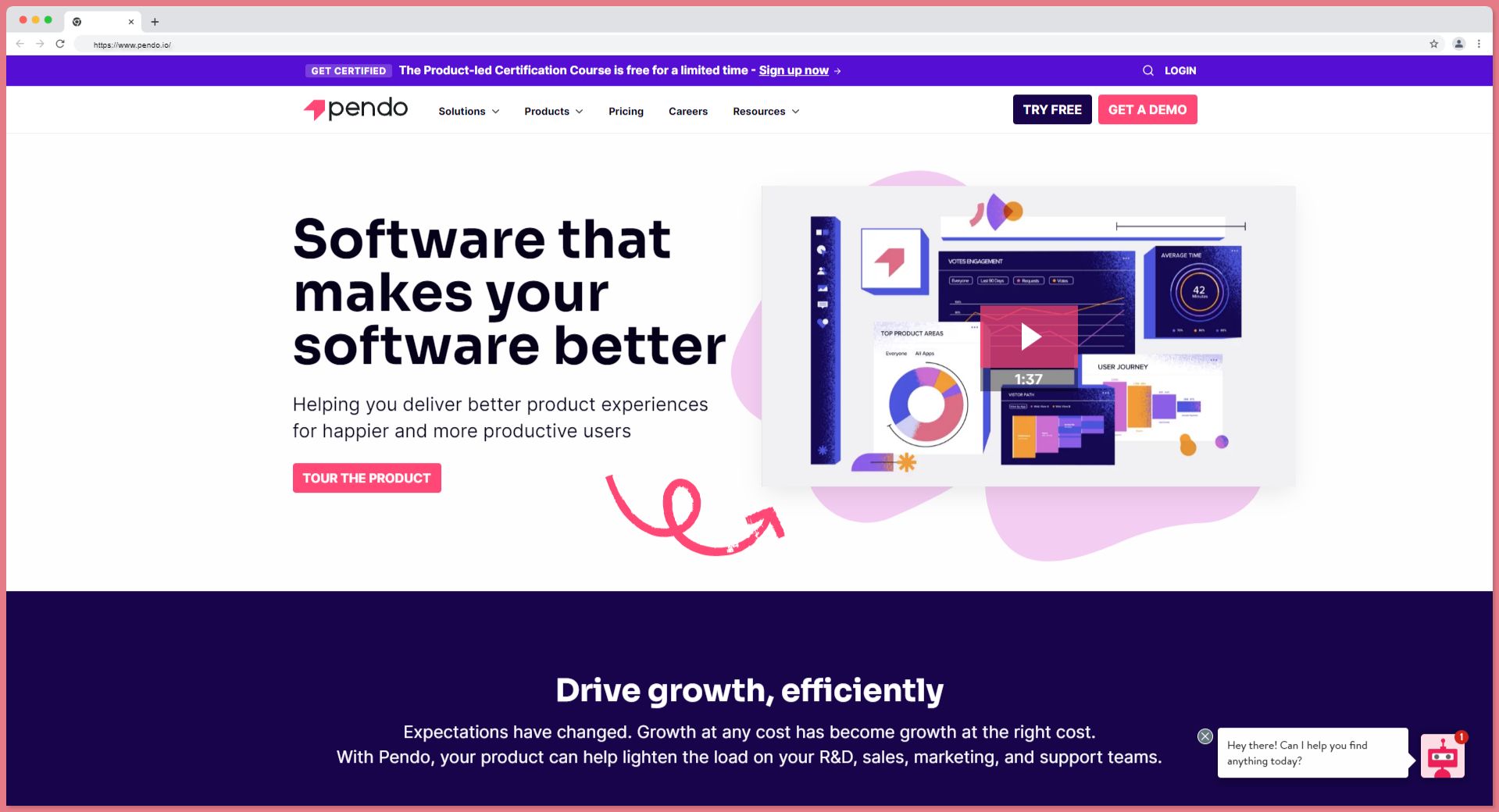 Pendo is a cloud-based platform that assists businesses in better understanding and improving how their consumers utilise their goods. It offers real-time data, feedback, and in-app assistance to help businesses enhance the user experience and promote product uptake.
Pendo provides you with a deep look into your users' interactions. You can find out which features are popular with your customers and which ones aren't.
The major feature that distinguishes Pendo from the competition is how they've integrated product research and in-app chat into the same platform.
Features:
Need for coding is eliminated
Powerful insights
Product experience
Pricing:
Pendo as an adobe analytics alternatives, is not transparent about the pricing with public.
#8 Mixpanel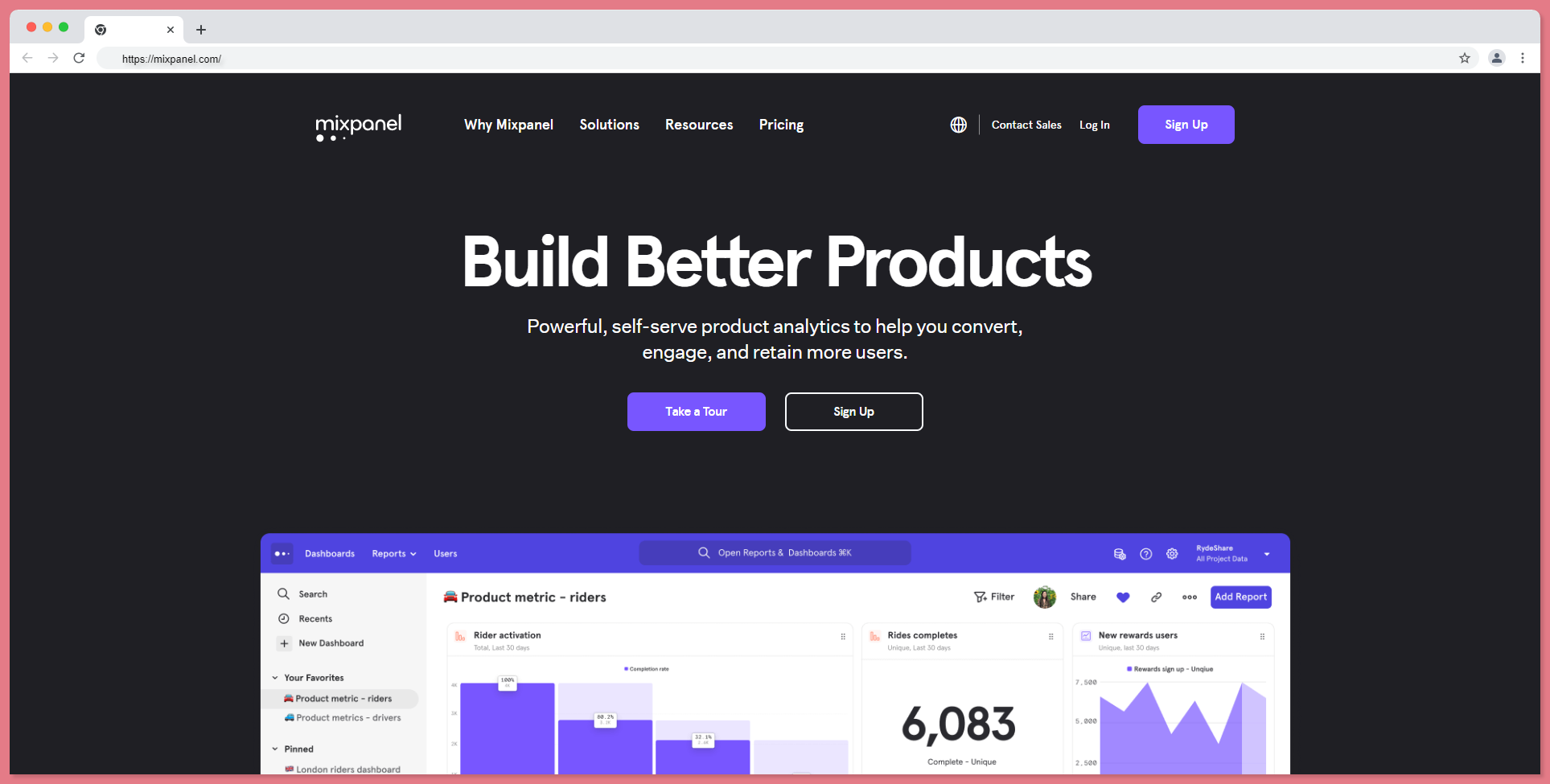 Mixpanel is a company that offers real-time data tracking and visualisation solutions for websites and mobile applications. It enables businesses to measure user interactions with their product and gain insights into how people use it. Mixpanel allows you to track events like as page views, clicks, form submissions, and other activities performed by users on your website or app.
You may also split your data by variables such as location, device, or user activity, and create custom reports and dashboards to show your data in different ways. Mixpanel also integrates with a variety of other tools, such as customer relationship management systems and email marketing platforms, to provide a more comprehensive picture of your customer data.
Features:
Behavioral Analysis
Engaging and interactive reports
Real-time dashboards
Pricings:
It has a free version available
The growth plan starts at $25 per month
The Enterprise plan is customized billing
#9 Logrocket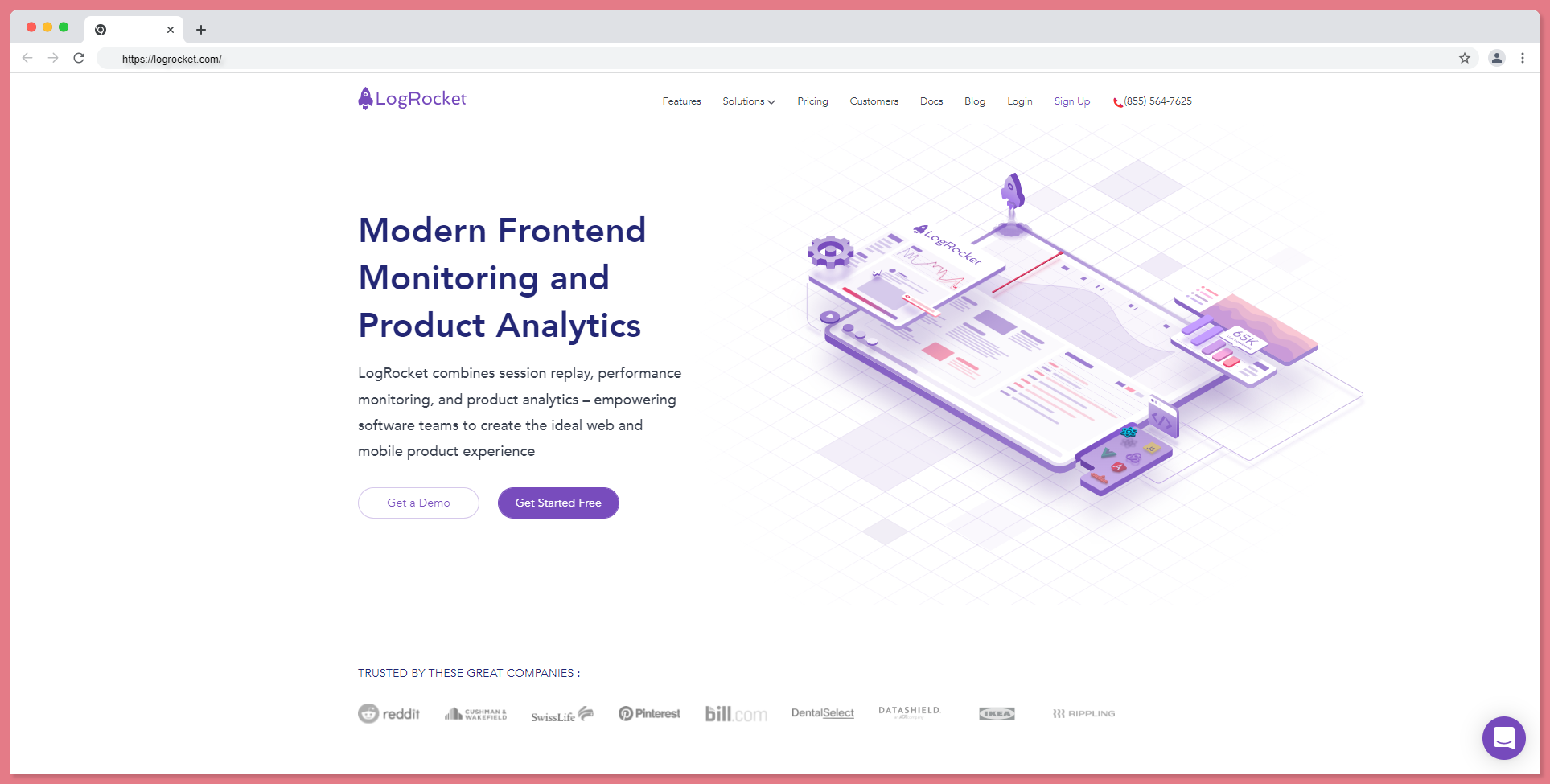 LogRocket is a performance monitoring solution that combines session replay with product analytics to provide the best possible product experience.
To better understand user activities, capture logs and session records from your internet and native mobile apps.
However, you may tackle Front End issues by enabling us to review devices, User-Agent details, network logs, and other data.
Features:
Website Analytics
Funnel Analysis
Heatmaps
Session Recording
Real-Time Analytics
Pricing:
Free version for 1,000 sessions/month
Teams version for $99/month at 10,000 sessions/month
Professional version for $500/month at 25k sessions/month
The Enterprise version has customizable billing according to the sessions and features.
#10 Zoho PageSense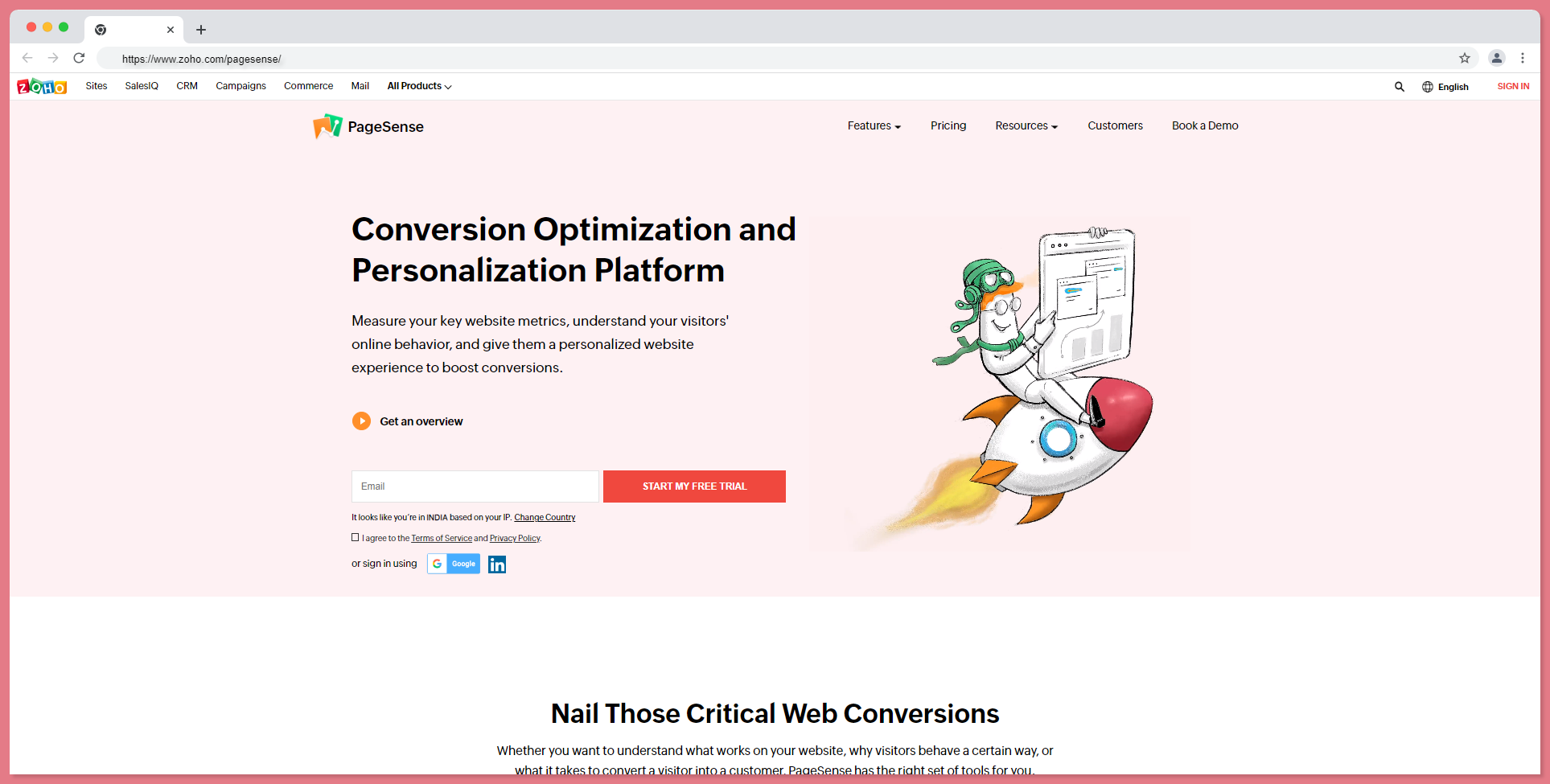 Zoho PageSense will tell you where your target audience comes from, how long they spend on your website, their behaviour and interests, the steps they take before becoming clients, and much more.
Web Analytics gives you detailed information about your website visitors, allowing you to make smart marketing decisions.
Zoho PageSense is a conversion optimization and customization technology that tracks the visitor experience to increase website conversions and income.
To assist you in making educated business decisions, the platform combines the power of web analytics, A/B testing, and personalisation.
OIt enables you to monitor the number of visitors to your website, analyse their activity, and provide them with a customised online experience.
Features:
Web analytics
Session recording
Heatmaps
Push notification
Pricing:
Zoho PageSense is a LiveSesssion alternative that has a free trial.
Analyze a plan for $20/month.
Engage plan for $29/month.
Optimize plan for $49/month.
Conclusion:
As the digital world evolves, so must the technologies we employ to evaluate, analyse, and enhance our websites to meet the ever-changing demands of our consumers and companies. LiveSession is one such effective tool that provides significant insights into user behaviour and website performance; nevertheless, it is not the only option for website analytics and optimization.
In this blog post, we tool a look at some of the finest LiveSession alternatives and how to pick the ideal one for your needs. LiveSession offers a full set of analytics tools, including as session records, heatmaps, and surveys, that may aid in the discovery of a wide range of user behaviours and website issues.
---
ReplayBird - Driving Revenue and Growth through Actionable Product Insights
ReplayBird is a digital experience analytics platform that offers a comprehensive real-time insights which goes beyond the limitations of traditional web analytics with features such as product analytics, session replay, error analysis, funnel, and path analysis.
With Replaybird, you can capture a complete picture of user behavior, understand their pain points, and improve the overall end-user experience. Session replay feature allows you to watch user sessions in real-time, so you can understand their actions, identify issues and quickly take corrective actions. Error analysis feature helps you identify and resolve javascript errors as they occur, minimizing the negative impact on user experience.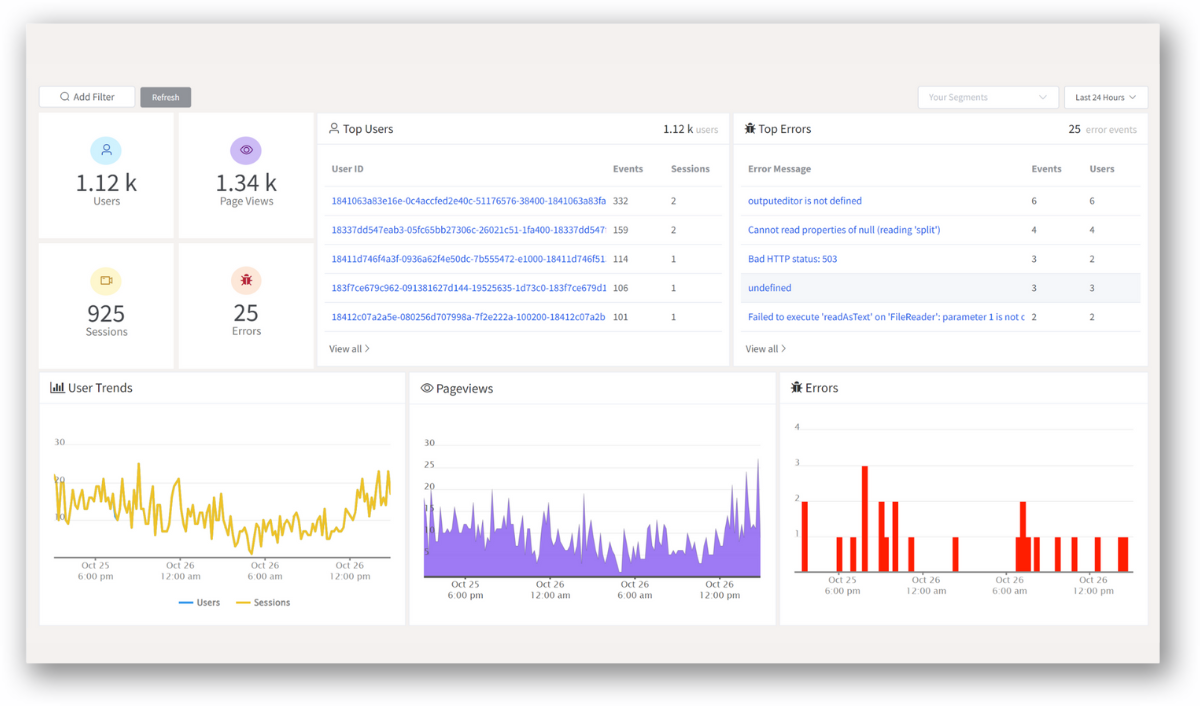 With product analytics feature, you can get deeper insights into how users are interacting with your product and identify opportunities to improve. Drive understanding, action, and trust, leading to improved customer experiences and driving business revenue growth.
Try ReplayBird 14-days free trial
Further Readings: