You may be looking for Hotjar alternatives because you used Hotjar previously and now want a tool that performs website analytics tasks like session replay and recordings, product analytics, funnel analysis, heatmaps, and more, better.
In Hotjar, you can optimize your conversion rate, record sessions, and replay and view heatmaps along with website analytics.
Meanwhile, their dashboards are being used to keep track of all of your product's key metrics in one spot.
In contrast to business intelligence dashboards, they are easy to customize and the data updates promptly, enabling everyone to base decisions on the most recent data. Hotjar also has so many restraints.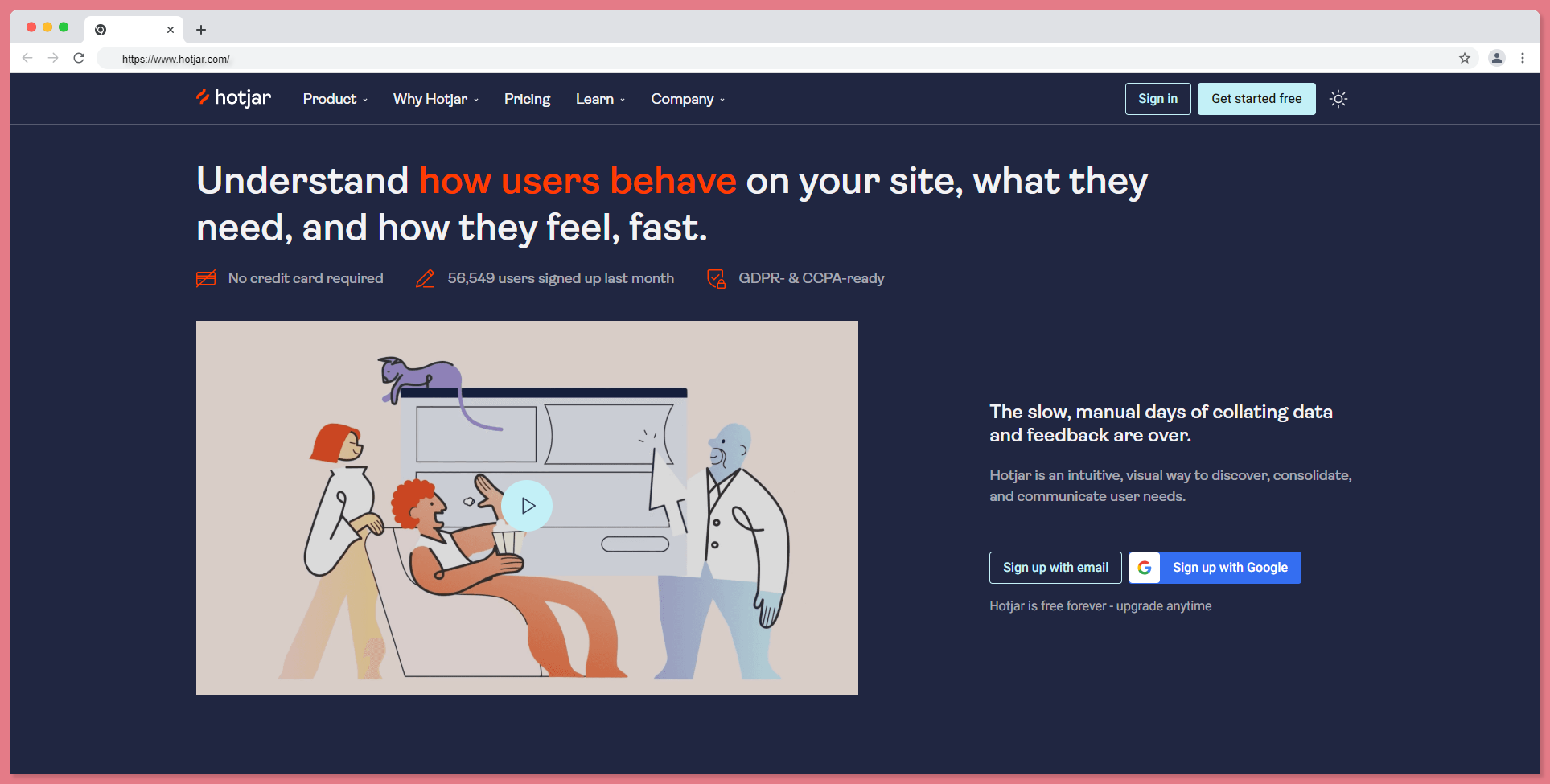 Features:
Get notified every time your dashboard is updated.
Users can run up to 328 queries per day.
Message tools like Airship, Iterable, OneSignal, and many more.
Retroactively, changes will be made in the warehouse storage.
Pricing:
The basic plan is free with limitations.
Plus plan for $31/month.
Business plan for $79/month.
Scale plan for $311/month.
Limitations you have to consider to picking a Hotjar Alternative:
Do not have an auto-login; you will need a password every time.
No "tagging" feature. You cannot tag your teammates at any analytics or session.
Lesser payment options
Heatmaps have a basic interface.
You cannot retrieve history data.
#1 ReplayBird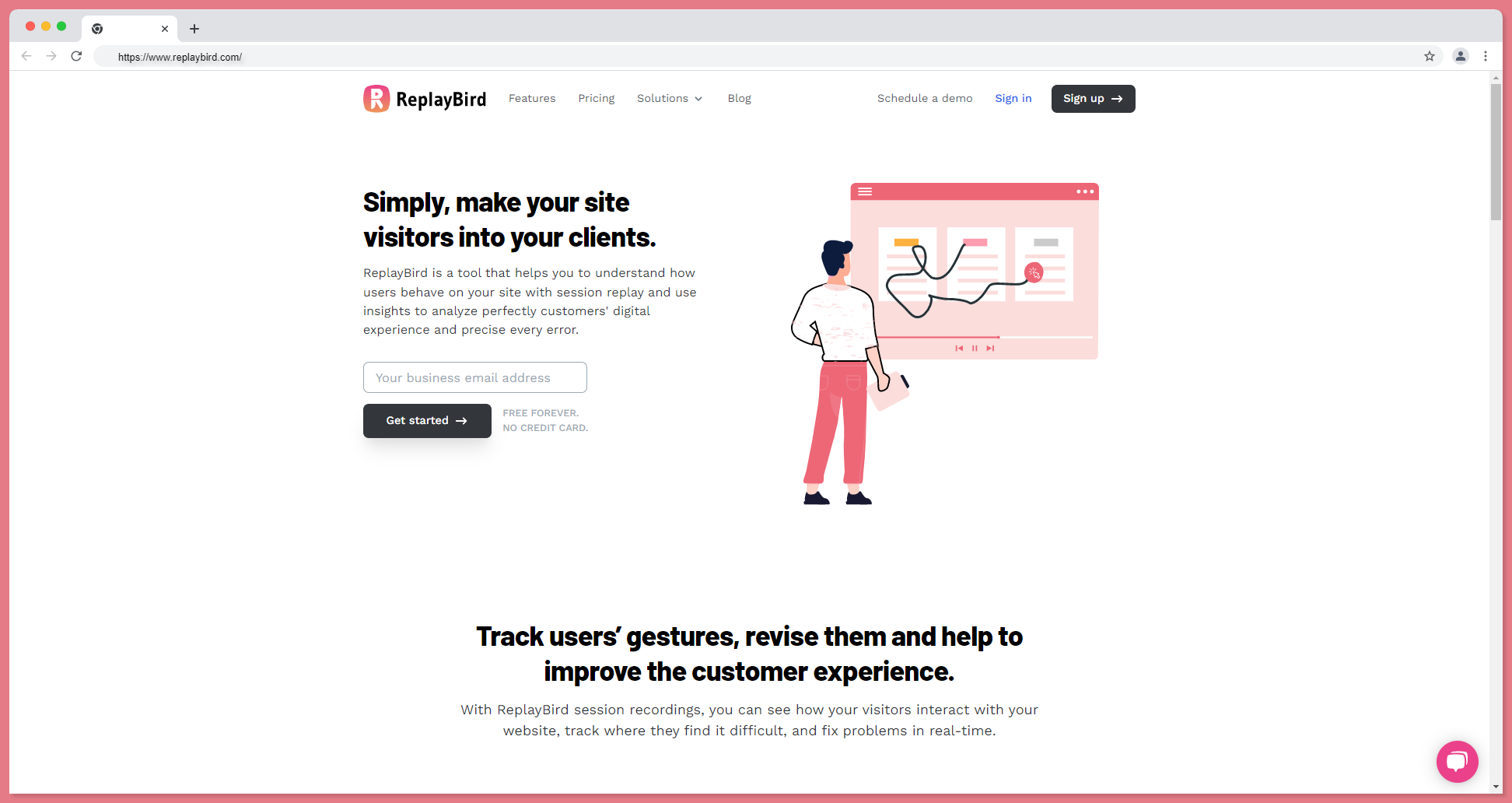 ReplayBird is the best Hotjar alternative tool with lots of better features and at affordable pricing.
It helps you to understand how users behave on your site with session replay and recording, which will show you their activities in real-time along with visitors' basic info for better analysis.
Having a look at just analytics, though it is customizable, ReplayBird, as a better Hotjar alternative, plays videos of your site visitor's whole user experience.
Moreover, it uses insights to analyze customers' digital experiences and pinpoint every error.
Monitor user behavior and see how your site performs across devices and countries.
Assists teams in fixing problems, increasing conversions, and increasing product engagement across the web and mobile apps.
Features:
Session Recordings with better clarity.
Fast play upto 8x in session replay.
Free trial for one month.
Accurate User Identification data.
Rage clicks & error clicks analytics.
Segmentation, notes & tags
Multiple users
Multiple websites
Unlimited reports
Customizable dashboard
24/7 Support
Clickmaps
Simplified form analysis.
Conversion Funnels
Dev Tools
Integrations
Easy data export
Pricing:
ReplayBird pricing is a better Hotjar alternative, it has 3 plans.
Every plan has a free trial.
The basic version for $24 for 25,000 sessions/month .
The startup version for $69 for 50,000 sessions/month.
The Growth version is $149 for 100,000 sessions/month.
Finally, the premium version is $599 for 250,000 sessions/month.
#2 Google Analytics: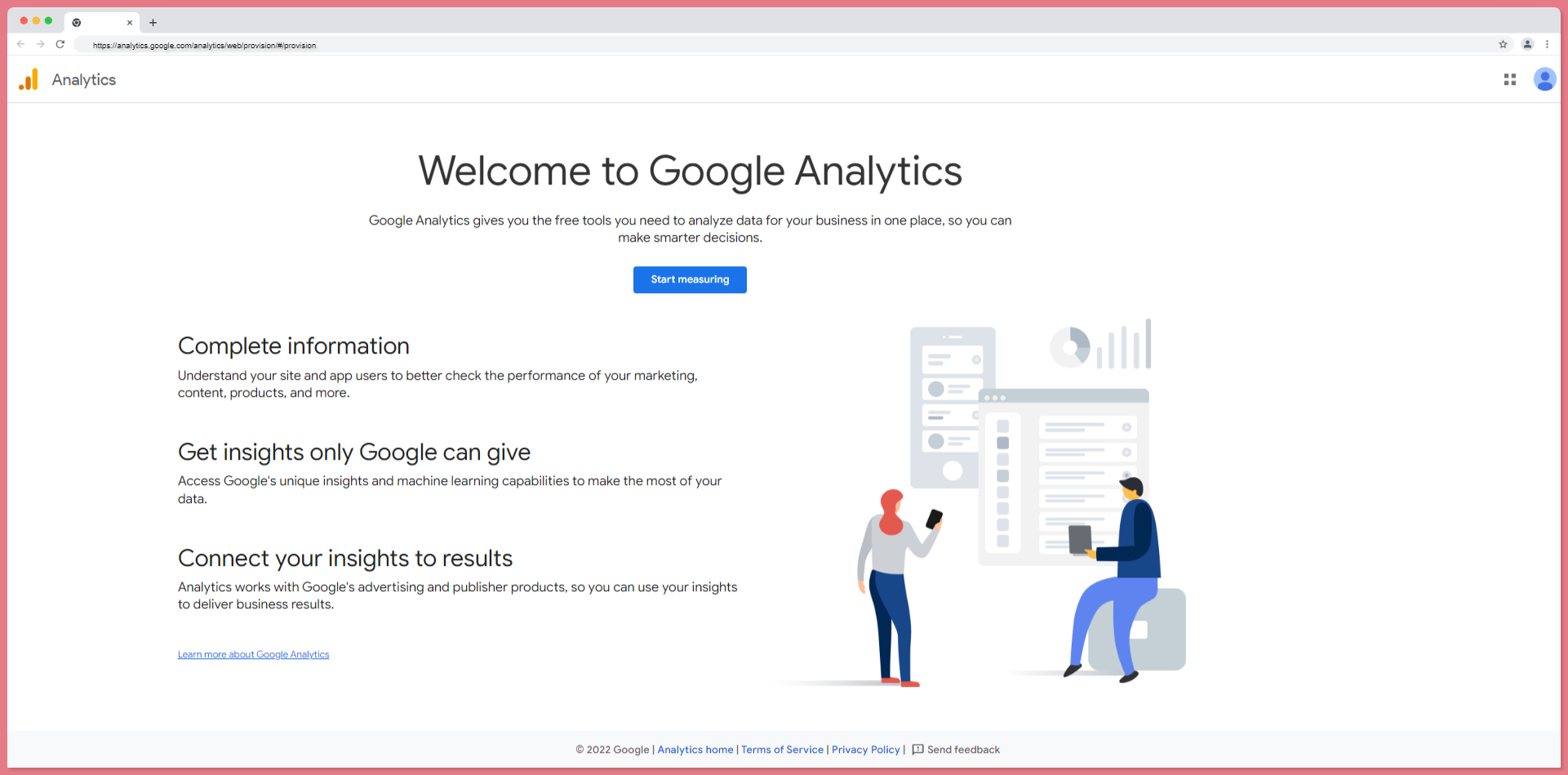 Google Analytics is one of the better and more affordable alternatives to Hotjar.
It gives businesses valuable insights into their websites and audiences, as well as digital marketing analytics that are effective, adaptable, and simple to use.
It also assists good marketers in identifying the messages and channels that produce the best outcomes.
Modern conversion attribution and testing tools assist businesses of all sizes in creating a great user experience and maximizing their digital strategy.
Features:
It is highly customizable.
It allows you to find even personal information such as region, sex, age, and much more.
Simple and easy to use.
Flow visualization graphics give the impression that you are spying on your website visitors.
Also, create a funnel for destination goals.
Limitations:
It is quite confusing due to frequent updates
Likewise, Ui is quite difficult.
Pricing:
Google Analytics pricing is free.
It comes with Google 360.
#3 Zoho PageSense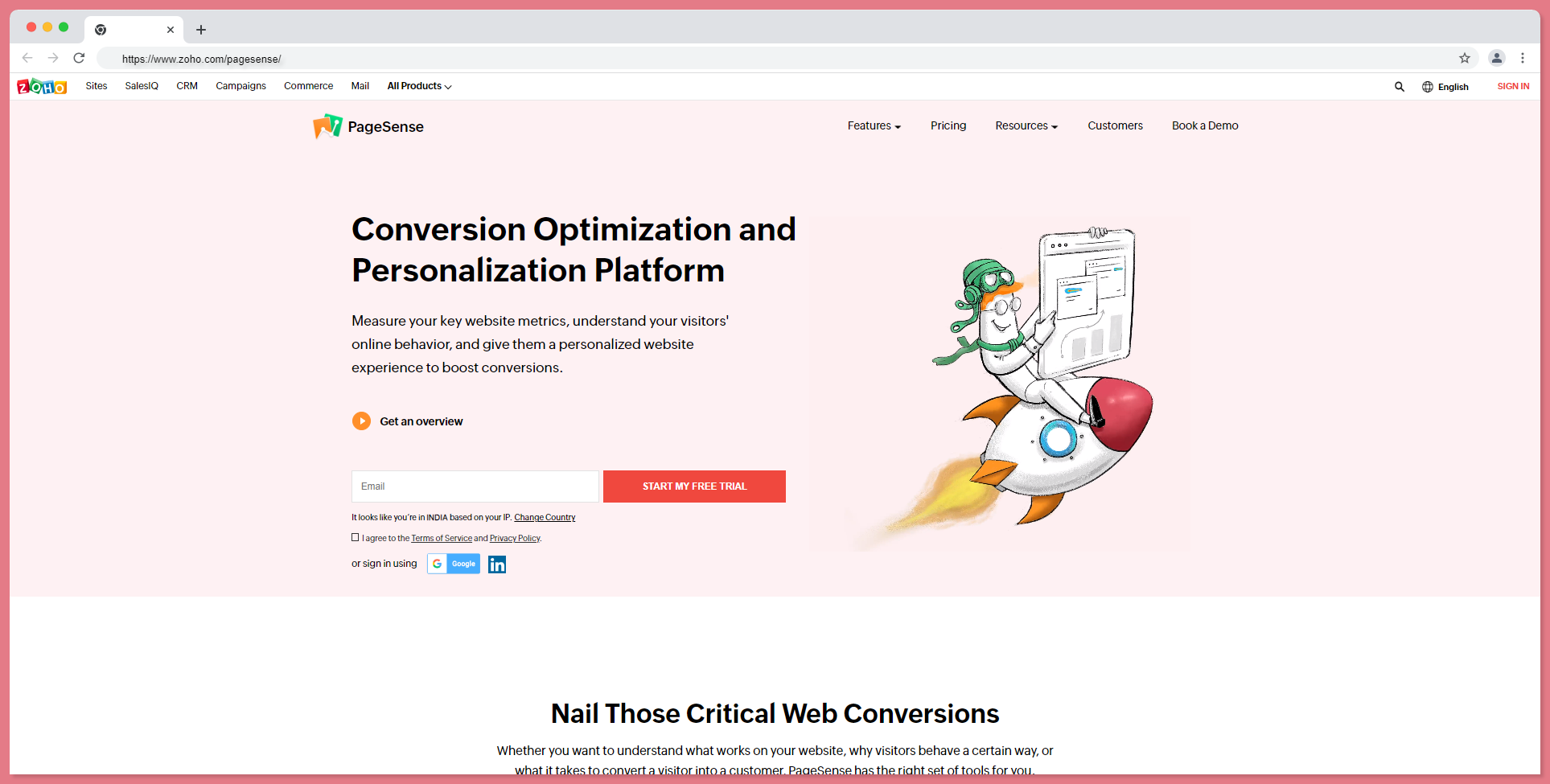 Zoho PageSense will let you know where your target audience comes from, how much time they spend on your website, their behavior and interests, the actions they take before becoming your customers, and much more.
Web Analytics provides you with comprehensive information about your website visitors, allowing you to make informed marketing decisions.
Zoho PageSense is a conversion optimization and personalization platform, designed to boost website conversions and revenue by tracking the visitor journey.
The platform combines the power of web analytics, A/B testing, and personalization to help you make informed business decisions.
Finally, see how many visitors come to your website, understand their behavior, and offer them a personalized website experience.
All of this without the need to switch between apps.
Features:
It is highly customizable.
Moreover, create and run polls.
Specifically, it uses Pop-Ups and web Push Notifications.
It has an easy-to-use interface.
Affordable compared to other competitors.
Finally, optimize website conversions by running A/B and Split URL tests to understand how different elements interact.
Pricing:
Zoho PageSense is a Hotjar alternative that has a free trial.
Analyze a plan for $20/month.
Engage plan for $29/month.
Optimize plan for $49/month.
#4 Kissmetrics: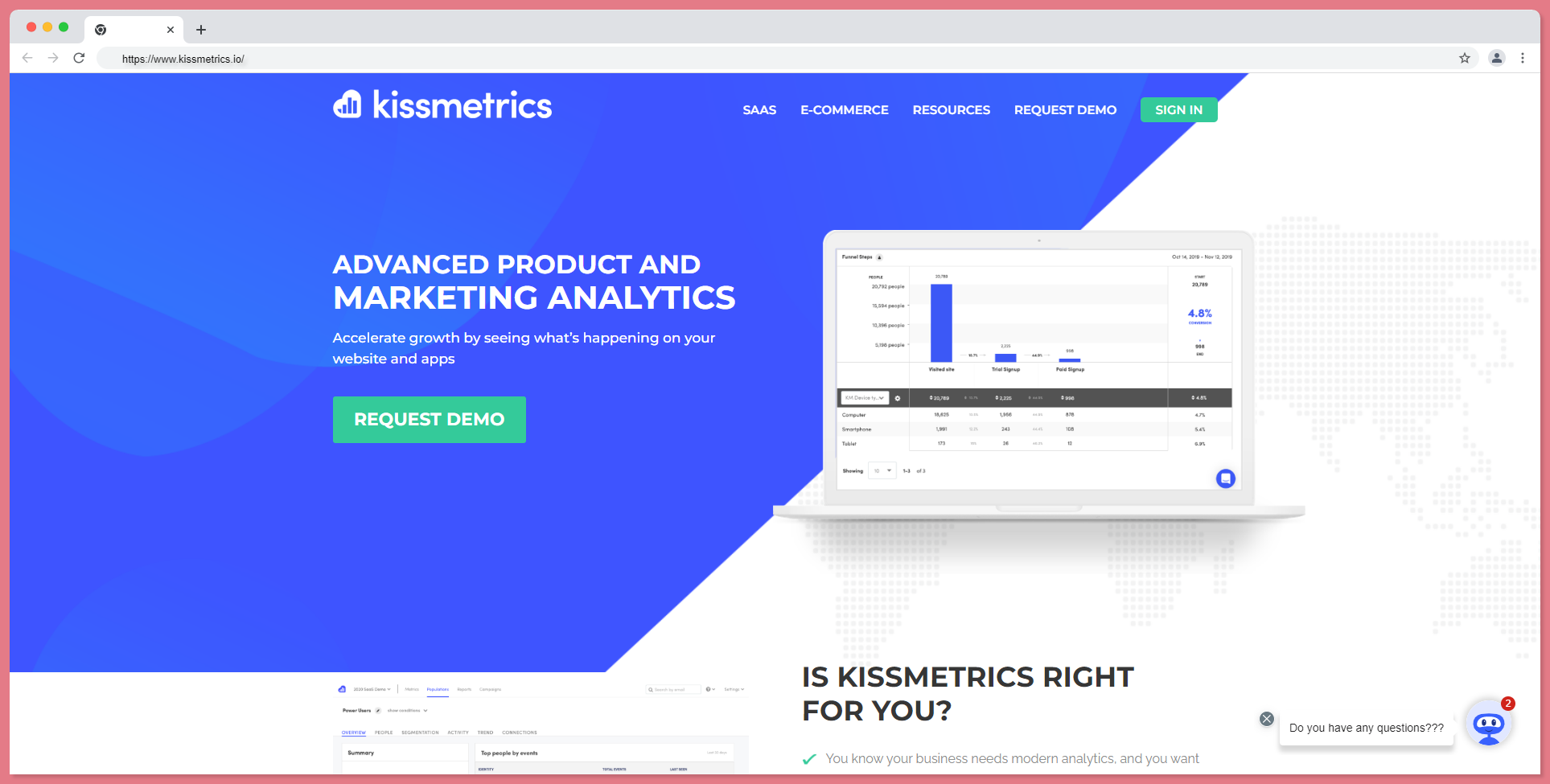 Kissmetrics provides deep insights into how your visitors interact with your website, allowing you to engage them with highly targeted email and Facebook campaigns.
its powerful customer segmentation and precision targeting ensure that no visitor escapes your sales funnel.
To keep customers engaged, you can send automated emails based on their behavior and attributes.
You can also track the effectiveness of email campaigns to determine which strategies are most effective in driving sales.
Kissmetrics' integration with Shopify and Woocommerce allows you to import shopping history, segment customers, and target them with Facebook/Instagram campaigns or emails.
Features:
Deep data tracking feature set, as well as the ability to provide users with deep insights
Also, connect the data to a real person.
View a user's complete customer journey across all devices.
Furthermore, find the drop-off points for each flow on your site.
Use far beyond page views, bounce rates, and time on site.
Finally, receive assistance from a real person, not just support documentation.
Pricing:
Kissmetrics as Hotjar Alternative have quite expensive prices.
The Silver plan is $299/month.
The Gold plan is $499/month.
And, the Platinum plan will be custom billed.
They also provide a free demo.
#5 Woopra: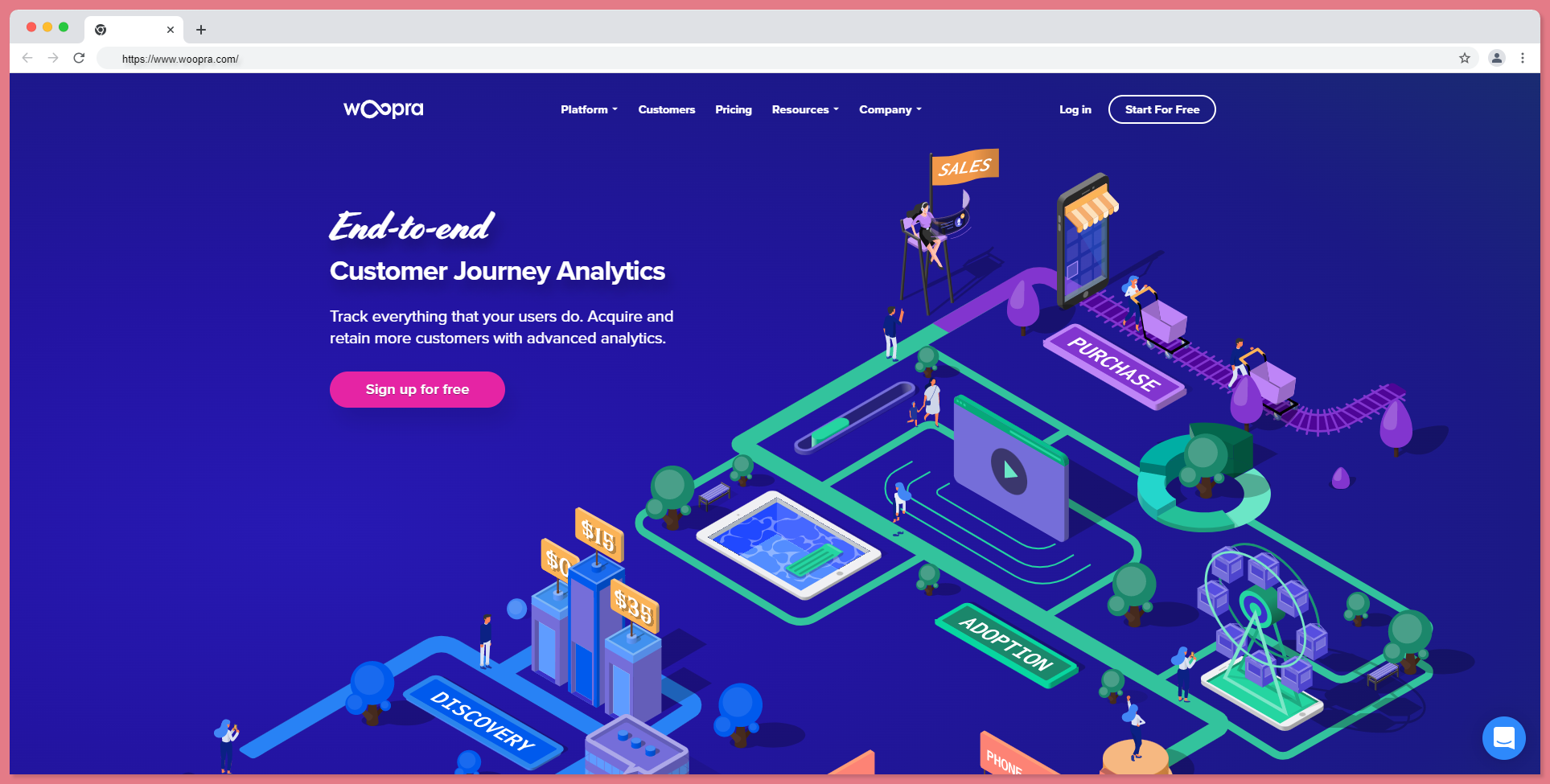 Woopra offers complete customer journey analytics, allowing you to track, analyze, and optimize every step of the customer journey.
Woopra examines various touchpoints to determine how visitors interact with your website, marketing campaigns, or product, and then provides detailed reports on the findings.
People's profiles are a great feature of Woopra because they provide data on the person who is interacting with your website, making payments, opening emails, or using key product features.
You can learn about their most recent visits, pages visited, social media profiles, and much more.
When a visitor is about to leave your website or is stuck somewhere, you can send them real-time messaging to assist them.
Users can set up email triggers, Slack messages, and Salesforce updates automatically.
Features:
Custom and standard event tracking
Configure and accurately measure an appropriate measure.
Also, accurately measure total web traffic and present data.
even sites to improve the user experience.
Determine Reports and other relevant data housed in a single
Furthermore, an easy-to-navigate location.
Pricing:
Woopra, as a Hotjar alternative, has four plans.
The core plan is totally free.
The startup plan is $349/month.
Pro plan for $999/month.
Customizable enterprise plan.
#6 Contentsquare: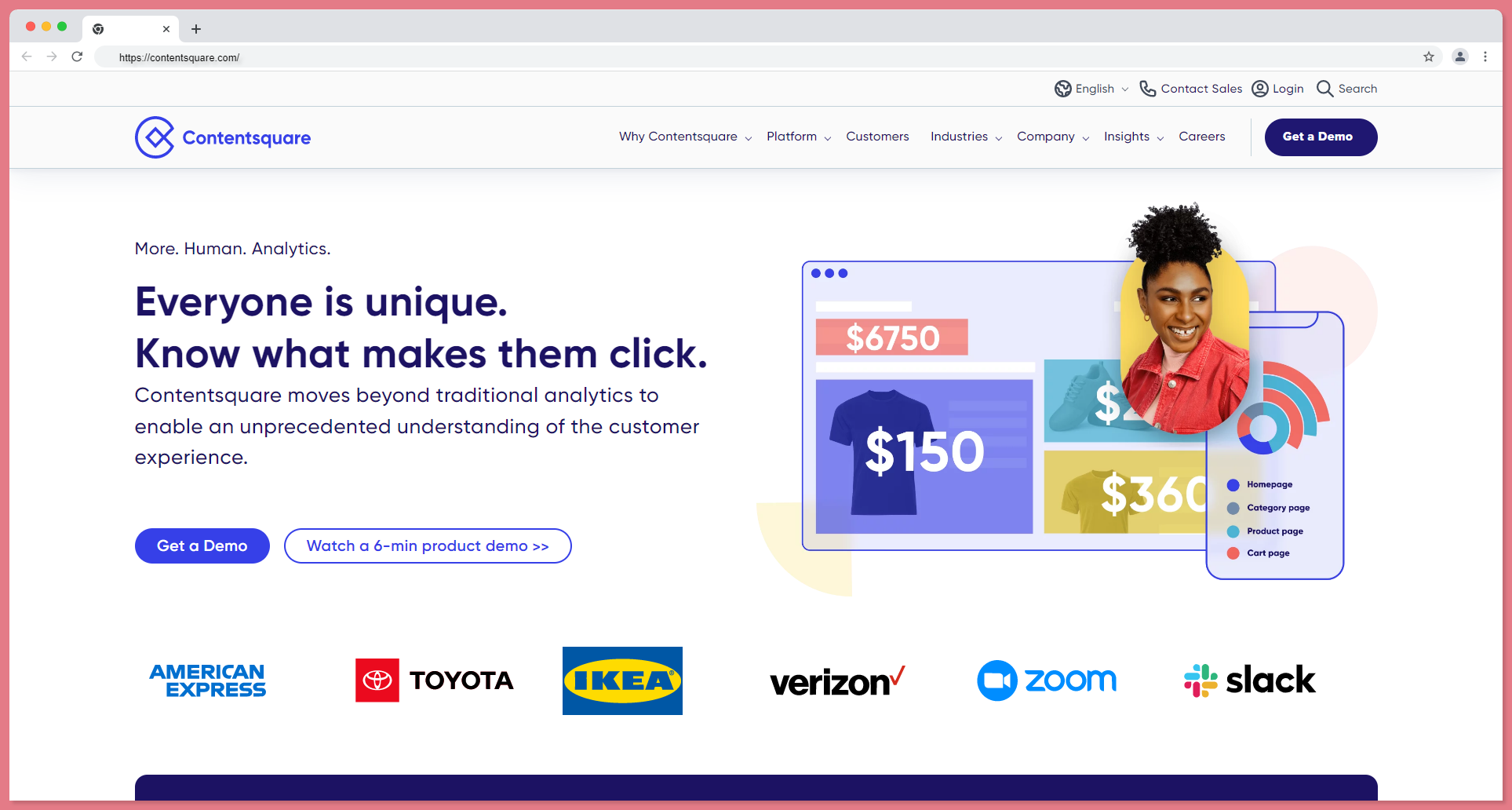 To learn the why and how of standard click analytics, ContentSquare tracks every in-page action and micro-gesture.
Moreover, utilize this behavioral data to create experiences that are unique to your company, thereby increasing loyalty and conversion.
With simple visualizations and dashboards, it also has a better understanding of how UX, product, price, and content choices affect visitor behavior and business KPIs.
Get a personalized view of the metrics that are most important to you and your team for specific pieces of content you want to track.
Finally, set AI alerts for specific KPIs associated with your content, and you'll be notified if they change significantly.
Features:
An analysis of every customer's activities
It also has automatic AI insights.
Merchandising analysis
Zone-based heatmaps show how users interact.
Similarly, it has mobile app analysis.
Finally, you can connect your API and integrations.
Pricing:
ContentSquare has not yet provided pricing information.
#7 Mixpanel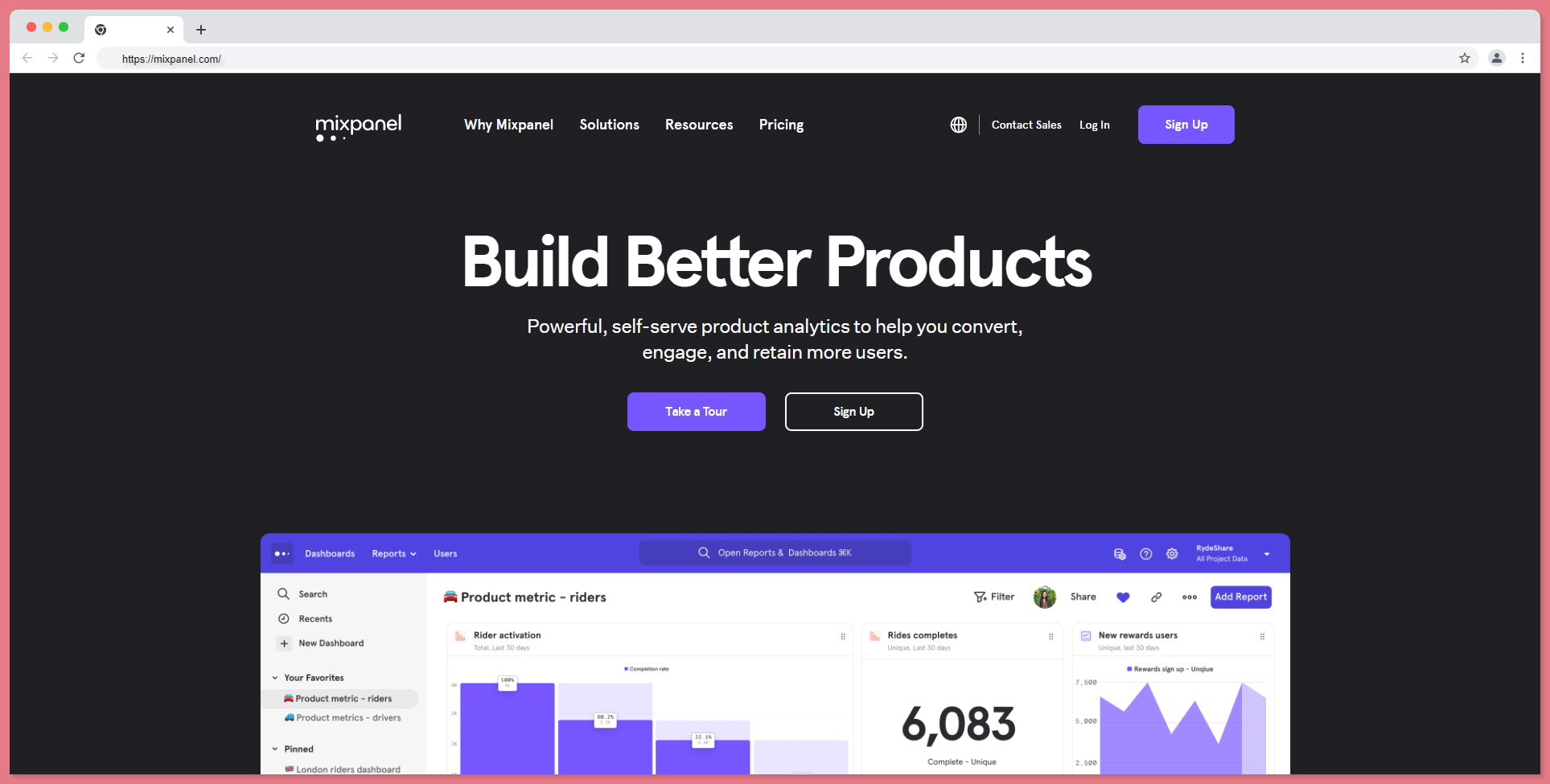 With Mixpanel as a Hotjar alternative, you can extract data and view visualizations with reports.
Mixpanel makes it simple to reply to a discussion about how your brand is being used.
Furthermore, it keeps a record of all your product's key metrics on one dashboard to make it simple.
Yet, apart from data analysis dashboards, they are easy to customize and the data updates in real-time, letting all rely in part on the most up-to-date information.
Mixpanel also offers so many ad hoc analyses of your problems and opportunities.
Features:
Real-time reporting
User data
Custom Event Tracking
API/Integrations
Custom Reports and Dashboards
Pricing:
Mixpanel is a Hotjar alternative that has excellent pricing.
It is free for the first 100K monthly tracked users.
The growth plan costs $25/month for some extra features.
The Enterprise plan is a customizable package.
#8 Heap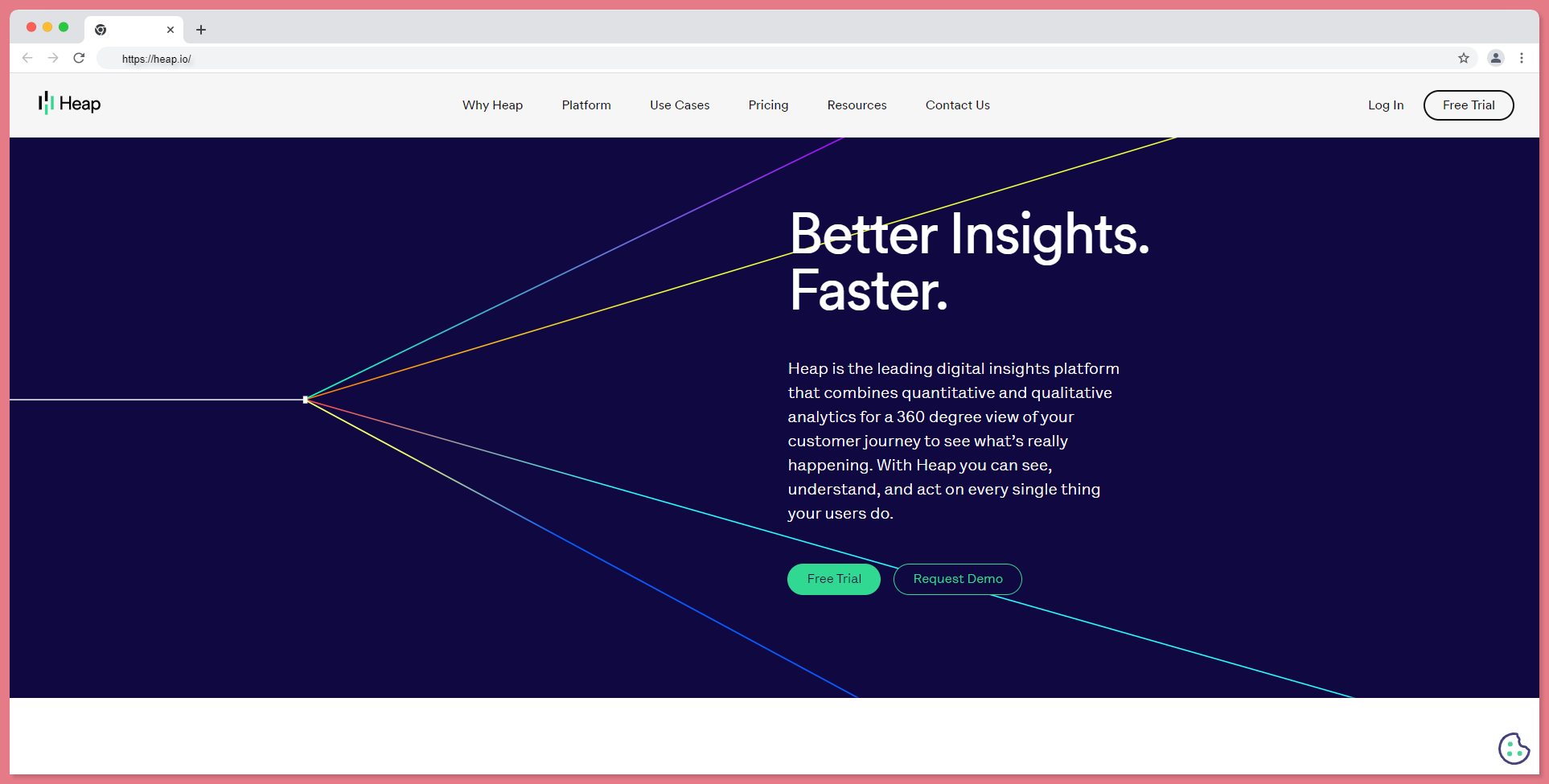 Heap is great over Hotjar with its features, but it has a con, which is its pricing.
Everything is auto-captured in the heap.
It can also be combined with popular A/B testing software such as VWO, allowing you to watch behavior by experiment group.
It provides a full foundation of behavioral data without the requirement for conventional tracking or lengthy implementation times.
It allows for easy cross-device tracking of event data as well as granular web, mobile, and server-side tracking.
Features:
Customizable dashboard and reporting
Retroactive Reporting
Sessions-Digital Analytics
Custom Event Tracking and Retention
Real-time reporting
Pricing:
Heap, as a Hotjar alternative, has four pricing plans.
Heap has a free version for up to 10k sessions per month.
The growth package starts at $300 per month.
The Pro and Premier packages are customizable and you have to contact Heap for more.
They haven't mentioned their pricing for Pro and Premier.
Conclusion
As we saw in Hotjar Alternatives, I would recommend ReplayBird, a website analytics tool with excellent features and pricing plans.
Still, apart from my words, please make sure you complete your research and see-through tools overall and find which is most convenient for your site.
Let us review all the alternatives to Hotjar.
Google Analytics
Zoho PageSense
Kissmetrics
Woopra
ContentSquare
Mixpanel
Heap
You would have got a clearer idea by examining each of the best Hotjar alternatives for website analytics and their features.
You'll find them useful in website management, and our ratings are accurate in terms of their features and limitations.
---
ReplayBird - Product Analytics that Drive Revenue Growth
ReplayBird generates valuable insights into your user experience, enabling you to pinpoint and address friction points. Armed with this knowledge, you can make data-driven decisions with product analytics about the changes that are necessary to achieve your product goals.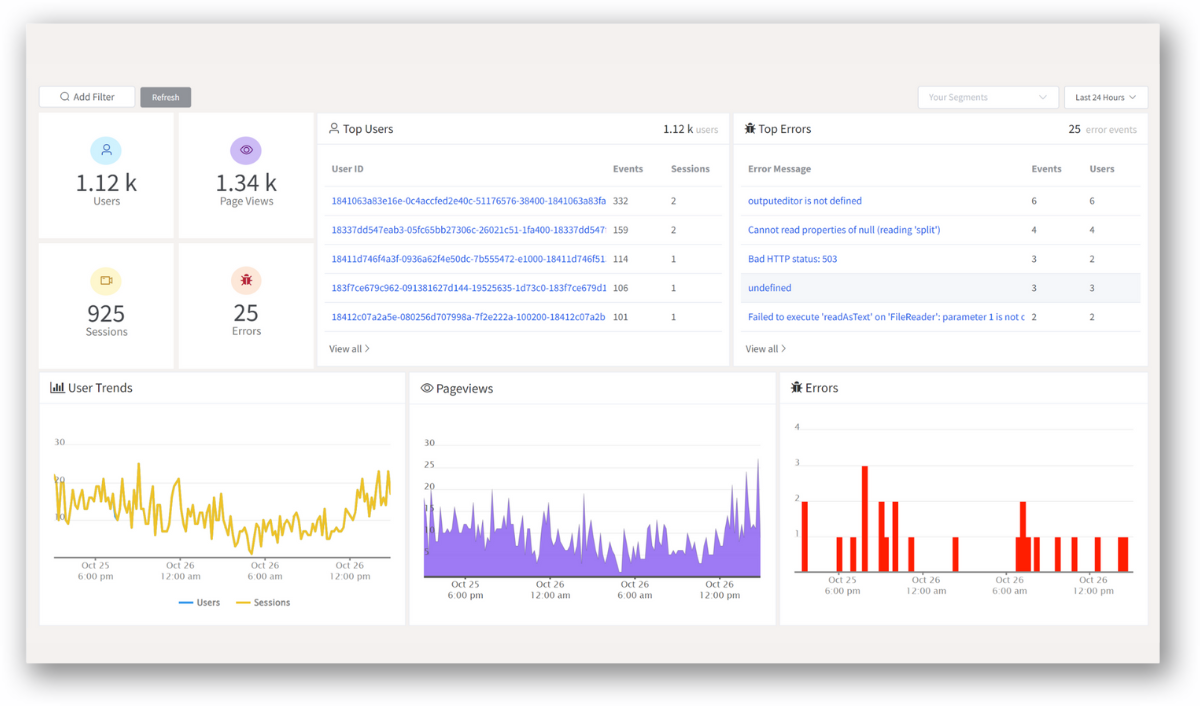 With ReplayBird's intuitive tools, you can easily gain a comprehensive understanding of the issues that are impacting your product. With session replay, you can see exactly how users interact with your product, where they get stuck, and what causes them frustration.
ReplayBird's analytics tools, let businesses make informed decisions about how to improve their products and ultimately drive revenue growth.
Try ReplayBird 14-days free trial
Further Readings: