Bounce rate is one of the analytics that can help business websites to improve and optimize conversion rates.
Have you ever mistakenly clicked a website page and literally exited the page immediately. There are many other reasons you would have left other web pages.
Here are the topics we will cover in this blog:
What is Bounce Rate?
A bounce rate is the percentage of visitors who enter your website through a link immediately after looking at that page and leave right after.
Bounce rates happen when the visitor leaves without any kind of action, like scrolling, visiting any other page, clicking anywhere, or staying for longer than 15 seconds. Then it is called a bounce rate.
The bounce rate is one of the important characteristics that play a major role in your SEO ranking.
The bounce rate has to be calculated to know the measurement of a website's overall engagement.
Google about bounce rate
"A bounce is a single-page session on your site. In Analytics, a bounce is calculated specifically as a session that triggers only a single request to the Analytics server, such as when a user opens a single page on your site and then exits without triggering any other requests to the Analytics server during that session.
Bounce rate is single-page sessions divided by all sessions or the percentage of all sessions on your site in which users viewed only a single page and triggered only a single request to the Analytics server".
How to calculate the bounce rate

The bounce rate is calculated by the total number of visitors divided by the total number of visitors who visited a website. Calculate your webpage bounce rate with this simple calculation.
An example for calculating the right bounce rate of your webpage: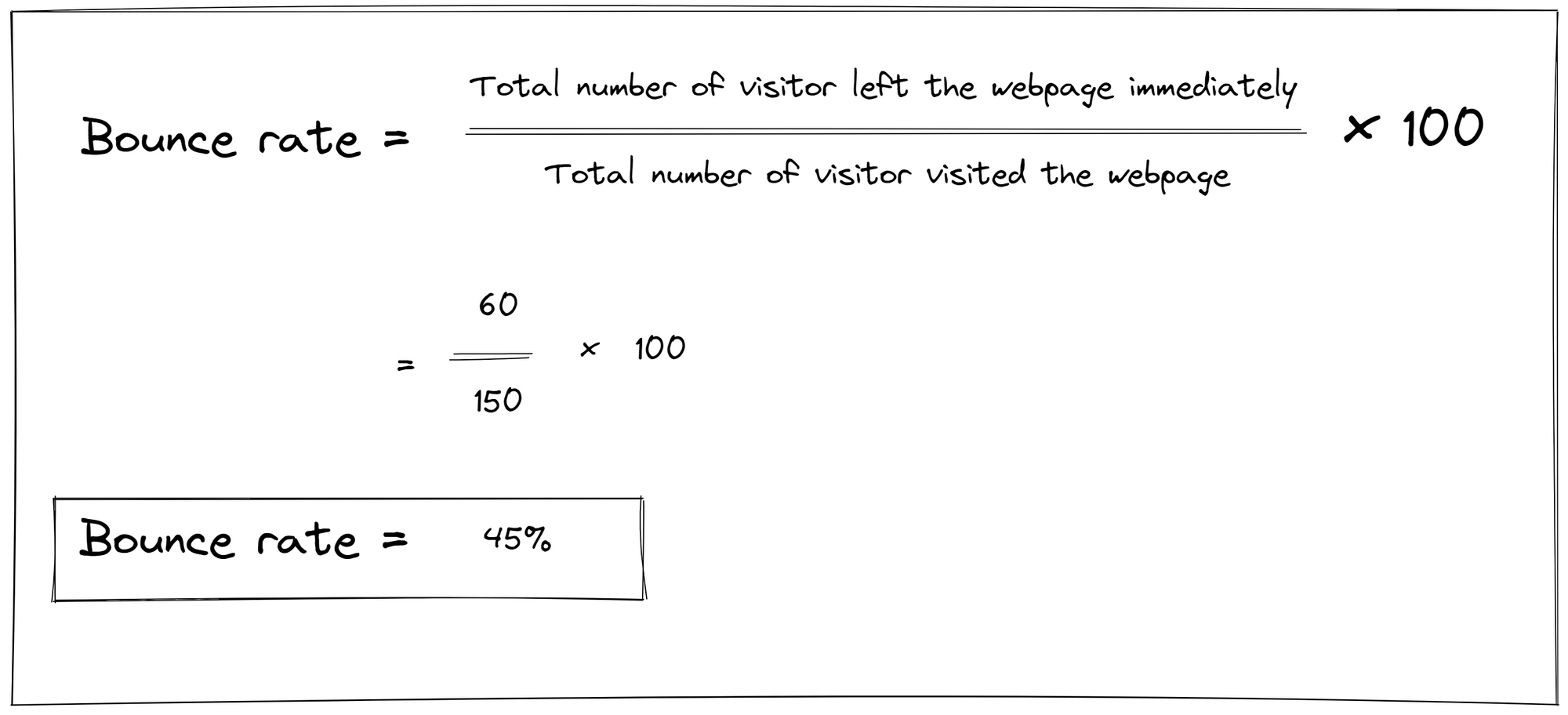 If the landing page of a website receives 150 visitors and 63 of those visitors leave the webpage after visiting the landing page, then the calculation of the bounce rate of the landing page is 42%.
Why Do People Bounce From My Website?
There can be a lot of reasons like they would have simply clicked the link by mistake, or they do not look at your product. But still, there are many others on your side because of the bounce rate. Here are some major reasons for the cause of the bounce rate of your webpage.
1. Worst website copy
Irrelevant and long copy on your website can affect the bounce rates. Visitors tend to leave the page immediately and lose trust if they find any grammatical errors or irrelevant phrases in the website copy.
2. Worst UX design
Website UX matters when it comes to bounce rates. UX with abstract colors without any palette or design with large buttons, mixed fonts, and uncommon designs are going to do the same thing as the worst copy; "visitors are going to lose trust in your website."  
Using a verified and minimal webpage may help you out with lowering bounce rates.
3. Advertisements
Cluttered web pages with lots and lots of annoying ads may make your webpage look like an illegal site, and sometimes a sudden popup of lots of ads may lead to panic and your visitors' increasing your bounce rates.
4. Pop-ups
Pop-up notifications asking your visitors to allow cookies, allow notifications, and take a survey may sometimes frustrate your visitors, bouncing back from your webpage and increasing the bounce rate of your webpage.
5. Error 404
If your backlinks or page load lead to an error 404, then this is also one of the main reasons for the increase in bounce rate. Do not let error pages stay on your site and rectify them immediately. Even a button leading to an error page link is going to take your visitors to another level of frustration.
6. Page speed
Web page loading for a long time is quite a frustration to any visitor. No one wants to wait at a site and wait until it loads and looks up.
The visitor keeps going back and entering the webpage. which is exactly the bounce from your webpage. According to the learning of backlinko, the average speed is 10.3 seconds on desktop and 27.3 seconds on mobile.
7. Deceptive head titles and descriptions
Every webpage has a head title and description where you can mention your keywords and relevant information in your webpage headline and description. Irrelevant and wrong head titles or descriptions may affect the SEO ranking and bounce rate.
Looking at the head title and description, visitors enter your web page, where they find the page irrelevant and leave immediately. This may cause a high bounce rate.
8. Bad Link from Another Site
A bad link can be an error link or any spam link. It can also be a webpage with cluttered pop-ups and excessive advertisements. This will give your visitor the worst impression of your webpage, and they will want to leave immediately in fear of a spammy beholder. This is one of the major reasons for the high number of bounces.
9. Mobile Friendly
If your UX design isn't mobile-friendly, visitors who browse through mobile may find it difficult and leave immediately. This can cause bounce rates. Always make your webpage mobile friendly. According to Oberlo, "As of May 2022, 52.79% of the total web visits are currently mobile, compared to 47.21% coming from desktops."
10. Inferior Form
Low quality, irrelevant, or poorly designed forms can also cause your webpage to have high bounce rates. People are not likely to take a survey very curiously.
You give them a form that frustrates them. It is going to irritate the visitor, and they are going to keep ignoring your webpage and leave your page immediately, which is exactly what is called a bounce rate.
Learn more about other frustration signals.
How to check the bounce rate?
Let me tell you, there are 3 ways to find your bounce rate.
Google analytics
Bouncing rate tools
Session recording
1. Google analytics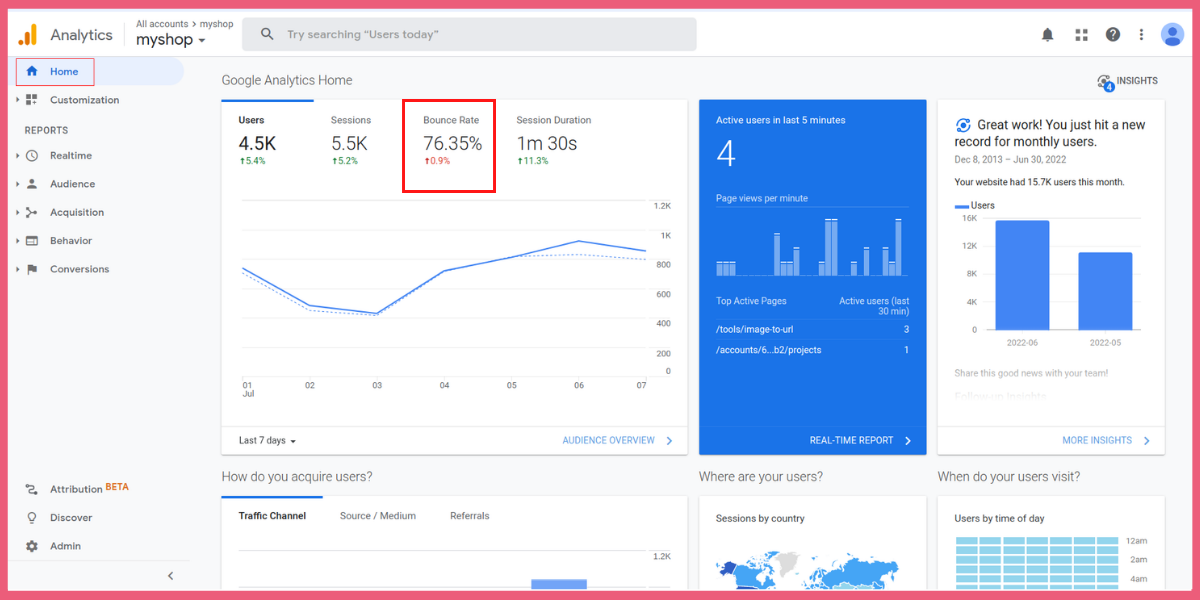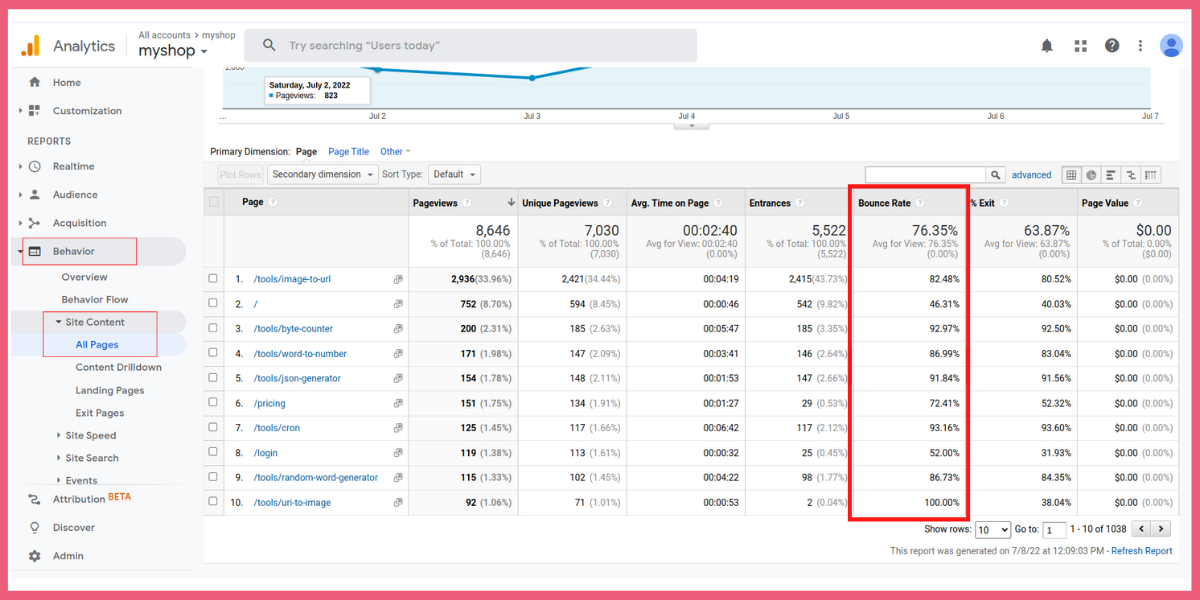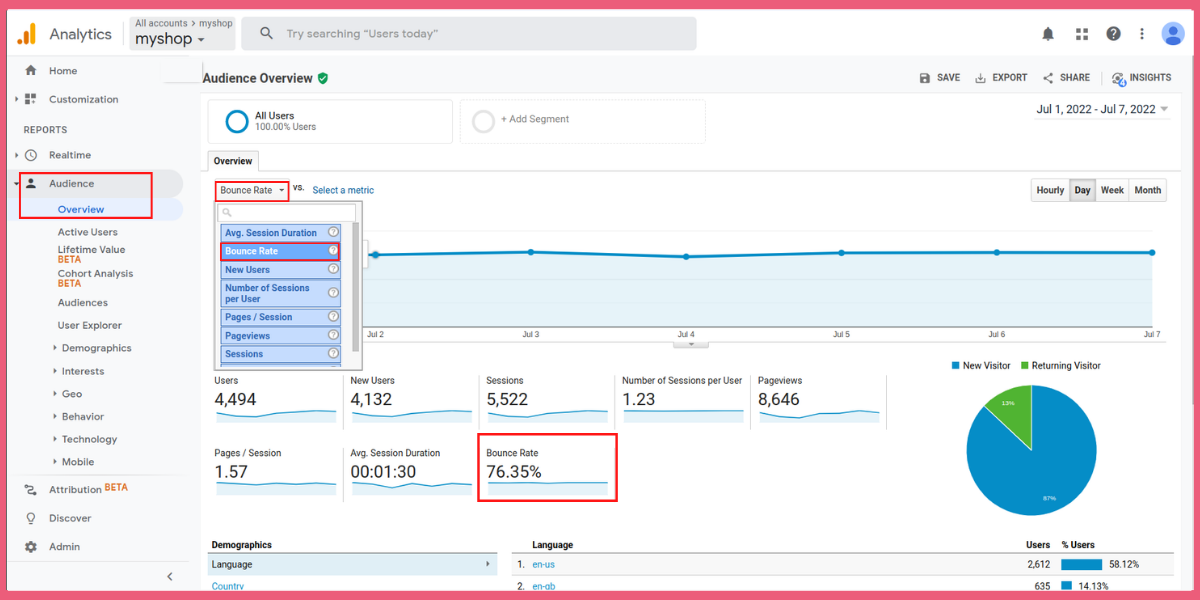 As we all know, Google Analytics is a free tool for website management. But with so many other issues like Google analytics, which isn't a privacy-focused analytics tool and many other reasons, not every business website has access to Google analytics.
Google Analytics is one of the tools that shows your bounce rate. Where will you find the bounce rate of your web page?
2. Bouncing rate tools
Find your bounce rate with bounce rate checking tools like: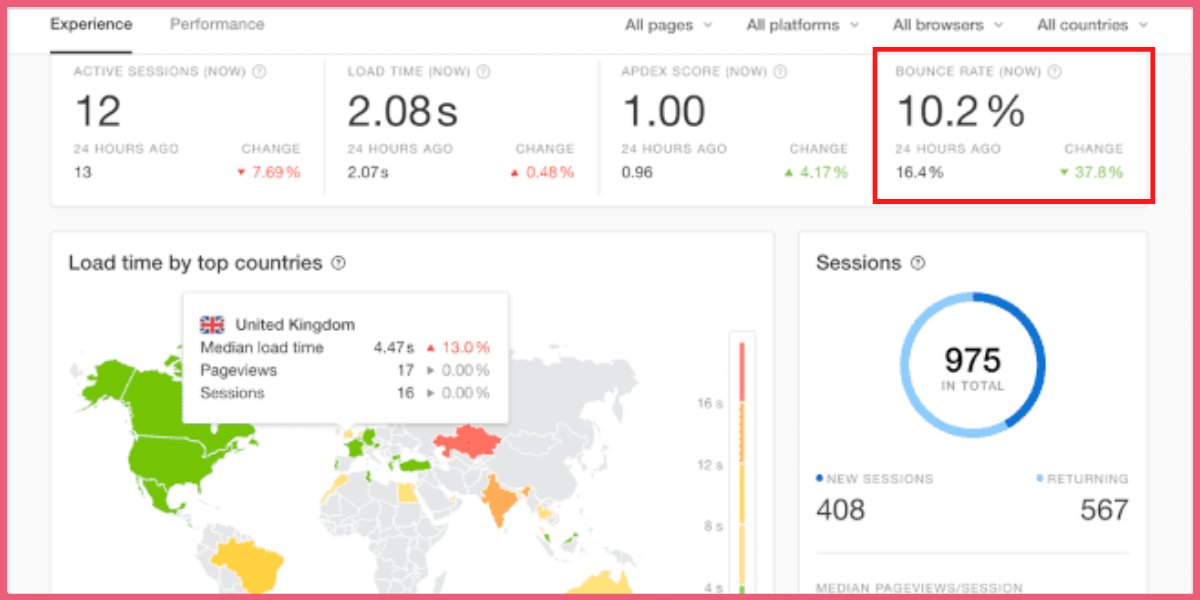 3. Session recording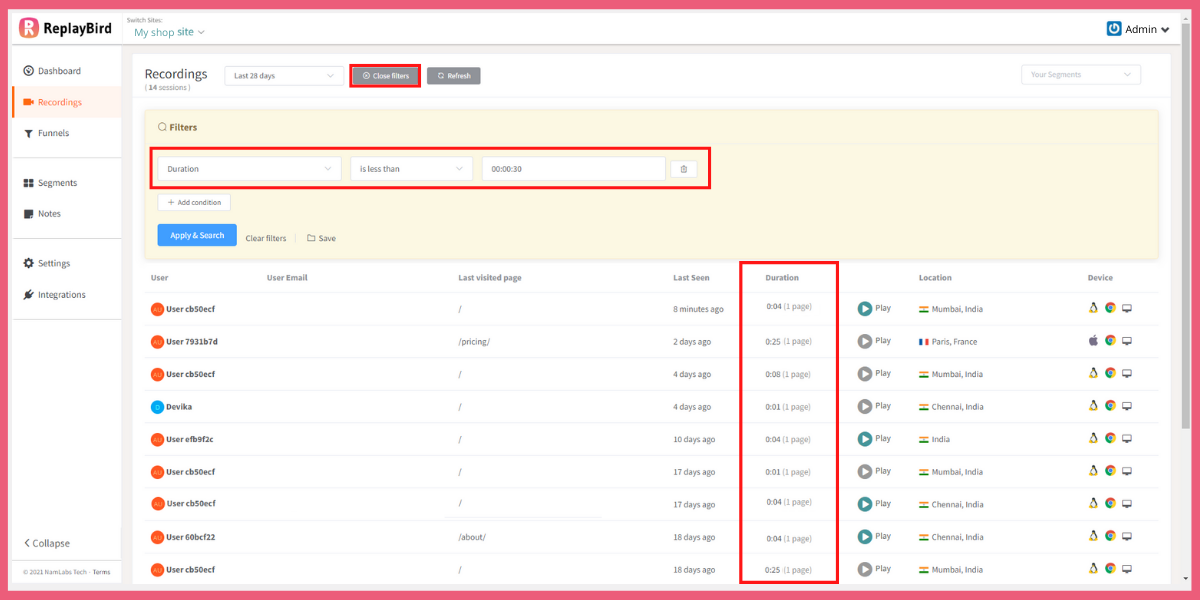 And the final and most affordable way is to have a session recording tool. Session replay is the tool used to replicate a visitor's activities on a website. Session replay gives a real understanding of how users interact with your website, and it plays an important part in the optimization process and CRO activities. Filter your sessions that have a lesser time duration and just one-page sessions to find how many have bounced from your page.
Find out what else a session recording tool can do for your website.
Bounce Rate vs. Exit Rate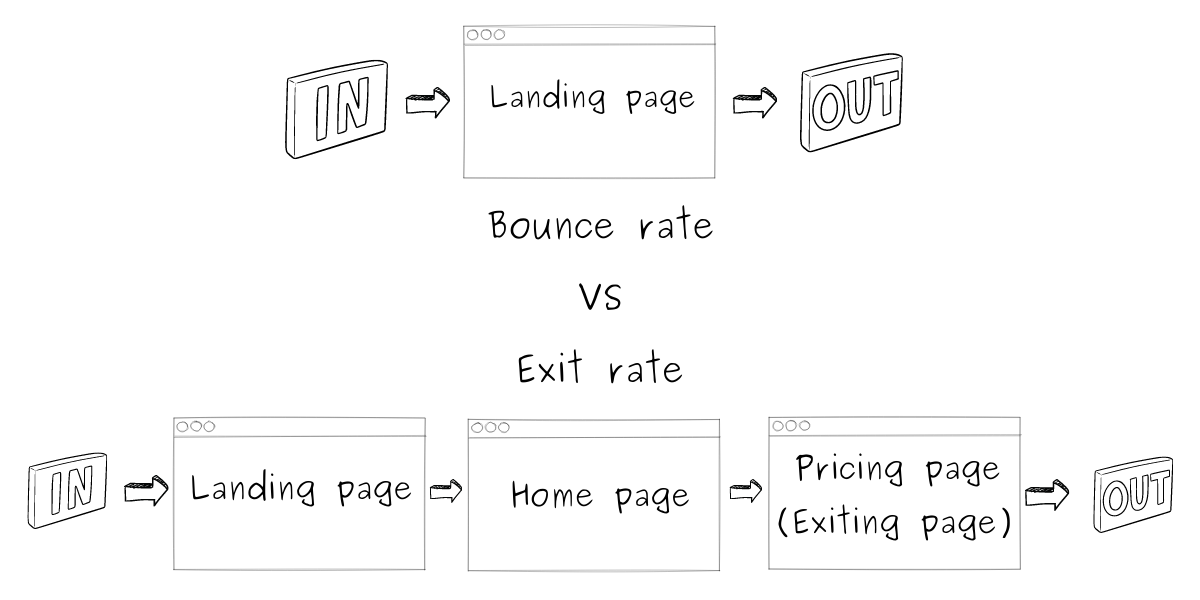 The exit page is where all the sessions end. When the session tab closes and the last place the visitor ends the session is called the exit page. Now the exit rate is when the visitors keep exiting from a particular page. That page is going to get a higher exit rate.
On the other hand, sessions start and end on the same page in bounce rate. In bounce rate, the visitor does not do any activity and exits from the same page.
Are high bounce rates a bad thing?
Not in all cases. Some blogs would have ranked higher and the visitor would have read the blog and left the webpage. This means it would have a higher bounce rate. It doesn't mean a higher bounce rate is a bad thing and you have to worry about that. Bounce rate is a simple strategy to optimize conversion rates.
What is a Good Bounce Rate?
25% to 65% can be considered a good bounce rate.
What is the average bounce rate?
The bounce rate varies from every industry website to every device, location, and page type. But here is the average bounce rate. 47% is the average bounce rate irrespective of website type.
---
ReplayBird - Driving Revenue and Growth through Actionable Product Insights
ReplayBird is a digital experience analytics platform that offers a comprehensive real-time insights which goes beyond the limitations of traditional web analytics with features such as product analytics, session replay, error analysis, funnel, and path analysis.
With Replaybird, you can capture a complete picture of user behavior, understand their pain points, and improve the overall end-user experience. Session replay feature allows you to watch user sessions in real-time, so you can understand their actions, identify issues and quickly take corrective actions. Error analysis feature helps you identify and resolve javascript errors as they occur, minimizing the negative impact on user experience.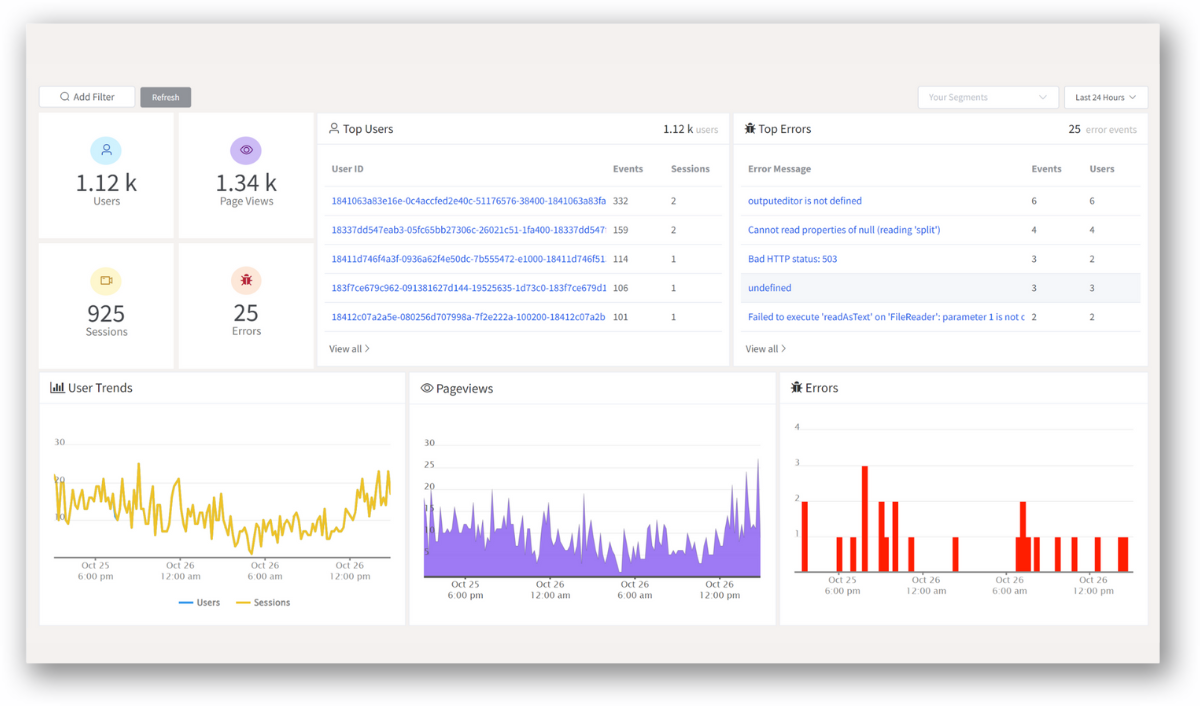 With product analytics feature, you can get deeper insights into how users are interacting with your product and identify opportunities to improve. Drive understanding, action, and trust, leading to improved customer experiences and driving business revenue growth.