You visit a lot of web sites, some have errors in them and you feel like you should not trust the web sites. it is common to get such thoughts.
If you are maintaining a web site, you may need web site recording, also called session recording and replay tools, to watch exactly what your web site visitor is doing on your web site in real-time like a video playing in the video player.
Now we shall look at the topics we will cover in this blog:
What is web site recording?
Web site recording is a digital experience action done by a session recording tool that gives you insights into how your users and web site visitors behave on your web site.
Web site recording starts when a web site visitor enters your web site and ends when they leave from any end page.
You can record every click, scroll, pause, and what they search for and why they leave the page.
6 Reasons Why should you use a web site recording tool?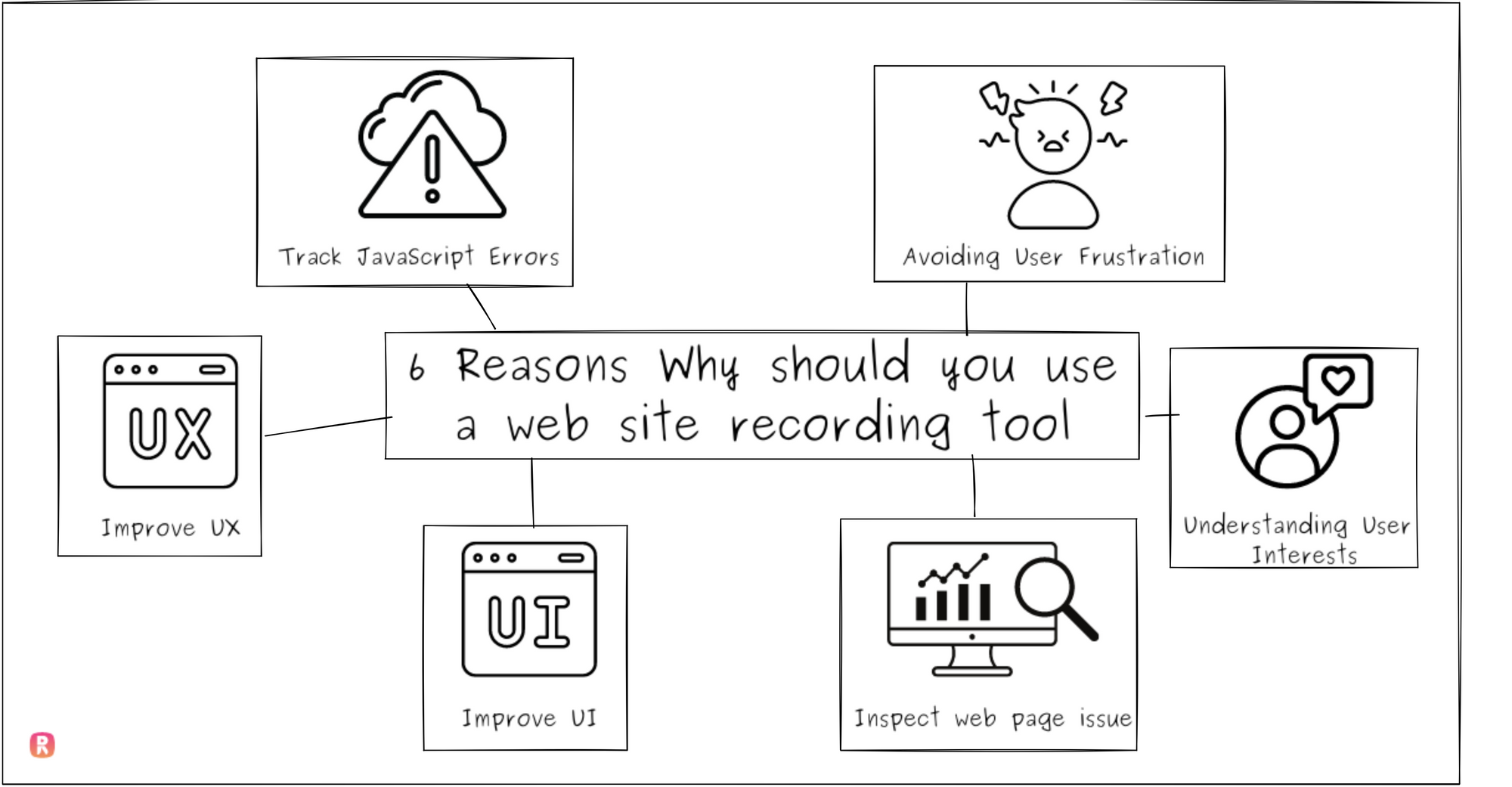 1. Track JavaScript Errors
JavaScript errors can occur when you click on a link, expecting it to send you to another webpage, but it does not function and does not respond to your click.
JavaScript errors can occur when a minor typo in typing or describing a task may result in incorrect clicks.
It is also, possible that the element will not be selected or clickable. It is not a working element at all.
Also, before clicking, the user may make assumptions or not look closely at the element. even when the user's internet connection is down.
2. Improve UX
User experience is important when it comes to maintaining a web site for your business.
A small web site error can have a huge negative impact on the user experience. But it is okay if you lose only one user.
Imagine having a thousand users leaving your web site for the same reason. That is unfair.
Always improve your user experience. Everyone's unique, so you may need to try different aspects to check which brings you more conversion rates.
3. Better UI
The web site is the leading platform for connecting you with your customers.
Your web site should be able to speak for you, connect with visitors, and persuade them to become clients.
If your web site leaves your clients with a positive, hassle-free impression, they will begin referring your brand to others.
The user experience of your web site or app is determined by its UI design.
In general, UI design has a significant impact on a web site's audience engagement, traction, and conversion.
It is the determining factor of a web site's functionality, usability, and accessibility.
A great UI design that influences conversion is more than just a visually appealing design layout or easy navigation and user flow.
A great user experience is the result of numerous aspects working together to provide an easy flowing, rapid and smooth engagement, and effortless user interactions, traffic, and conversions on a web site or app.
4. Inspect web page issue
A web page can have numerous issues, from bugs to wrong URLs to irrelevant keywords leading to bounce rate.
Web site recording will show all the webpage issues that need some inspections. To provide users with good customer service, web sites must be error-free.
Web site recording can detect issues such as page loading delay, broken links, form-related errors, and more.
It also allows you to discover error clicks, which prevent visitors from completing their tasks, and rage clicks, which occur when a user is upset and repeatedly clicks a specific site element.
These topics capture your visitors' interest and cause them to leave your web site.
Understanding the mistakes can assist you in optimizing the web site and making your web design more user-friendly.
5. Understanding User Interests
Web site recording allows you to have a thorough understanding of your consumers' interests.
You may offer numerous features or have created a new one, but as a supplier, you should understand which one brings the greatest value to the users' lives.
With web site recording, you can learn which features of your web site appeal to your users and which do not.
With this knowledge, you may alter your marketing efforts, redesign your web site so that customers can easily access all of the services, and much more.
6. Avoiding User Frustration
There is a lot of user frustration on the web that has to be avoided to give a hassle-free experience to every web site visitor.
Web site recording gives you all insights if your user ids facing any kind of user frustrations. Here are some user frustrations:
Rage click
Error click
Dead Click
Thrashed Cursor
Web site recording FAQS:
1. Is session recording and web site recording both the same?
Yes, both session recording and web site recording are the same when they are recorded by the web site owner.
2. How can I record web site visits?
You can record all your web site visits by integrating a session replay tool like Replaybird into your web site. You can watch all the user activities from your web site visitor's point of view from ReplayBird's log-in.
3. How do you record actions on a web site?
You can record all your users' actions with the ReplayBird session replay tool. The ReplayBird session replay tool records all your web site visitor's actions.
4. What is the Best Web site recording tool?
ReplayBird is the best web site recording tool which is also a web analytics tools that gives you powerful insights on the digital user experience of your every visitor. It does not give you data samplings.
Replaybird combines session replay, performance monitoring, and product analytics into one platform, delegating businesses and their teams to create a better user experience.
Replaybird analyzes customers' digital experiences and identifies errors on your web site before your web site visitor finds them.
Customizable dashboards give exact UX metrics on how your web site is performing.
Replaybird is a full package for anyone looking to boost their web site traffic and optimize more conversion rates.
5. How do I track traffic to my web-site for free?
You can track traffic to your web site with insightful web site analytics, heatmaps, and by analyzing session recordings of your web site visitors' activities on your web site.
This helps in showing you all the errors and issues that your users face on your web site.
Correcting all the issues and errors shown by your web site analytics and session replay tool can bring more traffic to your web site.
ReplayBird provides you a 14-day free trial.
6. How can I track my web site views?
You can track your web site views and your web site visitors' actions by watching the web site session recording videos.
You can replay the web site session by recording videos anytime to track what your web site visitor is doing on your web site, from clicking, scrolling, and searching.
---
ReplayBird - Driving Revenue and Growth through Actionable Product Insights
ReplayBird is a digital experience analytics platform that offers a comprehensive real-time insights which goes beyond the limitations of traditional web analytics with features such as product analytics, session replay, error analysis, funnel, and path analysis.
With Replaybird, you can capture a complete picture of user behavior, understand their pain points, and improve the overall end-user experience. Session replay feature allows you to watch user sessions in real-time, so you can understand their actions, identify issues and quickly take corrective actions. Error analysis feature helps you identify and resolve javascript errors as they occur, minimizing the negative impact on user experience.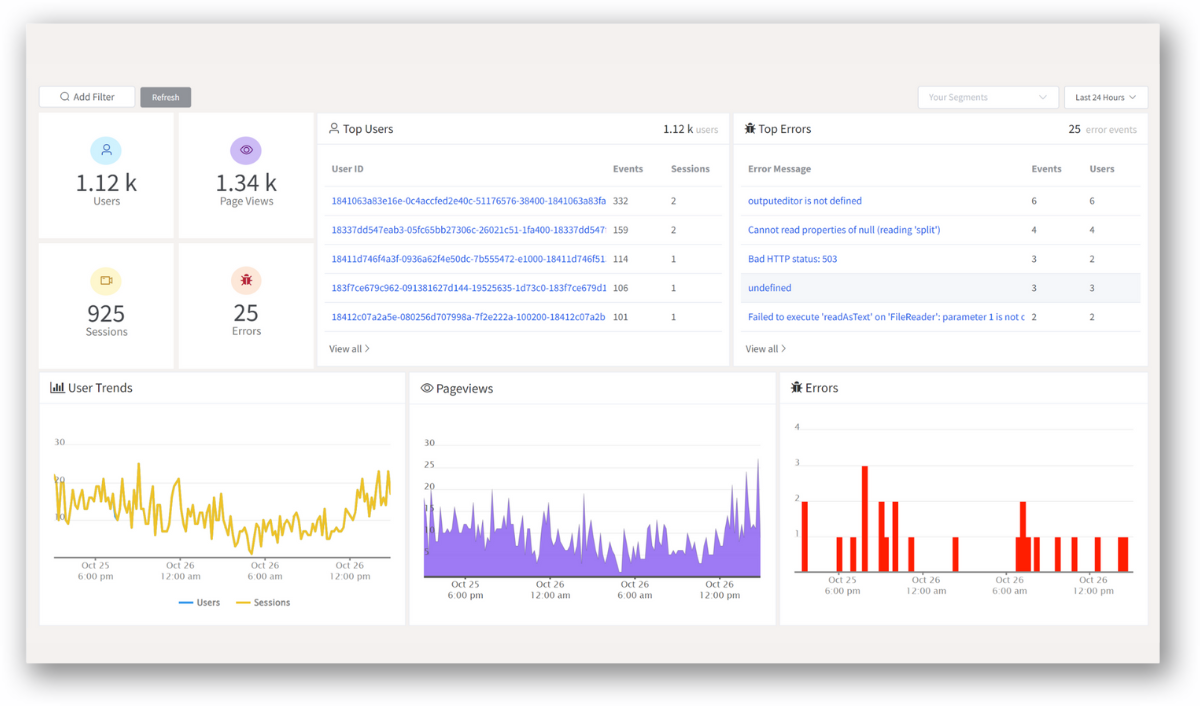 With product analytics feature, you can get deeper insights into how users are interacting with your product and identify opportunities to improve. Drive understanding, action, and trust, leading to improved customer experiences and driving business revenue growth.
Try ReplayBird 14-days free trial
Further Readings: