Session replay can be new to many, but it was existing for a long time among all business website owners. One of the strongest reasons behind every successful website is session replay tools.
Let us look at the topics, that we are yet to read in this blog:
What are session replay tools?
A session replay tool is a website management tool that enables businesses to record the interaction of their website visitors from their point of view and to replay the recorded sessions anytime.
These sessions are started when a website visitor enters any landing page of the website.
This continues until the visitor leaves the website from any exit page. "Session replay" comes under one of the web analytics tools.
Features to look for in session replay tools:
Sessions have to be in good pixel quality.
Session replay tools should allow us to skip inactive actions.
It must be able to play at different playback speeds.
Notifications on sessions with errors
Segment your sessions with issues to be rectified.
Tag team members in session to look after errors.
filters with duration, conditions, and more.
Affordable pricing
Why you may need a session replay tool?
1. If you are a developer:
Session recording tools can be used by developers to investigate website issues.
This leads to a high bounce rate, as users will abandon the site if they are inconvenienced.
Debugging is significantly easier when the developer knows which element is causing the problem.
2. If you are in the marketing team:
Targeting the right audience and displaying the ads to them will boost the conversion rate.
Providing offers to visitors who clicked the buy button and stayed on the page for a longer period of time.
This shows that the visitor clicked the "buy" button to purchase the product.
He then stared at the price for far too long. Perhaps he reviewed the pricing with others or assessed the pricing he could afford.
Targeting him and offering a good deal or a free trial may help turn him into a customer.
This is a simple illustration of how session recording and replay may aid in marketing.
3. If you're a UX designer:
Eight visitors out of ten clicked on the text, thinking it was a link to buy or additional information.
The designer team notices that it is now fixed as either a link or a button.
It has the potential to increase conversion rates.
Another simple illustration of how session recording might aid designers.
Now let us look at the best session replay tools:
#1 ReplayBird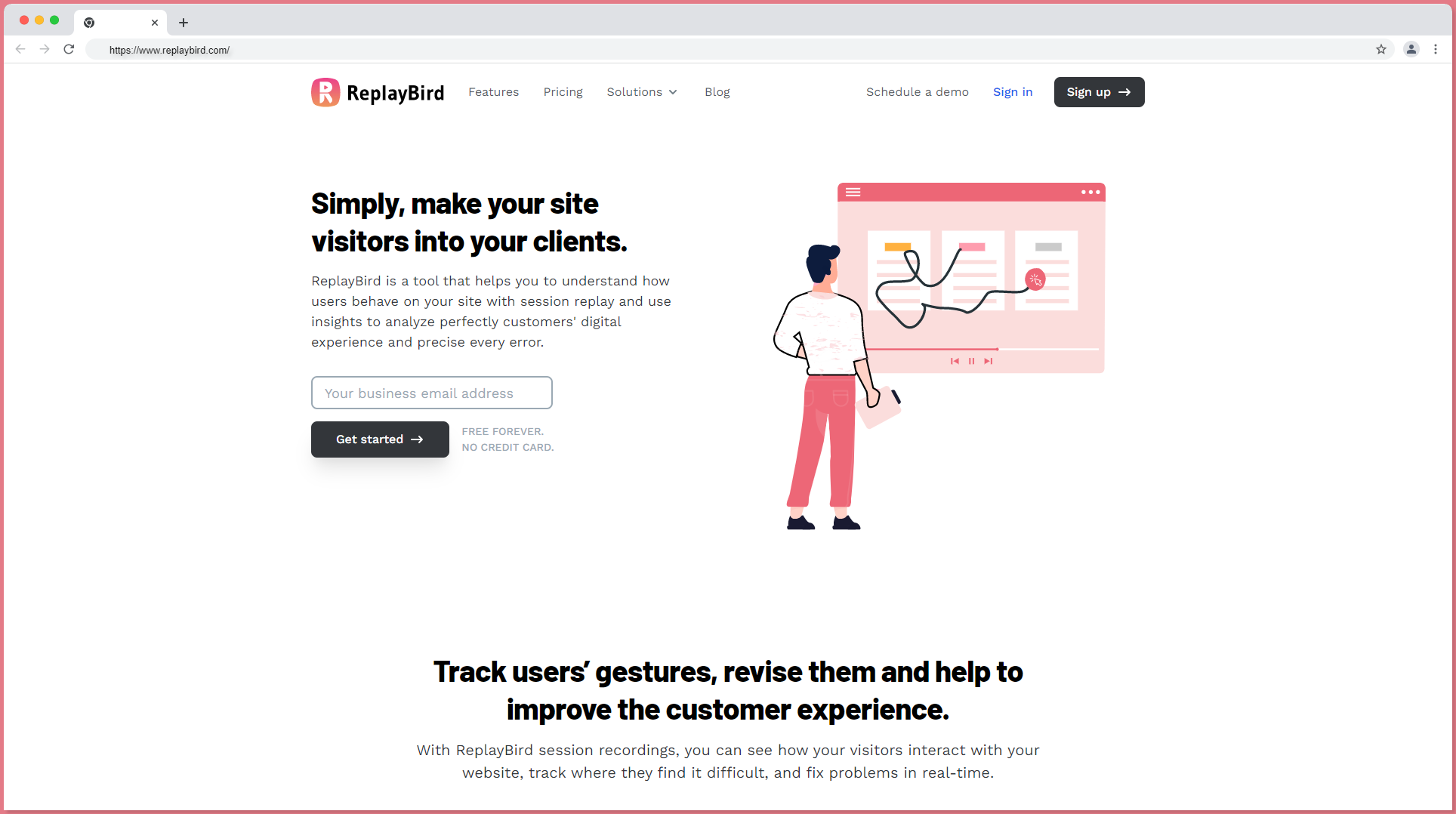 Replaybird combines session replay, performance monitoring, and product analytics into one platform delegating businesses and their teams to create a better user experience.
Replaybird analyzes customers' digital experiences and identifies errors on your website before your website visitor finds them.
Customizable dashboards give exact UX metrics on how your website is performing.
Replaybird is a full package for anyone looking to boost their website traffic and optimize more conversion rates.
Features:
Session Replay
Heatmap
Funnel analysis
Product analytics
Multiple users
Multiple websites
Unlimited reports
Customizable dashboard
Accurate User Identification Data
Replaybird is a session replay tool for websites with five pricing plans.
A free trial is also available.
Free version - $0/month - 1000 sessions
Basic - $79/month - 25,000 sessions
Startup - $149/month - 50,000 sessions
Growth - $329/month - 100,000 sessions
Premium - $599/month - 250,000 sessions
Custom package for sessions over 250,000 sessions
#2 Clarity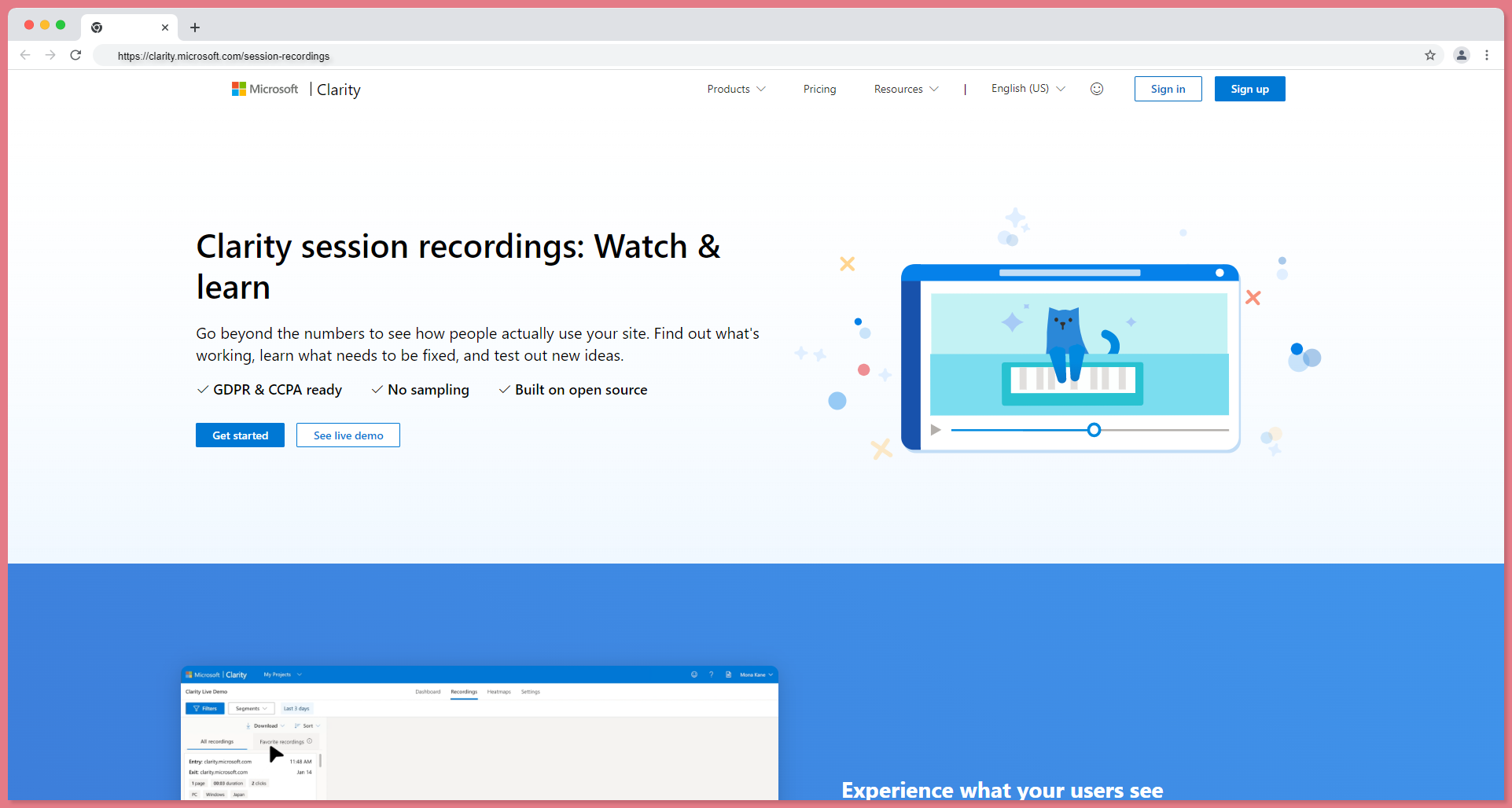 Clarity is a session replay tool provided by Microsoft. They also enable you to access session replays, heatmaps, and insights.
Another tool can make an integration with Google Analytics to have access to session replay and heatmaps and get user activity by combining both.
Clarity is GDPR & CCPA ready. Furthermore, Clarity is an open-source tool.
Features:
Session replay
Heatmaps
Insights
Integrate with google analytics
Limitations:
It does not have smooth video playback.
The deleting option is complicated.
Pricing:
Microsoft Clarity is a free tool.
#3 Hotjar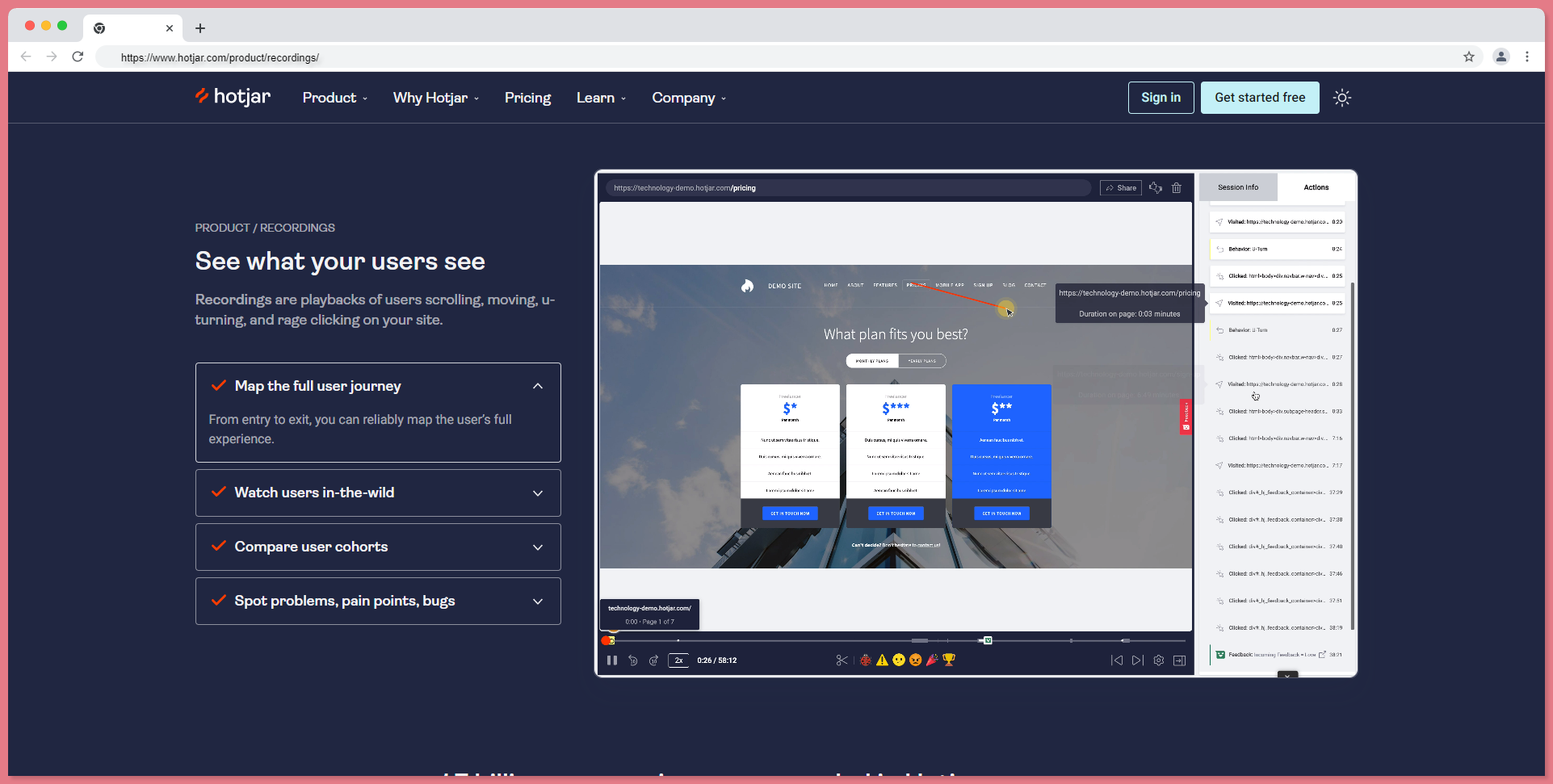 Hotjar is one of the session recording tools, which is Product Experience Analytics, which explains how people act and what they care about, allowing product teams to provide genuine value to customers and customer retention.
Features:
Session Replays
Heatmaps
Web analytics
Survey templates
Conversion opportunities
Webpage element analysis
Limitations:
Not user-friendly
Difficult payment process
Cannot apply more filters
Pricing:
The basic plan is free with limitations
Plus plan for $31/month
Business plan for $79/month
Scale plan for $311/month
#4 Fullstory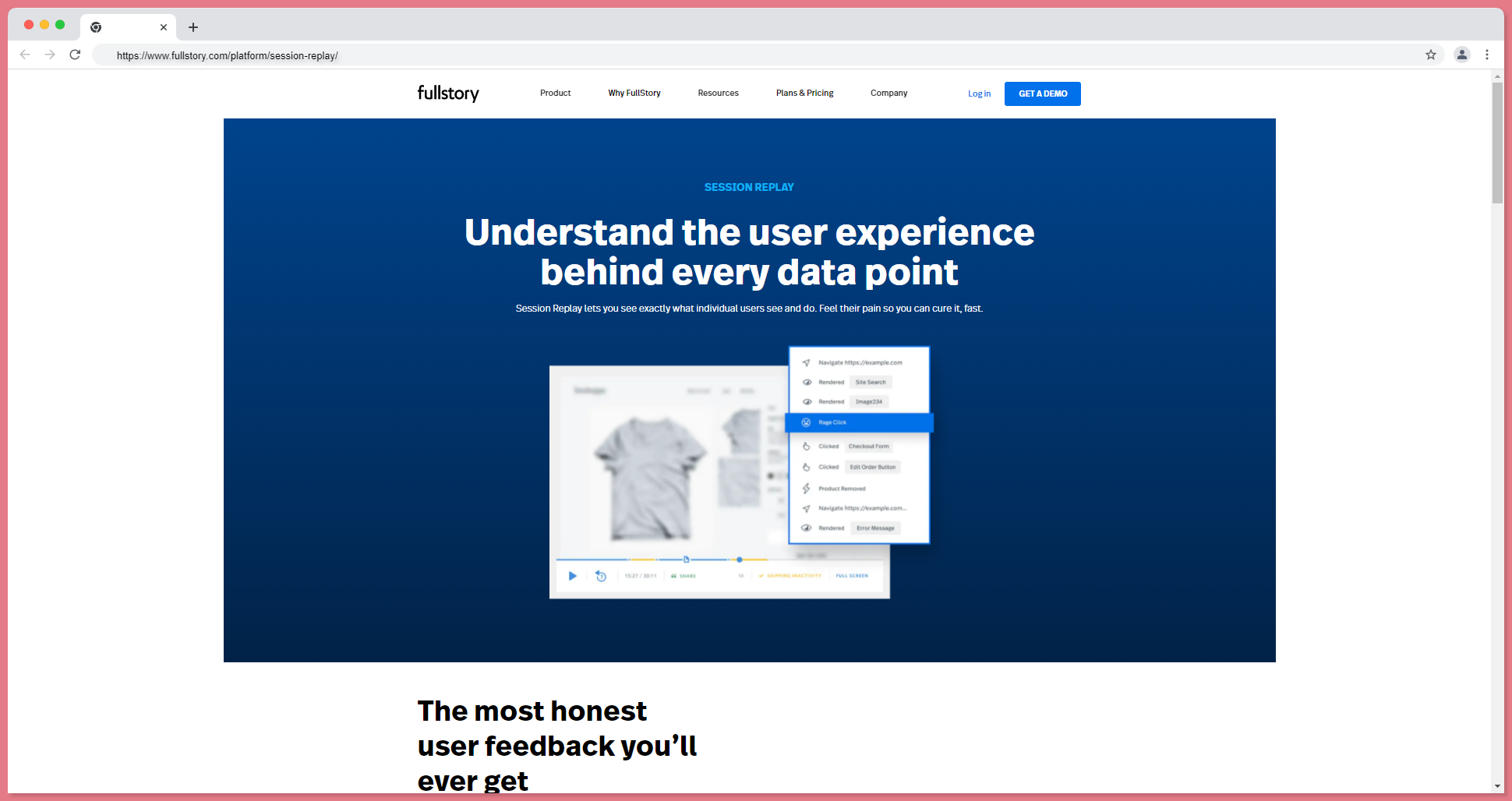 FullStory is a Digital Experience Intelligence (DXI) platform that combines comprehensive product analytics, robust session information, and collaboration tools to give real-time analytics on online and mobile experiences.
Features:
Analysis
Conversion Tracking
Customer Journey Mapping
Funnel Analysis
Search/Filter
Session Recording
Limitations:
Difficult to search and use features
Transparentless pricing
Expensive pricing.
Upgrades to the more expensive versions by sessions.
Intimidation on degradation.
Pricing:
A free trial for all the plans is also available
Free for startups with base-level data
The business plan is not revealed and you have to contact fullstory
Fullstory gives customized billing for the Enterprise plan
#5 Logrocket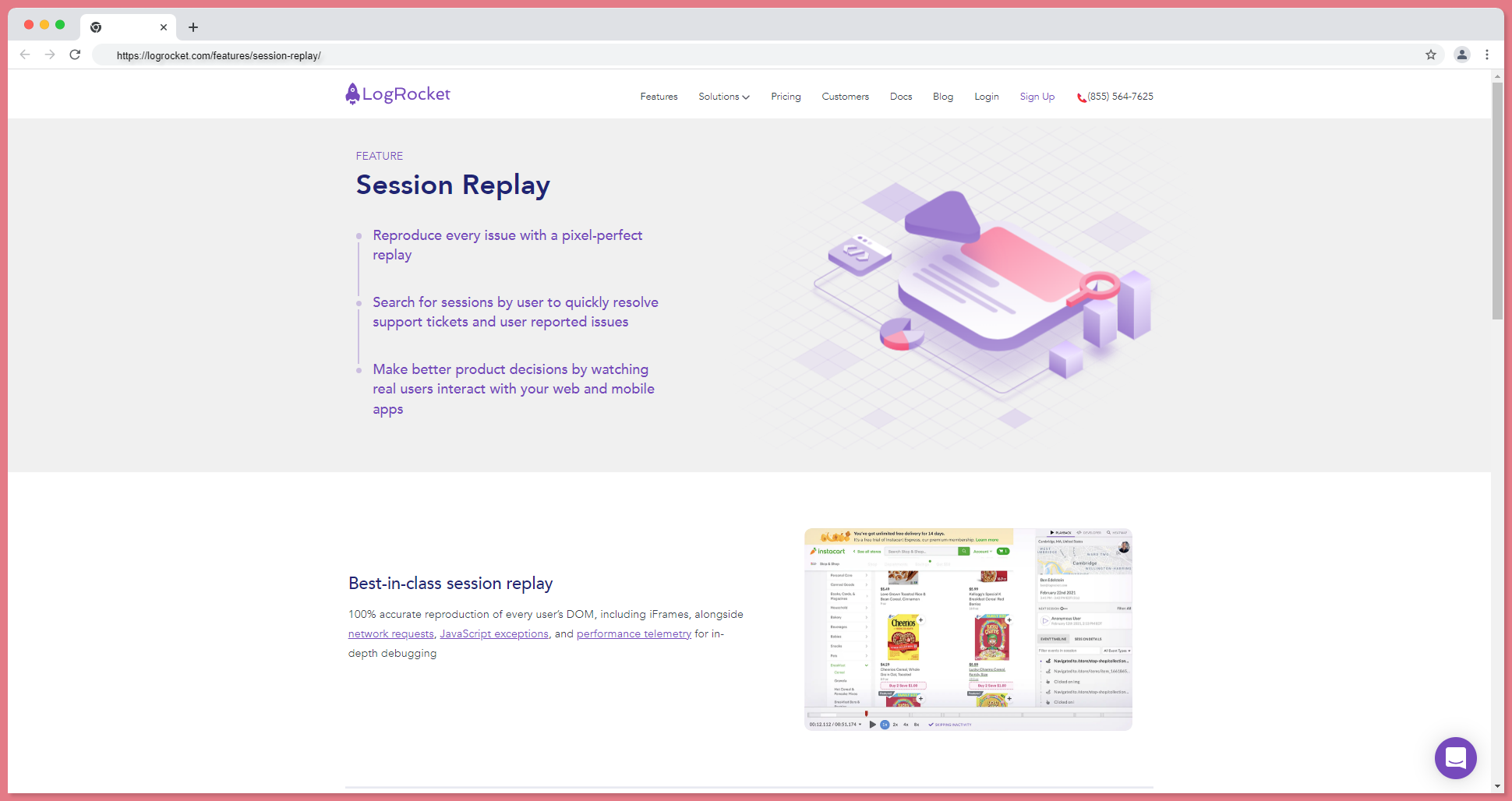 LogRocket is a performance monitoring tool that captures logs and session recordings from your web and native mobile apps to help you fix bugs and analyze user behavior.
LogRocket makes it simple to replicate user-reported issues.
Search for user sessions and view session replays to determine the root cause of any problem.
Features:
Session Recording
Funnel Analysis
Data Visualization
Heatmaps
Behavioral Analytics
Application Management
Website Analytics
Limitations:
Expensive pricing.
Pricing:
Free for 1000 sessions/month
Team 10k sessions per month $99
Professional 25k sessions per month $500
Enterprise package has custom pricing
#6 Dyntrance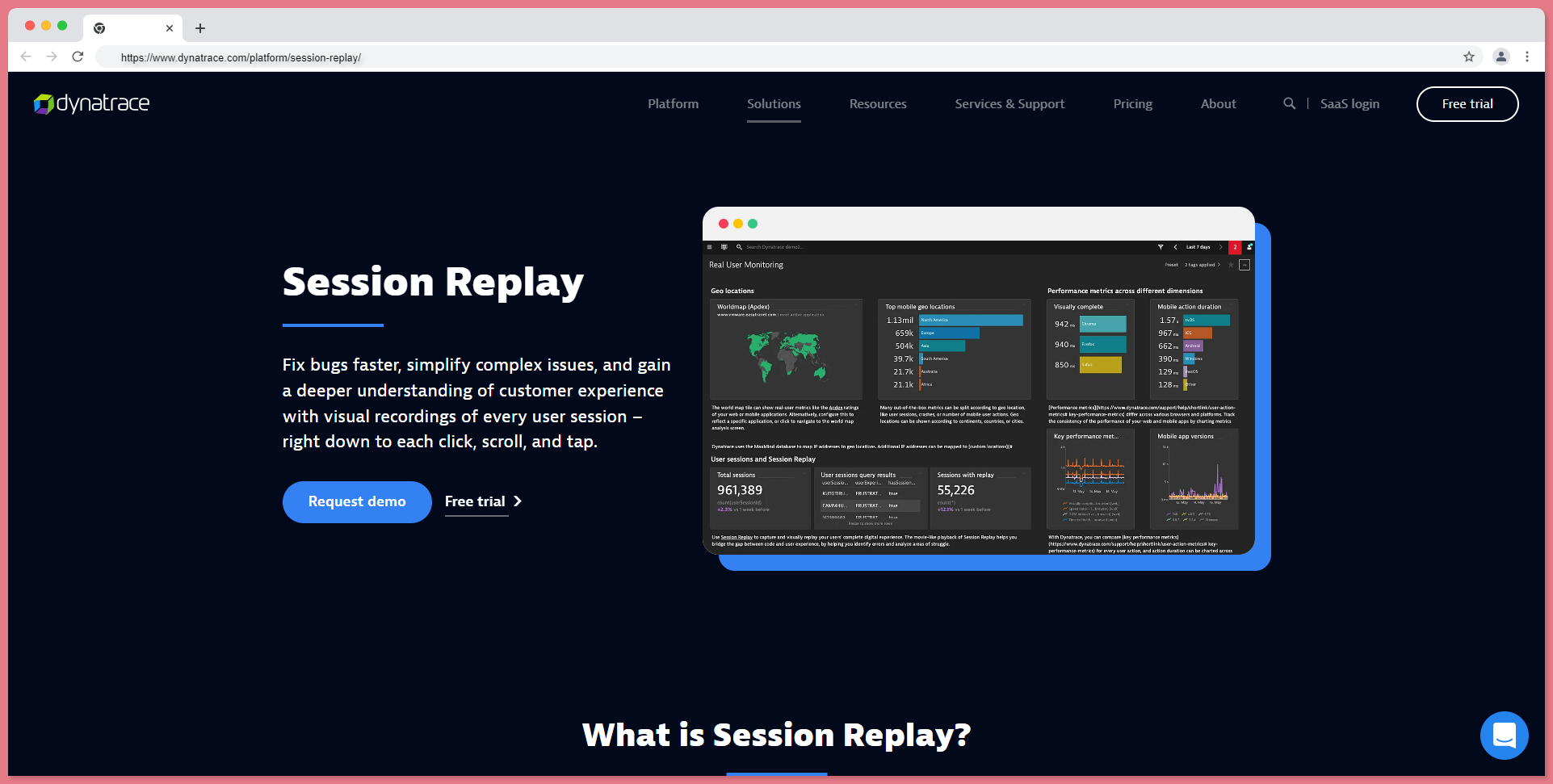 Dyntrance is a digital experience monitoring, you can improve user experiences.
Session replay of dyntrance ensures that all applications are accessible, functional, quick, and efficient across all channels, including mobile, web, IoT, and APIs.
Features:
Performance Monitoring
Data Visualization
Real-Time Monitoring
Session Replay
Behavioral Analysis
Limitations:
Not a user-friendly User-interface
Pricing:
Digital experience monitoring Starts at $11
#7 Posthog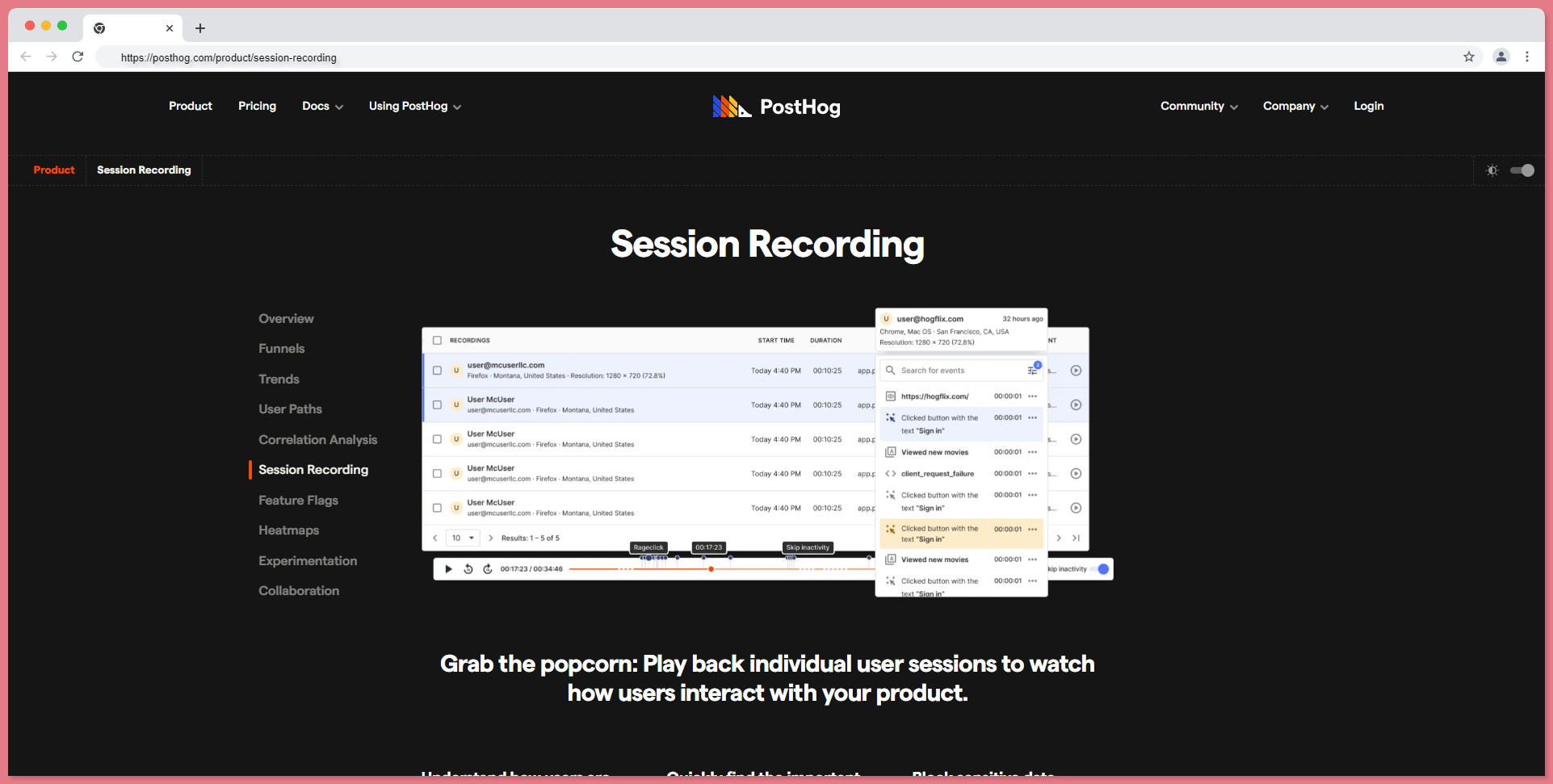 PostHog is a self-hosted all-in-one product analytics tool.
It allows software teams to capture events, perform analytics, record user experiences, run tests, and deliver new features all from a single platform.
PostHog is expandable to any size team and priced based on usage.
Because it is completely open source, you may check every line of code, offer ideas, and even build directly on top of the product to add new features and integrations.
Features:
Product Analytics
Funnels Analytics
Session recording
Feature flags
Experimentation
Heatmaps
Limitations:
Difficult to setup
Some bugs are found as it is developing the site
Pricing:
Posthog is an open-source tool.
#8 UXcam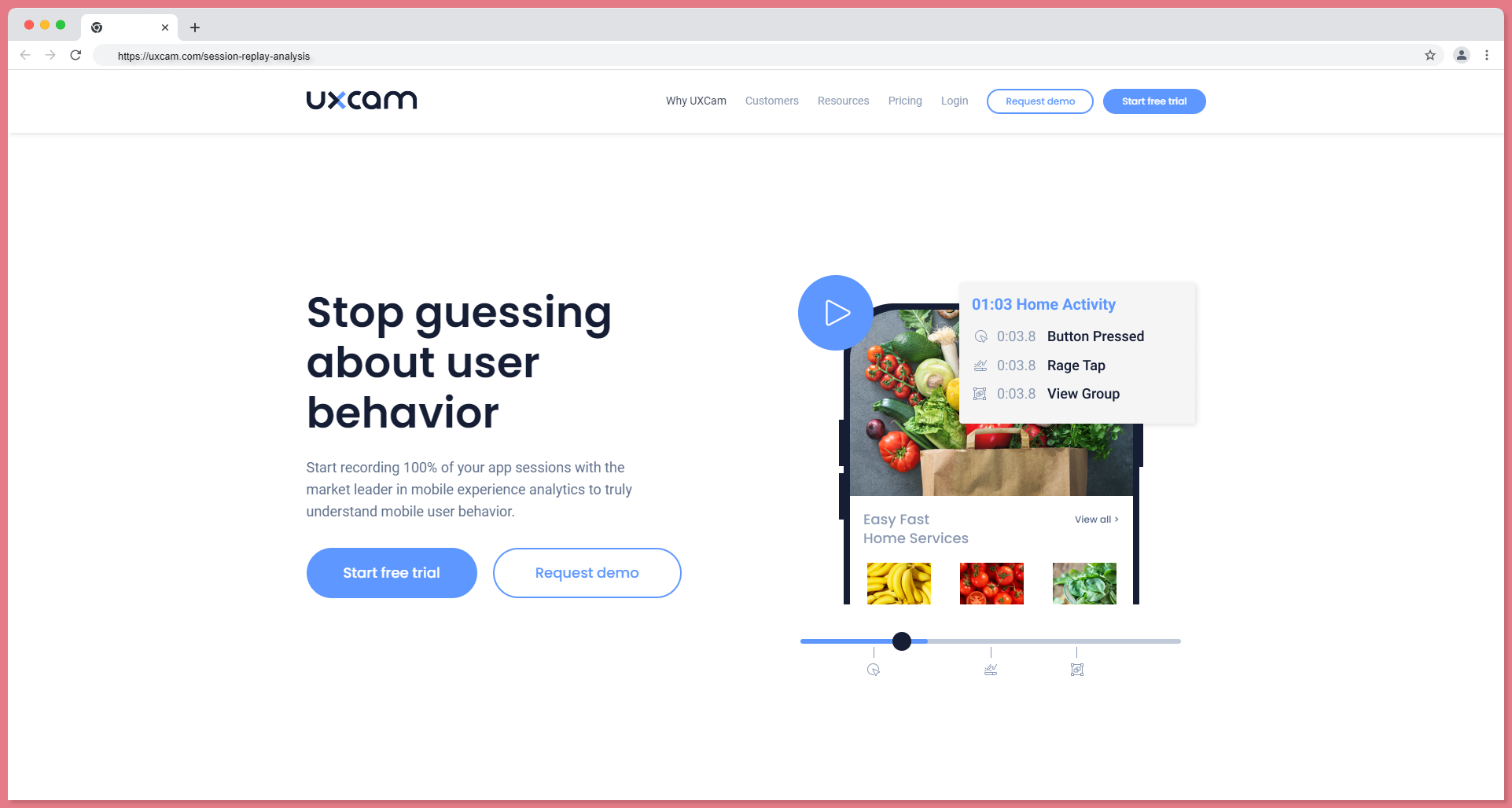 With an easy-to-use analytics solution, UXCam helps businesses understand their mobile app users.
Session Replay Analysis, Heatmaps, User Analysis, Screen Analysis, User Journey Analysis, Crash & Issue Analytics, and other features are included.
UXCam believes that simply delivering a product is insufficient.
Every successful company is in the business of providing a positive user experience.
Features:
Heatmaps
Funnel Analysis
Event Analytics
Session Replay
User Analytics
Data visualizations
Limitations:
No transparent pricing
Expensive pricing
The dashboard isn't customizable
Pricing:
UXCam has not yet provided pricing information.
#9 Contentsquare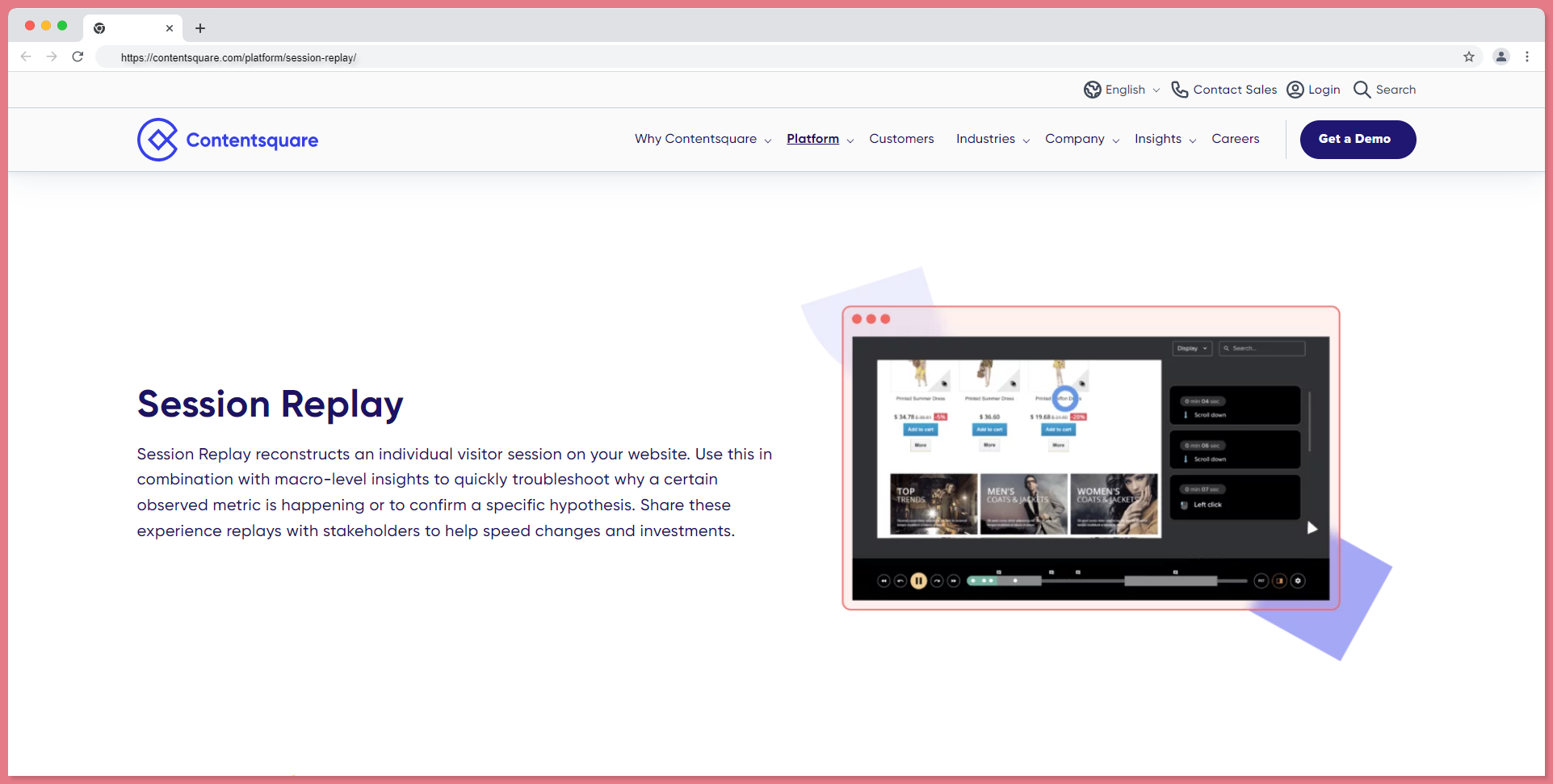 To understand the how and why of client behavior, ContentSquare's experience analytics technology records every in-page interaction and behavior.
This analysis is transformed into ratings, visualizations, and suggestions, making it easy for every team member to do the correct thing.
Because our digital experience stack supports the whole digital improvement cycle, Contentsquare assists you in making better decisions at every stage.
Features:
Funnels
Conversions
Sessions recording
Real-Time Reporting
Segmentation
Performance and Reliability
Pricing:
ContentSquare has not yet provided pricing information.
Final Words:
If you are a developer, marketing team, or in UX/UI designing team, the session replay tool is a treasure, you will know if you have used one before.
No analytics or insights can equalize a quality screen record of your website visitor's point of view.
---
Try Session Replay Tool ReplayBird to watch in real-time what your website visitor is doing and delight them by fixing all the errors they are facing.
ReplayBird is a session replay tool that comes with in-hand tools like heatmaps, issue tracking, product analytics, funnel analysis, and insightful web analytics.
Improve your website's digital User Experience (UX)  with ReplayBird to enable a precise understanding of the customer experience.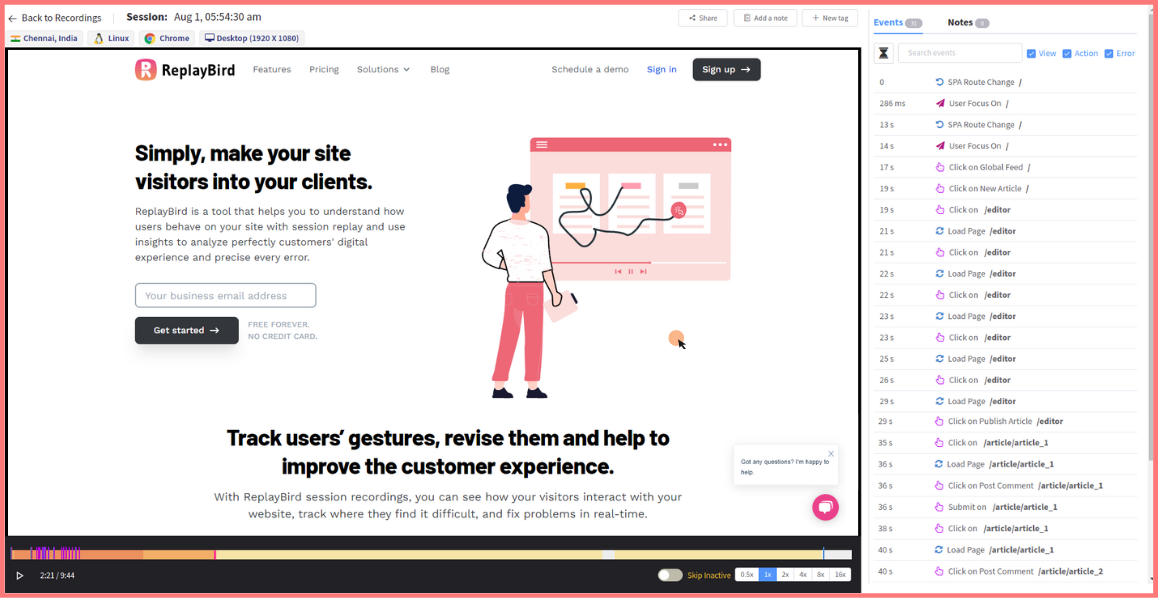 The ReplayBird is a much-needed tool for all kinds of websites and has affordable prices, monitor and analyze your website to make a huge difference in your conversion rate and boost your revenue.
Further Readings: