Session replay is one of the best analytical tools that will help you understand your users. It is an excellent conversion research technique, and it provides enormous value to the success of your website.
Still, the process of going through the session recordings are tedious. You will have hundreds of hours of session recording, but you should know how effectively you can use them.
Are you someone who has hours of session recording in your hand and wondering, do you really need to watch them all? Then this particular blog post is for you.
Session replays are supposed to make your job easier by letting you know what exactly users do on your website, but without a plan, recordings may become extra and time-consuming work.
In this blog post, we have listed out few strategies that will help you use the session replays effectively.
What is Session Replay?
Session replay is the tool that replicates a visitor's journey on a website. It is also known as session recording, session playback, or user replay. It records your visitors' interactions on your websites, such as clicks, taps, scrolls, and keystrokes.
Why is it Important to Record Users' Activities on Your Website?
Session replay assists you in visualising the users' path on your website. Knowing the user's behaviour will help you provide the best digital experience for them. You might know your website completely, but that will not let you know your users' online behaviour and their interactions on your website.
Session replay will let you know through which path the visitor goes through the web page, giving you a glimpse of their behaviour. You, as an in-person, cannot be with every visitor to understand their behaviour and help them with what they require for your website.
And that's where session replay plays a significant role. Thus, it plays an essential part in the optimisation processes and CRO activities (conversion rate optimisation).
What Do You Need to Notice in Session Recordings?
When you first start watching the session recordings for the first time, it will be surprising and overwhelming when you can watch in real how users interact with your website. When you are first getting acquainted with the recordings, it is best to watch them in their entirety to begin to understand how they work.
After going through a few recordings, you will most likely understand common trends in your users' behaviour. You will probably get to know the shared way users interact and engage with your website.
You will start noticing -
How users navigate from one page to another
How visitors interact with CTAs
Which part of the page has a maximum exit
Unusual mouse activities - wild scrolling, rage clicks
Which CTAs gets maximum clicks and what persuades users to do so
How users move around and where they stop
Have a look at the error and dead links
Noticing all these in session recordings will help you see the problem that frustrates the users. After knowing the problem, you can easily fix them quickly.
How to Utilise Session Recording to the Fullest?
#1 Get into the zone first
The first step towards analysing the session recording is that you need to get into an environment where you can spend at least continuously two hours with complete focus. It will be good if a single person handles the analysis of session recording, as they can identify and understand the users' behaviour patterns.
Have the habit of taking notes while watching the recordings. If possible, use a spreadsheet and categories every issue noticed. Share the recordings with colleagues if you need them to rectify the problem.
#2 Define the objective of analysing the recordings
You will be having thousands of recordings in your hand. You can't watch every recording to find out the issues. One more important thing regarding session replay is that it should be used to scrutinise the known problems. It should never be used only to find new issues.
Start by defining the objects on what basis you are going to watch the recordings. It will be purely based on what you want to get out of your watching session.
We have listed the five most frequent objectives businesses define when watching the sessions -
Find what visitors are most attracted or hesitant to go through in the website
Find which buttons get frequent clicks
Finds bugs
Find the harsh mouse movements and clicks
Find where visitors become disinterested and leave the site
#3 Start analysis with funnels
Once the objectives are defined, it is better to start the analysis with funnels. Set up a funnel that outlines each stage of that flow. This gives you an immediate understanding of where the dropdown in the process is occurring.
#4 Use behavioural analytics to identify harsh mouse activities
Behavioural analytics helps to identify the user frustration. You can use the filter option to check on the harsh mouse clicks and examine why users have behaved so in that particular area. You can check on the issue and rectify them easily.
#5 Utilize heatmaps
Touch Heatmaps show the aggregate view of how users tap on the screen. reveal how far users are scrolling down the page. You can instantly locate areas on the website where users focus the most and the least. This helps you make changes and optimise the pages to get more focus and attention.
Summing Up
Session replay is one of the most useful analytical tools to increase the user experience and understanding of the visitors. But they have to be used in a very efficient way to get proper insights from the recording. At first, the thousands of recordings might seem overwhelming but with a defined strategy, you can utilise them to the fullest in your gains.
---
ReplayBird - Driving Revenue and Growth through Actionable Product Insights
ReplayBird is a digital experience analytics platform that offers a comprehensive real-time insights which goes beyond the limitations of traditional web analytics with features such as product analytics, session replay, error analysis, funnel, and path analysis.
With Replaybird, you can capture a complete picture of user behavior, understand their pain points, and improve the overall end-user experience. Session replay feature allows you to watch user sessions in real-time, so you can understand their actions, identify issues and quickly take corrective actions. Error analysis feature helps you identify and resolve javascript errors as they occur, minimizing the negative impact on user experience.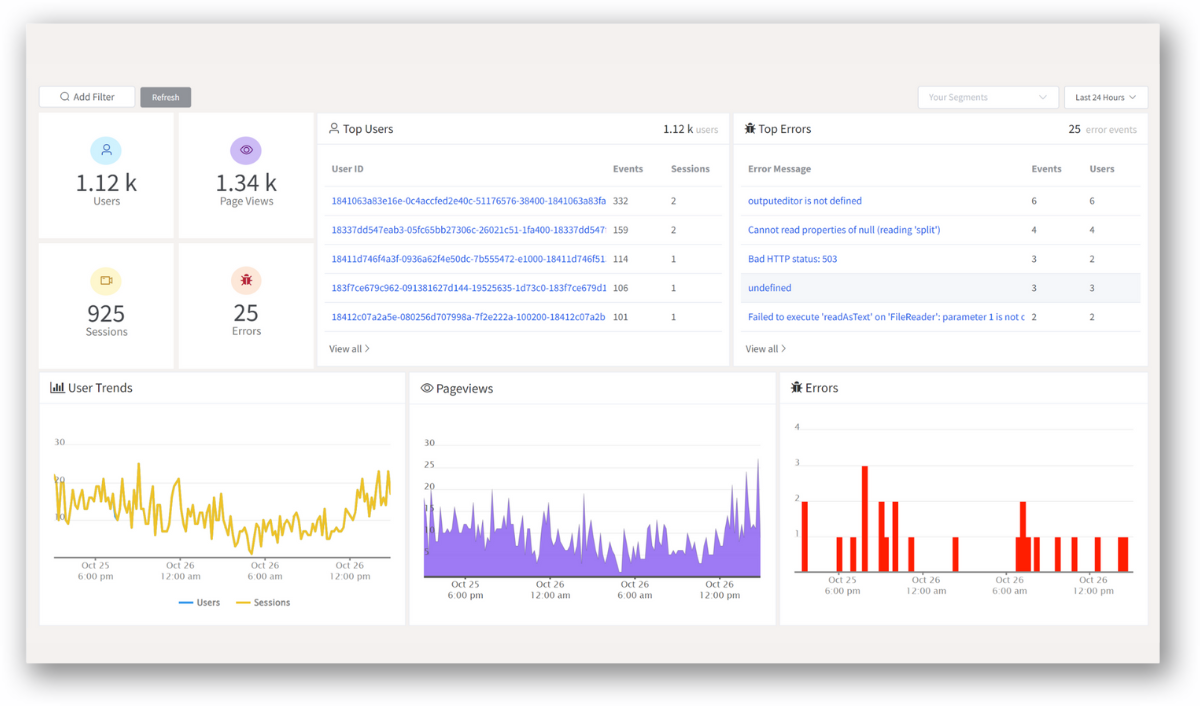 With product analytics feature, you can get deeper insights into how users are interacting with your product and identify opportunities to improve. Drive understanding, action, and trust, leading to improved customer experiences and driving business revenue growth.