Conversion rates are the most effective way to understand the performance of your website. Conversion is the key interaction a visitor has with your website and your business. It is all about engaging the visitors, persuading them to perform the desired actions you want them to do.
Across industries, the average conversion rate is said to be 2.35%. If your conversion rate is above 5% it implies that your website is performing well. But if not, you need to give attention to it, understand the setbacks, and make necessary changes. A lower conversion rate means that your potential sales prospect is going out of your business.
There may be fairly many reasons for the lower conversion rate. It is a tough job to convert visitors into business but that is not something impossible.
We have listed 5 Common reasons that cause a lower conversion rate for you. If your conversion rate is not as much as you desired for, check on these causes, make necessary optimisation to your website and see your conversion rate hiking.
Understanding Conversion Rate and its importance
The Conversion refers to any desired action that you want your visitor or user to perform. Mostly it would be Call-To-Action (CTA) elements like click to sign up, make a purchase and become a customer. Various websites, landing pages, or apps will have varied sets of conversion goals which relatively helps to advance their business.
The Conversion rate is the percentage of users who take the desired action. For example, An webinar landing page is visited by 10,000 people during August 2021, and out of that 300 people sign up for the webinar. Thus the landing page's conversion rate is 300/10000*100 = 3%.
Analysing conversion rate is important for your business as it allows you to measure the performance of your web pages and apps. It allows you to know what percentage of users chose to move with your business. The conversion rate will also allow you to understand your website or apps from the users' perspective and lets you identify areas for improvement.
5 Reasons why your conversion rates are low
#1 - Your website is not user friendly
Customer experience is the base for attracting web traffic and conversion. Among hundreds of websites on a search engine, users arrive at your website and if they find your website to be confusing, they will simply bounce off from your site. It is important to have a user-friendly UX design that allows users to reach the purpose they came in for.
Web design must be simple, engaging, and directing to the action that you want your user to perform. Even the smallest errors or inconveniences might make your users frustrated. You as a website owner will know your website completely but it is important to know how it serves visitors' purposes. Understand your users' needs and optimise your website according to them.
#2 - Your website is not mobile-friendly
Your website must be optimised and translated well to mobile and tablets. If not you are missing out on a large set of potential customers. You can't expect all the visitors to visit your site through a PC. Mobile phones and tablets are the go-to web devices now and if they don't navigate your website users will leave your site without performing any actions.
You can't expect them to turn back with a PC in search of your website. If your website is not optimised for varied devices you can't pull traffic to your site and ultimately it will be a big turn-off the reason for your conversion rate.
#3 - Multiple CTAs
CTA is the key element for conversion. Thus better the CTA, the higher the conversion rates. Your CTA must be persuasive in a way that your user should feel privileged to do the action you want them to do. But often, websites have the same old boring 'buy now' or 'download here' CTA which no longer attracts users.
Your CTA must be unique, attractive, and relevant to the desired action. There should not be multiple CTAs also. Multiple CTAs will confuse the visitors. Visitors will not have the patience to know all the CTAs and chose one. It should be a single relevant CTA button that should be in a bright and contrasting colour that allows your users to click easily.
#4 - Lack of SEO optimisation
SEO optimisation for a website is important to reach its potential prospects. Keyword optimisation is extremely important as it helps search engines rank your website higher. If your site is SEO optimized, when a user searches a related content, product, or service, your website will immediately appear in the search engine results.
The higher the search engine rank, the higher the probability of users choosing your website. If you choose to neglect SEO, then the probability is that you will remain invisible to most prospects. Thus, SEO is a must to increase your web traffic and conversion rate.
#5 - You are too salesy
Though the ultimate goal of your business is to sell your product or service, you should not be too pushy and salesy with your users. Be it your website, landing page, or apps, you can use them to exhibit your products and services. Your website should let your users know and understand your products/services' features and how they will help them.
Your website can be persuasive but never be salesy. Optimise your content in such a way that you are there to serve your users. If the users' feel that you are pushing them, to buy your product or service, they might feel skeptical. You cannot gain their trust once again and this will hugely turn down your conversion rate.
Understanding the reasons for the lower conversion rate is not a difficult job. Get into the shoes of your customer and study your website. Session recording tools will let you know how your website serves the visitors. It also lets you understand the visitors' behaviour on your website.
If your users don't behave in the way you want them to, then the session recording tool will help you optimise your website to improve your user experience and conversion rate.
If you feel session recording will help you understand your users better, you should check Replaybird immediately.
---
ReplayBird - Driving Revenue and Growth through Actionable Product Insights
ReplayBird is a digital experience analytics platform that offers a comprehensive real-time insights which goes beyond the limitations of traditional web analytics with features such as product analytics, session replay, error analysis, funnel, and path analysis.
With Replaybird, you can capture a complete picture of user behavior, understand their pain points, and improve the overall end-user experience. Session replay feature allows you to watch user sessions in real-time, so you can understand their actions, identify issues and quickly take corrective actions. Error analysis feature helps you identify and resolve javascript errors as they occur, minimizing the negative impact on user experience.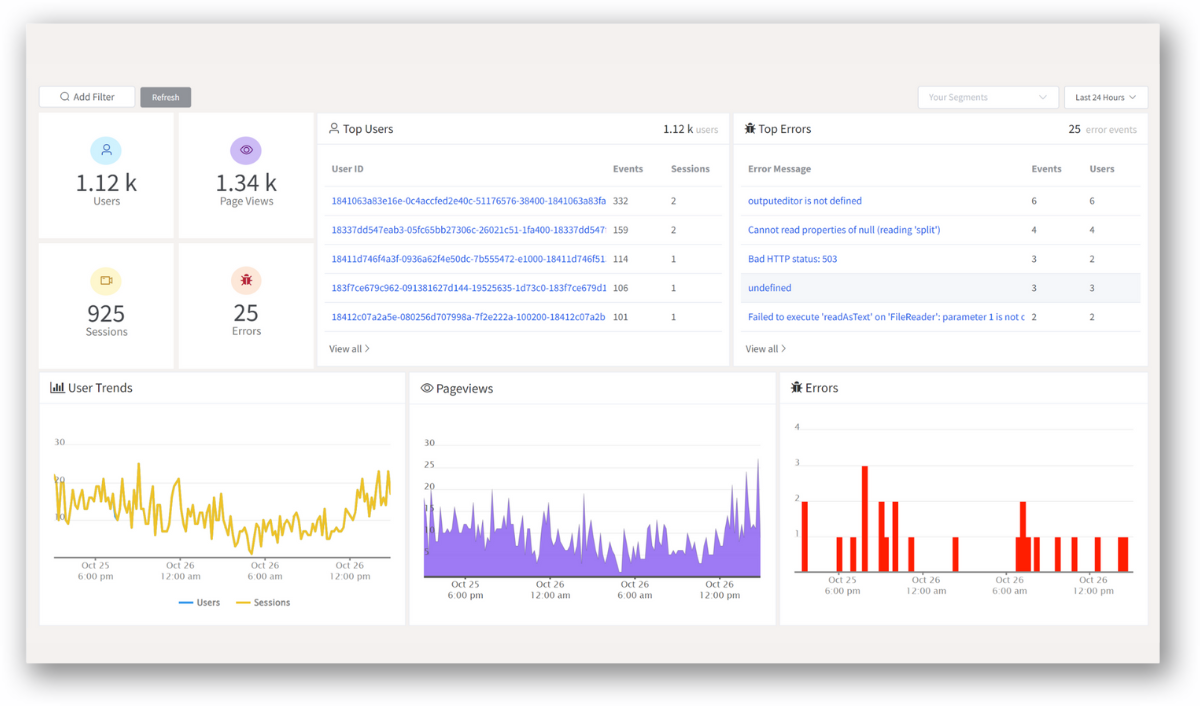 With product analytics feature, you can get deeper insights into how users are interacting with your product and identify opportunities to improve. Drive understanding, action, and trust, leading to improved customer experiences and driving business revenue growth.