In today's era, customer satisfaction and loyalty are the deciding factors of any business's success. If your customer's first experience with your business is impressive and satisfactory, they might decide to move further with you.
Customer experience should be the foremost goal for any business to be successful. It is all about your customer's entire interaction with your business. It starts from customers hearing about your brand or product/service until they opt to purchase and leave a review.
If your customers like your product and if you make regular post-purchase interactions with them, they will repeat purchases and become loyal customers. This builds trust in your brand and your customers might recommend others to check out your product or service.
Most of the first interactions with businesses in today's world are through businesses' websites. The websites should provide a good experience to the customers, to create a memorable first impression. If the first impression stays in customers' memory they will keep coming back and make purchases regularly.
If your business runs entirely on a virtual mode, be it SaaS or eComm services or a membership site, websites and apps are the only modes of interaction between you and your customers. So it's vital to provide the best hassle-free customer experience through your site.
In case, if your website doesn't match your visitors' expectation, then they might not turn into a customer and your conversion rate will remain low.
So, in this blog post let's understand the importance of customer experience and we have listed some effective ways for you to improve the customer experience on your website.
Importance of Customer Experience
Customer experience can be defined as how a customer receives and understands every interaction with your business or brand. Be it online or offline, each and every interaction is vital.
Good customer experience builds customer satisfaction, which further positively turns into customer loyalty and recommendation. Customers' word of mouth is the best marketing element that can directly increase the business's success rate.
Across industries, the rules are quite the same. Customer satisfaction is the only way to keep your customer stay with you. They are the actual king and Queen of your business. If they are happy with what you provide them, they will make you happy in return.
In the era of the highly competitive world, enhancing customer satisfaction is the only way you have to stand high among your competitors.
3 reasons Why Customer Experience is Important?
#1 - Boost customer satisfaction
A seamless hassle-free customer experience throughout customers journey with your business will enhance satisfaction. They ultimately will start building trust in your brand.
#2 - Boost customer retention
If a customer has a great experience and is highly satisfied with your business, they will not even turn to check up on your competitors. It creates a competitive advantage as an enhanced customer experience will make you stand high. This helps your customers to choose you again and again. Conclusively, it increases your customer retention rate.
#3 - Boost sales and reduce customer churn
Customers who are not satisfied with the experience they have with you, will not choose your brand. But if they once start to have a great experience with your brand, they are not going to leave you. This ultimately boosts the sales and the success rate of the business.
7 Effective Ways to Improve Customer Experience
As a website owner, you might think that your website is providing the best experience to your users. But you can't be sure, you have to constantly review and evaluate the customer experience that you provide.
Now here we have listed a few ideas to enhance customer experience on your website.
#1 - Showcase your brand personality
It is very important for your customers to know who you are and what value you are going to provide them. This is the first step towards knowing your service/product and building trust. With your website, you can let your customers know your brand personality and USPs, which ultimately persuades them to travel with you.
#2 - Website performance
The first and foremost impression that a customer will encounter with your website is how fast it loads. Make sure that your website runs at a good speed. Regularly check on the performance of your website. If you find any bugs, errors or broken links, resolve them in a quick time. In this fast world, websites must be the fastest ones. So always improve your website speed to hold your users.
#3 - Web design
The design of your website must be simple and near. If the website is clumsy or gaudy it might irritate the users. Know what frustrates your users and rectify them. Imagine, if you have great content that will give a huge value to your customer, but if the customer couldn't find it on your website, how misfortune it will be.
Navigation on your website must be easy and smooth. It should be easy for your customers to find what they want. They won't be patient enough to go through the website as a whole. Organise your site and make many categories that will help user's find what they want as quickly as possible.
One more most important feature when it comes to web design is, make sure your website is adaptable to various devices like PC, tablet or mobile. It should be adaptable to various browsers also.
#4 - Customer service
Customer service was, is and will be the main element that provides extraordinary customer experience. You should understand your customers, empathise with their needs and issues. Have all the possible ways to get them to interact with you. Have a live chat option that provides the customers with their needs immediately.
Your website should have a self-service customer support system. Nowadays most customers prefer to troubleshoot their problems. They love to get support information that is already available in the knowledge base or FAQs and help themselves.
#5 - Persuade with content
Make sure your website is loaded with content that will persuade them to make a purchase. Customers will discover more about your brand and how much value you provide through the content available on your site. The content should include both small and long-form content. It could be newsletters, magazines, tutorials or product comparison guides and more.
Your content must be top-notch, that is they should pull in the customers' attention. Informative content surely enhances the customer experience.  This might even allow people to share the content with others. This increases your brand visibility.
#6 - Simplify the purchase process
Imagine you have successfully persuaded your customer to make the purchase, but they find it difficult and complicated to process it further, they will abandon the purchase and will never return back. They won't have the patience to go through the payment procedure again and again. Make sure that your website has a hassle-free online payment procedure.
#7 - Have some social proof
Make sure that you always get reviews from your customers and add them to your website. Customer reviews act as social proof that will improve your customer experience on the website. Even if your visitors are skeptical about your product/service, the already available reviews will give them trust and persuade them to make the purchase.
Your business will succeed only if your customers have excellent customer experience and satisfaction. Your customers should have a smooth experience with your website to choose you again and again. As your website plays the primary source of information and sales as well. The happier you keep your customer, they are going to stay loyal to you.
---
ReplayBird - Driving Revenue and Growth through Actionable Product Insights
ReplayBird is a digital experience analytics platform that offers a comprehensive real-time insights which goes beyond the limitations of traditional web analytics with features such as product analytics, session replay, error analysis, funnel, and path analysis.
With Replaybird, you can capture a complete picture of user behavior, understand their pain points, and improve the overall end-user experience. Session replay feature allows you to watch user sessions in real-time, so you can understand their actions, identify issues and quickly take corrective actions. Error analysis feature helps you identify and resolve javascript errors as they occur, minimizing the negative impact on user experience.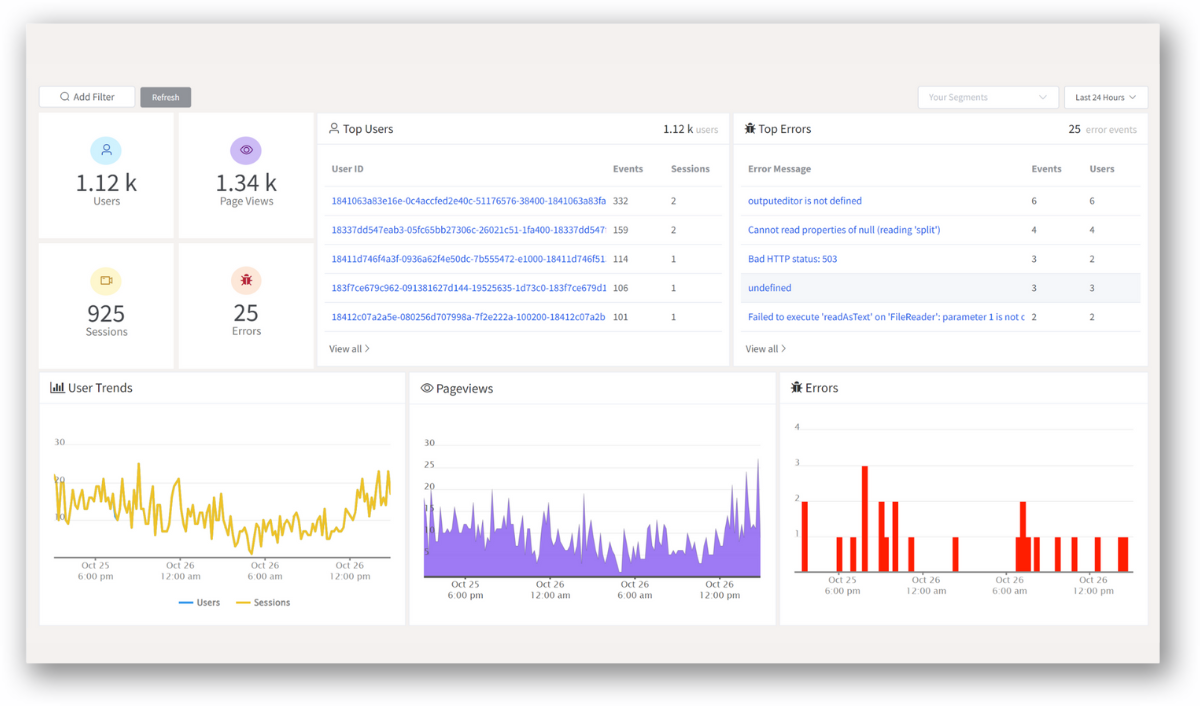 With product analytics feature, you can get deeper insights into how users are interacting with your product and identify opportunities to improve. Drive understanding, action, and trust, leading to improved customer experiences and driving business revenue growth.