A session replay is a renovated display of how users experience a website or a mobile application.
It is a recreation of a user's journey on the website. It is also known as session playback, session recordings, and user replay.
Session replay is a crucial part of your optimization process to increase your conversion rates and other conversion rate optimization activities.
It gives insightful visualizations of what a user experiences on your website or application.
Session replays are used to record your visitors' activities, such as clicks, taps, and scrolls, which can be used to improve the overall user experience.
It builds a walkthrough video that shows you what exactly your visitor did while using your website.
You can think of it as a user experience replay.
Session replay is also seen as a DXA (Digital Experience Analytics) as it provides a ton of qualitative and quantitative data.
This data is then utilized to comprehend and upgrade your customers' digital experience.
Table of contents:
What is session replay?
Session replay is an analytical tool that helps your team view customer experience, study, and learns from their individual behavior.
A standard analytics tool gives you data such as clicks, bounce rates, and views.
But a session replay gives a more visual understanding of what's happening on your application or website.
It makes it possible to see what is going on on your website.
This makes it possible for you and your team to see what your users are doing and what their experiences are like with your website.
And then, you can look into what needs to be improved by viewing your products through your customers' eyes.
Most of the analytics tools only provide numerical information, which doesn't help you see the customer experience as they view it.
Session replay is all about observing user behavior and tracking their movements to get a good idea of what they want and what they're looking for.
Need for session replay
Session replay has a much more significant part than just optimizing users' journeys.
They give in-depth insights and provide an accurate measure of the digital experiences of your visitors.
It bridges the gap built by scroll maps and heatmaps by offering detailed data on user interactions that take place within your website or application.
Traditionally a web analytics tool is used to track user metrics to some extent.
They give data such as bounce rate, exit time, number of user sessions, etc.
There is no denying that these metrics are valuable, but they do not provide any context on the user's experience on the website.
So, when the analytics tool tells you that a user has spent 3 minutes on your website, a session replay tells you what exactly they looked for in those 3 minutes and how their journey was, what they clicked on within the website, etc.
This is where a session replay makes an entry.
Hence, session replay, along with providing information on how long the user has spent on your website, also tells you about the users' experience (taps, clicks, scrolls, mouse movements, etc.), which gives you the insight required to understand pain points, if any.
Session replay is used for...
Session replays can be used to attain various metrics as they dive deep into user behavior.
But they are mainly used for improvements in conversion rates, betterment of products, and customer care.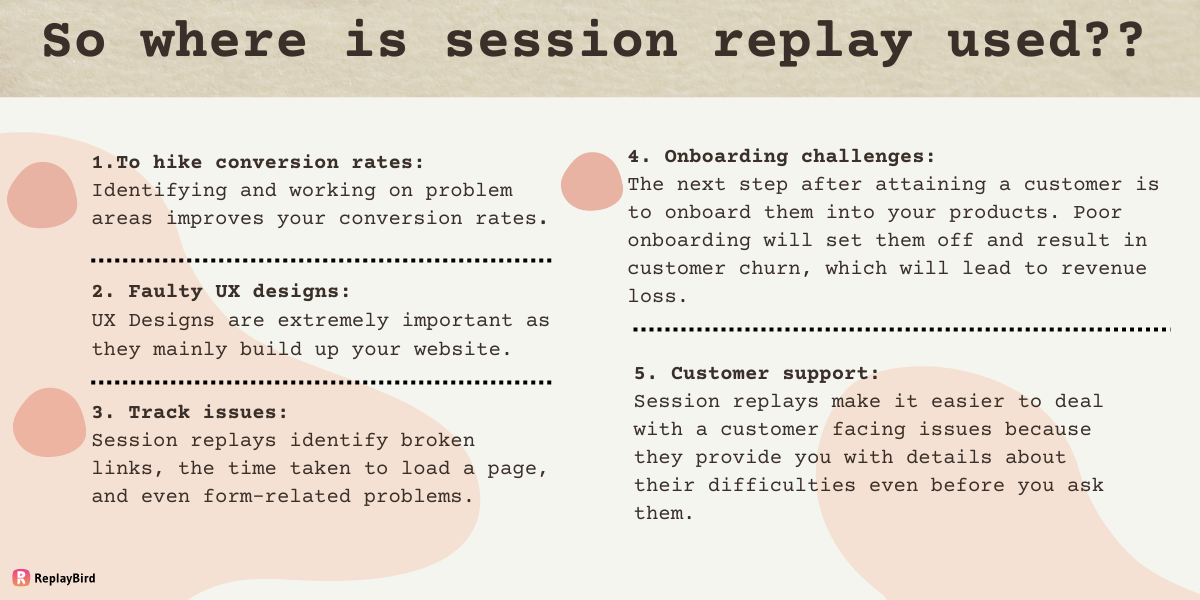 1. Conversion rates:
Session replay gives inputs for your conversion tests and experiments by helping you understand what parts of your website need improvements to make user experiences better.  
It also tells you your pain points where your users have issues and avoid frustration.
By working on these areas, you improve your conversion rates while also gratifying your customers.
2. Identify Faulty UX Designs
UX Designs are extremely important as they mainly build up your website.
A bad one would make your website difficult to navigate and eventually result in users abandoning the site.
This results in low conversion rates and high bounce rates.
Session replays help you:
Understand the different design elements and which ones work best for different audiences, resolutions, browsers, etc.
Find areas that exert a cognitive load on your users and remove them.
Identify bad UX designs across your website ad improve the overall user experience.
3. Rectifying bugs on web page:
The perfect web page is achieved by optimizing and ensuring there are no repetitive errors and bugs.
Session replays identify broken links, the time taken to load a page, and even form-related problems.
These recordings give quite a vivid picture of pain areas that lead to your users dropping off from your web page.
4. Onboarding Challenges:
The next step after attaining a customer is to onboard them into your products.
Poor onboarding will set them off and result in customer churn, which will lead to revenue loss.
So, session replays help in onboarding your users by:
Identifying what makes them drop off
Tracking their behavior
Identifying which features are used the most and which are ignored.
5. Customer Support
You never want to trigger an already frustrated customer.
Session replays make it easier to deal with customer-facing issues because they provide you with details about their difficulties even before you ask them.
Session recording gives you content where they're having trouble. This way, you can easily resolve the issue effectively without hassle.
What to look for in a session replay?
There are so many options to choose from, but looking for the right session replay doesn't have to be complex.
We have listed down below the attributes you need to look out for before you invest.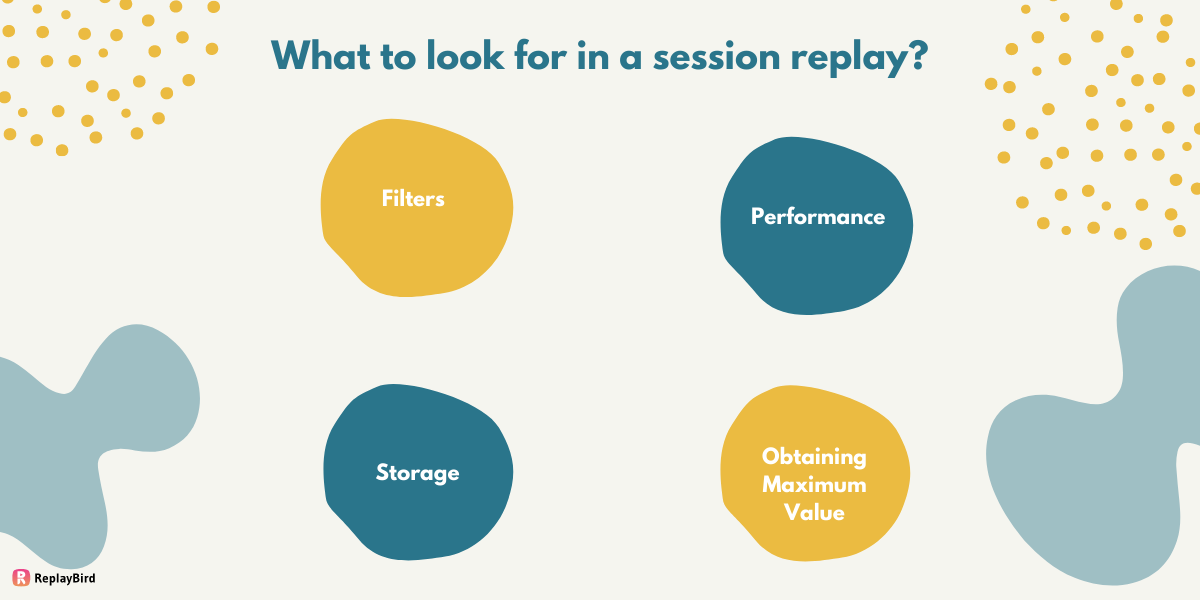 #1 Filters
Without suitable filters, it is genuinely a challenge to come to a conclusion with your session recordings.
So your primary criteria for evaluating your session replay should be the filters.
Filters aid you in sorting out your session recordings based on inputs such as traffic, device, date, time, etc.
Also, ensure that your tools allow you to search, segregate and apply filters to your recordings. This way, you get to focus on your goals one at a time.
#2 Performance
Some analytics tools use complicated code to record your sessions, which impacts the speed at which your site operates.
This might make your site's performance relatively slow and sluggish.
Go through the tool's trial period to ensure that doesn't happen to you.  
#3 Storage
Tools don't usually support storing your recordings for good.
So you should know how your tool would store recordings and data for long periods of time.
This also depends on the kind of plan you go for. Hence, you need to choose the plan accordingly.
#4 Obtaining maximum value
Session replays are definitely the way to start your optimization journey.
While it is a good investment, there are other tools in the market today which provide complete optimization for your site at the same price, maybe lower.  
If you agree with the above and with all this said, ReplayBird will be an excellent selection for your digital product.
Popular session replay tools:
Session replay is one of the easiest ways to find user struggles and understand user behavior, but not all web analytics provide session replay.
Here are the 5 top picks for session replay tools that make your understanding simple with qualitative insights.
1. ReplayBird:
ReplayBird captures everything so you can improve your website. You get pixel perfect session replays of your website visitor's journey.
You can now understand every user interaction on your website with ReplayBird.
ReplayBird provides better analytics on your product with insightful metrics and an error tracker.
All frontend errors are reported with an exact error code location which makes fixing errors easier.
Starting at $39/month.
2. Glassbox:
Glassbox helps you see a clear picture and analyze data insightfully.
With Glassbox, you'll be fully equipped to analyze your users and give them exactly what they're looking for.
Offers free trial.
3. Fullstory:
Fullstory actively helps website owners to understand what is happening on their website, digital products, and mobile apps.
Stand to discover why certain things happen with qualitative information from session details.
Starts from $0 and has three pricing tiers.
4. Smartlook:
Session replays mainly help your UX professionals, product managers, marketers, and even customer support.
Smartlook makes it easier for your team to record and replay sessions to identify customer interactions and accordingly plan out your design or products.
Staring at $39/month.
5. Hotjar:
Hotjar offers product experience insights that show how users behave on your website and what they feel about its content, this assists product teams in delivering real value.
It is used for marketing and advertising.
Starting at $0 for the most basic package.
Wrap Up
There are various session replay tools in the market. It is important to choose the one that works best for your and meets your requirements.  
Session replays recreate events and activities to give a video-type representation of your visitors' interaction on your site.
---
ReplayBird - Driving Revenue and Growth through Actionable Product Insights
ReplayBird is a digital experience analytics platform that offers a comprehensive real-time insights which goes beyond the limitations of traditional web analytics with features such as product analytics, session replay, error analysis, funnel, and path analysis.
With Replaybird, you can capture a complete picture of user behavior, understand their pain points, and improve the overall end-user experience. Session replay feature allows you to watch user sessions in real-time, so you can understand their actions, identify issues and quickly take corrective actions. Error analysis feature helps you identify and resolve javascript errors as they occur, minimizing the negative impact on user experience.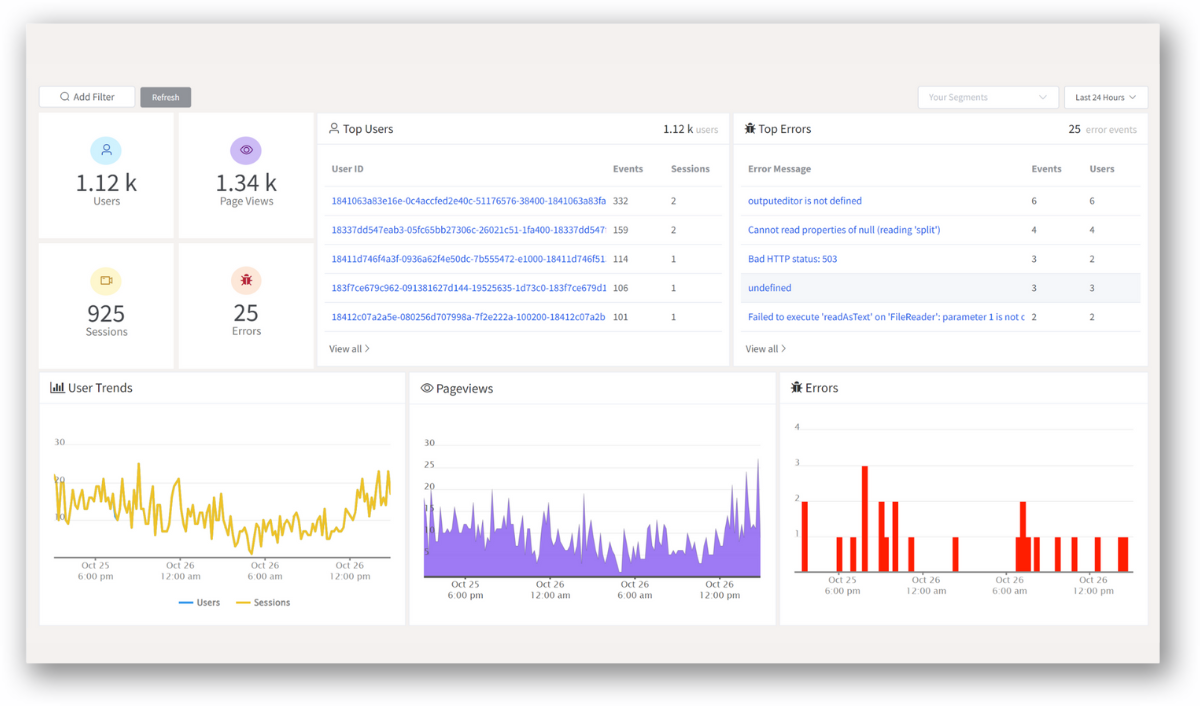 With product analytics feature, you can get deeper insights into how users are interacting with your product and identify opportunities to improve. Drive understanding, action, and trust, leading to improved customer experiences and driving business revenue growth.
Try ReplayBird 14-days free trial
Further Reading