Your business seems good and is satisfying almost all of your customers. but you still there are more ways your brand gets bad reviews and no referrals.
Customer satisfaction is just as important as your product getting produced.
Your customer satisfaction need more analyzation and efforts to improve and optimize the customer satisfaction so that you don't have any negative impact on your  brand.
One of the best ways to analyze your customer satisfaction is to calculate your net promoter score.
Here are the topics that we will cover in this NPS blog:
What is the Net Promoter Score (NPS)?
Net Promoter Score (NPS) calculates customers' willingness to recommend one business's product or service to others.
This is a customer experience quantitative metric that provides insights into how many are likely to be loyal to your business and the product that you provide.
Net Promoter Score (NPS) is calculated using a single-question survey and disclosed as a number ranging from -100 to +100; a higher score is preferable.
The Net Promoter Score (NPS) is a calculator from -100 to 100
In this Net Promoter Score, above 25, is considered to be a good Net Promoter Score, and above 50 is considered to be an excellent Net Promoter Score (NPS) that a company can achieve.
Any score that is less than 70 is considered to be a bad or poor Net Promoter Score.
Why is Net Promoter Score (NPS) important?
#1 You can Increase the referral marketing
Net Promoter Score (NPS) is originally discovered to find how many of our product-used customers are ready to promote, recommend or suggest our product to others.
It can be any potential customer or someone irrelevant but the most important part is it has been referred to a person who has more chance of getting to know about our product and its use.
Apart from digital marketing, and other types of marketing referral marketing is special, as it most of the time only reaches someone who is in need or any potential customers of the product.
Referring works and also trusted as it would have been used before.
The customer has nothing to do with the business relations as they bought, or used, but apart from buying, using if they are referring our product to someone it means, they are committed to our product in someway like they would have felt simpler, easy, affordable or just simply liked the product.
This makes the referral person think about the product. This is a free marketing strategy.
#2 You can evaluate customer satisfaction in your business
Imagine you are taking a survey and find most of your customers have responded as detractors, now this is where companies know that they need to improve their product or support experience.
With net promoter score metrics you may find a broad aspect of knowing if your service to your customers is actually satisfying or not.
This is where companies have to start working and consider customer satisfaction important.
Letting an unsatisfied customer out after an experience has more chance of having a bad impact.
The harmful impact that customers make:
Giving bad reviews.
Poking on social media.
Marking webpages as spam.
Giving lesser ratings.
Spreading bad comments.
Depromoting.
Giving bad advice to other potential customers.
#3 Product experience can be improved
With metrics and insights on the net promoter, score companies can optimize their product and make more data-driven decisions and consider user experience in the changes. You can use digital user experience intelligence tools like ReplayBird to find front-end errors and user pain-points with session replay and analytics. This effortlessly makes your product more user-friendly and flawless, so that your users end up having the best product experience.
#4 Improve customer support
There are majorly two reasons behind detractors either it is bad product user experience or poor customer support or no customer support.
This leads a user to consider the whole company as poorly maintained or spammers.
Customer support has to be in real-time, human support so that it builds trust with customers and companies.
This trust makes them potential customers of your business.
#5 Improve customer loyalty
Customers respond to net promoter scores as promotors are loyal to the business, as they like the product and the experience. With these promoters' customer loyalty not only do businesses get subscriptions but also this may even lead to referral marketing.
What is the Net Promoter Score formula? (How to Calculate NPS)
Net Promoter Score (NPS) Formula = % of Promotes - % of Detractors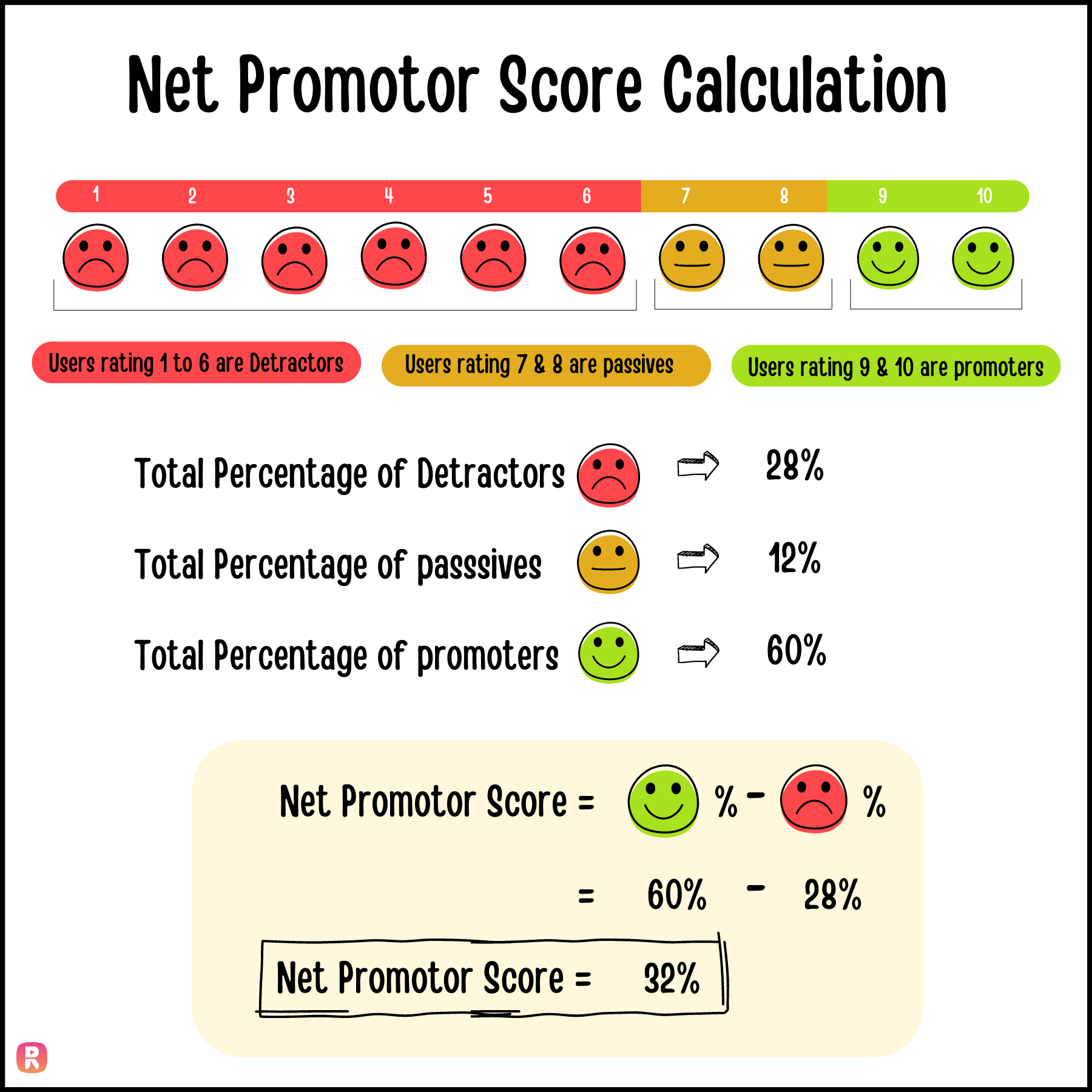 Net promoter score has to be in a survey that lets companies know whether your customer will recommend your product to their friends and families or not.
This question has 3 major scales that can be selected in order to respond to the question of recommendation.
The option to be given for the NPS question is Yes, maybe, and no.
These options mean different responses like yes for I will recommend, maybe for I don't know if someone asks for a recommendation, and no for I will never recommend this product to anyone.
Net Promoter Score (NPS) scale:
#1 Detractors
Detractors are the ones who answered the recommendation question with no, which means they are not likely to recommend the business product to others.
It can be because they had a bad experience, or the product is not up to their expectation, it is not user-friendly, customer support is not satisfying, and more.
These detractors are as I said before they are dangerous due to their outcoming activities that may seriously and negatively impact the brand.
#2 Passives
Passive responders are neutral in that they may or may not recommend the product to others.
That is, they did not dislike the product, but it did not live up to their expectations.
They don't want to impact the business as well as they do not promote or be noisy about the product.
#3 Promoters
Promoters in NPS are the responders who give a full rating because they are full-heartedly willing to promote and refer the business product to others.
These people spread positive comments about the product because they are happy with the results and have met their expectations.
Best way to collect Net Promoter Score (NPS) feedback
#1 Website survey
Website surveys are pop-ups asking customers about their experience with the product.
They are usually a few simple questions with easy-to-answer options. This way, users don't have so much difficulty doing something.
The survey can be beneficial with any reward back, like a downloadable insight, a discount, a free coupon code, or many others, but it can be done for free and it must never make users think about ignoring pop-ups.
But it should not annoy your users with the worst UX design, non-working surveys, grammatical errors, and more.
#2 Email survey
Email surveys are quite complicated, but if they are well strategized and implemented, email surveys have a much higher chance of getting quality insights on NPS.
Send your email only during working hours, either at the opening time or closing time.
It will help reach out to the customers, as they might recognize it immediately.
As with website customer surveys, make sure you follow some common survey experiences.
4 ways to can improve and achieve a higher NPS score
#1 Target detractors
Happy customers can help with referral marketing, but only unhappy customers reveal more about their bad experience with the product, which is a totally pure insight that helps businesses optimize user-friendliness.
Even after the survey and knowing about the customer experience, letting users have another opportunity to satisfy them.
This way, they can feel the changes and voice out the pros and cons of the changes in a quick span of time.
Just giving an open-ended question does not give more qualitative data but gives smaller optional colors to fill in the experience.
#2 Let your employees give their best
The support team has to concentrate and have to be dedicated and polite with the words they speak.
They have to be more conscious about the words their support team speaks.
Most of the time, an angry support team leads to the worst customer experience.
#3 Less number of questions
Five or more questions will lead to abandoning the survey.
They do not want to answer more questions as it may make your users feel more disclosed. Let them open up a little bit.
That is more than enough when the right questions are asked.
And make sure you ask just one question.
Make one of your questions for feedback an open-ended question, and let your customer open up to you.
12 Net Promoter Score (NPS) survey questions you can ask your customers
How likely are you to recommend us to a colleague on a scale of 0 to 10?
Based on your previous experience with us, how likely are you to recommend our product to a colleague?
How likely are you to recommend our product to a colleague now that you've received your [product]?
How likely are you to recommend the product to someone from your team?
Could you please explain why you might (or might not) recommend us?
What did we do well?
What can we improve on?
Did you get satisfying support from the team?
On a scale of 0–10, rate our support team.
Did you meet your expectations with the product?
Do we need to improve or add more to our features? What do you recommend?
On a scale of (0-10) Rate the experience you had with our product
Top 5 Net promoter score calculating tools
#1 YesInsights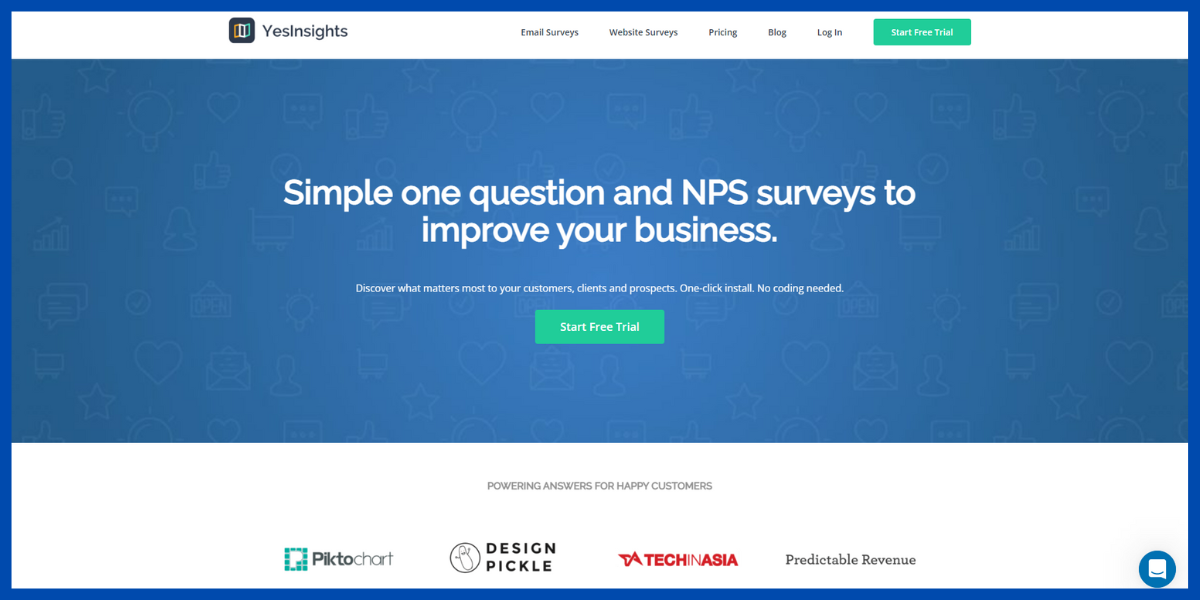 With YesInsights, NPS surveys are easily distributed across all platforms, including email, blogs and social media, through a customer feedback tool app.
You can ask your clients what they think about your company by making easy surveys, that provide you with the exact information you need.
Additionally, you can create your survey the way you want it, whether it's small or long, or what you want to tell us, without any problem, so that we can better understand what they like or what they want based on their feedback.
#2 SatisMeter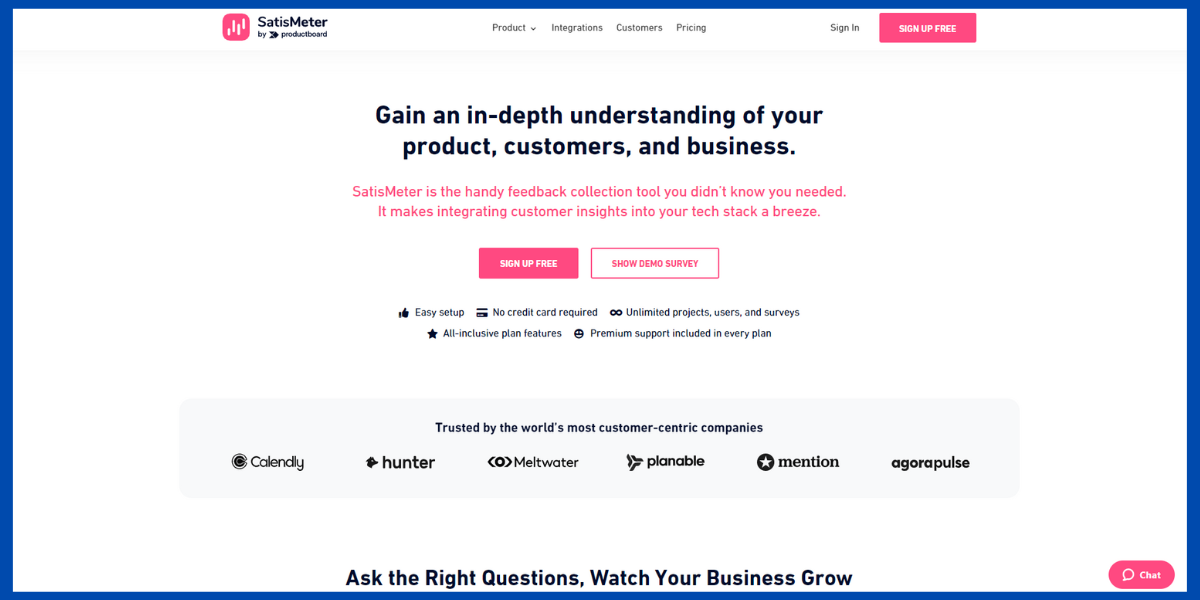 SatisMeter can be even installed, by downloading premade HTML email templates, and by running surveys in a language of the user's choice.
You can use various survey templates to measure satisfaction across multiple touchpoints within the customer journey, or you can create tailored micro surveys to adjust pricing, study product-market fit, etc.
The system allows you to easily create a survey, set a trigger based on an event, or target an audience based on their characteristics.
Review your feedback and set a recurring schedule.
Surveys can be sent from virtually anywhere (public websites, web apps, emails, links, mobile SDKs).
With a wide range of integrations available (Intercom, Slack, Zapier, API, etc.) you can get anything you want done with your feedback.
#3 Survey Sparrow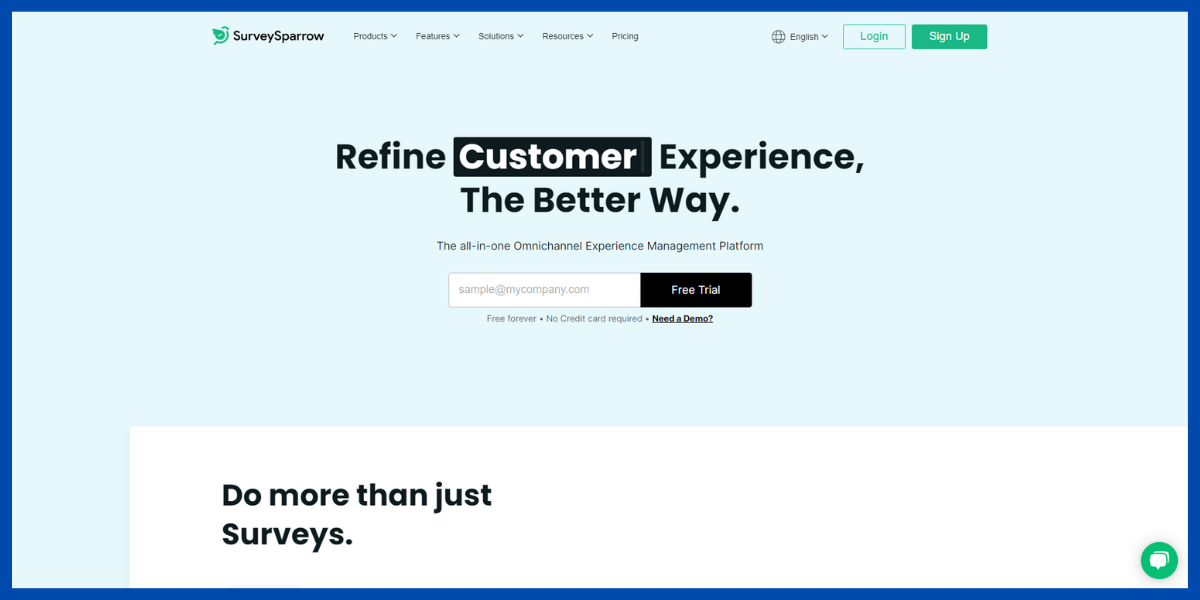 Survey Sparrow is an omnichannel customer experience (CX) suite that includes an NPS survey platform to assist you in uncovering quantifiable retention insight and understanding.
Also, Survey Sparrow segment your respondents, generate new lists and use any criteria you want.
Include follow-up questions in your NPS survey to learn more about what motivates each customer's response.
Optimize the distribution of your survey by specifying the time and frequency with which it should be sent, as well as the specific customers who should receive it.
#4 CustomerGauge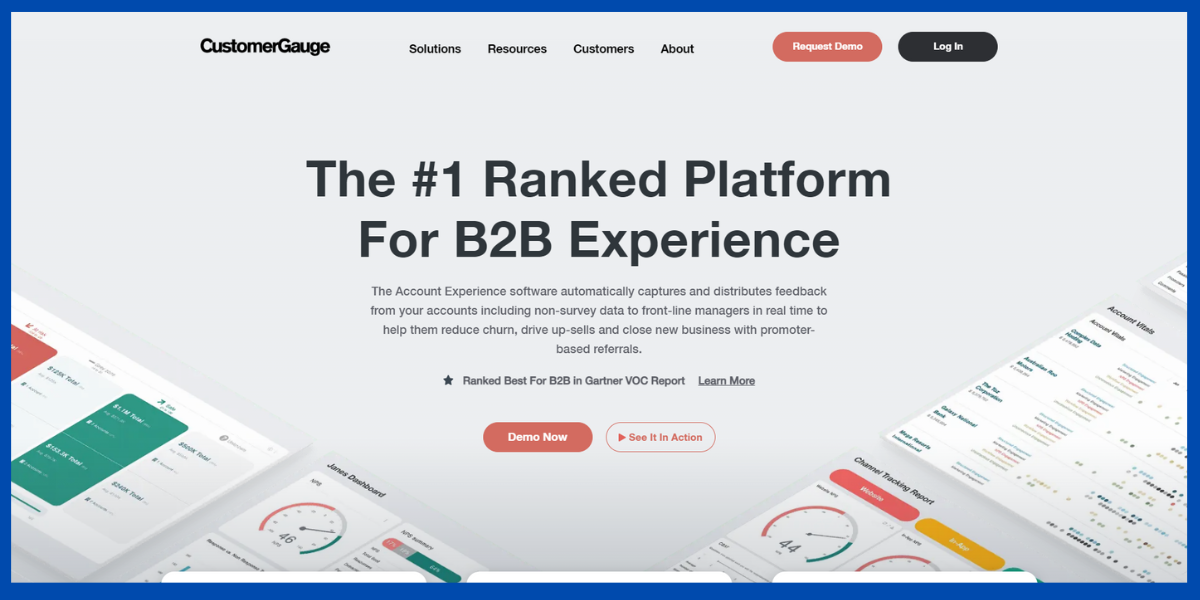 CustomerGauge is a platform for managing account experiences that captures customer experience, revenue, and account data.
The software includes survey tools for NPS, employee satisfaction, customer satisfaction, and customer effort score.
You can use CustomerGauge to integrate NPS surveys in further emails and campaigns to increase response rates.
You can evaluate, analyze, and share customer response data through the inbuilt dashboard after you customize and send your surveys to customers.
#5 Survicate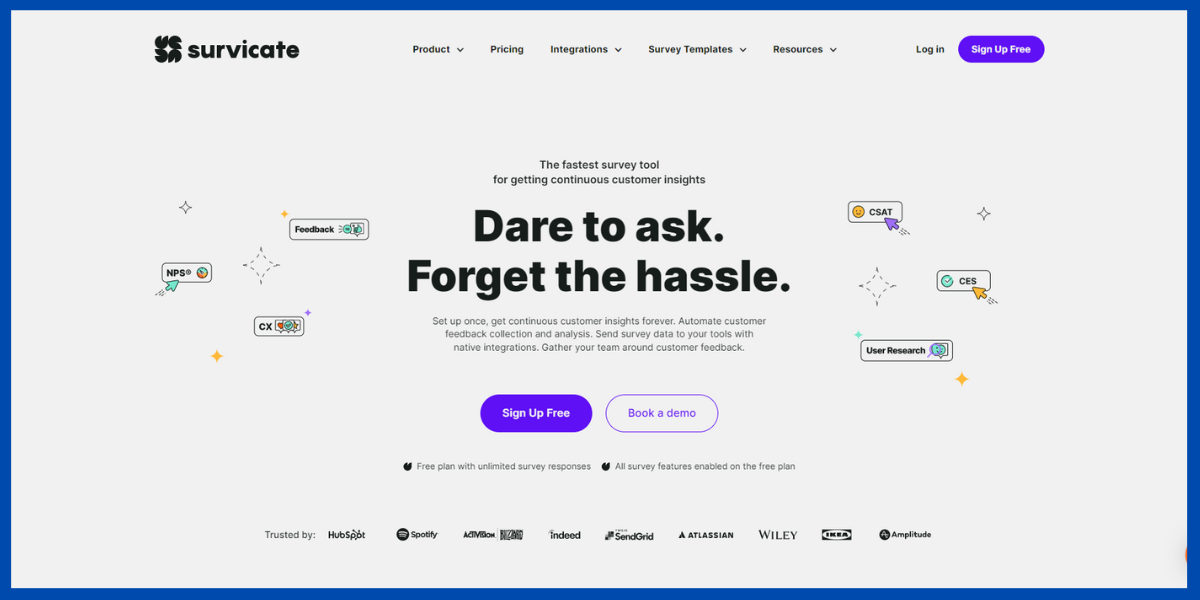 Survicate is a survey research tool for collecting customer feedback that enables you to distribute surveys such as through email, link, or chat.
You can also design and distribute focused surveys through your website or apps. You can generate NPS surveys with no-code, and all survey responses are automatically recorded.
You can also schedule NPS website surveys to be sent on a regular basis to keep your track of data.
---
ReplayBird - Driving Revenue and Growth through Actionable Product Insights
ReplayBird is a digital experience analytics platform that offers a comprehensive real-time insights which goes beyond the limitations of traditional web analytics with features such as product analytics, session replay, error analysis, funnel, and path analysis.
With Replaybird, you can capture a complete picture of user behavior, understand their pain points, and improve the overall end-user experience. Session replay feature allows you to watch user sessions in real-time, so you can understand their actions, identify issues and quickly take corrective actions. Error analysis feature helps you identify and resolve javascript errors as they occur, minimizing the negative impact on user experience.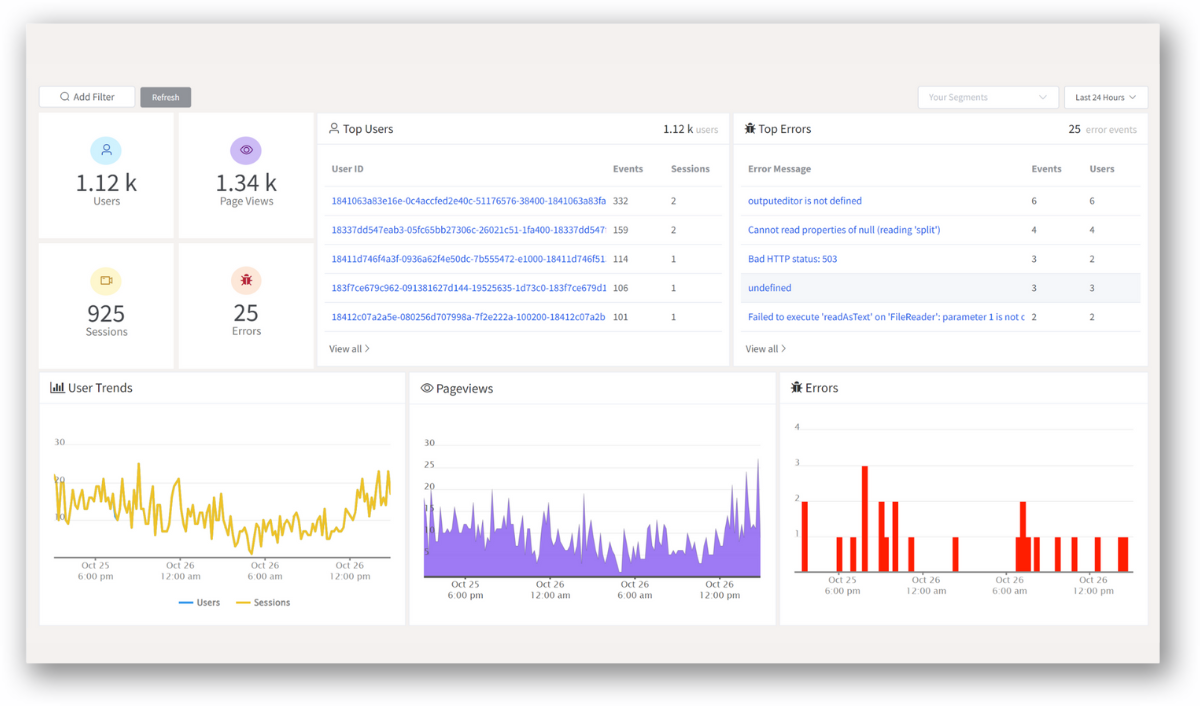 With product analytics feature, you can get deeper insights into how users are interacting with your product and identify opportunities to improve. Drive understanding, action, and trust, leading to improved customer experiences and driving business revenue growth.
Try ReplayBird 14-days free trial
Further Reading: