Click tracking simply and effectively records your users' clicks on your website.
If you wish to:
Rectify bugs and errors
Improve the website performance
Hike your conversion rates
Identify what's working for your website and what isn't
Click tracking is the perfect tool for you. It does all of the above-mentioned tasks.
Since we can't manually look into the clicks and track them, our friendly click-tracking tool does it for us.  
Here's what we'll be looking into:
What is click tracking?
Basically, click tracking is a tool used to track clicks and taps on your website. So, when people visit your website and click on there, your click tracking tool records and documents these clicks.
It records clicks on your desktop and taps on your hand devices such as mobile and tablets.
But are you wondering what exactly the purpose of tracking clicks is? Well, your click tracking tool can be used for and by:
Researchers to design improved products and versions
User experience designers to view their work evaluation
Quality testers to find and fix bugs and errors
Marketing team to improve conversion rates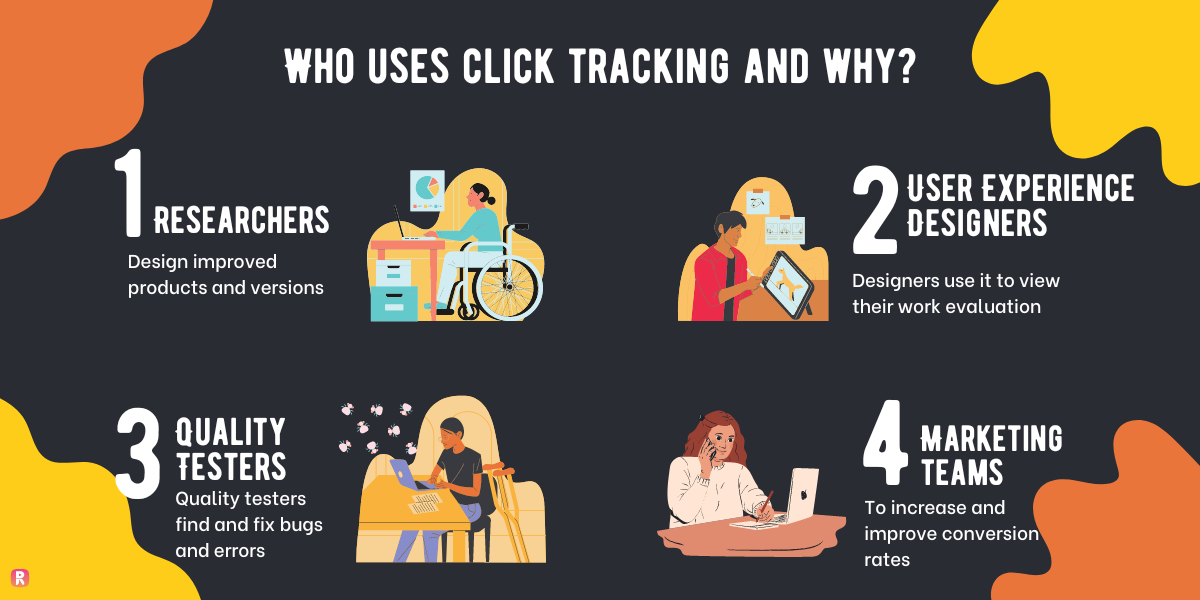 Why track clicks on your website?
There are quite a few tools to help you with click tracking, but what's in it for your business?
Easy Data Collection
Click-tracking tools have made data collection super easy. All you are required to do is set up your tool, click tracking, and wait for it to do all the work.
You can leave behind all the hassle of questionnaires, focus groups, and any other research tools which were used earlier.
And a huge plus point is that the findings are not based on unreliable declarations. Instead, they are from exact user behavior.
What's Working
Click tracking is a good way to find out which feature is popular on your website and what's working out for your brand.
This golden information allows you to work on optimizing the already working features and improving other elements.
Another major plus is that you can find what's not working as well.
Some tracking tools allow point directly to pain areas, such as buttons that don't click. This can be identified by looking into multiple clicks.
Users tend to click on a button multiple times out of frustration when it doesn't work. This action is called rage click.
More leads to better
Your click-tracking tool provides valuable data, so make full use of it.
The longer you keep tracking click on your website, the more likely you will see a pattern.
And you might also find areas to improve. As they say, "the more, the better" it also applies to tracking clicks.  
Types of click tracking
There are 3 main types of click tracking:
1. Email Tracking
As a brand, your job doesn't end after sending our emails; it is the tracking that counts.
After sending out emails, you must also track those emails to record which link in the mail is being clicked on and opened the most.
Most email service providers are inculcated with tracking tools to record such actions.
Email open rates can also be tracked by a single pixel? This is used by popular email tracking tools such as Sender, Woodpecker, and Mailtrack.
2. Website Click Tracking
Website tracking is the best way to observe how users are interacting with your products. It is a highly valued tool by researchers and design teams.
Session recording shows everything in real-time.
It is as though you are right beside your user, watching their every click and movement.
These recordings can be replayed to analyze the clicks, taps, and user behavior.
3. Link Tracking
Link tracking lets you know that a user has clicked on your link and is most probably interested in your product and might interact.
All link tracking tools record clicks and customize your URLs for you, but these are just the basic features.
Link tracking tools offer much more features with a wide range to grow the brand. Try ReplayBird.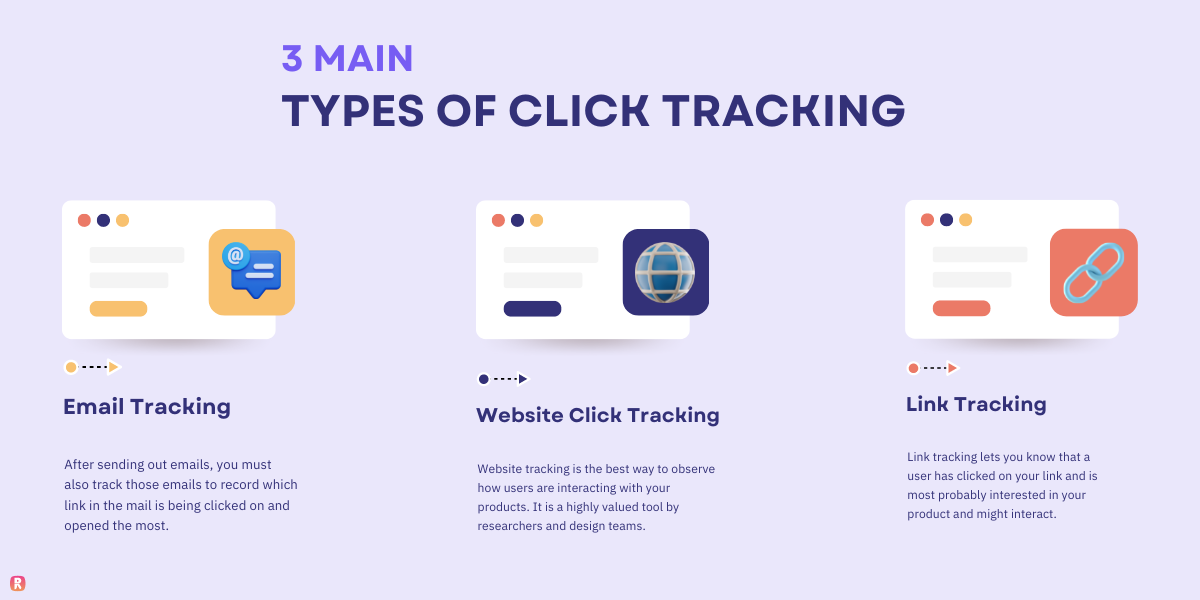 Top 5 click tracking tools
1. ReplayBird
One of the best choices when it comes to click tracking. ReplayBird has a free trial option as well as paid version.
Paid: Starts from $39/month with 14 days free trial.
2. ClickMeter
Along with tools for marketers and publishers, ClickMeter is another popular tool used for website tracking. Although it doesn't offer a free trail it has paid version.
Paid: $19/month
3. Bitly
Previously recognized as Bit.ly, this tool effectively tracks links and provides performance analysis. Bitly does offer a free trial, unlike Clickmeter.
Paid: Starts from $35/month
4. Voluum
Placed on the expensive side, Voluum is used by all types of businesses. It tracks website clicks, among many other tasks. Hence, it is used to boost sales. Free trial is available with Voluum.
Paid: starts from $89/month
5. Improvely
Improvely comes with an inbuilt A/B test. It is amongst the best click trackers with various other features for your website. This tool offers a free trial.
Paid: $29/month
Best click tracking tips
Here are some extra tips from us to help you make the most of click tracking!
#1 User Interviews
With the help of click tracking and session recording, you can come back, replay, and analyze their reactions.
Combine this with user interviews. You've got yourself the full package.
#2 A/B Testing
Always set upon two different versions to compare which some works better.
Most people devise one solution and set up the tent without analyzing or testing out different aspects.
This is a common mistake to avoid.
A/B Testing here refers to sending out different emails, links, etc., to different users to check which ones work better.
#3 Conversion Rates
If you intend to perform A/B testing to optimize your conversion efforts, click map data can offer new ideas for tests and measure the success brought in by new design changes.
Wrap Up
The main aspect is to stay ever curious and on the lookout for newer and better solutions.
Collect data on your users and stay focused on recording and analyzing it in order to improve your user experience.
Understanding your audience and their interactions with your website is immeasurably valuable to your business.
Click tracking is essential if you're looking to optimize your website.
---
ReplayBird - Driving Revenue and Growth through Actionable Product Insights
ReplayBird is a digital experience analytics platform that offers a comprehensive real-time insights which goes beyond the limitations of traditional web analytics with features such as product analytics, session replay, error analysis, funnel, and path analysis.
With Replaybird, you can capture a complete picture of user behavior, understand their pain points, and improve the overall end-user experience. Session replay feature allows you to watch user sessions in real-time, so you can understand their actions, identify issues and quickly take corrective actions. Error analysis feature helps you identify and resolve javascript errors as they occur, minimizing the negative impact on user experience.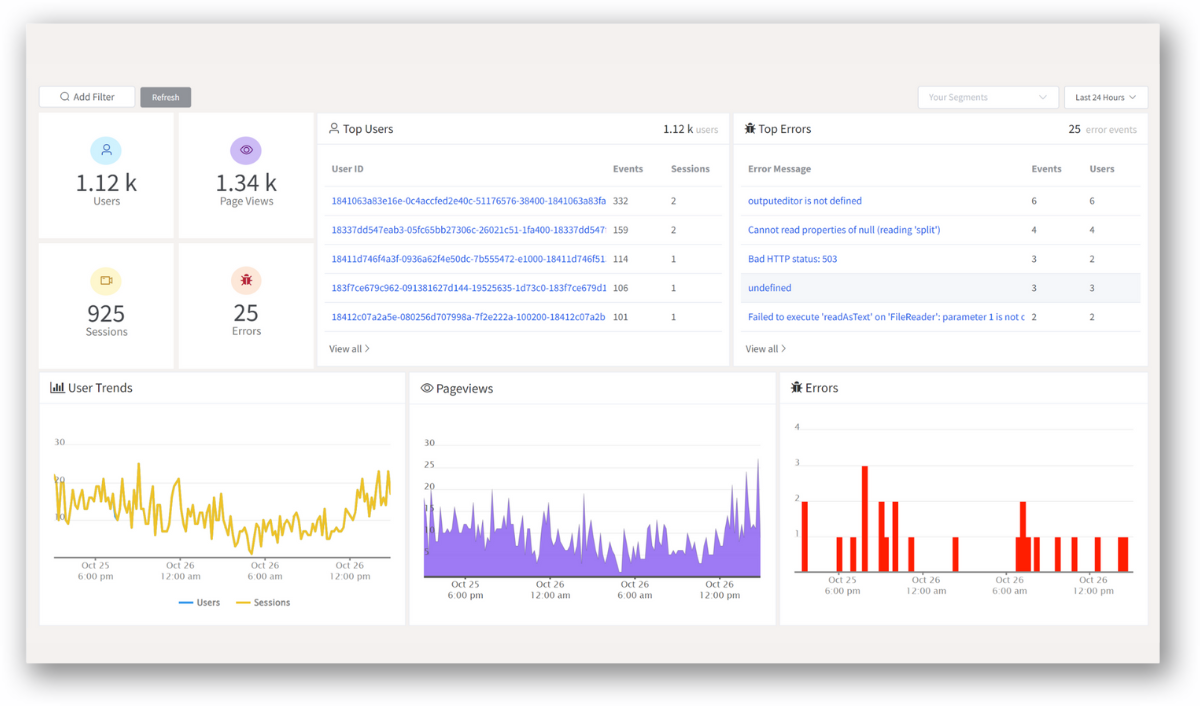 With product analytics feature, you can get deeper insights into how users are interacting with your product and identify opportunities to improve. Drive understanding, action, and trust, leading to improved customer experiences and driving business revenue growth.
Try ReplayBird 14-days free trial
Further Reading