If you are running a digital business, with either hardware or software or any retail businesses, you may need to understand your customer more deeply, on
What do your customers think?
What age group are they?
What will be their expectations?
How do they behave?
These questions need all perspective answers to make a more interactive digital platform to increase the conversion rate.
In this blog, we will learn how behavioral analytics
What is behavioral analytics?
Behavioral analytics can be classified as advanced business intelligence that uses tools to analyze user behavior.
Behavioral analytics tools provide a clear picture of how users interact with your digital products. It goes beyond mere clicks and pageview analysis.
Behavioral analytics help the team make better business decisions regarding retention, acquisition, engagement, etc.
A proper behavioral analytics tool helps you analyze all the factors that aid your business in acquiring and retaining customers.
Need for behavioral analytics in your business
The foolproof method to keep a close eye on the moving metrics is by adopting data analysis.
This is essential because, while you may be trying to confirm the existence of a whole new trend and completely miss out on the chance of capitalizing on it.
Most of the users are of the opinion that the websites created are not helping the user experience, whereas, on the other hand, the majority of the members of the products team believe their websites are designed in an easily explorable way.
So, clearly, there is a discrepancy.
This results from teams employing outdated analytical tools to gain information on their customers.
Some also manually hardcode data on their customers. This utilizes elaborate labor while also slowing down further development.
This is where ReplayBird's behavioral analytics tool steps up in shining armor.
Behavioral analytics tools and how they work
Behavioral analytics tools collect data that is generated whenever a user interacts with your website, your mobile application, or any other digital product you create.
After this, the data is laid out extensively to understand what it spells out.
Your teams can then utilize this generated data to further the business development in decision-making regarding various aspects of your brand.
Popular Behavioral Analytics Tools:
#1. ReplayBird
ReplayBird offers complete web analytics for your website's digital user behavior to convert more traffic.
#2. Mixpanel
Mixpanel provides in-depth reporting, which helps you retain more customers.
#3. FullStory
FullStory helps you combine and compare qualitative as well as quantitative data to provide a complete picture of your users' digital experience.
#4. Hotjar
In short, Hotjar lays out all behavioral analytics for you by offering visual insights as to why certain behaviors occur.
#5. Userlytics
Userlytics created an easy-to-use tool that gains quantitative and qualitative data insights to improve user behavior.
Benefits of behavioral analytics tools
Let's see how behavioral analysis helps particular areas in your business.
#1 Product Teams:
Product teams use behavioral analytics to identify the activities that best match up to adoption and retention strategies.
The teams can also develop new functionalities and integrations that aid and result in higher conversion rates.
#2 Growth Teams:
‌They use behavioral analytics tools to study user behavior in order to draw out user journeys, KPIs, and optimization of funnels.
This gives them a clear understanding of customer-product relationships.
#3 Marketers:
‌Marketers use behavioral analytics to improve the current website, post relevant content, develop working strategies and create an overall better digital experience with the collected data.
They dissect and look into what exactly the users are searching for and give them exactly that to increase conversion rates and also give the users the best digital experience, which successfully retains them.
It is a common sense that your customers will come back for more if you give them the best and exactly what they're looking for.
Most websites just look past these crucial alterations. But in order to retain customers, you need to give them something that brings them back each time.
#4 Customer Success Teams:
Here it can be used to retain customers and create increase the expansion strategy of the business.
The customer success team can also use the tool to prioritize their time and efforts on the customers who would give the best result and the ones that require their attention.
Benefits of behavioral analytics:
No matter what business you deal in, whether it is video streaming, or selling stocks, or a B2B- in order to grow, you must do and keep two things in mind:
Acquire customers
How is behavioral analytics different from other types of business analytics?
The answer is the combination of two technologies: User Segmentation and Event/ Behavioral Tracking.
Behavioral analytics combines user segmentation and behavioral or event tracking. This sets behavioral analytics apart from the rest of the business analytics.
Some analytics platform offers one of the two,  either user data or behavioral data.
Whereas behavioral analysis connects users to the kind of events they trigger; hence this produces a flowchart of the customer's journey.
Customer journeys lay out the data that the teams can use to look into and improve their product development, strategies, and even marketing, among others.
Difference between: Product Analytics, Web Analytics and Behavioral Analytics
#1 Product Analytics
In simple words, product analytics tools give you detailed data and insights into the customer's behavior regarding your product.
By removing the need for customer interviews (which anyway don't provide you with honest and usable information) and the dependency on it, product analytics tools evaluate how well your product team is meeting the exact need of your users.
Product analytics helps gain important data on customers and improves customer behavior and the overall user experience. It also helps identify issues that exist in your product or website.
#2 Web Analytics
While web analytics tools were designed to calculate web traffic and marketing expenses, they weren't fashioned for transparency.
Since these tools can't show you what the users are doing, you will never know the value gained by your users with your product.
They also aren't very good at handling sensitive data.
#3 Behavioral Analytics
Behavioral analytics is when product analysis is used to understand your customers thoroughly.
The behavioral analysis is when you comprehend your existing users through their previous actions.
For example, the movie or TV show recommendations you get from Netflix.
How do you think Netflix knows you're interested in comical or action movies?
It is by looking into the kind of choices you've made previously while watching on Netflix.
And to do this, Netflix needs more information than just your name, email, or zip code.
Importance of user and event properties
Behavioral data is meant to be tied to a single end user. But the ideal kind of behavioral data involves the separation of user properties from event properties.
Both of these are highly crucial for analysis as they produce information on who your users are and what they are doing.
User properties refer to anything that revolves around the user traits that show the state of the user and applies it to all events, such as:
Unique Vs. Non-Unique
New Vs. Old
Active Vs. Inactive
‌On the other hand, event properties regard all actions taken by a user in your properties. This can range from a click on a button or making a payment.
Event properties show you how users are interacting and engaging with your products and also vary with regard to the type of application you have and the information which you think is necessary to understand a certain event.
Why ReplayBird is a good choice
ReplayBird deliver unified analytics on all three product, website and even behavioral analytics.
Under behavioral analytics, ReplayBird lets brands understand both qualitative and quantitative data.
Behavioral metrics that ReplayBird provides:
Pageviews
User trends
Top pages user land on
User journey
Click tracking
session recording (video on how the user behaves and take actions)
Funnel to understand bulk behavioral actions.
Wrap Up
Using behavioral analytics, teams can answer questions such as:
How users react to new feature updates?
What brings in the most clicks in the product?
Which are the most effective ads?
What are user reactions to marketing messages?
Teams must first decide and identify what they aim to achieve and also what path they expect users to take.
Because carrying out a behavioral analysis is way more complicated than just merely running reports in some analytics tool.
And with the laid-out expectations and aims, teams stand to identify where users are deviating and redirect them back.
---
ReplayBird - Driving Revenue and Growth through Actionable Product Insights
ReplayBird is a digital experience analytics platform that offers a comprehensive real-time insights which goes beyond the limitations of traditional web analytics with features such as product analytics, session replay, error analysis, funnel, and path analysis.
With Replaybird, you can capture a complete picture of user behavior, understand their pain points, and improve the overall end-user experience. Session replay feature allows you to watch user sessions in real-time, so you can understand their actions, identify issues and quickly take corrective actions. Error analysis feature helps you identify and resolve javascript errors as they occur, minimizing the negative impact on user experience.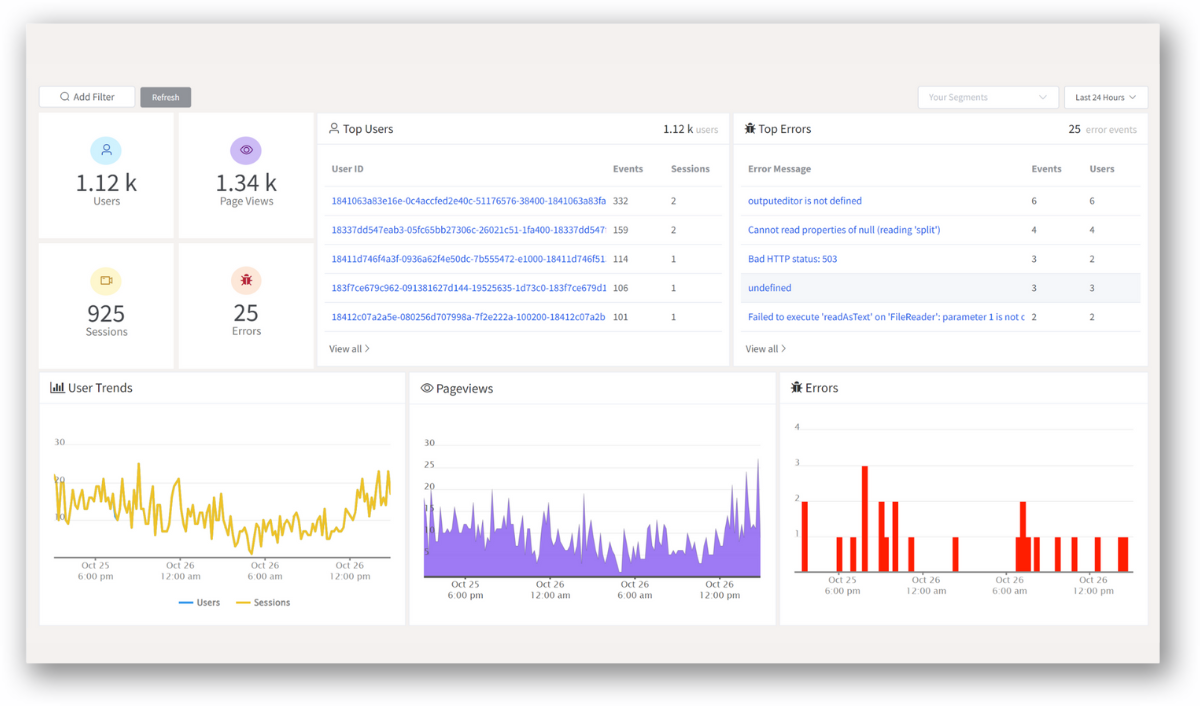 With product analytics feature, you can get deeper insights into how users are interacting with your product and identify opportunities to improve. Drive understanding, action, and trust, leading to improved customer experiences and driving business revenue growth.
Try ReplayBird 14-days free trial
Further Readings: