User engagement could be subjective to the nature of businesses.
This is because of its dependability on the business model, wherein in some businesses, high user engagement could denote a failure or threat to the company, like that of an insurance company.
Moreover, user engagement could be different in various industries based on their operations.
Here are the topics that we will cover in this user engagement blog:
What is user engagement?
User engagement is a term that defines the participation of users or customers that adds value to the company.
It relates to the activities of users, such as clicks, downloads, saves, etc., which depict their engagement in the website or application.
By doing so, it can see if customers find any utility in the products or services being offered by the company.
Website activities such as clicks and saves lead to purchases, registrations, or sign-ups.
These activities prove important for augmenting the company's income, which is its ultimate goal.
Customer engagement denotes their response to the company's operations.
It is a form of measuring business performance through its digital offerings.
Tracking the activities of customers is a helpful tool for obtaining feedback.
We can see that highly engaged customers would make a purchase, have interactions, or provide feedback to the business.
For instance, for a company in the media field, the goal would be to gain views, likes, shares, comments, etc.
This would determine their user engagement, whereas, for companies in the product sector, their user engagement could mean visiting the website, wishlisting products, adding them to the cart, and making a purchase.
Why user engagement?
Engaging in a particular task displays a sense of interest or a need to be attached to it.
And that is why user engagement could be thought of as an important tool of measurement that determines if a customer is finding any value in whatever your business has to offer them.
Ultimately, this could give clarity to the work being performed by your company.
When a customer is engaged in the activities of your business through purchase, it eventually leads to profit generation, which is by far the main motive of business.
As a result, user engagement is very helpful in assessing the value aspects of the business.
A valuable measure such as user engagement is helpful in business analytics since it relates to the profitability of a business.
With businesses going digital and online, it is important for companies to adapt to such tools in order to stay in sync with the mindset of the customers.
Such measures enable a deep understanding of the customer's perspective through watching their activities in your business.
Therefore, it signifies the worthy aspects of business activity.
Scenario
Let us consider a scenario to understand the concept better.
Beta Ltd. is a company engaged in the sale of jewelry and accessories for men and women, for which they have a website and an Instagram business account.
If they wish to know if users are finding any value in their products, it is important for them to measure user engagement.
Ways to measure user engagement
The following are the ways in which they can measure user engagement on their two digital platforms:-
1. Website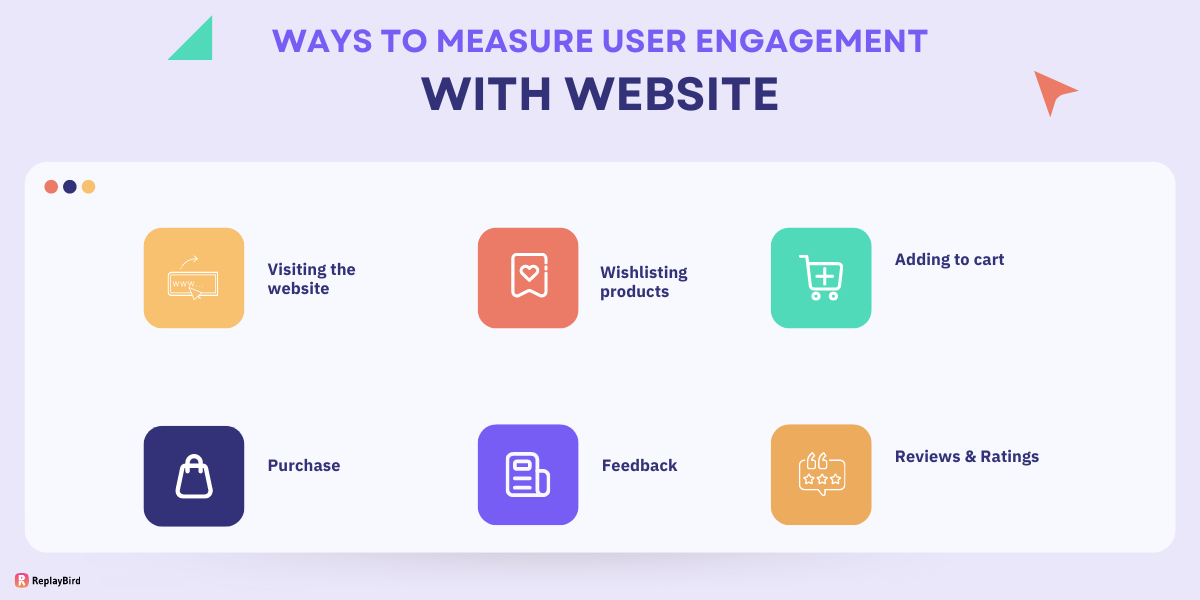 a) Visiting the website
They can check for the number of users visiting their website through various sources, such as social media advertisements, links, etc.
b) Wishlisting products
They can keep track of the number of customers who are adding products to their wishlist and which products are preferred more.
Based on this, the most preferred products and bestsellers could be identified, through which product development could be pursued.
c) Adding to the cart
The company can overlook the number of customers adding products to the cart out of which they wish to list.
They can also see if customers are directly adding products to the cart before wishlisting.
This type of analysis could be useful in understanding user behavior and their tastes in products.
d) Purchase
This is a valuable addition to the company that results in profitability and revenue generation, which are the goals for which the company works.
This step of user engagement helps businesses attain their goals.
e) Feedback
Customers can contact the company through various means provided to provide their valuable feedback.
Such a type of interaction generates direct communication with customers, which leads to better customer understanding.
It provides a typical customer's view of customers on the services being rendered to them.
Gaining feedback is a great tool to enhance control over the business and to correct deviations if any.
f) Reviews
Customers can post their reviews on the company's website or on any form of social media.
This helps the company know the exact value experienced by the customers.
The point to be noted here is that it could help other customers make choices in their buying decisions, which could also be a source of encouragement to purchase.
g) Ratings
Rating is highly encouraged that customers provide ratings for the products they purchase on the website.
It is in the form of 5 stars, where 1 is the lowest rating and 5 is the highest rating.
Highly rated products generate trust for other customers making a purchase.
Furthermore, it is a wonderful tool for finding out the value of products due to its precise scale of measurement.
2. Instagram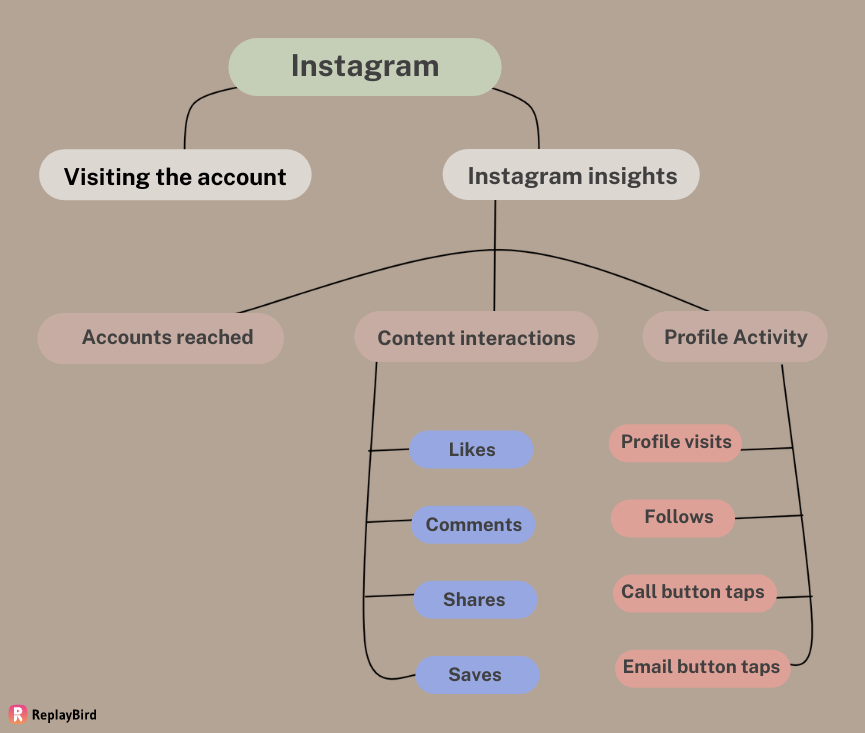 Beta Ltd. holds a business account on Instagram, which is a social media platform through which it tries to interact with customers and promote its business using the tool of social media advertisements.
Visiting the account
The company can promote their business through advertisements on Instagram.
It takes the form of posts or stories by which Instagram users visit the business account if it has earned their interest.
Instagram insights
Business accounts are provided with features called "insights" for every post on interactions they try to make.
Thanks to this Instagram feature, businesses can now easily see where they stand in customer interactions in the following overview:-
a) Accounts reached
It denotes the number of Instagram accounts that the business has reached through its posts or interactions.
b) Content interactions
This refers to interactions occurring between customers or Instagram users and the business in the form of liking the post, commenting on the post, or saving it.
Instagram specifies the number, so it is much easier for businesses to get an analysis of their interactions.
It includes the following:-
i) Likes
It denotes the number of users who have liked the post shared by the business.
This gives inferences on the type of content or products that customers wish for.
ii) Comments
This specifies the number of comments made under the post shared.
It is a way of interacting with the business and showing their interest in making a purchase and supporting the business.
iii) Shares
This specifies the number of users who have shared the post with their friends. Such an insight depicts the customer's willingness and interest in the business.
iv) Saves
This specifies the number of users who have saved the post to their account.
It could be thought of as a wishlist. Maybe the products or content shared in the post would have attracted the customer, so they have saved it for later use.
Such interaction gives insight into customers' specific activities and behaviors.
c) Profile Activity
This depicts the number of users who have visited the business profile and have engaged with the business in the following ways:-
i) Profile visits
It denotes the number of Instagram accounts that have visited the business profile by various means including advertisements on Instagram, mentioning accounts in stories, etc.
ii) Follows
It refers to the number of people who have followed the business account through the post shared.
This could indicate if customers have found value in the content shared by the business and if it has attracted them.
iii) Call button taps
Instagram allows the feature of a call button, whereby by tapping the button, users can contact the business through audio calls.
It is exclusively provided for business accounts, where they do not have to share their WhatsApp or phone numbers on their profiles.
Henceforth, this gives an insight into the number of users who have attempted to make calls by tapping the button.
This shows the engagement level of users since highly engaged users make an effort to contact the business for any reason.
iv) Email button taps
This is another communication feature provided by Instagram wherein users can communicate with the business through email.
In insights, it shows the number of users who have tapped the button to make interactions with the business through the mail.
Useful metrics to determine user engagement:
Here are a few metrics that help in calculating user engagement
1. Bounce rate
Bounce rate refers to the rate of users who leave the website after only visiting one page.
This shows that your website needs improvement, as it seems boring to the users.
A high bounce rate symbolizes the lack of interest users have in your site.
Formula:
Bounce rate = Total number of users to the website that leaves without interactions/Total number of visitors * 100
2. Conversion rate
Conversion rate refers to the rate of users who complete the action that the company wants them to take such as making a complete purchase, etc.
Formula:
Conversion rate = Total conversions/ Total number of visits * 100
3. Click-through-rate (CTR)
Click through rate is the number of times the advertisement is clicked out of the times it is displayed.
Hence, it denotes the rate of users that click on the company's advertisements.
Formula:
CTR = Total clicks measured/ Total number of impressions * 100
4. Abandonment rate
It refers to the rate of users who ignore or abandon the action the business wants them to take.
For instance, customers abandon the shopping cart after adding products to it.
This rate helps in measuring the results of the company's efforts in terms of marketing strategies.
Formula:
Number of completed purchases/Transactions initiated* 100
5. Time on site
It measures the time that users stay on your website during their visit.
For instance, Instagram calculates the average time spent by its users on their application and gives an insight into the same to its account holders.
Formula:
Total time on site for multiple visitors/ (Total number of visitors - Total number of exits) * 100
Conclusion
With businesses getting digitized, it has become more important for companies to boost their user engagement.
This is inherent to staying on track with the current trends in the market.
Focusing on the value of the product and enhancement of user experience could be key to high user engagement.
After all, businesses work for high user engagement to attain their goal of revenue generation, for which marketing and business strategies are vital.
---
ReplayBird - Driving Revenue and Growth through Actionable Product Insights
ReplayBird is a digital experience analytics platform that offers a comprehensive real-time insights which goes beyond the limitations of traditional web analytics with features such as product analytics, session replay, error analysis, funnel, and path analysis.
With Replaybird, you can capture a complete picture of user behavior, understand their pain points, and improve the overall end-user experience. Session replay feature allows you to watch user sessions in real-time, so you can understand their actions, identify issues and quickly take corrective actions. Error analysis feature helps you identify and resolve javascript errors as they occur, minimizing the negative impact on user experience.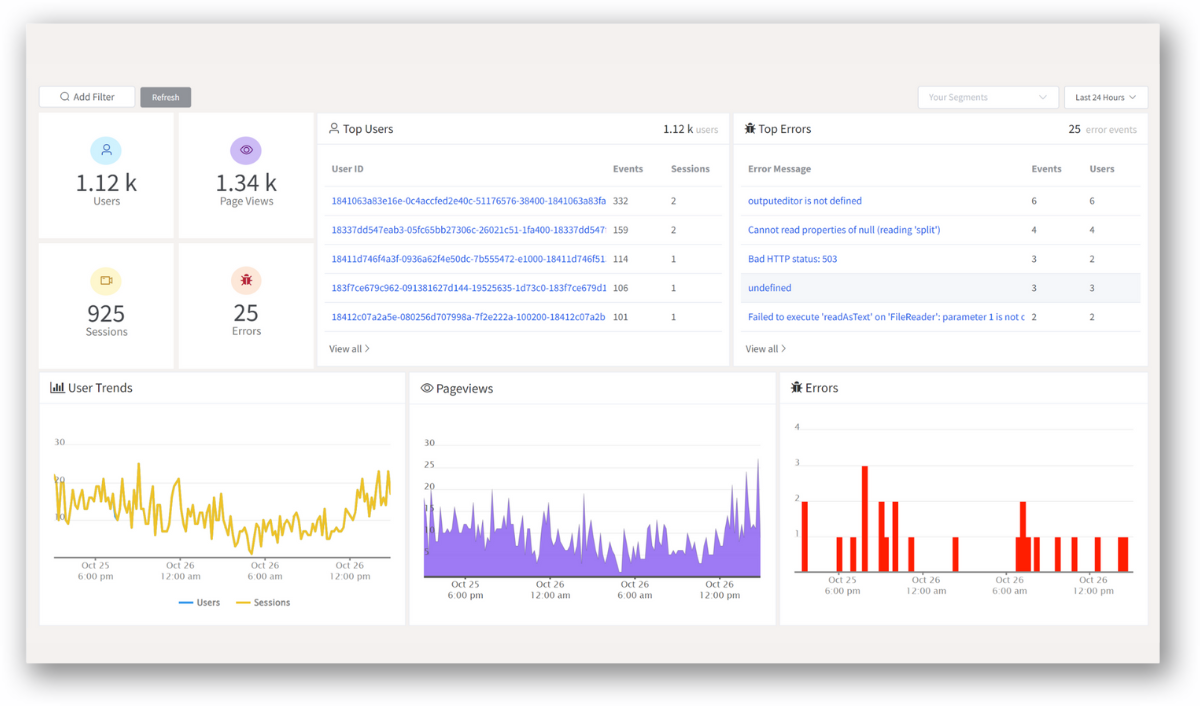 With product analytics feature, you can get deeper insights into how users are interacting with your product and identify opportunities to improve. Drive understanding, action, and trust, leading to improved customer experiences and driving business revenue growth.
Try ReplayBird 14-days free trial