When you hold a website, it becomes mandatory that you understand your users. There are various web analytical tools that will help you in knowing what is happening with your website.
Click tracking is one such tool, which allows you to understand your user behaviour in depth. You can know what works for your users and learn how effectively you need to enhance your website with click tracking.
Having an optimised website that gives the maximum user experience is a vital step to increase web traffic.
This blog post will help you in understanding click tracking tools and how effective you can use them.
What is Click Tracking?
Click tracking is an analytical feature that allows you to measure where people click or tap on your website. When your users click or taps on your website, click tracking tools record and displays data numerically and visually.
Click tracking software helps you measure conversion, user engagement, finds errors and assists in resolving them. It will also help you with enhancing and optimising the UX/UI designs.
Where Can Click Tracking be Used?
Email tracking, Link tracking and UX click tracking are three applications of click tracking.
#1 - Email Click Tracking
All the email marketing services have click tracking features attached to them. You click the tracking feature, you can see how many people have received your mail, opened it, and connected the links within the mail.
A unique single pixel is embedded into each email, and when the pixel is loaded, the click tracking feature will record it as the email opened. To track the clickable links inside the email - a unique URL string will be generated by the email service provider. By using that link per email subscriber, they can the link clicked by the subscriber.
#2 - Link Tracking
Link tracking is the practice of monitoring and counting the link clicks. It is one of the basic fundamentals of data-driven online marketing. Most link tracking tools allow you to track the number of clicks on the URLs and help you get the URLs shortened and customised.
UTM tracking code is one of the popular methods used to track links on websites. UTM parameters are strings added to the URLs to identify the campaign name or traffic source.
#3 - Website Click Tracking
Website click tracking is the best tool used by UX and UI researchers to understand how users interact with the website. Session Recording tools like ReplayBird records all the clicks, taps and mouse strokes like scrolls and movements.
Session replay gives a fundamental understanding of how users interact with your website. It assists you in visualising the users' path on your website. Knowing the user's behaviour will help you provide the best digital experience for them.
You might know your website cent per cent, but that will not let you know your users' online behaviour and their interactions on your website. Literally, watching Session recording is like you watching users on your website in real-time.
How Does Click Tracking Help in Understanding Users?
Understanding user needs and giving them the best experience is the vital path to increased traffic. Clicking tracking allows you to understand your users quickly. You don't need any time-consuming offline questionnaires, focus groups, or old type market research tools.
All you need to do is set up tracking and wait for your click tracking tool to collect data for you. Clicking tracking tools is exactly like fitting yourself into your users' shoes - you can exactly know what persuades them and grabs their attention.
If users do not click your CTAs or links or ignore them, you can concentrate on them and optimise them, so users get persuaded to click them. When errors occur, or bugs happen, which may stop the links and CTAs from performing their work, they can be found using click tracking. It can also be debugged and resolved in real-time.
Summing up
Understanding the user is the fundamental rule to succeed in business. Click tracking is the best way to collect data about your users, which ultimately helps you understand your users' betters. Click tracking tool helps provide valuable insights into how your visitors behave.
Set what all needs to be tracked by your click tracking tool, and after that, all you need to do is just analyse them. Optimise and enhance your website according to your analysis and increase your traffic and conversion rate.
---
ReplayBird - Driving Revenue and Growth through Actionable Product Insights
ReplayBird is a digital experience analytics platform that offers a comprehensive real-time insights which goes beyond the limitations of traditional web analytics with features such as product analytics, session replay, error analysis, funnel, and path analysis.
With Replaybird, you can capture a complete picture of user behavior, understand their pain points, and improve the overall end-user experience. Session replay feature allows you to watch user sessions in real-time, so you can understand their actions, identify issues and quickly take corrective actions. Error analysis feature helps you identify and resolve javascript errors as they occur, minimizing the negative impact on user experience.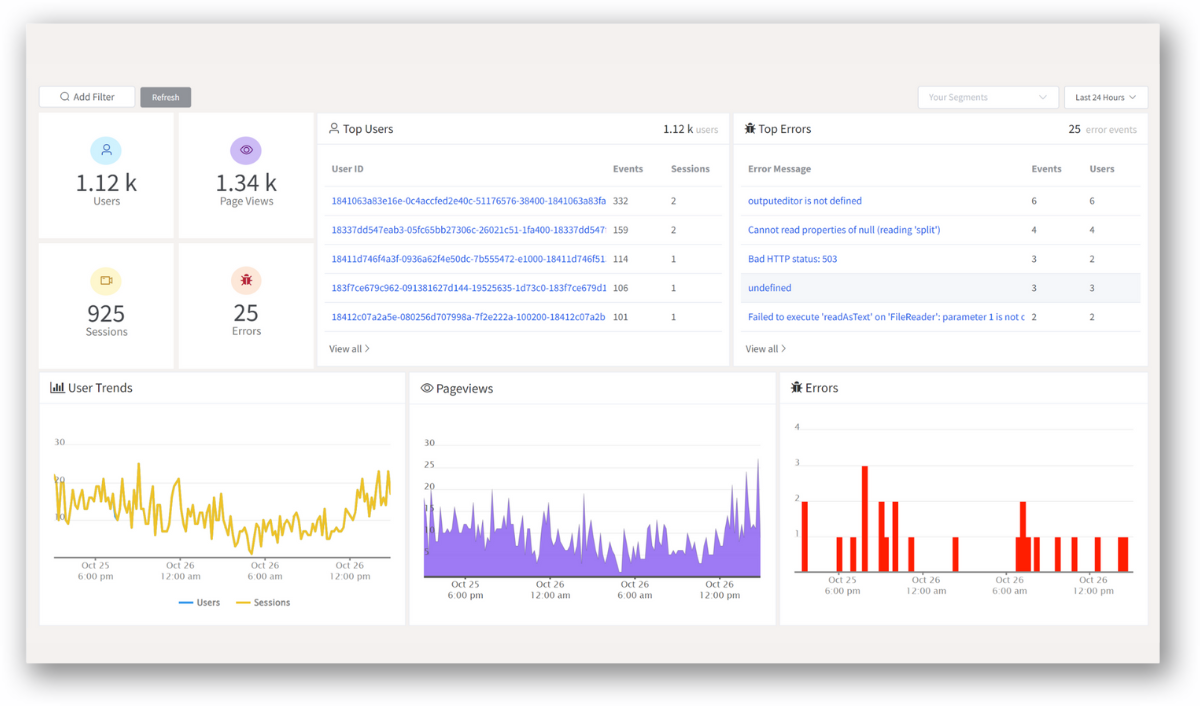 With product analytics feature, you can get deeper insights into how users are interacting with your product and identify opportunities to improve. Drive understanding, action, and trust, leading to improved customer experiences and driving business revenue growth.