Blogs are one of the primary sources for generating traffic to websites. Content developers and bloggers spend hours of time and effort building each blog post. It takes a lot of work from brainstorming ideas, researching, writing, and publishing and marketing each blog post.
But what happens after publishing a blog post is mostly unattended. Shortly after publishing, blog posts will get audience attention, and if your audience likes the content, engagement will also be high. It will ultimately increase your website's traffic. After that, when fresh content gets published, the old one will eventually lose its life.
In the 21st digital world, we are constantly being bombarded with new content every single minute. And in this fast-paced world, businesses need to update their website with all necessary content with regards to their audiences and customers' evolving needs.
Though fresh content is indeed essential, that doesn't mean that the old content is of complete no use. You can give your old content life again and let it steam. Just imagine, if you republish some of your old content and it gets more engagement than when it got published first - it is a doubled result.
In this blog post, we will be providing you with a few strategies on how you can give life to your old blog post.
What is Repurposing Existing Blogs?
Repurposing a blog is reusing the entire existing blog or few elements of the old blogs to expand the engagement and reach. In most cases, repurposed content will be turned into a new format. For example, a blog post can be turned into a social media post or a youtube video.
Why Do You Need to Repurpose Your Existing Blog?
As said earlier in this post, a lot of time and effort goes into publishing a blog post. And all that effort needs attention as much as possible in the long run. It is a big conception that only the new content adds value, and old content belongs to trash. A little bit of re-work on the existing content with a new form or fresh outlook will increase its value.
Firstly, trends change constantly. When you have a lot of existing content, add SEO according to the current trend and reuse it with added value.
Secondly, your traffic will be increasing every day, and so will be your audience. So working on the old blog post and reposting will reach new audiences.
Thirdly, you might have a different set of audiences at various mediums. Having the same content on different platforms might seem repetitive, but remember every user's choice of medium to consume content is different. Some might like reading blog posts, some might like videos, while some might like podcasts. So you can use the same content in all the possible mediums and forms.
What Blog Posts Deserves Repurposing?
Repurposing is necessary, but the decision on which content needs repurposing is most important. You can discover your top-performing content from the past to repurpose. Follow these simple steps to decide on what blog posts deserve repurposing.
Step 1 - Audit Your Blog
Always have the habit of analysingiseStrategiselysing your blog's performance and audit them in regular intervals. This will help you plan your content wisely and increase your audience steadily.
Analytical tools such as google analytics will provide you with information on how your audience engages with your post. Social media platforms also have their own analytics.
After analysing the performance of the old blogs, organise them into different categories - like content with maximum views/likes, content with full engagement, content with no effects. Also, analyse what forms of content has the most engagement.
Step 2 - Evaluate the Blog Quality
The quality of the blog posts is the most important for increasing web traffic. Blog posts that are of high quality and value will definitely give you more traffic and conversions. So, evaluate the existing blog posts and make them more informative and trustworthy.
Step 3 - Plan and Strategise Repurposing
Once you have audited and evaluated your existing blog posts, you will have a list of blog posts with high value and engagement. Now plan how the blog posts can be repurposed and strategise them to look totally fresh to your audience.
So now, you can arrive at good quality posts, with high engagement in the past and also which can be transformed into a highly engaging form and medium.
5 Simple Strategies to Bring Old Blog Post Back to Life
Having selected the blog posts that deserved repurposing, you now have the opportunity to expand its reach and let the content re-engage with your audience. Let's now look into few simple methods that will give your blog posts life again.
#1 - Repurpose Blog Posts into New Forms
You can treat the existing blog posts as researched data. You can use various mediums to share the content again. You can take a part of your blog post and quote them on Twitter or post them on Instagram. You change the written data into infographics or illustrated stories. You can also use the same content and make videos or use them in your webinars.
#2 - Take the Existing Content to New Platform
Social media platforms keep evolving and new platforms emerge every now and then. As a business holder, it is essential to be part of all the social media platforms, where you can find your potential leads.
From Facebook groups, LinkedIn to Reddit and Tik Tok, you can always find a new audience for your content. Each platform has its own demographic audience. You can also use the various features in these platforms to repurpose your blogs.
For example, you can repurpose your blog post into a carousel post. Then use the same content to make stories and reels.
#3 - Rework SEO
SEO gets updated with everyday trends. When a blog post gets repurposed, the first attention should be given to keywords. Research the keywords and search terms that your audience is looking for on the search engines.
Review your old blog post and re-work them for good SEO. Make sure that the keywords added will help your blog posts rank high in the search engines. This will increase the organic traffic to your website and eventually increase your conversions.
#4 - Update and Add Value to Your Old Blog Post
Review your old blog posts. Proofread them carefully and check all the links. If you find any dead links, remove them. You can update the information and add more value to it.
Check for spam comments and delete them. Improve the readability of your blog posts. Make them more attractive. When your audience checks out your old blogs, and if they find it in the current trend, they will understand your hard work, and it builds trust.
#5 - Create Follow-up Content
You can choose an old blog post with maximum engagement and write follow up post. It is a highly effective way to revive the old blog content. You can interlink the old blogpost into the new posts and get attention for both new and old blog posts. Always have at least 4-5 interlinks of your old blog posts in your new content.
Summing Up
The incredibly fast-paced digital world always yearns for new content. Eventually, as a website holder, you also need to feed your audience with fresh content regularly. But, that does not mean that you have to leave your old blog posts and content to die.
You can reuse and repurpose your blog posts and bring them back to life with the given strategies. Take your content to new platforms, reach new audiences, and this will definitely give you a next-level engagement.
Instead of exhausting yourself in finding new ideas for the blog posts, analyse the existing posts and get inspired from them.
---
ReplayBird - Driving Revenue and Growth through Actionable Product Insights
ReplayBird is a digital experience analytics platform that offers a comprehensive real-time insights which goes beyond the limitations of traditional web analytics with features such as product analytics, session replay, error tracking, funnel, and path analysis.
With Replaybird, you can capture a complete picture of user behavior, understand their pain points, and improve the overall end-user experience. Session replay feature allows you to watch user sessions in real-time, so you can understand their actions, identify issues and quickly take corrective actions. Error tracking feature helps you identify and resolve javascript errors as they occur, minimizing the negative impact on user experience.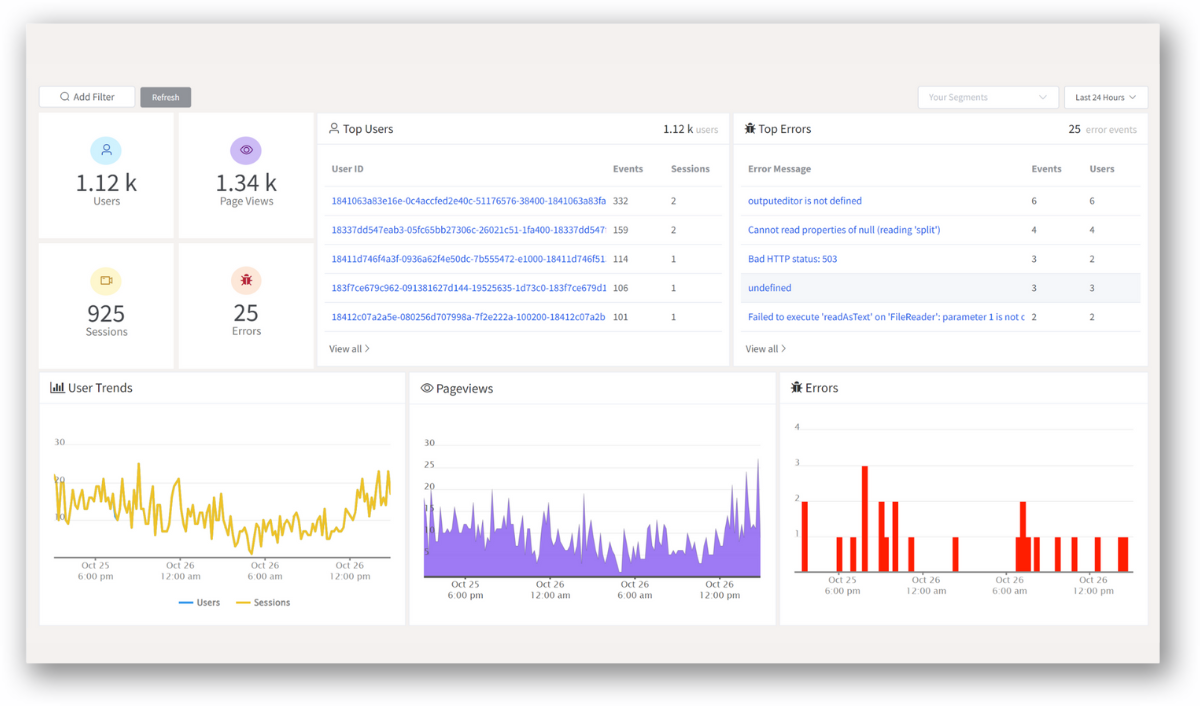 With product analytics feature, you can get deeper insights into how users are interacting with your product and identify opportunities to improve. Drive understanding, action, and trust, leading to improved customer experiences and driving business revenue growth.